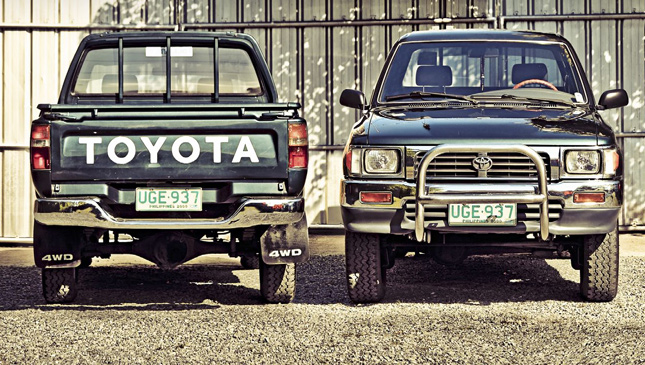 History
The Toyota Hilux is a truck that needs no introduction. This is the car that kicked Libyan dictator Muammar Gaddafi out of Chad in the infamous 1987 "Toyota War," a feat that cemented its reputation as the AK-47 of pickup trucks. And like the AK-47, it's tough and nearly indestructible, as the Top Gear show demonstrated with a 1988 Hilux, which survived fire, flood and flattening. Many Hilux owners swooned after watching that series of segments, many vowing to never sell their beloved pickups.
This particular unit is owned by Christian Ballada, and it stands out because of its stock condition. You can say it is a rarity among modified Hiluxes nowadays. For the past five decades, the Hilux has been the gold standard by which other trucks have been judged. At this rate, it's not hard to imagine the line lasting well into the 22nd century. That's a good thing.
Continue reading below ↓
Recommended Videos
Value and costs
The LN106 unit we have here may not be the same as the LN65 that Top Gear tested to destruction, but it's still one tough cookie. The 2.8-liter "3L" is simple and robust, and the heavy-duty drivetrain and suspension are relatively worry-free to operate and maintain. As such, despite the 4x2 variants' second-hand price of more or less P250,000, most 4x4 owners are either not selling or asking at least P450,000 for their vehicles. That's a rather hefty premium over similar used 4x4 pickups. Maintenance costs are relatively cheap, but it's a good idea to get the valve clearances and pump calibration checked before you purchase. At this age, expect rust. Check under the door sills and around the frame. Panel rust is easy, but once the body starts to go, restoration becomes an uphill battle.
Exterior and interior
The Hilux is a handsome truck, with clean, understated lines and a slim profile. A near four-inch lift and factory stepboards set it apart from your run-of-the-mill 4x2, though in some cases, the previous owner may have removed the step boards for more ground clearance. There's a variety of colors, including green, green and green—except, of course, for the red, blue and white ones. The interior is simple and functional, with the bare minimum of instrumentation and the low seats typical of old Japanese pickups. Interior space is at a premium compared to the modern Hilux, but it's not bad. Toyota plastic quality has come a long way over the years, but there's something to be said of the long-wearing plastics and vinyl of '90s Toyotas. 
Engine
The 3L workhorse engine is robust, needing little more than regular maintenance, timing-belt and fuel-filter changes to hit over 400,000km. Skipped service intervals can lead to worn bearings, so pay attention to how the motor runs and if it smokes, particularly if it has over 100,000km on the odometer! Don't expect miracles in terms of fuel economy, however. 10-12km/L is possible on the highway, but that heavy four-wheel-drive system limits economy in the city to 6-8km/L. Don't expect miracles in terms of perfor-mance, either. The non-turbocharged 3L punts out a measly 91hp and just 188Nm of torque. The five-speed gearbox gives it adequate highway legs, but nothing more. A low-range transfer case and manually lockable front hubs help with steeper climbs and the occasional off-road jaunt.
Driving impressions
Unfortunately, to increase off-roading prowess, Toyota fitted the 4x4 Hilux with a stiffer suspension than the 4x2 Hilux. Incredibly, considering this vehicle's near-twenty years and 250,000km on the road, the factory springs on this sample exhibit no signs of sag or fatigue. Obviously, ride comfort takes a dive with this setup, but the truck is stable and secure on any and all roads. Also on the rough side are the clutch and gearbox, which require a bit more muscle to operate. On the bright side, the long-geared hydraulic power steering isn't hard on the arms and provides sufficient cushioning against rocks on the trail. And with a mechanical injection pump and that lifted suspension, it can tackle three feet of flood water with ease, though you'll want to extend the transmission and differential snorkels for deeper stuff.
Verdict
Unfortunately for bargain hunters, the Hilux 4x4's rugged reputation means that bargains are hard to find. Even worse, it's closing in on "desirable classic" status, too. But if you can find one for a good price and in good condition, it's potentially a better off-road toy than the iconic FJ40 Land Cruiser. Granted, it's nowhere near as quick or as spacious as a modern Hilux, but mechanical fuel injection and a manually lockable 4x4 system make it more dependable in extreme weather conditions. For those preparing for the apocalypse, there are few choices better than a secondhand Hilux.
Just don't let Top Gear anywhere near it.

1998 Toyota Hilux
On sale: 1988-1998
Engine: 2.8-liter SOHc diesel
Transmission: 5-speed manual
Power: 90hp @ 4,000rpm 
Torque: 188Nm @ 2,400rpm 
Economy: 6-8km/L (city) 10-12km/L (highway)
Price new: P780,000
Price now: P450,000
Quick fact
The "indestructible" Hilux, or what's left of it, is on permanent display on the set of Top Gear UK. Other notable on-screen appearances include Back To The Future 2 as Marty McFly's ride, and as Pixar's ubiquitous Pizza Planet delivery truck.