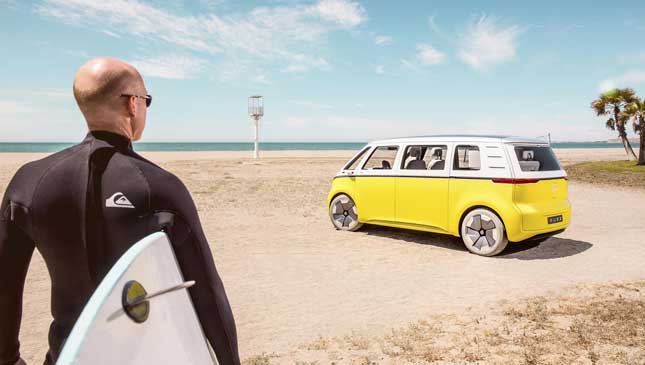 The Volkswagen I.D.Buzz is a concept car and I slept in it. I also, read, ate, typed, and got changed in it. I even drove it. All of which you might see as entirely irrelevant, given it's a concept car.
Only this isn't irrelevant. In fact, this is probably the most relevant thing you could possibly do with a concept—take it to its natural environment and see if it stacks up. With I.D. Buzz production confirmed for 2022, it's a vital test.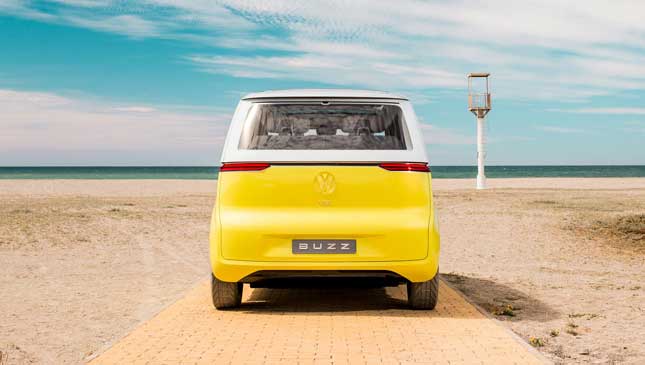 Continue reading below ↓
Recommended Videos
VW is searching for a design icon to take it forward into the electric age, a car that can convey a futuristic brand ethos, yet be welcoming and familiar, and do this all in a playful way that entices and educates potential buyers. In other words, a camper van.
Before I tell you about what it's like to drive in flip-flops and whether the rear seat is cozy enough for a nap, here's why this one will one day be able to drive at more than 32kph. VW has announced that, in 2020, it will build the first car on its new MEB architecture. You know the MQB platform that underpins everything from the Skoda Octavia to the Audi TT? Well, MEB's like that but exclusively for electric cars.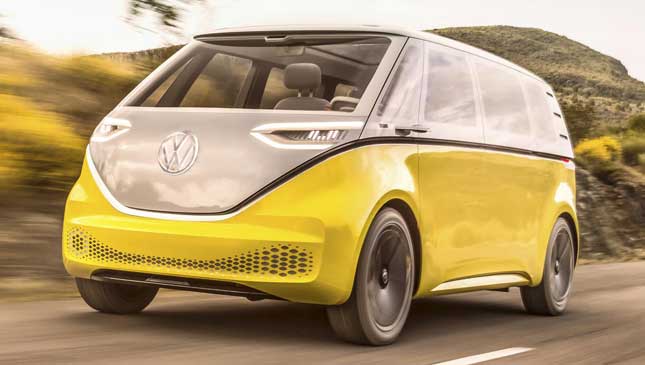 The wheelbase is lengthened, maximizing space in the middle for the batteries, and the overhangs are shortened. With the power pack sitting in there like an oversized bar of chocolate, bracketed by electric motors on the axles at either end, the package is low and flat, leaving huge possibilities to mess around with the bodywork and interior space above.
That's just one of the reasons why basing a concept around a van makes so much sense—it shows off the possibilities of the platform. The floor is maybe a fraction higher than in the current Caravelle and California, but it's flat throughout.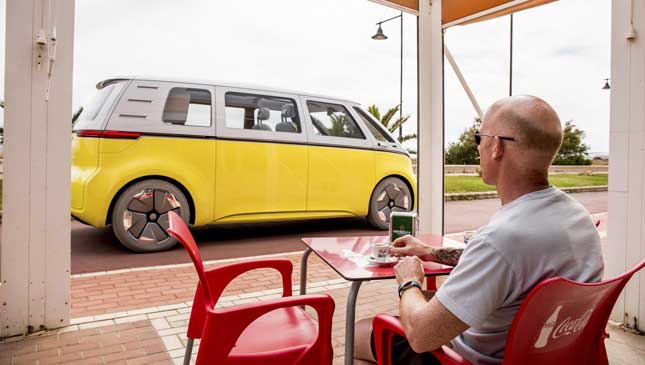 Christian Senger, VW's head of E-mobility (he was previously one of the lead developers on BMW's Project i that gave us the i3 and i8), has gone on the record claiming it will have a range of 600km. He also reckons the production Buzz could do 0–100kph in around five seconds.
That's because it uses twin electric motors and is claimed to develop 369hp. Not every car using the MEB architecture will have twin-drive. The architecture is scalable to fit cars from Polo to Passat, and at the lower end will have smaller batteries and single motors on the rear axle. But always a range of at least 402kms, says Senger.
The Buzz would be at the top end of the architecture. I'm not sure why, but I expected it to be compact. It's not. Quite the opposite—size is the first thing that strikes you. It's van scale, maybe an inch lower than the current Caravelle, but still tall and long with colossal presence. What shrinks it from a distance are the 22in wheels and a hood badge the Beastie Boys would have killed for.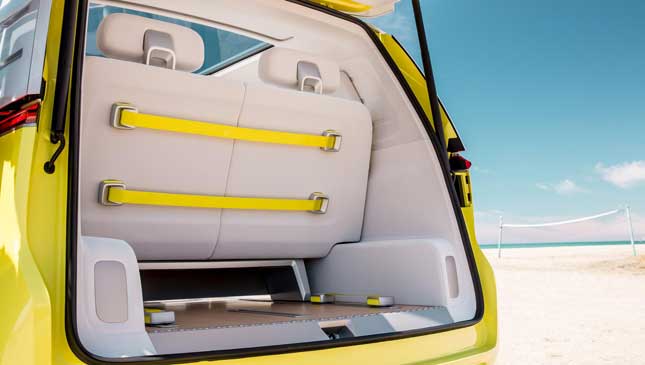 I have a major soft spot for VW vans, but even putting that aside, this is such a clever piece of design. It's so clean; the retro touches, from the two-tone paint to the slots in the D-pillar, have been handled so skillfully that it never comes across as a pastiche. It looks futuristic. I really want to own one.
And I'm not alone. Everyone who strolls, skates or cycles along the seafront that day stops and stares. Everyone enthuses, too. They want to know when it will go on sale, how much it will cost, what features it will have.
The answers? 2022, around £50,000 (P3.3 million) and gesture controls, HD displays and haptic feedback, plus seating for six. These are not completely random guesses. Production has been confirmed, and VW has also spoken about not pricing its electric cars higher than the equivalent internal combustion model.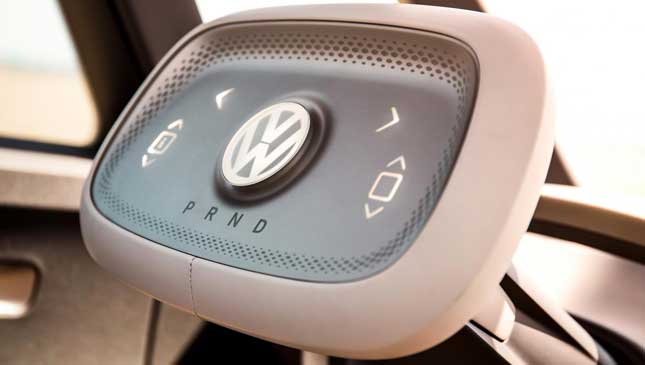 I reckon the one sticking point is autonomy. The Buzz is designed to be self-driving—the steering wheel pulls itself into the dash when you press its center, giving control back to the car.
But of course, this actual car isn't autonomous. It can't do 0–100kph in under six seconds. It's a concept, so while the steering wheel will whirr in and out, it's just for show. But what is impressive is that this goes beyond the usual boundaries of concept cars, as if VW wanted to go the extra mile, to give it a life beyond the styling studio.
The front seats have full electric adjustment, they can be swiveled, the armrests wind themselves in and out, the doors open and close electrically, including the tailgate. Buttons and panels operate, the console slides along rails and has a working tablet.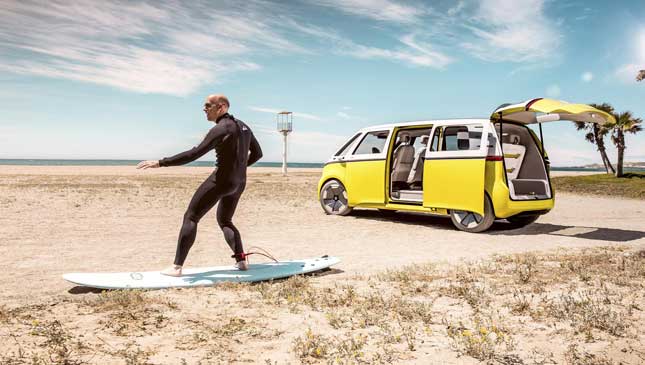 But none of that is the best thing about the Buzz. It's the ambience. The sense of space, the light that streams in through all the glass, bringing the outdoors in, expanding your view.
None of which is great when you're trying to get changed into a wetsuit. As yet, no blinds. This was all part of the plan to take the descendant of the original surf wagon surfing, but in the translation between Britain and Germany, something got lost.
I have a surfboard and we've come to one of the best spots in Europe for… kitesurfing. Not the same thing. It does explain the wind, though, which is considerable, whistling around the Buzz's door frames and revealing just what a cracking job rubber seals in production cars normally do.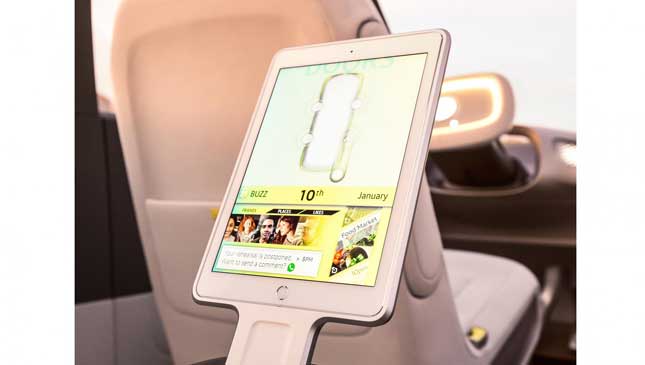 Out in the bay, windsurfers and kites are whipping back and forth in the 25-knot wind, but when I try to walk down the beach with my surfboard, I'm spun around like a weathervane. I retreat. And the Buzz is a great place to retreat to. It would have been even greater if VW had seen fit to add air-conditioning to the list of current features. Out of the wind, the hot sun broils the cabin. But nothing melts or falls off, the interior keeps its cool.
There are so many neat features—bottle holders on the floor, a video screen rear-view mirror, magazine racks, seatbelts doubling as load securing straps. And with just four seats inside, there's acres of open space. I can stand up, move around, surreptitiously brush the sand out…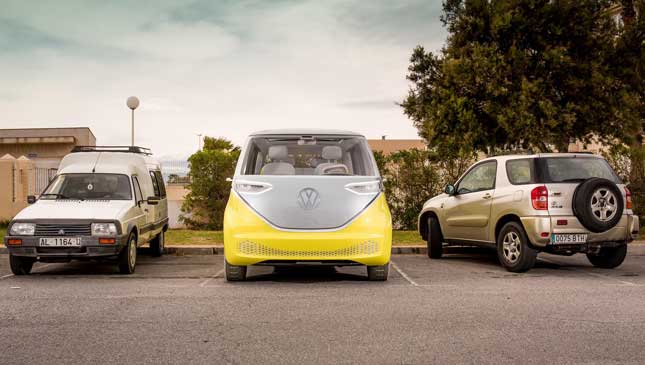 But what's best is just sitting in the back and letting the Buzz calm you. It's so relaxing, so upbeat and laid back, a mobile living room with a changeable view, able to move but in no hurry to go anywhere.
Driving it at the moment is very simple. There's a stop pedal and a go pedal, it goes forward and back, it has an impressively tight turning circle and that solid steering wheel is actually very good to hold. So, with special permission from the local tourist board, I take it for a drive up and down Almerimar's seafront.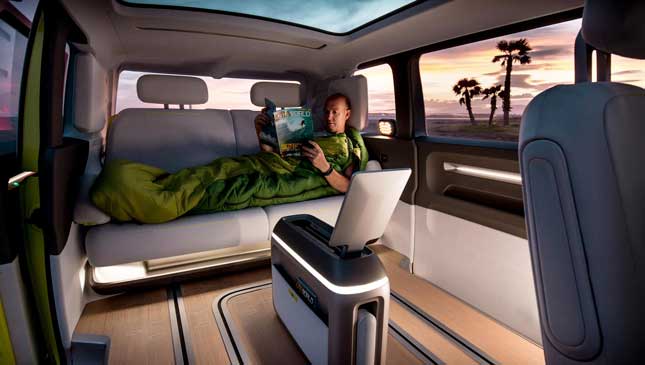 VW won't let me have a campfire within 100 yards of the Buzz, but I can curl up for the night on the back seat. The intention is that this will be a camper van one day, but at the moment the rear bench doesn't flatten into a bed.
It doesn't matter—it's sofa-soft, there are cushions and padded panels on the sides. I attempt to do some e-mails on the swiveled passenger seat, but this is not a business environment, so instead I grab my sleeping bag and kick back with a kitesurfing magazine. It feels appropriate.
And as the light outside fades I ramp up the ambient lighting inside. It's soft and subtle, making the Buzz feel warm and welcoming. I soon nod off.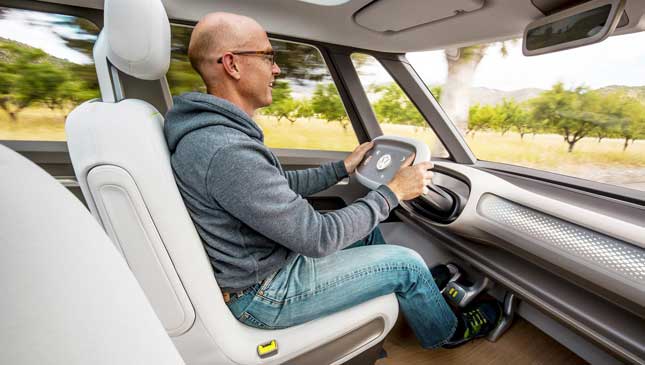 The next morning, we relocate to a mountain road to do a bit more driving. The Buzz has been given special dispensation (there's no seatbelt, after all), but we have an issue. A concept car that weighs 2.4 tons and has an electric motor doesn't like inclines. And downhills aren't in favor because I suspect the brakes have been pinched from a mountain bike.
It also rides like a car jack and makes several alarming noises. But once we find a flat enough area, the sensation of moving in it is plain wonderful. No hood ahead, just this wide, wide expanse of glass, the scenery unspooling toward you. The weather's gray, the scenery's brown, but this big frame borders the world beautifully.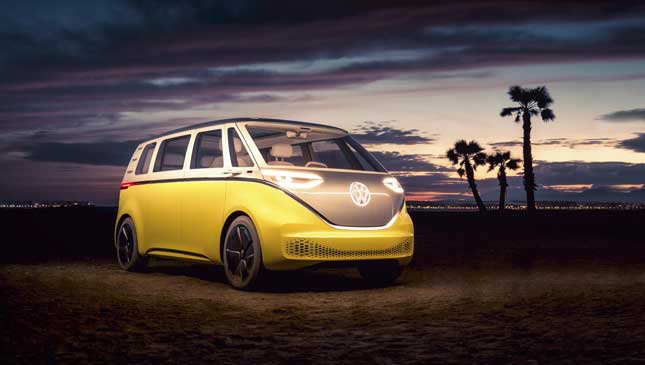 The Buzz won't be the first car in the I.D. portfolio—that'll be a more conventional Golf-sized hatch. But if it does come—and I'm pretty sure it will, given the inordinate amount of care VW has taken with its reimagined camper van—I'm convinced it'll be the one that catches the public's imagination.
What to take away from this? Chiefly that I reckon VW is keen to reinvent the MPV as an activity vehicle, to show there's an alternative to the SUV. Off-roaders are fashionable right now, but fashion is fickle, and this looks like a brighter, cleverer solution for the future.
The I.D. Buzz is less pretentious, less aggressive, and better at delivering the greatest luxury you can have in a family car—space. The electric age needs a new shape, a new style. And when it arrives in 2022, the production version of this could be it. VW, we're counting on you.
NOTE: This article first appeared on TopGear.com. Minor edits have been made.