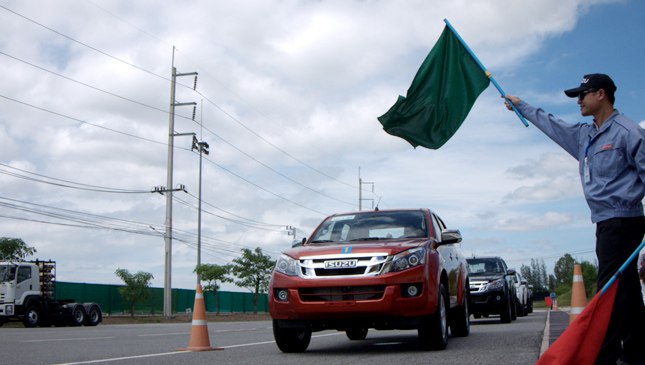 With the new 4JJ1-TC finally released in the Philippines, the Isuzu D-Max and MU-X are no longer dead last in the power stakes. Okay, technically, Isuzu Philippines is still the only local manufacturer without a 170+hp engine, but paper specs are one thing and on-road performance is another, which is why Isuzu flew a bunch of motoring journalists to Thailand to try the upgraded D-Max and MU-X at the automaker's high-speed test track in Gateway City.
Thailand is a wonderful place to visit. It's much like the Philippines, only with elephants, Buddhas, and swarms of two-door pickups. There are still reckless scooteristas, speeding bus drivers, squatters, street vendors and graffiti-spraying vandals. But decades of proper government-planning have built up a civil and transport infrastructure that's efficient and logical. Wide sidewalks clear of obstructions are still passable despite vendor carts.
Walking several blocks here is easier than in Makati, as you're not striding several stories down into underpasses or squeezing around stairs and utility poles. No electric posts in the middle of the road, either! In fact, the major highways have a structure-free zone around them big enough to fit two extra six-lane highways. When there's space to breathe--aided by the fact that the Bangkok River doesn't smell like garbage--all other problems seem less serious.
ADVERTISEMENT - CONTINUE READING BELOW ↓
ADVERTISEMENT - CONTINUE READING BELOW ↓
Recommended Videos
While nowhere near as big as the fancy new highway between Bangkok and Gateway, Isuzu's impressive proving grounds feature a 10,000sqm skid pad, various off-road obstacles, and a high-speed test track with banked turns leading onto two 400m straights. It was the last one we used, as this trip was all about the bass engine. The official speed limit on those high bankings is a rather tame 40kph. Once you hit the bumpy patchwork of concrete on the high side at speed, you understand why!
Of course, this track is meant to shake out any issues with the powertrain, chassis and suspension. Those bumps easily expose any skittishness in the chassis at speed, and the MU-X handled them without drama. Not being a fan of heavy braking, however, we lifted, coasted and turned in smoothly into the high banking during our first turn at the wheel. We floored the pedal halfway to the exit, and we were hustling. We saw 140kph on the dial at the end of each and every straight. Not bad for a heavy, four-wheel-drive, automatic-transmission seven-seater. Obviously, out on the open road, this SUV can go faster. Not legally so, but the potential is finally there.
ADVERTISEMENT - CONTINUE READING BELOW ↓
As we all shuffled through our drive assignments, the lone manual-transmission D-Max, fittingly manned by one Mr. Nuttie, became available. We made a beeline for the cockpit.
Now, this is more like it, we thought. Shoving off in first, we were greeted by instant acceleration. Unlike some "on-off" variable geometry systems, power here builds in a strong, steady wave, cresting at around 3,600-3,800rpm. There are no sudden lurches or dips in the torque band. The gearshift slots between gates easily, while the clutch is feather-light in comparison to most modern diesels.
That's an effect of not going for mad headline torque figures. Despite the 161hp output, the new motor is rated at a rather sedate 380Nm (360Nm for the manual). This de-stresses the drivetrain, allowing for a lighter clutch. De-stressing has benefits on the engine as well. Isuzu claims a "B10" number of 500,000km for the 4JJ1-TC turbodiesel. Meaning only 10% of all units will require open-engine repairs by 500,000km.
ADVERTISEMENT - CONTINUE READING BELOW ↓
For those who buy and sell on the 100,000km cycle, that doesn't mean much. In fact, no other major manufacturer even gives a B10 rating for passenger trucks! But for those of us who actually use trucks for work, that's a pretty big thing. The low-compression, chain-driven 4JJ1-TC will need little more than oil changes to last into the next millennium.
After another round, we were asked if we could take the manual D-Max out again to complete the queue. As if they could pry me out of the air-conditioned cab to stand on the sweltering track again. As we cruised by the pits at twice the legal highway limit, we reflected on the D-Max, a truck that is wonderfully easy to live with, now with the power to match that comfort. Isuzu claims 0-100kph comes up in 11.6 seconds. That feels conservative, and at the same time parallels the real-world acceleration of much more "powerful" trucks. Mind you, this is also the engine under the hood of the world's fastest diesel pickup, which does the quarter-mile in 8.2 seconds.
ADVERTISEMENT - CONTINUE READING BELOW ↓
Combined with the engine's expected durability and fuel economy, the appeal should be rather obvious--at least to Isuzu fans. The spec-sheet numbers might still leave naysayers unconvinced, but, as with Thailand and the Philippines, that subtle difference makes all the difference in the world.
Photos by Niky Tamayo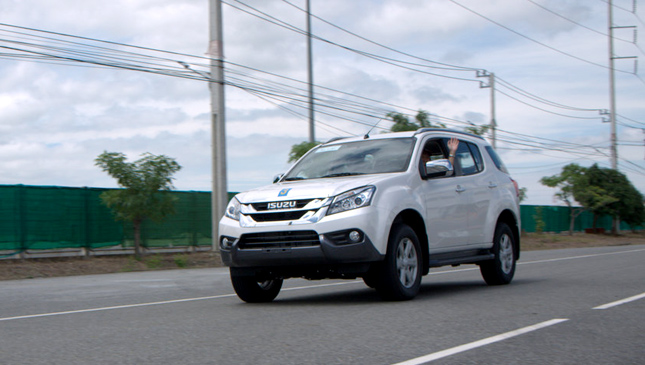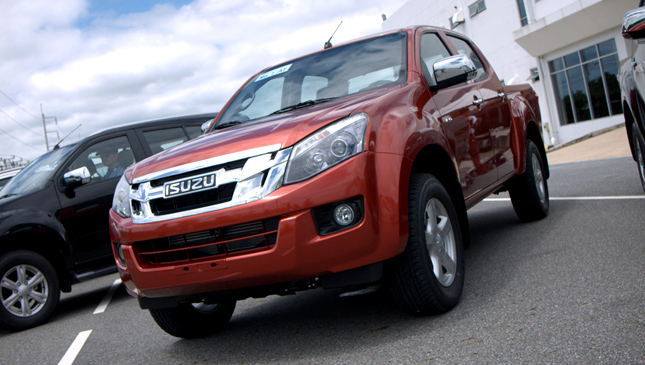 ADVERTISEMENT - CONTINUE READING BELOW ↓