What are you doing turning your car into a bangka? Unless you've acquired an amphibious vehicle, you should never take your ride for a dip through floods. It may cost you a lot of money to repair if problems do arise from your vehicle getting soaked.
Unfortunately, we sometimes find ourselves helplessly caught in one as floods can occur in the blink of an eye when monsoon rains kick in, or when a main waterline bursts—especially in congested urban areas with poor drainage. That said, I created a checklist to guide you on what do and look for after traversing a flood:
1) Check your brakes.
After surfacing from a flood and your car's engine is still running, don't go heavy on the throttle just yet. Usually your brakes tend to slip more and lose their grip after getting soaked in water. It would be wise to tap on the brake pedal a few times before you continue driving. This will allow the contact between the pads and rotors/drums to return to its normal, dry state for optimal bite.
OTHER STORIES YOU MIGHT HAVE MISSED:
LTO warns fixers: "Your time in prison will come"
Quick guide: Common violations caught by no-contact apprehension cameras
2) Observe your engine's behavior.
Depending on how the deep the flood is and what car you drive, be very sensitive to how your engine behaves after crossing a flooded area. Observe if idling has become jittery or you feel there's been a sudden loss of power combined with unusual noises. When such abnormal characteristics begin to manifest, park in a safe, dry area and do the following:
ADVERTISEMENT - CONTINUE READING BELOW ↓
a. Check your oil dipstick.
If water has somehow found its way into your engine say via your air intake, water droplets will be present on your dipstick. The oil may appear milky as well—a clear sign of water contamination. Just hope it hasn't caused any mechanical damage to your engine yet. In some cases, hydrolock may occur, which means the engine has stalled due to broken piston rods and other forms of serious damage caused by water.
b. Inspect your air filter.
If water has entered through the air intake, chances are your filter element and airbox will be wet. More reason for you not to push on. If it's dry, then water must have entered through another breach. A thorough inspection by a qualified mechanic will be needed.
c. If water is present in your mill, don't restart your car and do call for assistance.
Water contamination in an engine is no laughing matter. It would be wise to get your vehicle towed and brought to a professional shop or dealership for proper diagnosis, oil replacement, and possible repairs.
3) Check your vital electrical and electronic parts.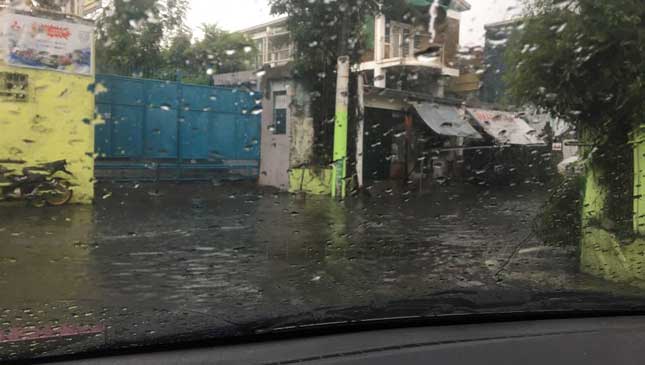 Though most modern cars' electrical connectors are more water resistant now, it's not an absolute guarantee that moisture will not enter and cause issues like shorting. Inspect fuses in the fusebox if everything is intact. When a fuse is busted, locate the specific part by referencing the legend usually found on the fuse box cover. In addition, check your computer box to see if it took a dip. Wipe it with a clean towel to remove as much moisture as possible to hasten drying. Provided your fuses are okay, check all your external lights as well.
When in doubt, disconnect your car battery and have an automotive electrician check and evaluate your unit.
ALSO READ:
DOTr secretary willing to ride public transport to understand commuter problems
CALAX Silang-Aguinaldo Interchange now 56% complete, will open later this year
4) Physically inspect your carpeting.
Sometimes floodwater may enter via your car's undercarriage through compromised seals. Remove your mats and feel if the carpet and padding beneath are soaked. Never let water sit in your interior; wipe down, wet vacuum and air/blow dry as soon as possible. Note that most vehicles' airbag control modules are located under the driver's seat and must be kept free of moisture.
5) Don't forget to check your spare tire area.
If water has somehow entered this zone, make sure to dry immediately to prevent rust from forming on bolts that hold your spare securely in place, and any tools that may be stashed there.
The best advice I can impart on the matter is to simply avoid driving in floods. It would definitely be worth your time to wait for floodwaters to recede before driving on, than ending up with a hefty repair bill after impatience has gotten the best of you.
ADVERTISEMENT - CONTINUE READING BELOW ↓