Prior to its official unveiling and test ride this weekend at Robinson's Metro East, the Honda ADV 150 has stirred up a lot of excitement over the past few weeks. While riding around town on my Honda X-ADV 750, fellow riders often mistook it for its new, smaller sibling. Prior to confirming the ADV 150's arrival in the country, I had doubts it will be released here.
Here's everything you need to know about this scooter.
Variants and pricing
The model they launched is the top-spec ABS version. It is available only in two colors: Winning Red, a popular Honda color, and Matte Meteorite Brown, an understated hue exclusive to the ADV 150. I have to admit, I'm partial to the latter subdued color as it matches the bike's eye-catching exterior design. The ADV 150 is priced at P149,000.
Features
The ADV 150 shares a lot of technology with its bulkier stablemate, a number of them a first in this displacement category. Both are equipped with the Honda Smart Key System for convenience and security. It also has LED lights, from the headlight to the turn signal lights, and an all-digital instrument gauge panel, with a supplementary dashboard light panel.
Continue reading below ↓
Recommended Videos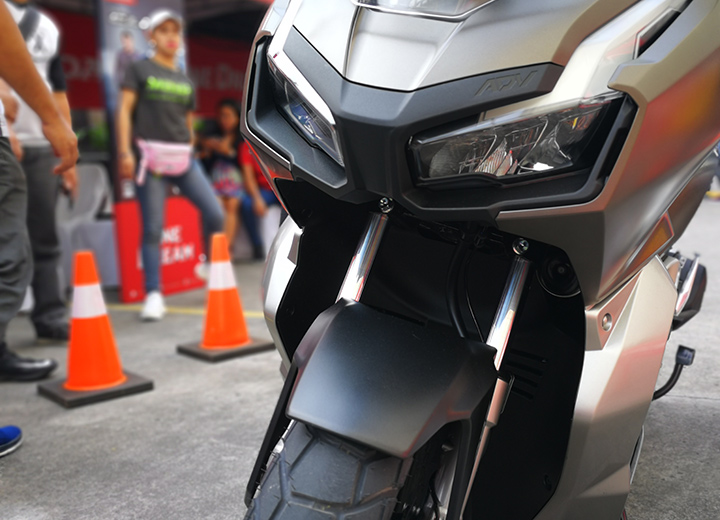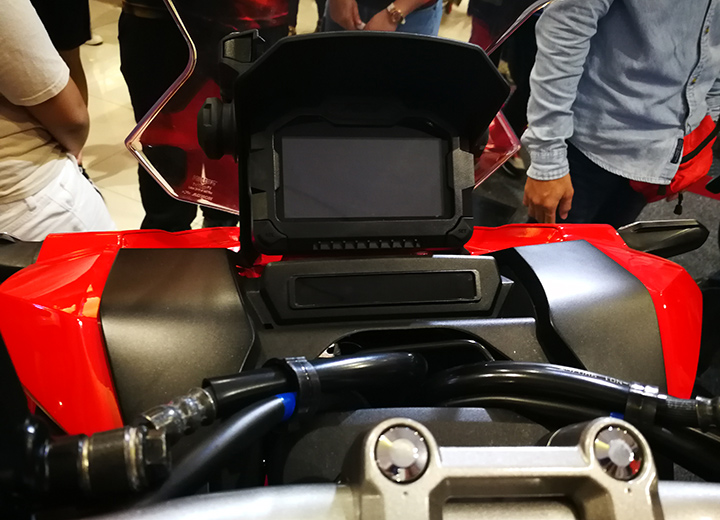 The improved LED gauge screen is negatively back-lit and presents more information. Negative back-lighting makes it easier to read on sunny days. Aside from a speedometer, trip meters, date and time, fuel consumption, and outside air temperature, the ADV 150 display has an oil service interval indicator. I didn't notice a rev counter though, as I expected that on a sporty bike. The supplemental dash panel has more warning lights, adding warnings for overheating, battery system failure, and autostop function.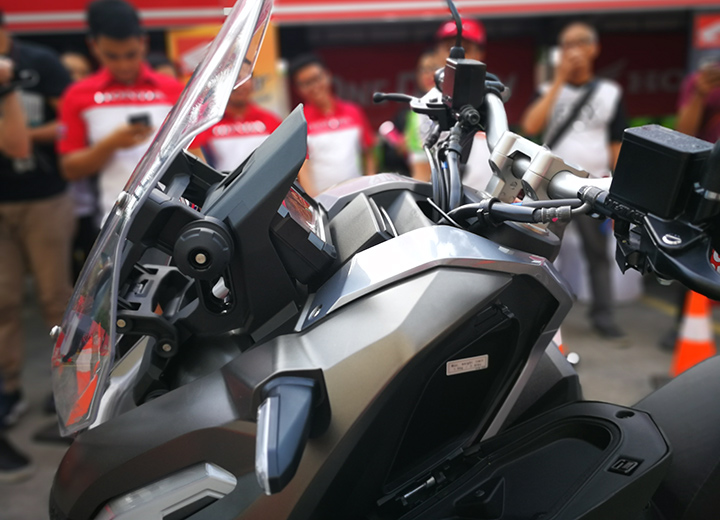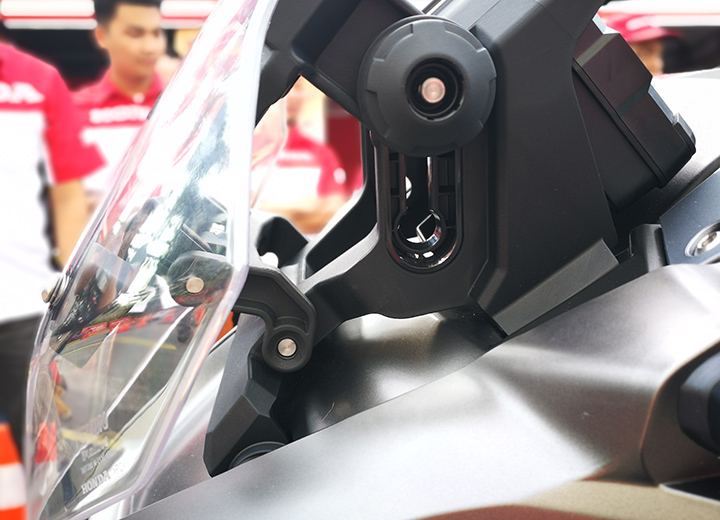 The ADV 150 also comes with a manually adjustable two-position windscreen versus the five height positions for the X-ADV.
Storage
The shorter scooter has a massive utility box with a 28-liter capacity. I've struggled to fit my adventure-style full-face helmet on the 21-liter underseat box of my bike.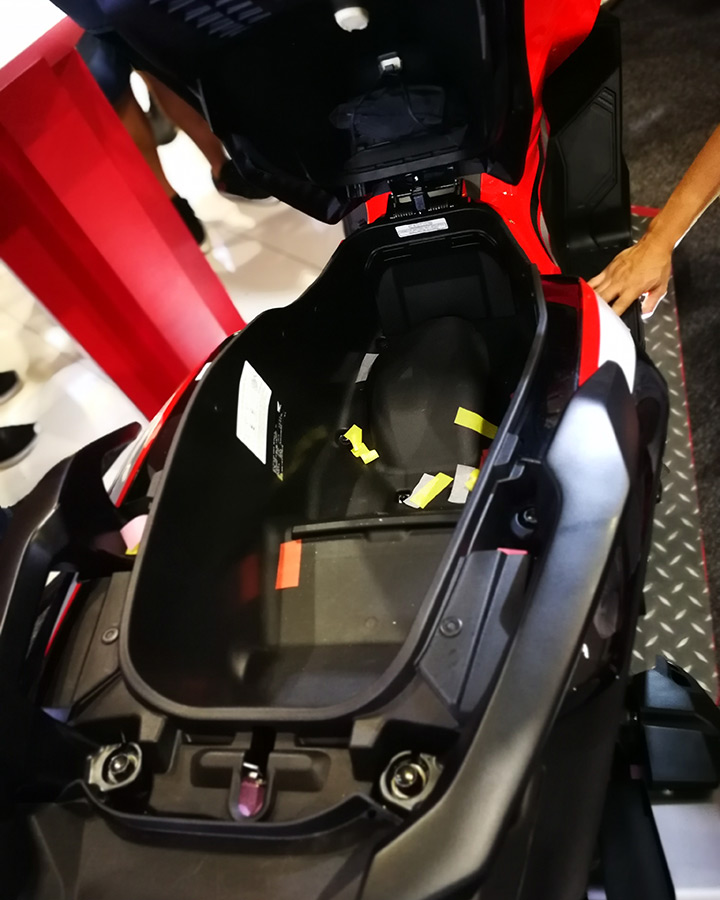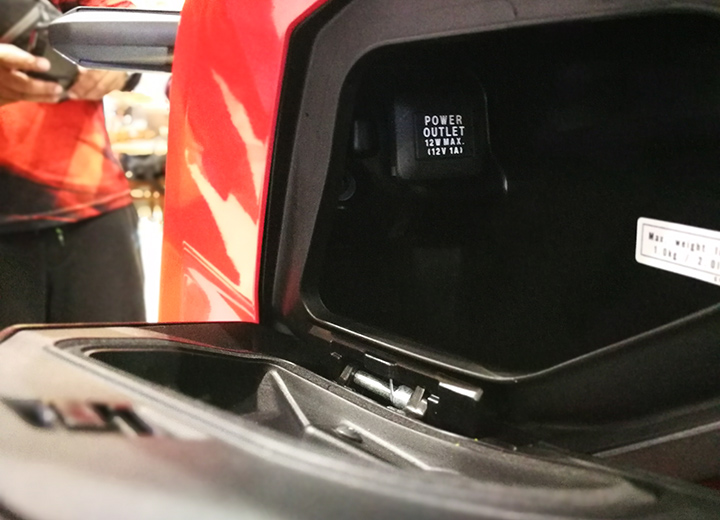 Wheels and tires
Its 14-inch front, and 13-inch rear tires have a similar tread pattern to the X-ADV that makes it capable both on-road and packed dirt roads. Its long-travel suspension, providing high ground clearance, would be perfect for our typical road conditions. With the Continuously Variable Transmission (CVT) located higher, it can avoid floodwater entering the CVT case or road debris clogging up the filter and overheating the transmission due to poor air circulation.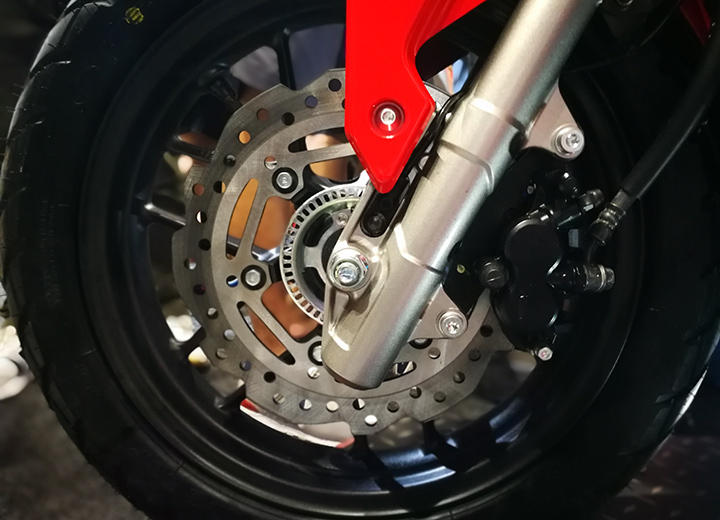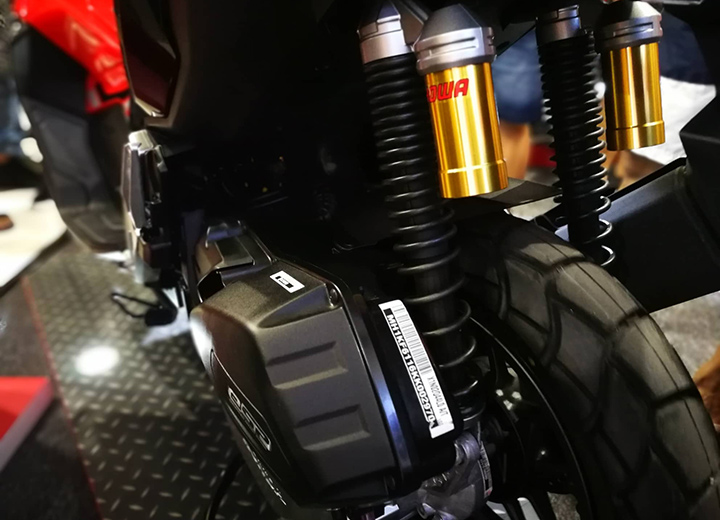 Riding impressions
We tested it on parking lot tarmac and even with aggressive panic braking, I didn't observe significant dive on the front conventional forks. The wide, comfortable seats may have contributed to my initial impression of a balanced, cushy suspension. The twin rear, gas-filled, sub-tank shocks, felt firm but not jarring. The naked, tapered handlebar is wide and balanced by hefty bar ends. Handling was excellent, I had fun maneuvering the short, tight course.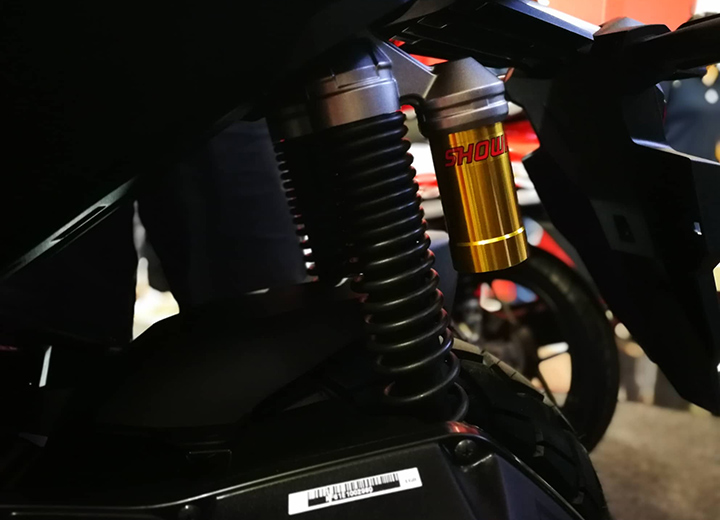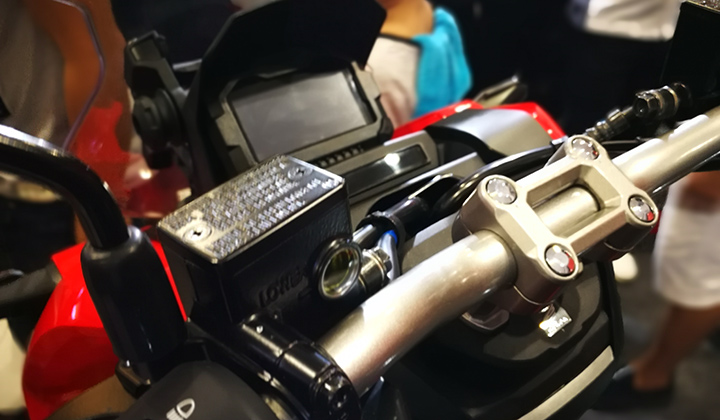 Engine
This scooter is a technology showcase for Honda. To kick off with acronyms, it sports the brand's 150cc ESP engine, cranked to life with the ACG starter that's electronically mated to the ISS. ESP means 'Enhanced Smart Power', part of Honda's Smart Technology which combines high power output with high fuel efficiency. The Alternating Current Generator (ACG) starter has no reduction gears and avoids those gear-meshing rough starts. The Idle Stop System (ISS) shuts off the engine when idling in traffic to save fuel, and starts it automatically when you twist the throttle. Honda notably pioneered the use of ISS for motorcycles. Without the ISS indicator on the warning light panel, you'd never notice it has turned off the engine or smoothly started it with the ACG starter.
Safety
In conjunction with the anti-lock braking system (ABS), the Emergency Stop System (ESS) flashes the hazard lights when you suddenly apply the brakes, mitigating rear-end collisions. The one-channel ABS modulates only the single front 240mm rotor. Unlinked from the front brakes, the electronically independent 220mm rear disk brakes, harken to its off-roading potential.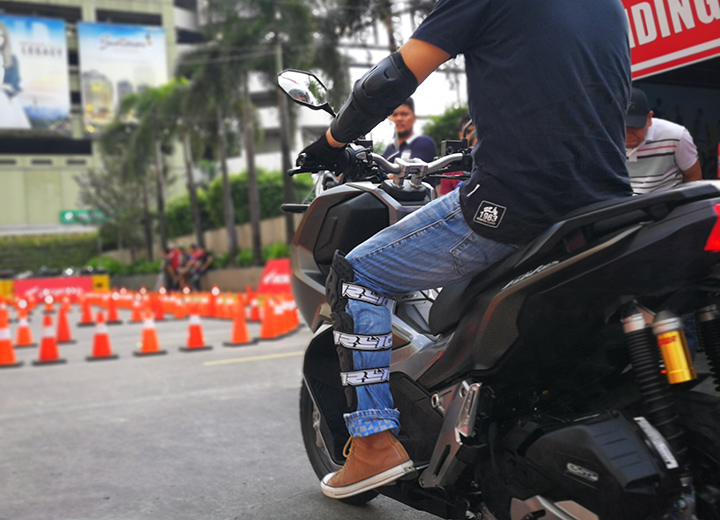 Final thoughts
Being liquid-cooled, The ADV 150 makes an ideal steed for long urban commutes or even countryside road trips. The utility box under the seat has enough room for an overnight bag or if you're a light packer, luggage for a 3-day vacation. The front console has a 12-volt socket and space for an average-sized smartphone. No wonder Filipino urban adventurers are excited about its arrival. This scooter has everything they're looking for: great aesthetics, loads of practical technology, functional convenience, and security.