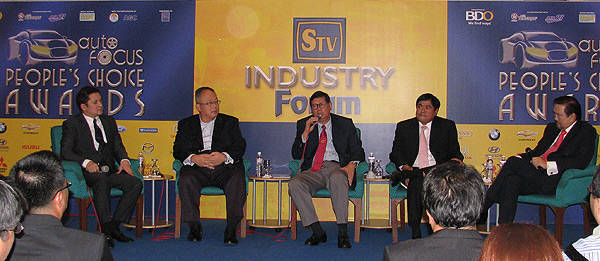 If you're planning to buy a locally-available hybrid car, you may want to hold it off for a little while as the Senate is reportedly working on a bill that may soon bring the exorbitantly high prices of these vehicles down to a more affordable level.
This was revealed by Board of Investments (BOI) managing head and Department of Trade and Industry undersecretary Crisanto Panlilio at the automotive industry forum moderated by Sunshine Television chairman and chief executive Ray "Butch" Gamboa. The forum was held prior to the launch of the 2011 Auto Focus People's Choice Awards.
According to Panlilio, the bill is being spearheaded by Senator Ralph Recto and consolidates similar measures filed by other senators. Panlilio added that the Senate has already conducted public consultations on the matter, which could see the duties and taxes levied on importing alternative-fueled vehicles be waived for as much as 10 years.
"The good thing about this bill is that it doesn't only benefit hybrids and electric vehicles but also those that run on compressed natural gas, liquefied petroleum gasoline, or any other alternative-fueled vehicles," said Panlilio. "With all these tax breaks practically making these vehicles tax free, the possibility of owning a hybrid is now closer to realization for everybody."
In his role as BOI chief, Panlilio, however, is pushing that these incentives only be given to companies that will assemble these alternative-fueled vehicles locally "to help bolster the economy and the local automotive industry by creating more jobs for the people."
If the bill is passed into law, do you see yourself buying a hybrid or electric vehicle soon after? What alternative-fueled cars would you like to see on the road when this does happen?