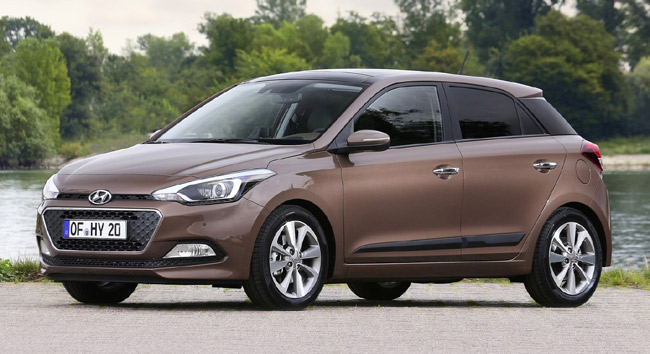 Now lower, longer, wider but lighter than its predecessor, the all-new Hyundai i20 is expected to make waves in Europe. After all, the first i20 was designed, developed and built in Europe.
Designed at Hyundai's Design Center Europe housed in Russelsheim, Germany, the i20 sports the Fluidic Sculpture 2.0 design philosophy. As such, its lines give it a sophisticated look.
The key Hyundai design element is the hexagonal grille that flows into its headlamps with LED daytime running lights. At the rear, the light clusters drape the rear wing and the trunk lid. A design decision was made to integrate the reversing lamp into the rear bumper.
The new i20 is 16mm lower than its predecessor, having an overall height of 1,474mm. It is now longer by 40mm, having an overall length of 4,035mm. It is now also wider by 24mm compared to the previous generation, having an overall width of 1,734mm. It has a wheelbase longer by 45mm than its predecessor's, measuring 2,570mm.
The new i20 has thinner and shorter A-pillars, thus improving the driver's view. The C-pillars, on the other hand, give a floating roofline impression.
Inside, passengers get extra head and leg rooms. Front-seat passengers get a 1,038mm headroom (an increase of 33mm) and a 1,098mm legroom (up by 24mm). The rear seats can comfortably accommodate three passengers who get to enjoy 978mm of headroom and 794mm of legroom.
Continue reading below ↓
Recommended Videos
The i20's 1,027mm-wide tailgate opening exposes 326L of cargo space, a 10% increase from the previous generation. With the rear seats folded flat, cargo capacity increases to 1,042L.
Europe's i20 hatchback boasts a full-length panoramic sunroof that can tilt and fully open. A dashboard-integrated seven-inch satellite navigation system guides the driver on road trips. Other features include the automatic-folding door mirrors, front and rear parking assist, and smartphone docking integration. USB and auxiliary connectivity comes standard, and 1GB of music can be saved and played.
With the Europe-bound i20 to be produced at Hyundai's Izmit plant in Turkey (instead of having it manufactured in Chennai, India), the carmaker is able to make it available in four trim levels targeted at consumers in the region.
Available with Kappa gasoline and U-II diesel engines carried over from the outgoing model, the new i20 is Euro-6 compliant. European consumers who prefer gasoline have several options: the 1.25-liter four-cylinder in low power (74hp) and high power (83hp), mated to a five-speed manual transmission; and the 1.4-liter four-cylinder (99hp) paired with either a six-speed manual transmission or a four-speed automatic gearbox.
Consumers who fancy diesel engines have options, too. They may choose between the 1.1-liter unit (74hp) and the 1.4-liter mill (89hp). Both are mated to a six-speed manual gearbox.
Now, you may recall that before the long holiday break, Hyundai Asia Resources Inc. announced that it would introduce three new models in 2015, one of which is the i20 crossover (the crossover version of the i20 hatchback). Are you eagerly awaiting the i20 crossover, or would you rather have this regular i20 hatchback instead?
Have your say in the comment box below. Hyundai Philippines will be taking note, trust us.