Last month, Kia got its re-branding to a hot start with the reveal of the K8. With clean surfaces, a bold face, and a few energetic design elements here and there, the vehicle is easily one of its sharpest-looking sedans yet. But what about the interior?
Well, wonder no more, because Kia has just revealed the K8's cabin, and it's every bit as stunning as the vehicle's exterior.
The Korean car manufacturer says that every bit of the K8's interior was created with luxury in mind, and it shows. There's a nice amount of premium wood surfaces scattered throughout the cabin, and the dashboard features high-quality trim that helps lend the area an industrial appearance.
Speaking of the dashboard, a massive curved display spanning the center houses a 12-inch digital instrument cluster and a 12-inch infotainment screen. This, together with an A/C system operated via touchpad and a scarcity of physical buttons and dials, elevated center console controls, and some nicelyc oncealed ambient lighting units, really help give the environment a next-generation vibe.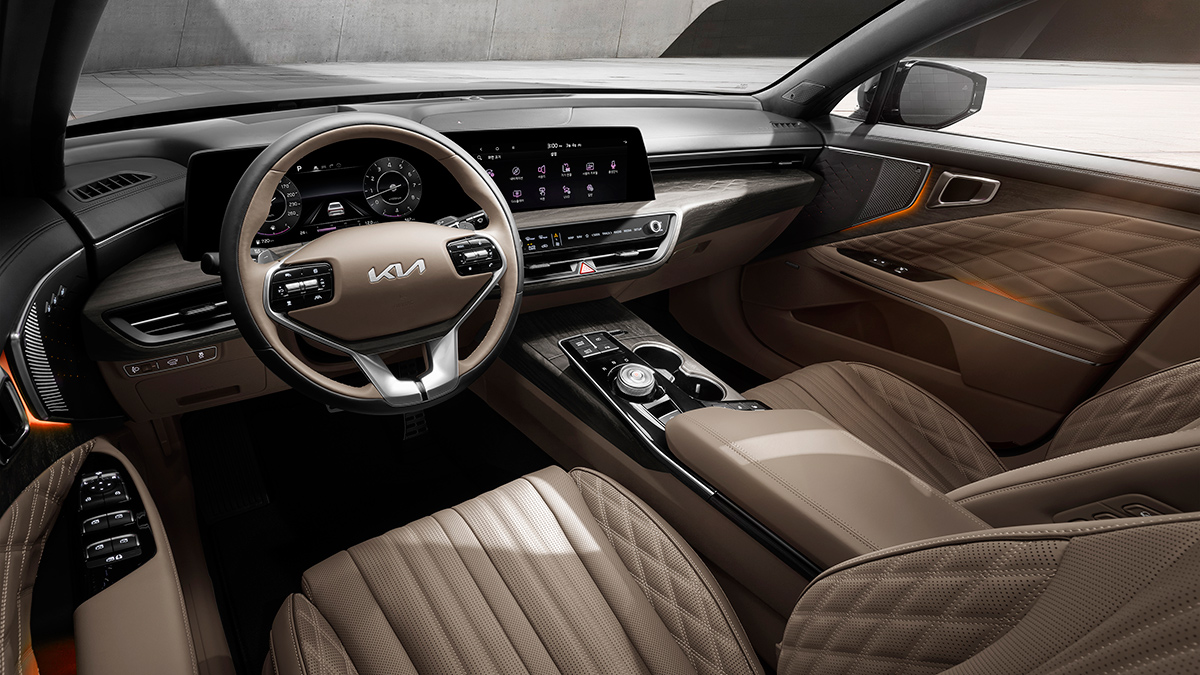 Also, the seats. By the look of things, they appear rather comfortable to be stuck in traffic in. They're wrapped in nappa leather and feature a classy diamond lattice pattern, and they're perfect for dozing off on as you're enveloped by the sounds of the 14-speaker setup. And, finally, that steering wheel—although we do have to say it might take some time for us to grow accustomed to the new logo.
"The interior of the K8 is a canvas for our ambition to define the future, nature meets modern technology, and refinement meets uncompromised comfort. It is a first-class travel space that fulfills the needs of the driver and passengers," Karim Habib, Kia senior vice president, said in a statement.
"The K8 is a modern sedan with a dynamic exterior that is matched by its progressive and elegant interior. This car—our first since our new company rebranding—puts us on the path forward as we look to realize our future goals."
If the K8 is a sign of things to come as far as Kia cabins are concerned, then we're excited. Are you?