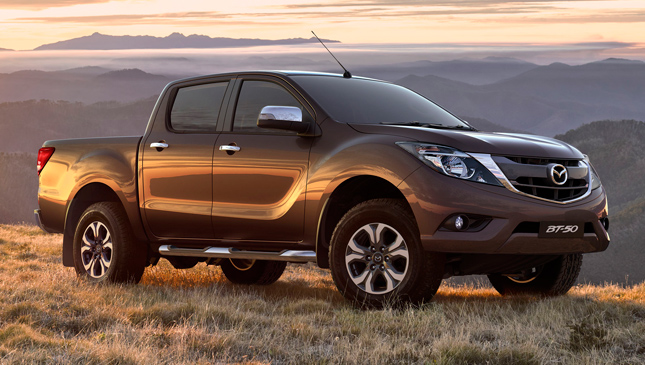 Nissan Philippines president Antonio Zara may have come up with the industry quote of the year when he said: "Let the pickup wars begin." He declared that when he launched his brand's capable Navara truck. And the statement is true, because since then the Mitsubishi Strada has been introduced, and by the end of this month, another heavy contender will join the fray--the Toyota Hilux.
Meanwhile, Ford Philippines, proud title holder of the best-selling pickup in the country last year, flew us to Thailand to show off the face-lifted Ranger that will meet these challengers head-on this year. The Americans are clearly not relinquishing their lead easily.
Ford's reveal made us wonder, though: What about the Ranger's twin, the Mazda BT-50? Will it get a makeover, too? While mechanically similar, the Mazda pickup never enjoyed the sales success that the Ford truck had. We believe one factor may be the Ranger's advantage in looks, the Ford possessing a cleaner design and a more macho stance.
Now that advantage has just been narrowed down. Japan-based Mazda Motor Corporation has just announced that a refreshed BT-50 began production yesterday at its factory in Thailand. The Japanese carmaker said it will start rolling out the new BT-50 in the second half of this year, starting with the Thai and Australian markets.
The changes to the Mazda pickup are mainly aesthetic. The front face has been redesigned to give the pickup a sportier and more powerful presence. The rear combination lamps and the aluminum wheels have also been given a new look. The interior has likewise been refined for a higher-quality feel. There's also a backing-up camera now to better maneuver the long truck in tight situations. As far as powertrain goes, however, Mazda says this remains unchanged from the previous model.
ADVERTISEMENT - CONTINUE READING BELOW ↓
Overall, it's certainly a more balanced stance, and we can't wait to see what it looks like in the metal. And speaking of possible personal encounters, we asked Mazda Philippines if and when the refreshed BT-50 is arriving. Its representative replied that there is no word yet from the head office, and that we will be notified right away once arrival of the Mazda pickup is confirmed.
With the current BT-50 being sourced from Thailand, where the refreshed model is being built, it's almost a given that we will get the new BT-50 here. Let's just say you'll know when we know.
ADVERTISEMENT - CONTINUE READING BELOW ↓
Recommended Videos