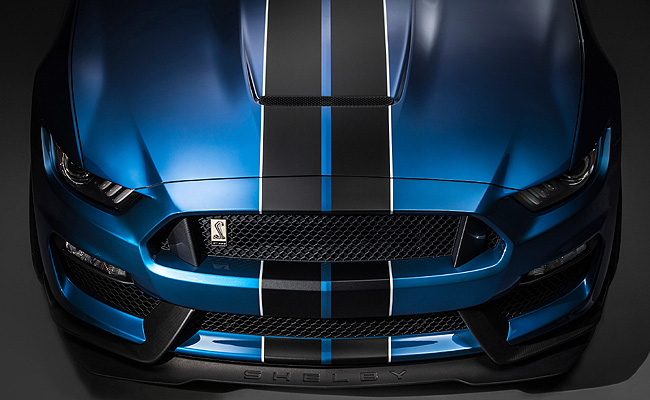 Just in case the Shelby GT350 Mustang that Ford revealed in November--or, for that matter, the freshly unveiled new-generation GT--isn't hardcore enough for you, the American carmaker has announced at the ongoing 2015 Detroit Motor Show that it has created the "most track-ready road-going production Mustang ever built." Meet the Shelby GT350R Mustang.
A new 5.2-liter dual-overhead-cam V8 engine, reportedly the first-ever production V8 from Ford with a flat-plane crankshaft, powers the car with an output of more than 500hp and a torque of 542Nm. It also has an air-to-oil-engine oil cooler that's normally found only on race cars to maintain engine temperatures "under the most severe conditions, as well as a standard cooler for the six-speed manual transmission."
An abundance of carbon-fiber elements can also be found on the Shelby GT350R Mustang, like the 19-inch wheels that reportedly make Ford the first major carmaker to "introduce this innovative wheel technology as standard equipment," and the rear wing.
Besides using the lightweight material, Ford engineers further reduced the car's weight by removing equipment that failed to make the car faster around a road course. This included items like the air-conditioning, the audio system, the rear seats, the trunk floorboard and carpet, the backing-up camera, and the emergency tire sealer and inflator. For customers who want to be comfortable in the Shelby GT350R, Ford is offering an optional Electronics Package that includes dual-zone air-conditioning, an eight-inch touchscreen with navigation, a seven-speaker audio system, and turn-signal mirrors.
Continue reading below ↓
Recommended Videos
Unfortunately for us, the limited-edition Shelby GT350R Mustang will only be available in the United States and Canada when it goes on sale later this year.
"The Shelby GT350R Mustang is a no-compromise car in the pursuit of maximum track capability," Ford group vice president for global product development Raj Nair said. "It is a thoroughbred street car making use of technology and ingenuity to deliver performance few enthusiasts have ever experienced."