Various businesses across all industries have already begun their initiatives to reduce their carbon footprints, be it in production or operation. For carmakers, it goes beyond simply building eco-friendly hybrid and electric vehicles—there are a lot more alternatives that manufacturers can turn to in their attempts to achieve a  sustainable future. One pretty basic yet doable method is by recycling.
Take, for example, Ford's most recent initiatives. First, it partnered with McDonald's to use coffee chaffs as material for building car parts. Then, it successfully developed a renewable diesel fuel from used cooking oil. The two main ingredients in these recipes are simple and readily accessible, yet the initiatives could easily yield a significant impact on a large scale over time.
But of course, Ford isn't the only car company going green. Audi has been turning up its sustainability efforts as well, and its latest innovation comes in the form of the fourth-generation Audi A3's new textile upholstery that comprises up to 89% of recycled PET bottles.
How does the German carmaker achieve this? It gathers waste PET bottles through reverse vending machines that pay €0.25 (about P14) for each bottle. These bottles are then compressed, sorted, crushed, and wound into coils that are then used to create the material. In each A3, Audi says that more than 100 1.5-liter PET bottles can be used—45 for the seats, 62 for the carpet. In addition, other interior parts such as the insulators, side-panel trim, and mats are also made of secondary raw materials.
Continue reading below ↓
Recommended Videos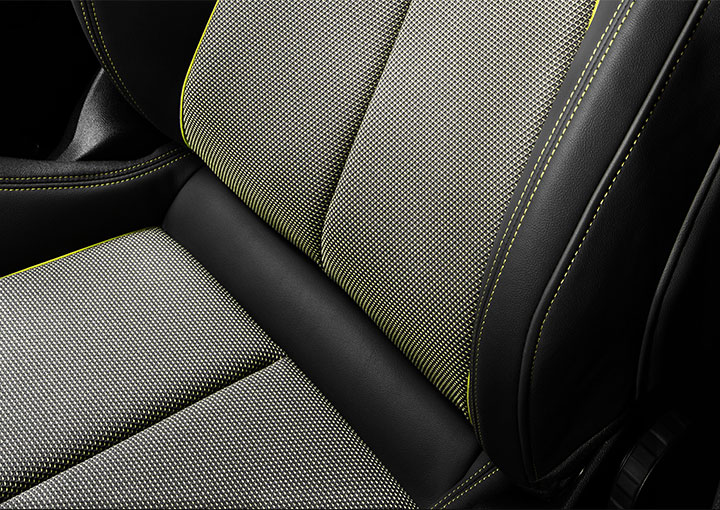 Three different upholstery designs are available. There's 'Torsion' with a steel gray finish accentuated by yellow contrast stitching, and 'Puls,' which comes in black and silver with rock-gray contrast stitching. A third option in black and red will be offered later on.
The seat upholstery is not completely made of recyclable materials just yet, but Audi aims to achieve this across all model series in the future. "The lower layer of woven material, which is connected to the upper material with adhesive, is what poses the challenge. We are working on replacing this with recyclable polyester," said Ute Grönheim, who is in charge of material development in the textiles division at Audi. "It is our goal to make the seat upholstery completely from unmixed material so that it can be recycled again. We are no longer very far away from this."
Now, these are the kinds of upgrades we want to hear from the carmakers. What do you think?