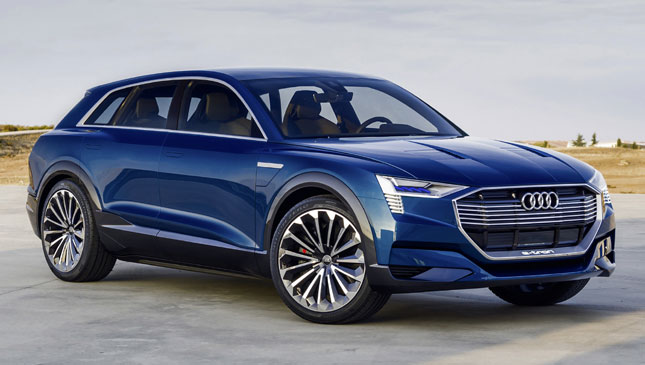 We've always known Audi to be at the forefront of advanced vehicle technology. The light yet strong Audi Space Frame body is one such innovation. Then there's the Quattro all-wheel drive. Both have gone from the lab to the production floor, and changed the way we ride and drive our cars. And now, the German carmaker is at it again, announcing that it is dead serious about going electric.
Audi has revealed that it will produce the e-Tron Quattro concept SUV at its Brussels, Belgium, plant beginning in 2018. First unveiled at the Frankfurt International Auto Show, the e-Tron Quattro concept SUV runs entirely on electricity, with three electric motors and a high-capacity battery. The high-tech SUV will slot right in between the Q7 and the Q5. (Does that mean it will be called the Q6?). The carmaker claims an estimated driving range of 500km on a single, quick charge.
To make way for the new model, various Audi plants worldwide will play musical chairs. The Brussels plant will produce exclusively the e-Tron Quattro and its batteries, and other Audi and Volkswagen EVs. The current product that the Belgian factory makes--the A1--will be assigned to Martorell, Spain. The Gyor facility in Hungary will take the reins building the Q3, which is currently manufactured in Martorell. The last move makes sense as the Hungarian production plant is presently churning out the A3 sedan, the A3 cabriolet, and the TT coupe and roadster.
Continue reading below ↓
Recommended Videos
If all this sounds just a bit too confusing, don't worry. It's part of Audi's strategy to organize its operations and production to meet the demands of a more efficient and environment-friendly future. According to the carmaker, it has carefully studied its moves, and has considered plant capacity and job security. The German brand believes that all this will benefit everyone involved.
In all honesty, it doesn't really matter where the cars and the SUVs are produced. What's important is that the quality and craftsmanship are impeccable and won't give any problems down the line. As for the upcoming e-Tron Quattro, it sure looks promising. We look forward to seeing more electric SUVs in the future.