If you've always wondered how automatic transmissions (AT) work, it's seriously complicated. 
From a driver's point of view, it looks simple: you need not step on a clutch pedal to change gears in an automatic car because the machine does all the shifting for you. What most drivers probably don't know, however, is how exactly an AT determines when it should be shifting gears.
There are a lot of different factors that affect this, such as how hard the driver steps on the pedal or how fast the vehicle is going—simply speaking, your regular ATs shift gears based on driver preferences and real-time conditions of the car. I could go on, but aside from the fact that I don't completely understand it either, it's because that's not what we're here to focus on.
What we're here to look at is how Hyundai and Kia have developed a new transmission called the 'Information Connected Technology (ICT) Connected Shift System' which challenges how traditional ATs work. According to the Korean carmakers, here's how the new system functions. 
A 3D-navigation technology that has a precise map of the road makes use of cameras and radars to send information to the transmission control unit (TCU). Said info includes elevation, gradient, curvature, and real-time road events such as traffic conditions. In addition, the radar detects actual vehicle speed and its distance from its surroundings, while the front camera provides lane information.
Continue reading below ↓
Recommended Videos
Then, through an artificial intelligence algorithm, the TCU predicts optimal shift scenarios for real-time driving situations which allows it to change gears as necessary. Hyundai described it in a recent statement: "For example, when a relatively long slowdown is expected and the radar detects no speed irregularities with the car ahead, the transmission clutch temporarily switches to neutral mode to improve fuel efficiency."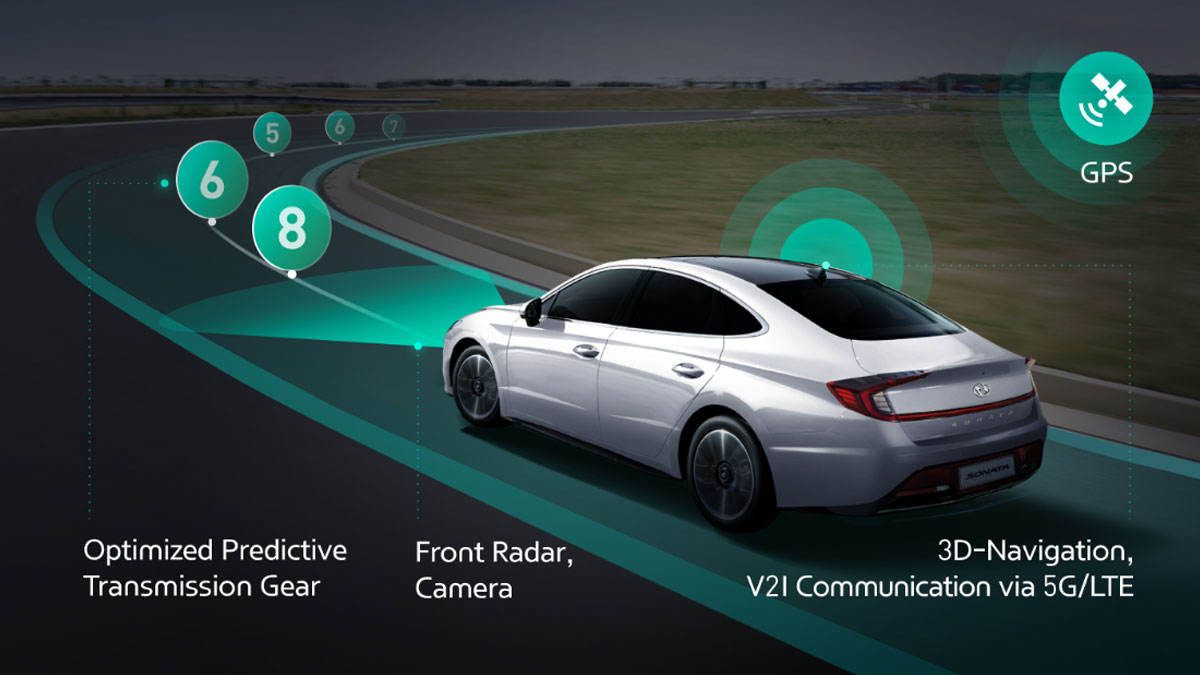 The new tech was tested by driving a vehicle equipped with the transmission through winding roads, and the frequency of shifts in cornering was said to be reduced by about 43% compared to that of a regular AT. Along the highway, on the other hand, the system switched to Sport Mode at the merge, and then returned to the original drive mode afterwards, thus enabling safe and efficient driving.
The system also detected speed bumps, downhill slopes, and location of the speed limit change on the road, which it used to automatically apply brakes upon the release of the accelerator pedal. The front radar also read changes in distance from the front car which helped it automatically adjust the transmission gear accordingly.
"Vehicles are evolving beyond simple mobility devices into smart mobility solutions," said Intelligent Drivetrain Control Research Lab head Byeong Wook Jeon. "Even a traditional area of the automobile, such as the powertrain, is becoming a high-tech technology optimized for smart mobility through efforts to integrate ICT and artificial intelligence technologies."
Hyundai plans to further improve its intelligent transmission with LTE or 5G connectivity to communicate with real-time traffic signals, which can then be utilized to refine the shifting process even more. The carmaker says that in the future, the transmission will also consider drivers' preferences in optimizing its performance.
So, it seems these ATs will continue to get even more automated, then. What do you think?