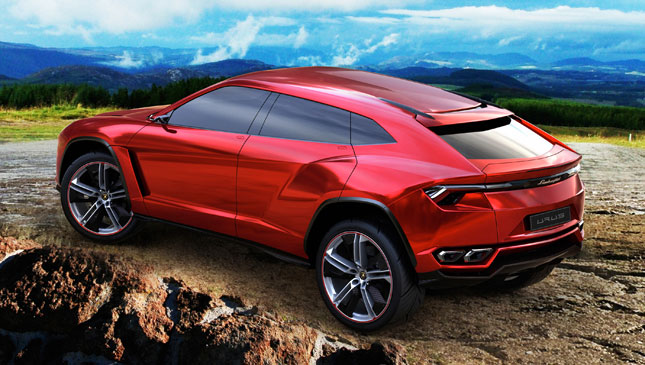 These are ever-changing times. Pardon the cliché, but we can't think of a more appropriate way to describe the automobile landscape at this particular moment. There is so much going on, and right now the biggest change is Italian supercar builder Lamborghini venturing into uncharted territory.
After months of speculation, rumors and spy photos, Lamborghini has officially announced that it will soon be producing a third model. No, it isn't another supercar, but an SUV. And the carmaker will be building this SUV at no less than its Sant'Agata Bolognese plant in Italy.
If you've managed to pick yourself up from the floor and regain your senses, you'll realize that this is pretty much a natural step for Lamborghini (or any car company, for that matter). Remember that Rolls-Royce will likewise venture into the crossover scene, as will Bentley. And Mercedes-Benz will be producing a pickup. With crossover sales booming all over the world, we reckon that Lamborghini wants a slice of the pie.
ADVERTISEMENT - CONTINUE READING BELOW ↓
News of a Lamborghini SUV is nothing new, mind you. As early as 2012, Lambo hinted at a possible model with the Urus concept vehicle. Now that it has officially given the green light, it's just a matter of time before we see the high-end SUV rolling out of the factory.
As for the Sant'Agata Bolognese plant, don't think for a moment that it will simply start production just like that. In true Lamborghini fashion, it will re-engineer the factory to accommodate the new model. This means adding a new R&D facility, a new warehouse, and a new production line. To make way for all these, the plant area will be increased from the current 80,000sqm to almost double, at 150,000sqm.
So, who would buy this new SUV, you ask? Lamborghini is targeting existing owners of the Aventador, the Huracan and the Gallardo, who drive supercars on the weekend, yet prefer an SUV for the weekday and the school run. It is likewise eyeing new buyers who want to own a Lamborghini, but somehow can't justify it to the missus. Needless to say, the new SUV will possess the driving qualities that have made the Italian marque a dream of many car enthusiasts the world over for decades.
ADVERTISEMENT - CONTINUE READING BELOW ↓
Recommended Videos
While no details have been revealed as of this writing, Lamborghini has said that the SUV should be launched around 2018. That's a good three years from now. This means you have more than enough time to decide and debate if a Lamborghini SUV would be a cool thing to have in the garage or not.
What do you think?