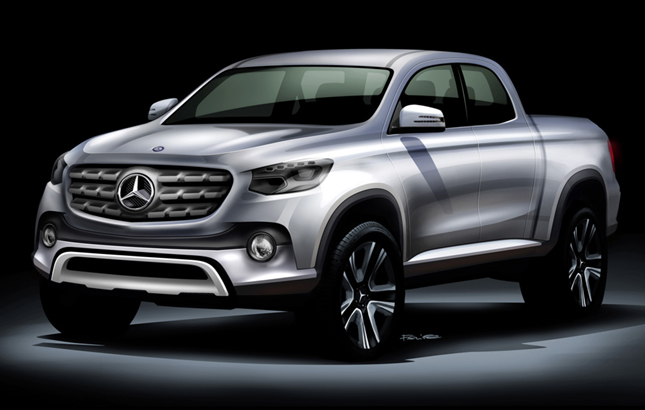 Pickup trucks have come a long way. Once upon a time, they were practical, tough workhorses that you brought to your farm, but never to the country club or even to a posh hotel. Today, however, you can drive your truck to the aforementioned locations and the parking attendant won't give you a funny stare. In fact, the pickup market has become so lucrative that no less than Mercedes-Benz has recently announced that it will launch its very own midsize pickup.
The Stuttgart-based automaker has said that it will be expanding its product range by entering the pickup-truck segment before the end of the decade. Mercedes-Benz has obviously seen the potential for such a vehicle--what with the stellar sales of the pickup truck across the globe. And once the German carmaker enters the segment, it will be the first premium carmaker to field a pickup truck.
And why not? Keen car nuts who have been following the segment know that these trucks aren't simply used to haul grain anymore. Pickup trucks such as the newly launched Nissan Navara, Mitsubishi Strada and Ford Ranger, and even the highly anticipated next-generation Toyota Hilux are now considered lifestyle vehicles.
Professionals such as doctors, for instance, buy these trucks for their versatility and comfort. These vehicles are now being used as daily drivers on weekdays, and as cargo haulers on weekends. This is what Mercedes-Benz wants to have a share of once it enters the segment.
Continue reading below ↓
Recommended Videos
"We will enter this segment with our distinctive brand identity and all of the vehicle attributes that are typical of the brand with regard to safety, comfort, powertrains and value," said Daimler AG chairman of the board of management and Mercedes-Benz division head Dieter Zetsche.
This isn't the first time the German manufacturer will venture into uncharted vehicle territory. Mercedes-Benz did it back in the 1990s with the M-Class SUV. Since then, the M-Class has been one of the brand's best-selling models. Moreover, the brand has the go-anywhere know-how, thanks to such nameplates as the G-Class, which can practically put a mountain goat to shame.
And if you don't have the heart to bring your Merc pickup off-road, rest assured that you will still be comfortable and safe, as it will most likely bear the brand's experience in building such transporter vans as the V-Class and the Vito.
The new Mercedes-Benz pickup will be part of the vans division and will be sold in such markets as Latin America, South Africa, Europe, Australia and Asia. Expect to see the luxury pickup around 2018.