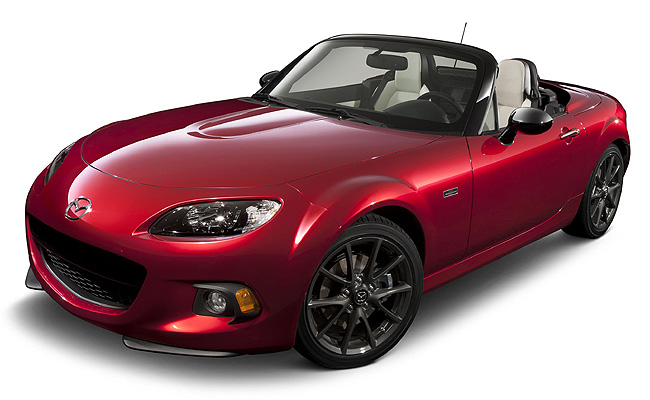 As Mazda gave us a preview of the next-generation MX-5 at the 2014 New York Auto Show, the Japanese automaker also unveiled a 25th Anniversary Edition of the iconic roadster.
Based on the power-retractable hardtop model, the MX-5 25th Anniversary Edition is available exclusively in Soul Red Metallic and has a black-painted roof, A-pillars, and door mirrors. Its interior comes with off-white leather upholstery and door trim, and has a hand-finished decorative panel. Its suspension has been improved with the adoption of Bilstein dampers. Transmission choices are either a six-speed manual or automatic transmission.
Befitting its stature as a limited-edition anniversary model, the car is adorned with badges that mark the nameplate's 25th anniversary, from the logo etched into the leather headrests and stainless-steel door scuff plates, to the single badge mounted on the driver's side front fender with an identifying serial number.
"The original concept behind the MX-5 was so simple: to offer the pure joy of a lightweight sports car that moves precisely as the driver intends," said Mazda board chairman Takashi Yamanouchi. "While responding to increasing safety and environmental requirements, in the 25 years since its launch we have had to continually reinvent the MX-5--far beyond a simple evolution--in order to stay true to that original ideal. The history of the MX-5 is one of changing everything in order to stay the same, a history of innovating in order to preserve."
Continue reading below ↓
Recommended Videos