With the likes of the Aston Martin Red Bull Valkyrie and the Gordon Murray T.50 hogging all the supercar limelight of late, it's about time we heard from AMG's contender.
The Mercedes-AMG One, first revealed way back in 2017—with deliveries promised 18 months later—has been delayed by the scale of the engineering challenge to slot a championship-winning hybrid Formula 1 engine into a street car. The COVID-19 pandemic's disruption will hardly have helped.
But finally, AMG says the 1,000hp+ power unit is ready to undergo final testing, announcing "for the first time, the project leaders have also authorized testing of the comprehensively electrified and highly complex hybrid power unit with its full output."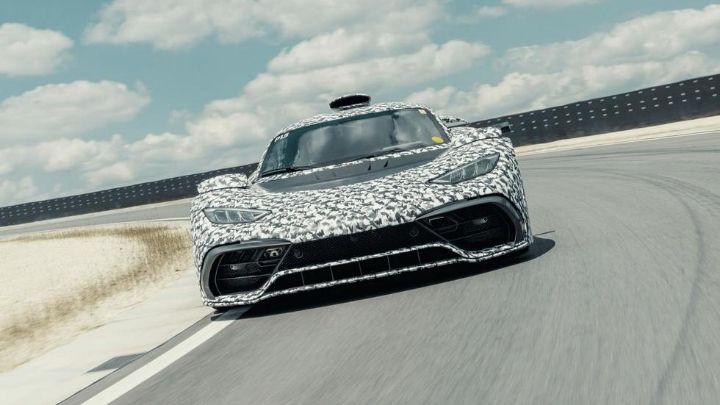 Continue reading below ↓
Recommended Videos
At last, the AMG One has been unleashed from dynos and laboratories. It's seen here on the test track at Mercedes's proving ground in Immendingen, Germany. However, we're told the next destination for the One will be 'the north loop of the Nürburgring.' Ladies and gentlemen, the long wait for AMG's hybrid hypercar may well be about to pay off with some rather eye-opening lap times.
The powertrain in question is a 1.6-liter turbocharged V6 derived from the dominant 2016 Mercedes-AMG W07 F1 car. Like the single-seater, it uses F1-style MGU-H and MGU-K heat- and kinetic-energy harvesting motors to increase efficiency and boost power.
Unlike an F1 car, the One has to be able to start on a button in cold weather, idle at 1,280rpm instead of 5,000rpm, and be driveable by mere (if wealthy) mortals not named Lewis Hamilton.
Persuading the engine to accept all of the above, comply with emissions laws and still deliver the correct noise, power, and rev to beyond 11,000rpm has been what AMG's finest engineers might politely call 'a bit of a head-scratcher'.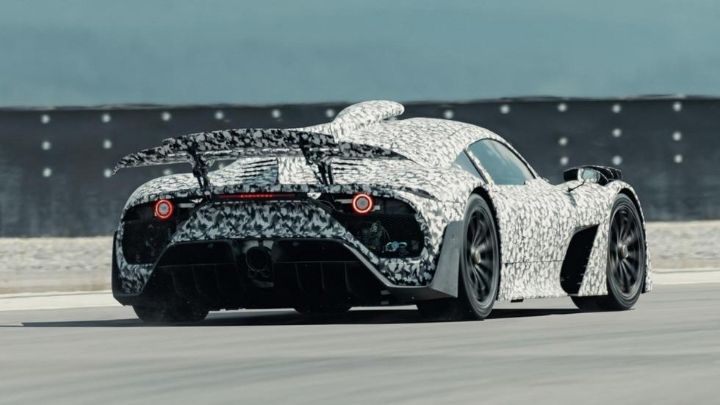 Meanwhile, the One's trick aero is also starting to show its worth. AMG tells us "the complex interplay between the various active components such as the louvers, the air outlets in the front fenders, or the large rear aerofoil is now confirming its effectiveness even outside the wind tunnel as a means of delivering the car's exceptional lateral dynamics."
The first of the 275 examples of the One are due to be delivered to their patiently waiting buyers next year, each of whom has shelled out a cool £2 million (P116 million) for the honor. Before then, we'll hopefully discover if AMG's road-legal F1 car can indeed achieve 0-200kph in sub-6sec, top out at 350kph, and if it really does, as claimed by ex-AMG Boss Tobias Moers, lap the 'Ring "like a GT3 racing car in fast-forward."
NOTE: This article first appeared on TopGear.com. Minor edits have been made.