Meet the hypercar that does things differently. It doesn't produce much downforce. It doesn't care about 0-60mph (0-97kph) times or top speeds. Power figures are the least impressive thing about the engine. It's not very big, and it's not particularly striking to look at.
Everything else about it is absolutely astonishing, though. This is the £2.36 million (about P152 million, plus local taxes) GMD T.50. Gordon Murray Design. Yes, the man who gave us the McLaren F1 is now righting that car's wrongs. Because there were some apparently. "The spine is 50mm too wide, the headlamps are like glow worms in a jar, the air-con was hopeless, the brakes squeak, the clutch needs adjusting every 5,000 miles, the fuel tank bag needed replacing every five years, loading luggage in the lockers was a pain. This all stuck in my head", says Gordon.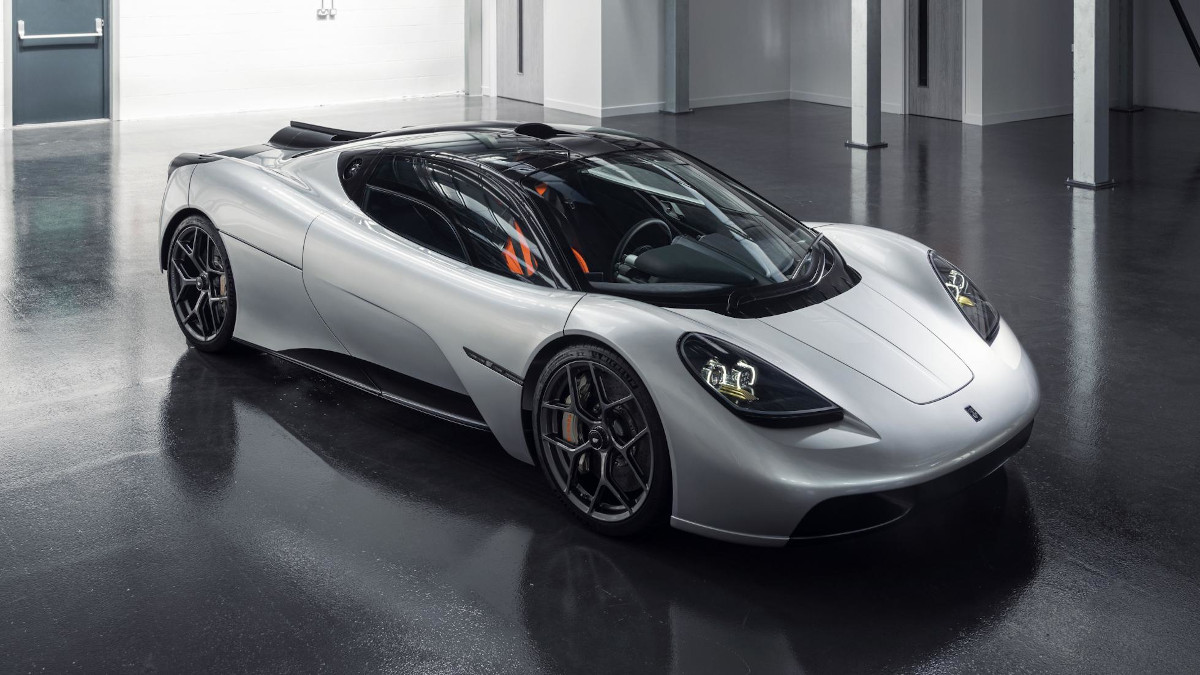 ADVERTISEMENT - CONTINUE READING BELOW ↓
You're aware of how similar the two cars are if you peer in one of the side windows. Those have the same outline, and so too does the solo center seat. There are many more commonalities: naturally aspirated V12, six-speed manual gearbox, carbon-fiber tub incorporating three seats, lockers in the flanks—but the main one is a laser focus on saving weight. Because as Gordon points out, "if you start light everything else gets better."
I start by pointing out the enamel badges. Not the lightest possible solution, so where else had he let the odd gram creep in? "Nowhere," came the emphatic response, followed by a detailed explanation of the badge design and how it was impossible for enamel to be used more thinly.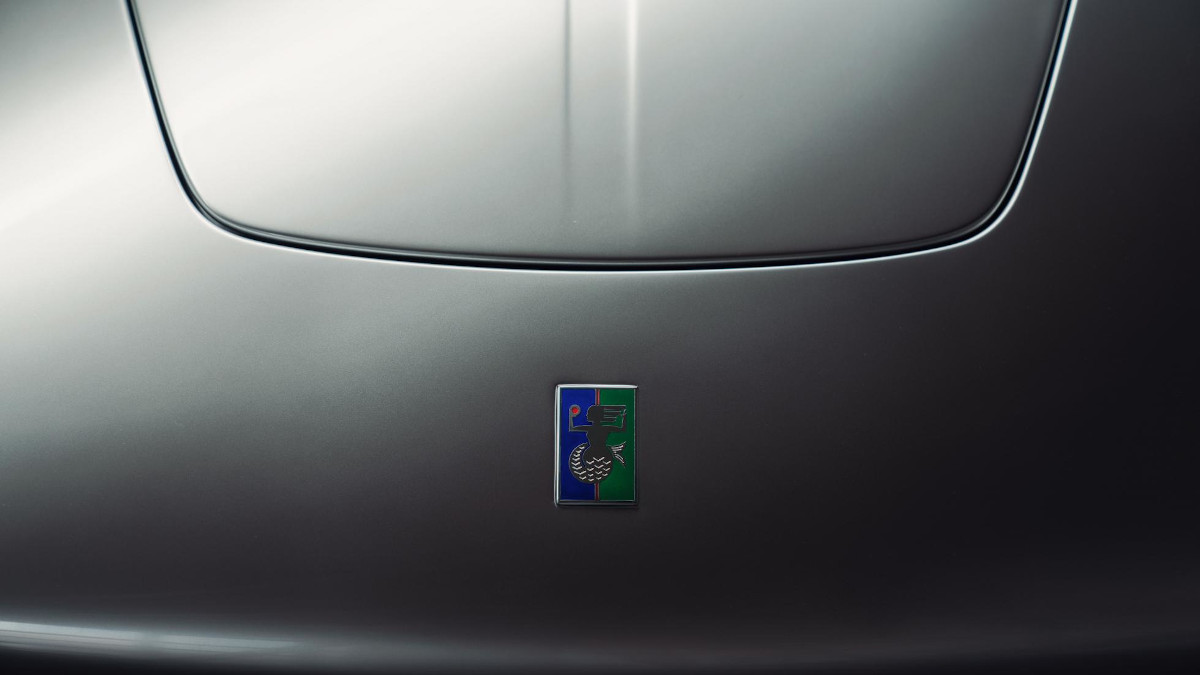 ADVERTISEMENT - CONTINUE READING BELOW ↓
Recommended Videos
Up close it's fascinating, but step back and it's hardly dramatic. The nose, with its large headlights, has curious overtones of the W30 Toyota MR2 (actually a properly lightweight little roadster), and with no bulky intakes or wacky slats and ducts, the flanks are clean and unadorned. Only the fan in the back makes you do a double take. What would be interesting is to park it alongside a conventional supercar or hypercar, particularly a Bugatti Chiron. Alongside that the Murray would look like a scale model.
The T.50 has roughly the same road footprint as a Mini Clubman—about 1.85 meters wide by 4.35 meters long (it's about as practical too, with 30 liters of storage around the cabin and sizeable side lockers). The engine air intake is above the driver's head and sweeps down the rear deck to form a spine, either side of which butterfly doors open to reveal the low slung engine and storage lockers—loaded from above, not the side as was the case with the F1.
ADVERTISEMENT - CONTINUE READING BELOW ↓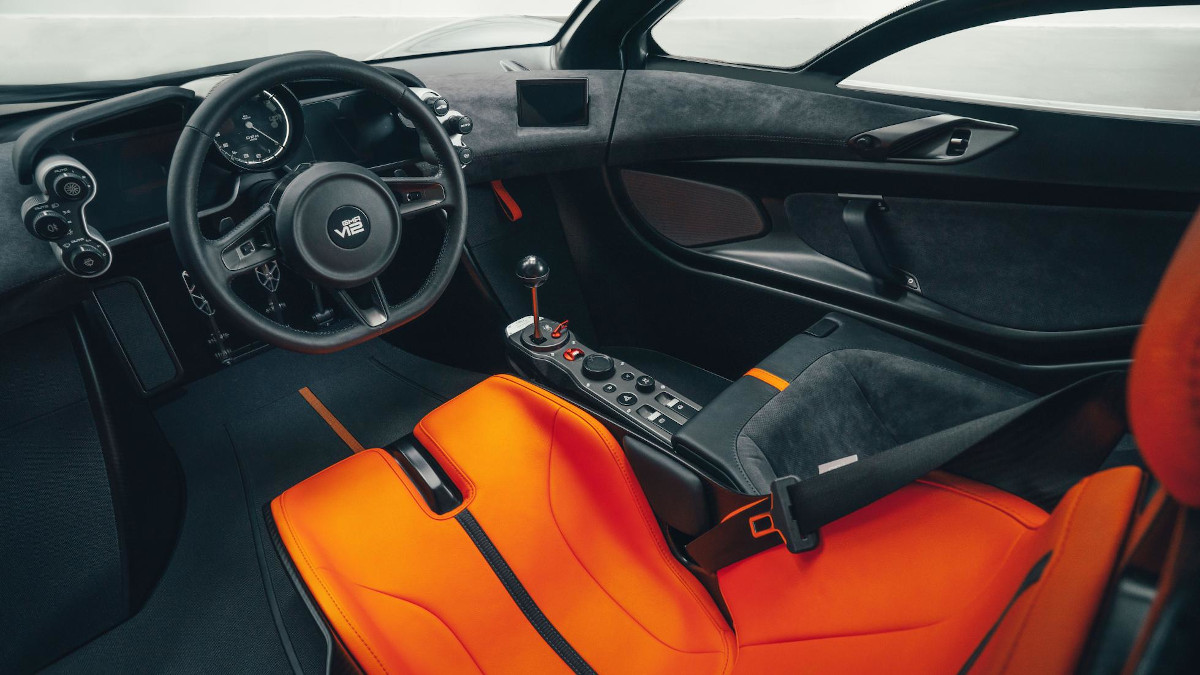 But let's zoom back in and let Gordon take us through it. To sit in, it's fabulous. Much easier to clamber aboard than the F1, best done from the left so you don't catch yourself on the gear lever. There's an open flat floor, so you sit backwards on the sill, pivot on your backside and then slide feet into footwell and shuttle in. It's light and airy (for passengers as well as driver, although it's not massive in the flank seats), the windscreen curves around you like a visor and there's a sense you've plugged yourself in: the fit, driving position and sculpted seat are all perfect. And then the symmetry hits you.
ADVERTISEMENT - CONTINUE READING BELOW ↓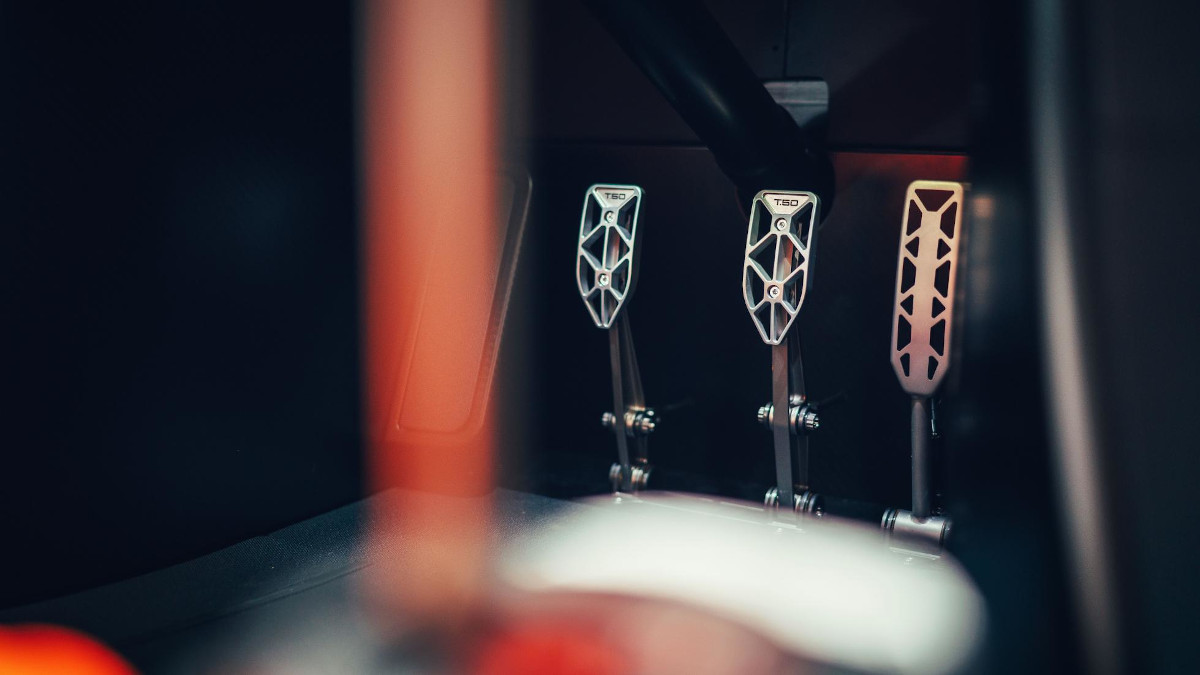 Down in the footwell you'll find a non-symmetrical three-pedal layout. The pedals are gorgeous, skeletal works of art—the lightest ever fitted to a road car, Murray believes, 300 grams lighter than the F1's. The same story is repeated everywhere you look: the titanium gear linkages save 800 grams. Each of the full LED headlights weighs just 2.1kgs (including the integrated heat sink and cooling fan), the 10-speaker, 700-watt Arcam stereo is half the weight of the Kenwood system in the F1, the titanium chassis plate ahead of the titanium gear lever has been milled out from the back to just 1mm thick, so weighs just 7.8 grams. Tenths of a gram. This is a car we're dealing with, remember. No one cares about tenths of a gram.
ADVERTISEMENT - CONTINUE READING BELOW ↓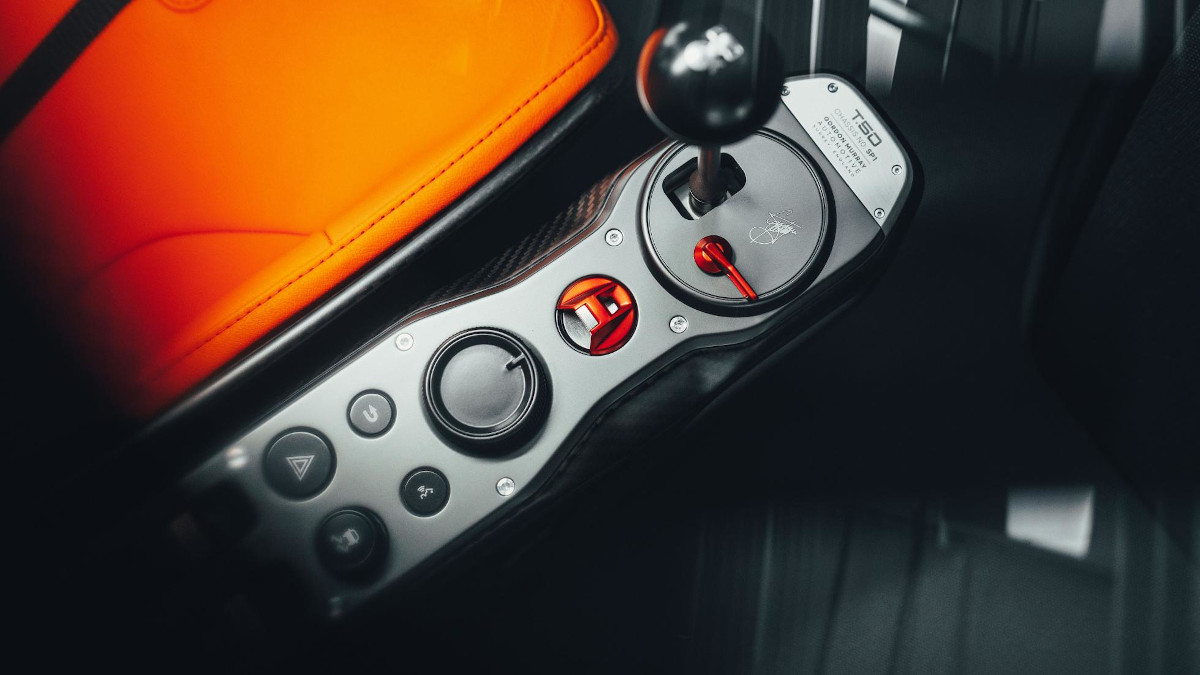 No one except Gordon Murray. All up the T.50 weighs 986kgs. That's a wet weight. Dry, it's about 30kgs less than that. A Chiron is over twice as heavy. Even the F1-inspired Aston Valkyrie is over 100kgs more and, we suspect, a lot less comfortable and well kitted out inside. This hypercar is designed for grand touring, to actually be used and driven. Its USP is excitement and drivability, not downforce or maximum velocity.
ADVERTISEMENT - CONTINUE READING BELOW ↓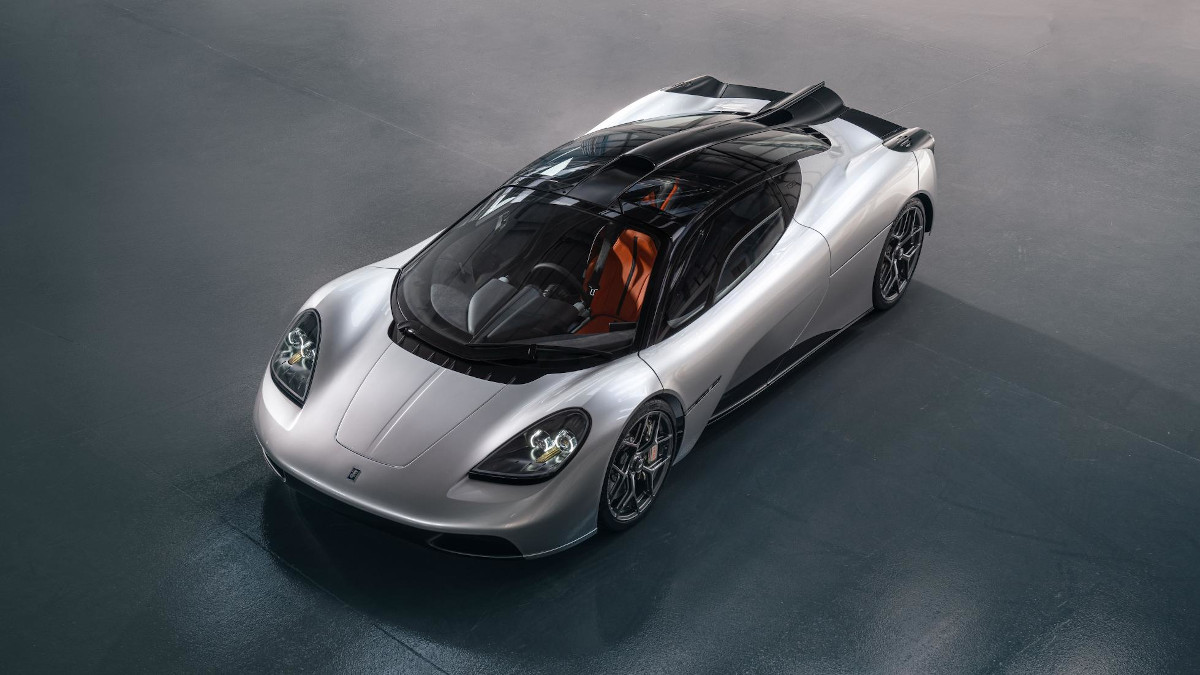 Could the engine have been lighter and more powerful if it had fewer cylinders and a pair of turbos? Probably. But that's not the point. First you find the right solution, then you work out how to make it lighter. The right solution in this case is a 3.9-liter naturally aspirated V12. The claims are as follows: the world's highest-revving, fastest-responding, most power-dense, and lightest naturally aspirated V12. Gordon can't help adding "there's nothing in common with the [also Cosworth-developed Aston Martin] Valkyrie V12, this is really the next generation on."
ADVERTISEMENT - CONTINUE READING BELOW ↓
The fact it develops 663hp and 466Nm is the least interesting fact about it. A savage Ferrari V12 might hit 9,000rpm. This revs to 12,100rpm. Super-responsive engines such as the F1 and the Lexus LFA have the ability to gain around 10,000rpm per second if you blip the throttle. In the T.50 the figure is 28,400rpm. The revs will flare from idle to cutout in 0.3secs. Imagine that. Imagine the noise. One of the things Gordon is happiest about is that 71% of torque is available at just 2,500rpm.
He still doesn't know how fast it will accelerate to 97kph, nor does he care. If he did he wouldn't have used a manual gearbox. That weighs 81.5kgs alongside the 178kg engine. It's the work of motorsport specialists Xtrac who have built gearboxes for half the F1 grid. "It'll have the best shift action of any car," says Gordon, before going into detail about crossgate angles ("only 9 degrees when typical cars are 15"), ratio choice, and how they can adjust feel going into and coming out of each slot. Are you getting a picture of how fastidious Murray is? How nothing escapes his laser vision?
ADVERTISEMENT - CONTINUE READING BELOW ↓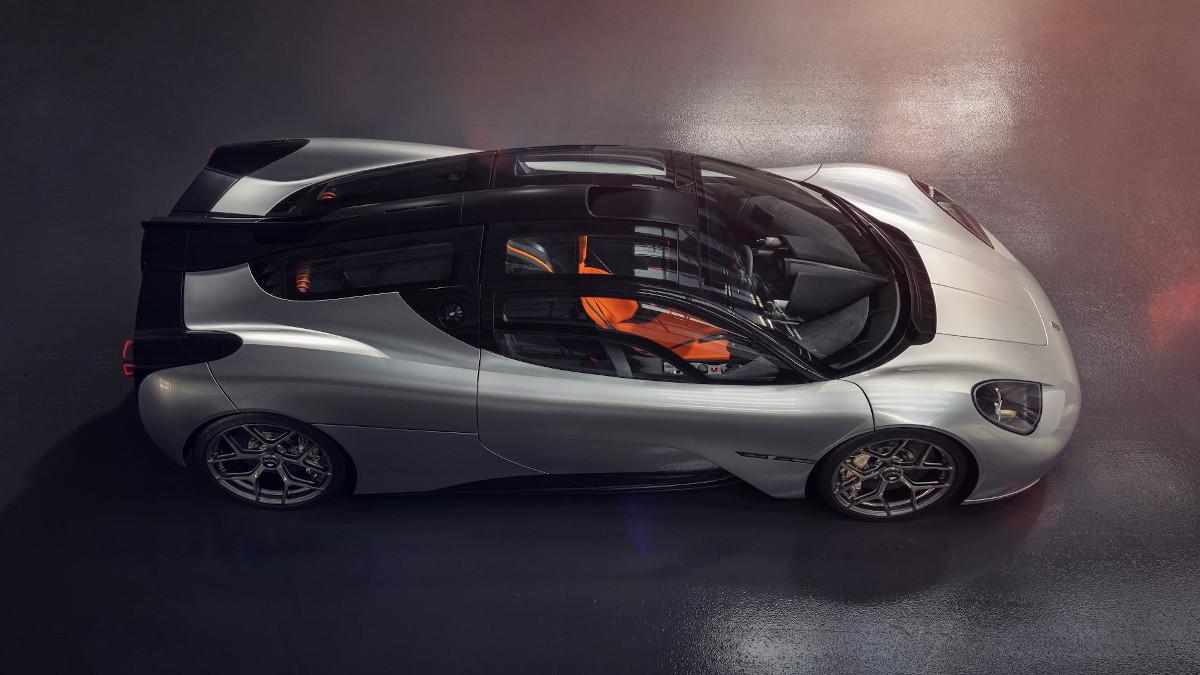 What he cares about is delivering the most immersive driving experience possible, not getting around a circuit fastest. The fan in the back does more than just suck air out of the rear diffuser—even when talking about that aspect, Murray is more interested in the enhanced stability and that he can keep weight on the rear tires, meaning the T.50 stops 10 meters shorter from 150mph (241kph). Not once does he mention cornering g. Instead Gordon talks about centers of pressure and limiting drag: "We've got six modes, four of them driver selectable. And I think the funkiest is Streamline, where we shut the valves to the floor, drop the wing angle to minus ten degrees and pull air from the engine bay. That gives us a 12.5% drag reduction."
ADVERTISEMENT - CONTINUE READING BELOW ↓
There are also cameras instead of side mirrors: "Although that was more of an aesthetic decision. Because I wanted to get the driver as far forward as possible, the only place for the mirrors would have been on top of the front wheelarches, which would have looked ridiculous. These reduce the frontal area, lowering drag and wind noise."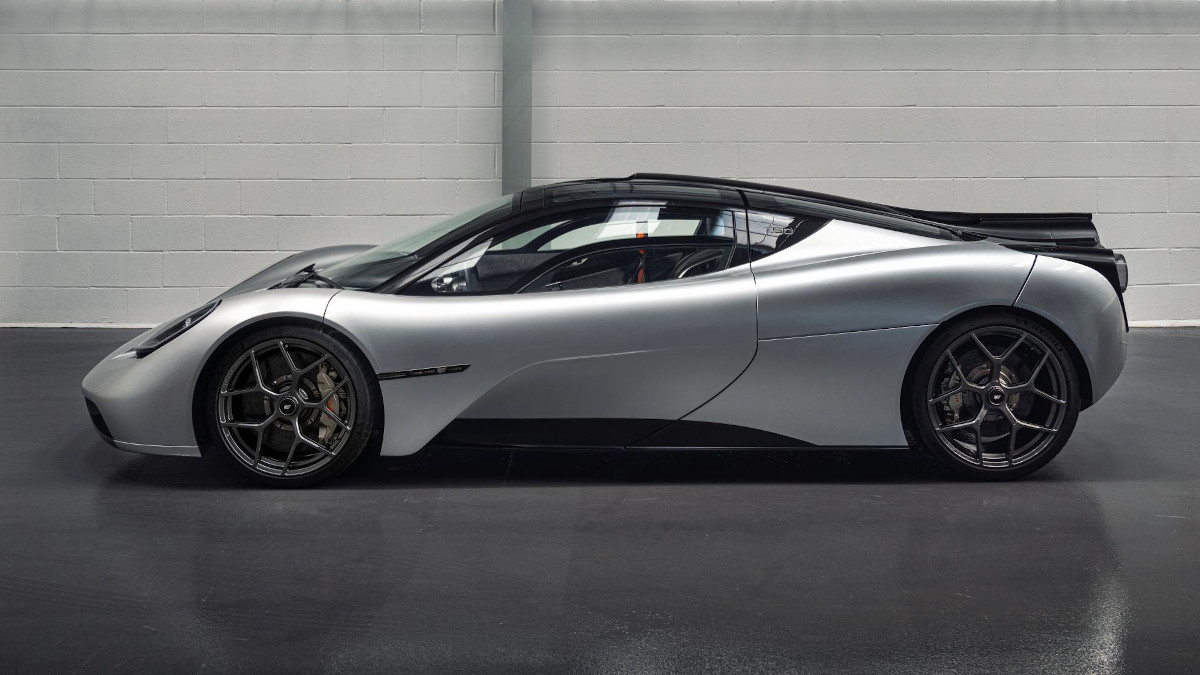 ADVERTISEMENT - CONTINUE READING BELOW ↓
T.50 honors and updates the F1 concept. This time there are ABS brakes (a legal necessity), plus traction and stability controls (both fully disable-able). The steering is once again unassisted, but does clutch in some power assistance below 16kph to help parking. The Michelin tires are comparatively narrow (235s at the front, 295s at the back). Although Murray has traditionally hated low profile tires, he now says the compliance in the sidewall is such that ride comfort hasn't suffered. In short the T.50 is a successor to the F1 in the way McLaren's own Speedtail is not. "I was prepared to stop the program", he says of learning that McLaren was doing its own three-seater, "but when I learned more about it, I realized it was nothing like what we were doing."
There's an energy and enthusiasm about Murray, about his diligent quest for engineering perfection. Where possible he's used British suppliers, as he wants his car to champion local producers. It's easy—and wrong—to just see the T.50 as an exercise in light-weighting. In truth, the way to approach it is to view it as Murray's take on the ultimate driver's car.
ADVERTISEMENT - CONTINUE READING BELOW ↓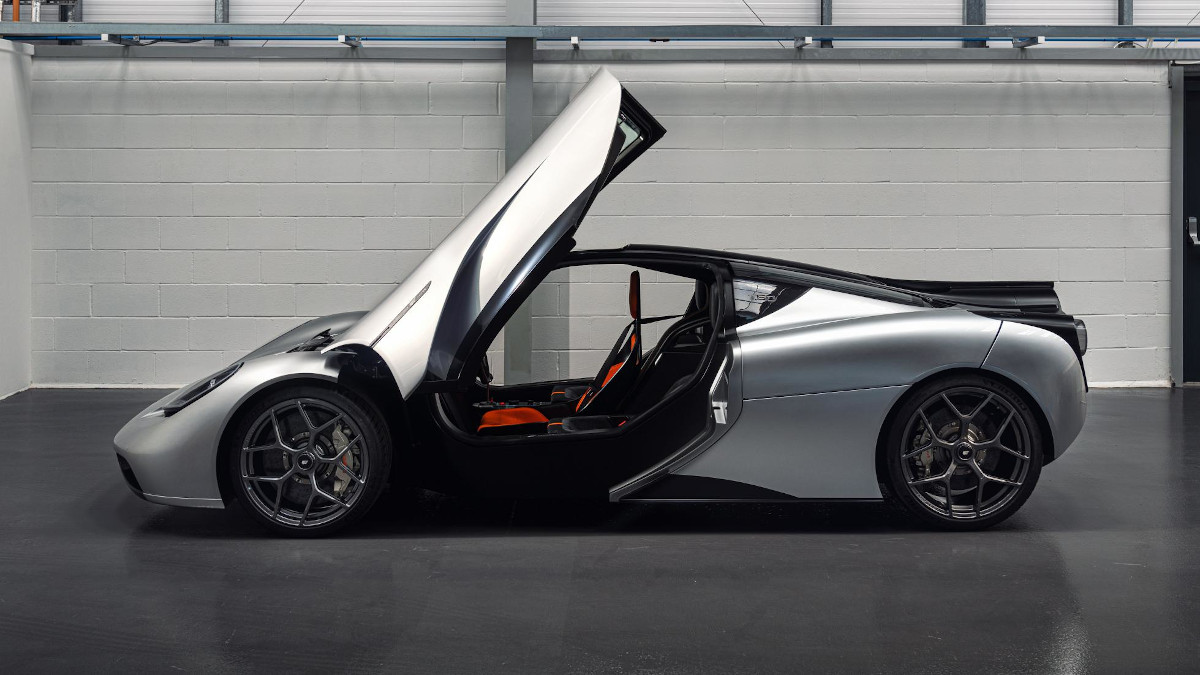 He's taking 100 lucky customers along on a very expensive journey, but seeing as over half of them signed up on the basis of a pencil sketch on a piece of paper, we can assume the asking price is no barrier to desirability. And as Gordon points out, "it's not £20 million, so I point out to customers this is a car that delivers the same experience [as the F1], but better in every way, and with an 80% discount".
ADVERTISEMENT - CONTINUE READING BELOW ↓
What do you think the T.50's legacy will be? "It's got a good chance of being the last great analog supercar." As epitaphs go as we enter the electric age, that one should stand the test of time.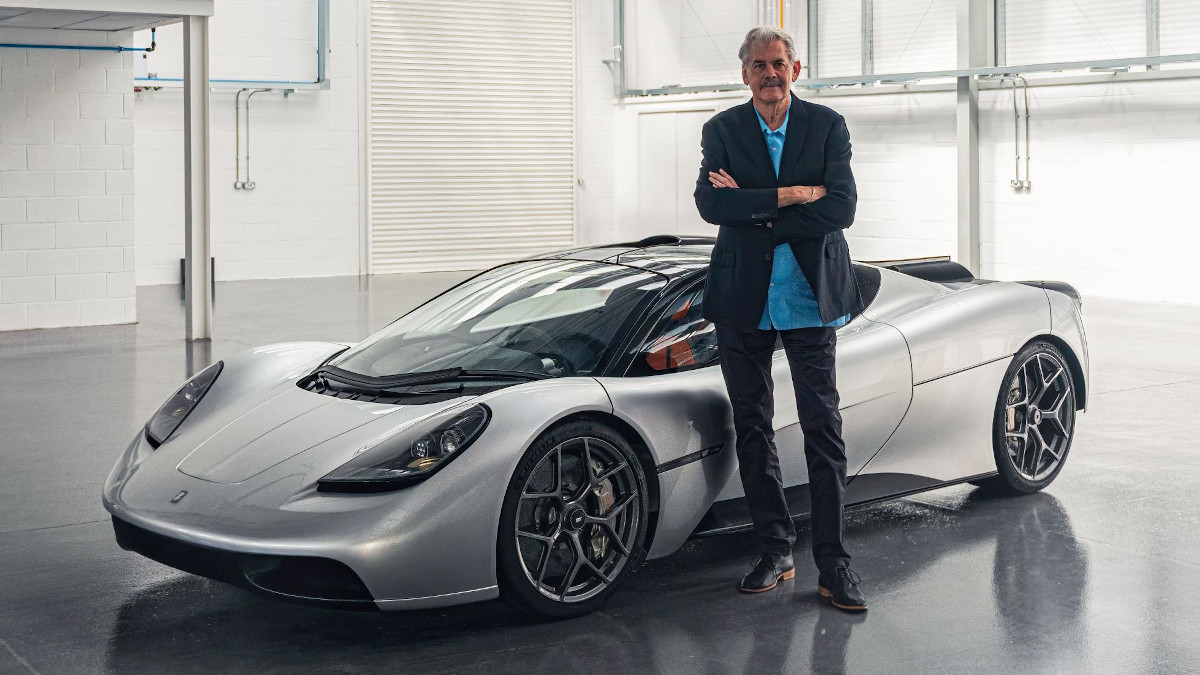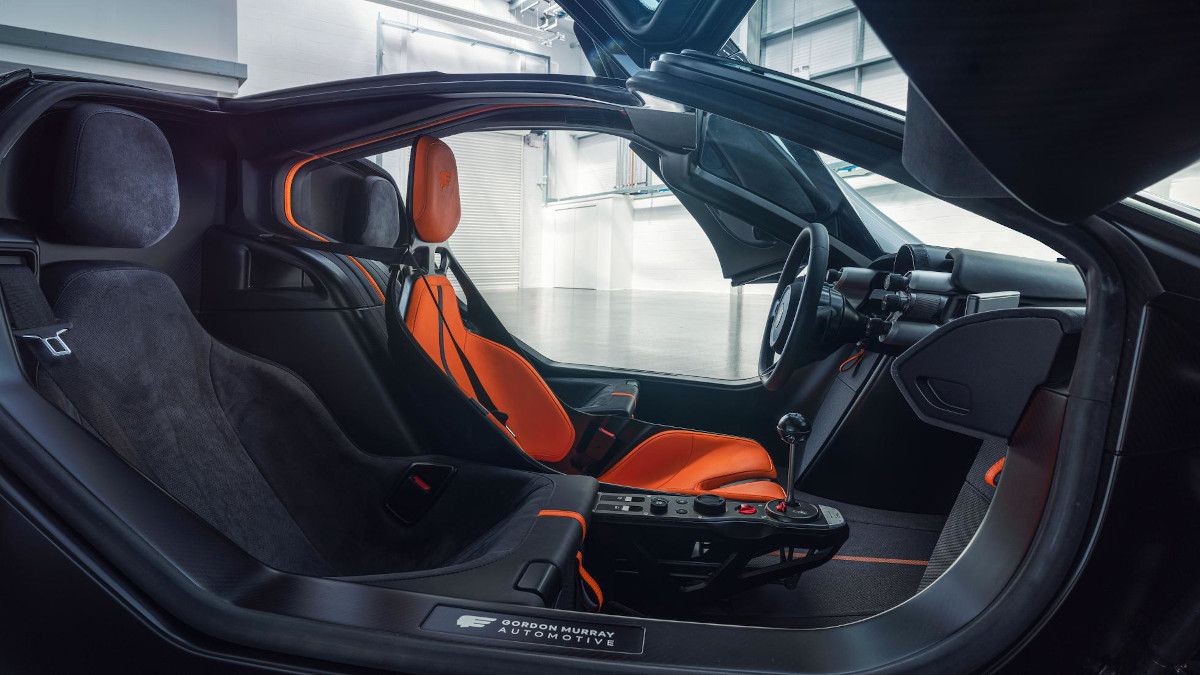 ADVERTISEMENT - CONTINUE READING BELOW ↓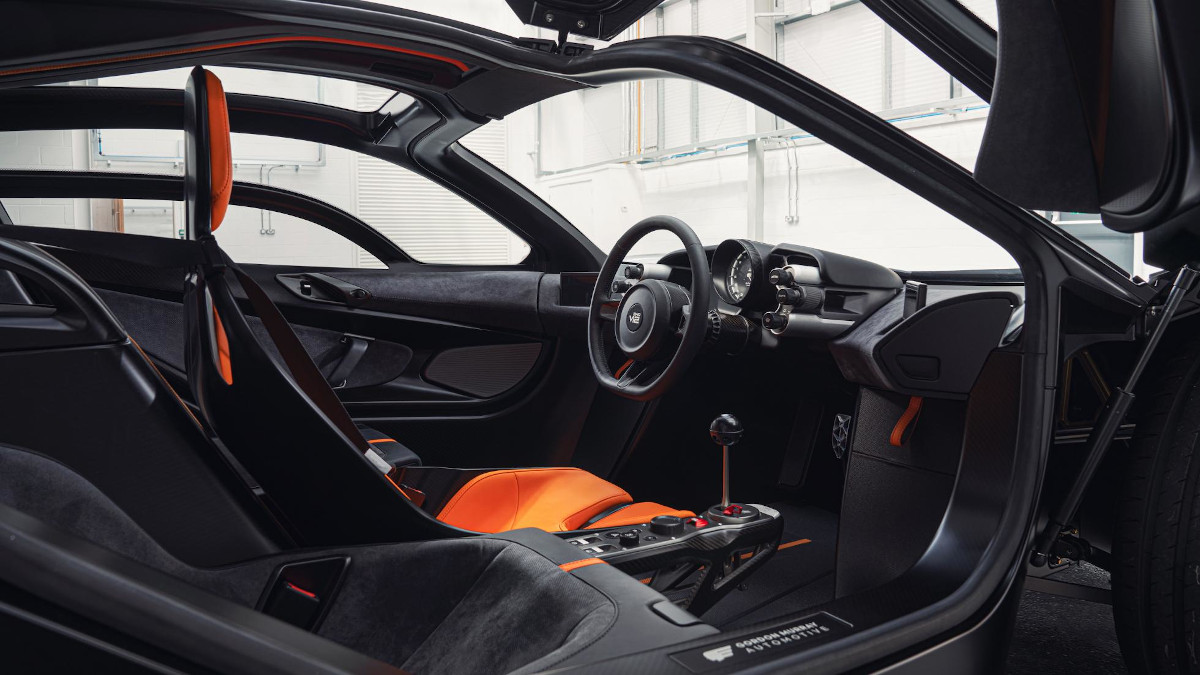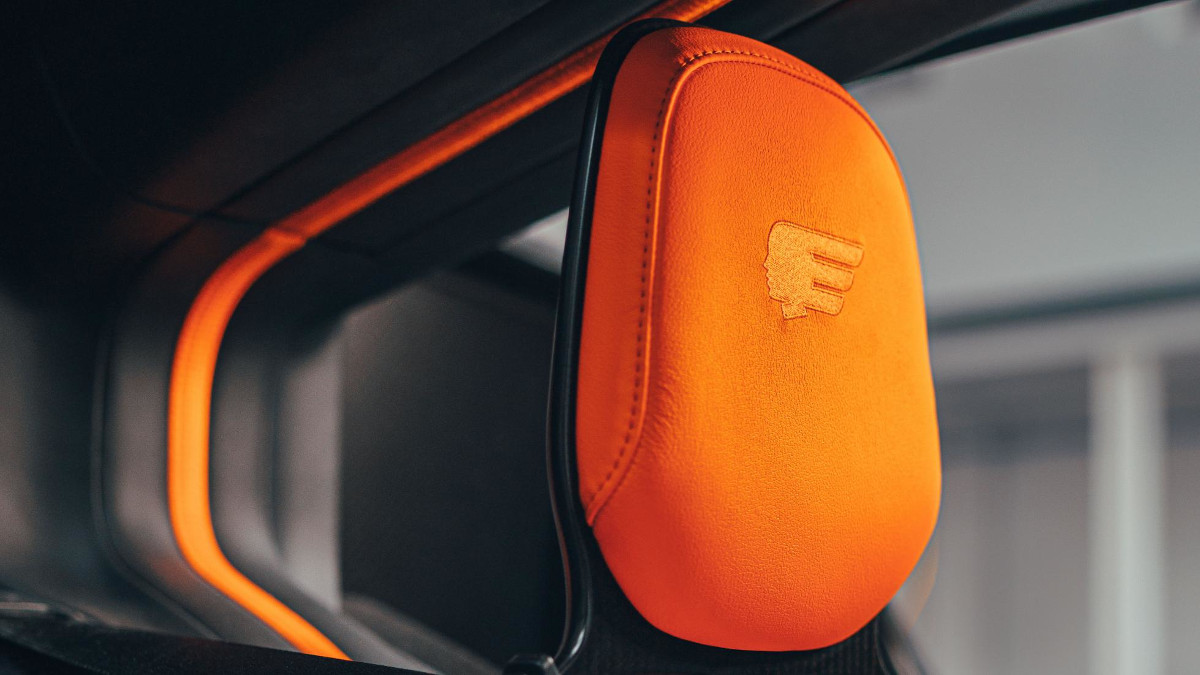 ADVERTISEMENT - CONTINUE READING BELOW ↓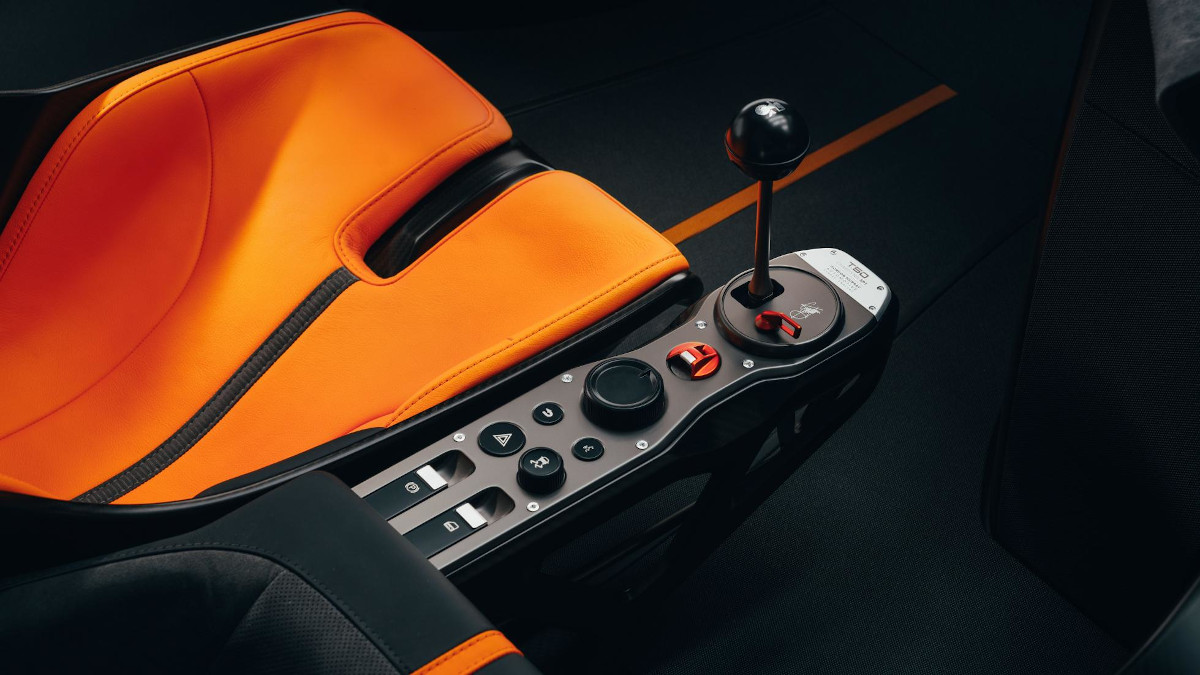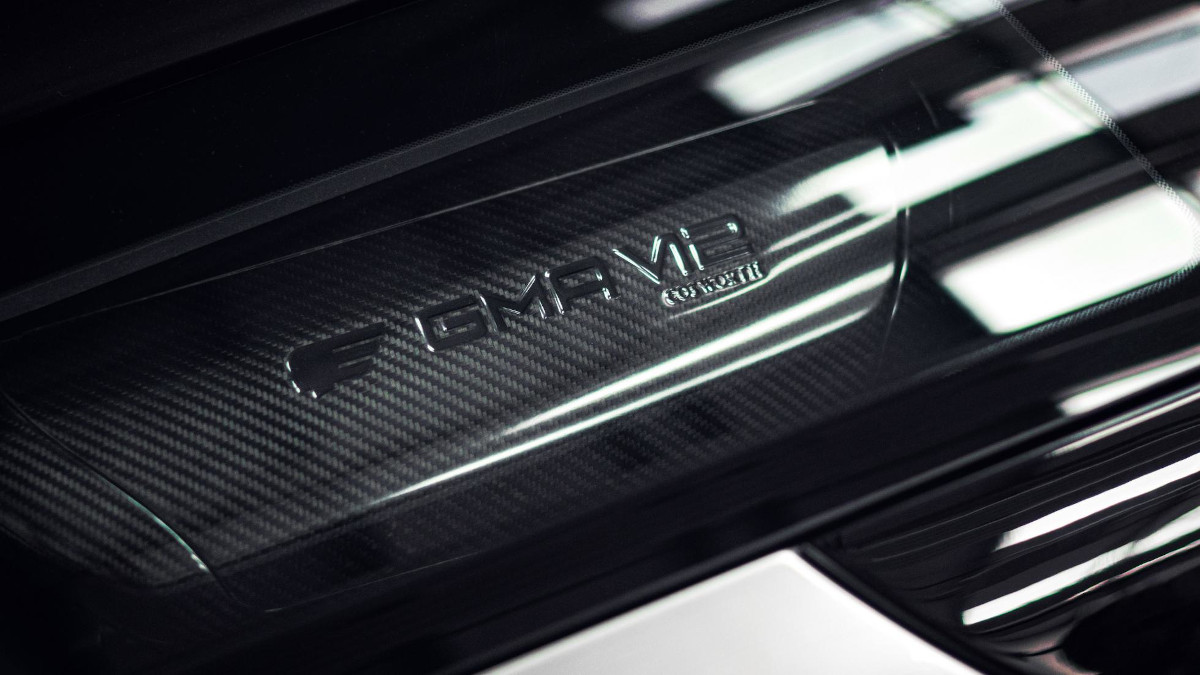 ADVERTISEMENT - CONTINUE READING BELOW ↓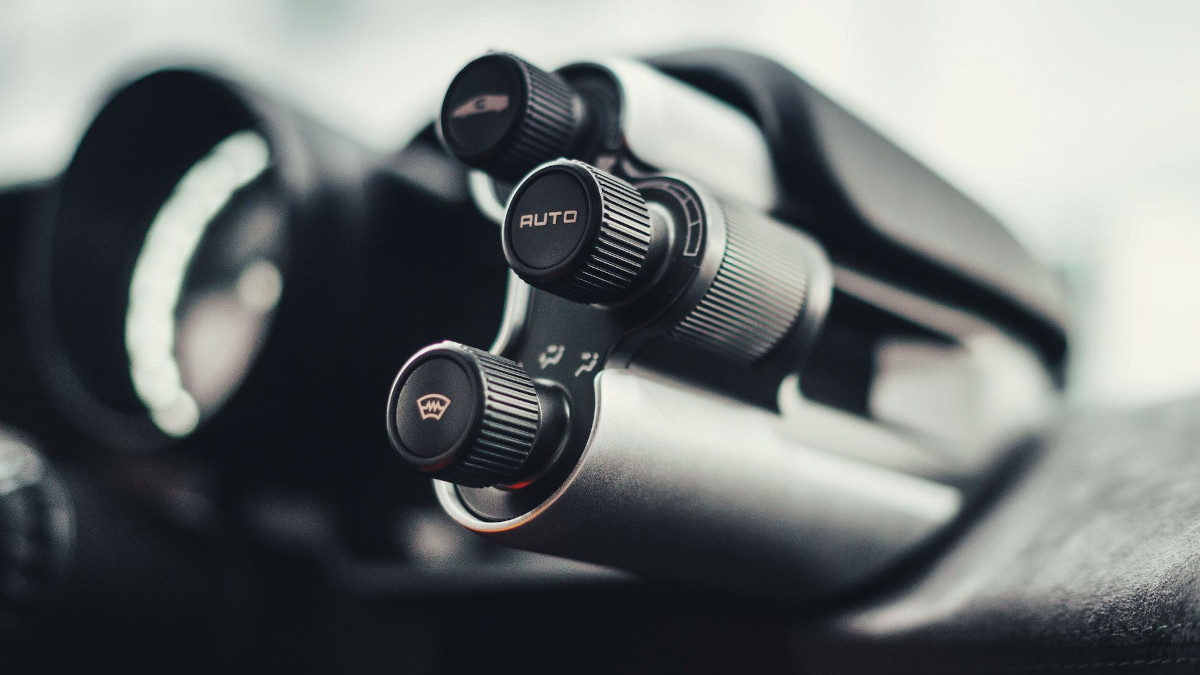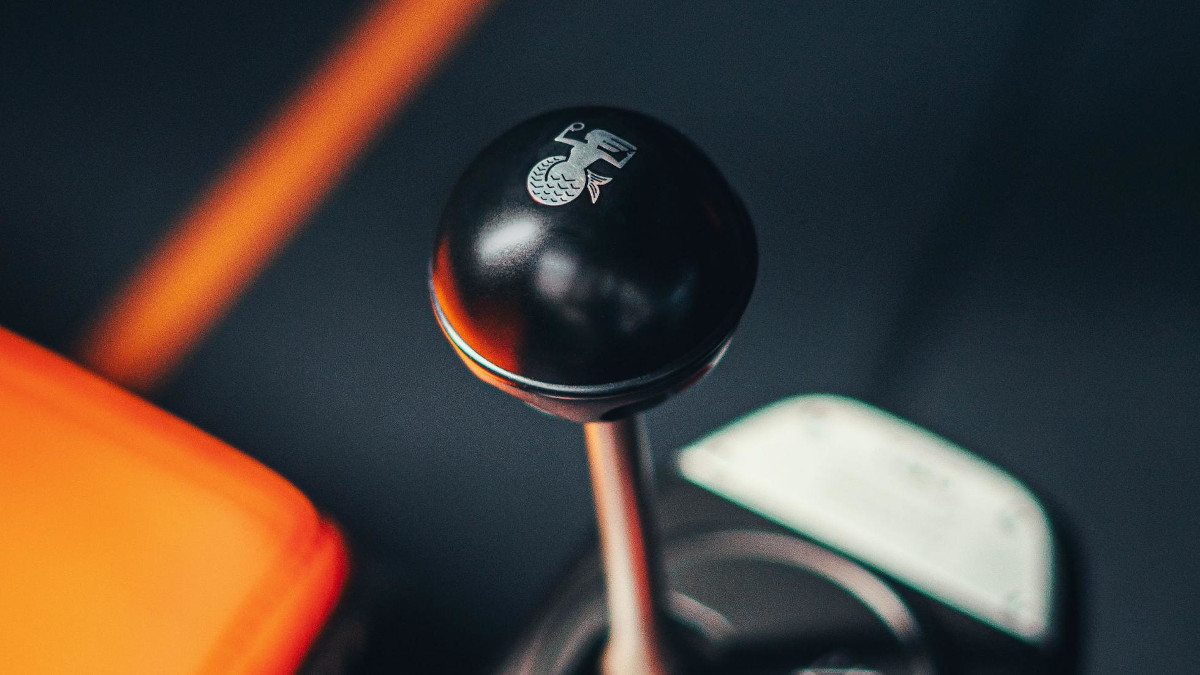 ADVERTISEMENT - CONTINUE READING BELOW ↓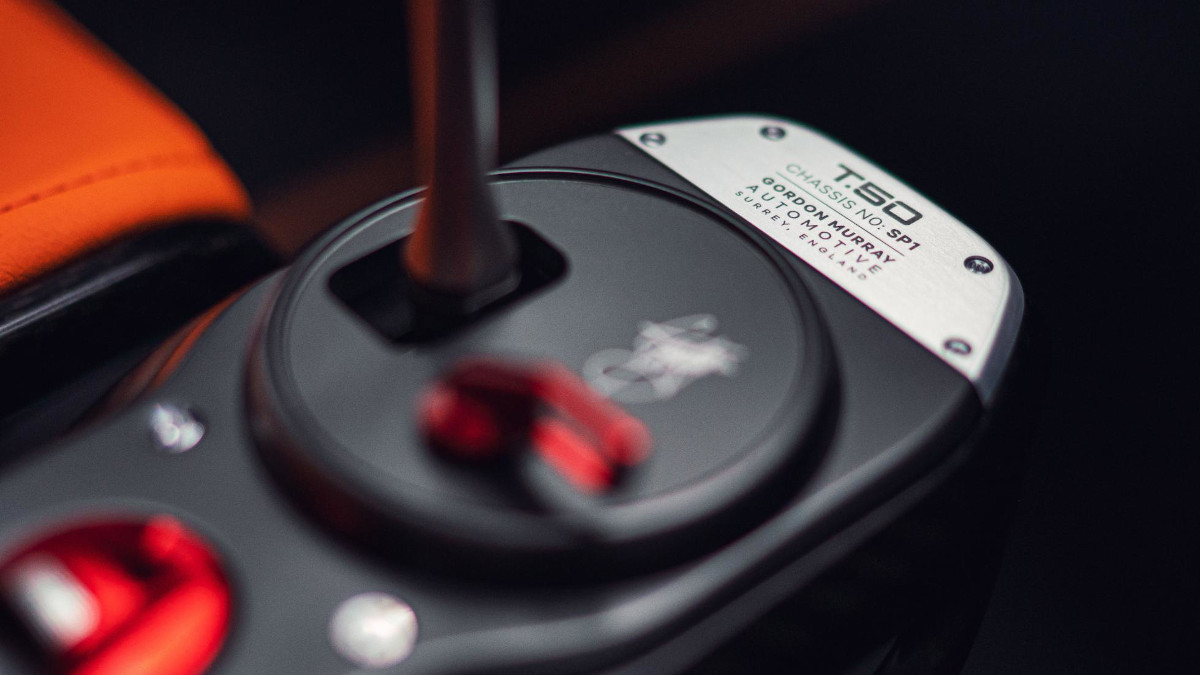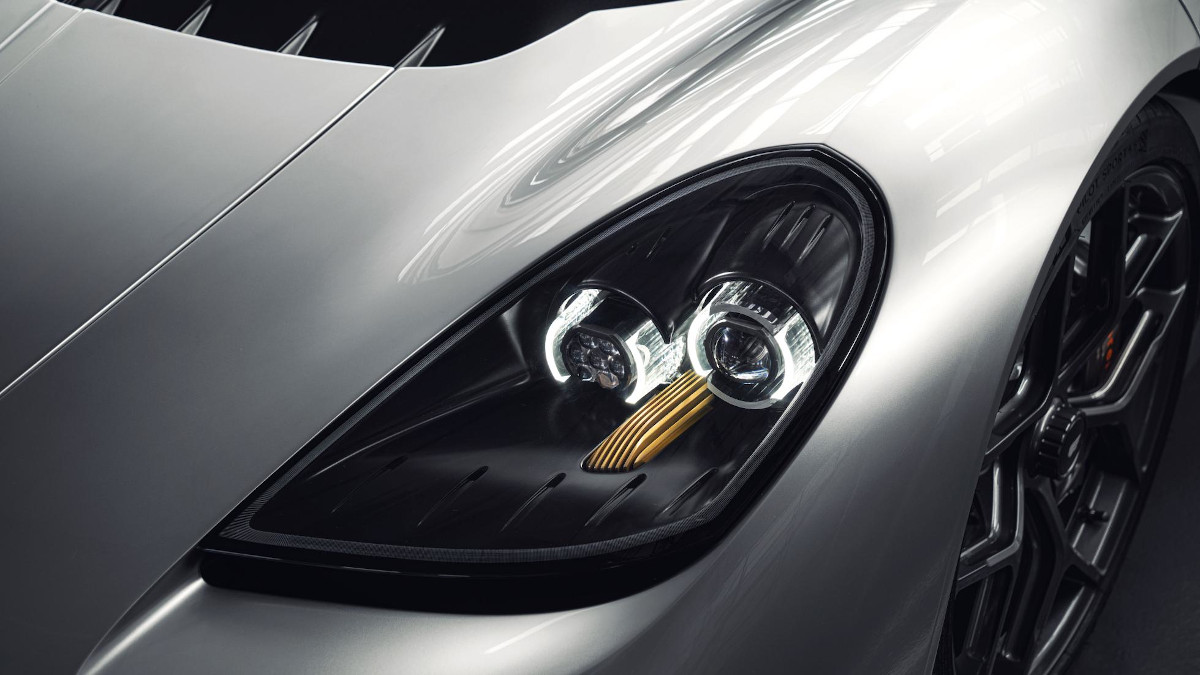 ADVERTISEMENT - CONTINUE READING BELOW ↓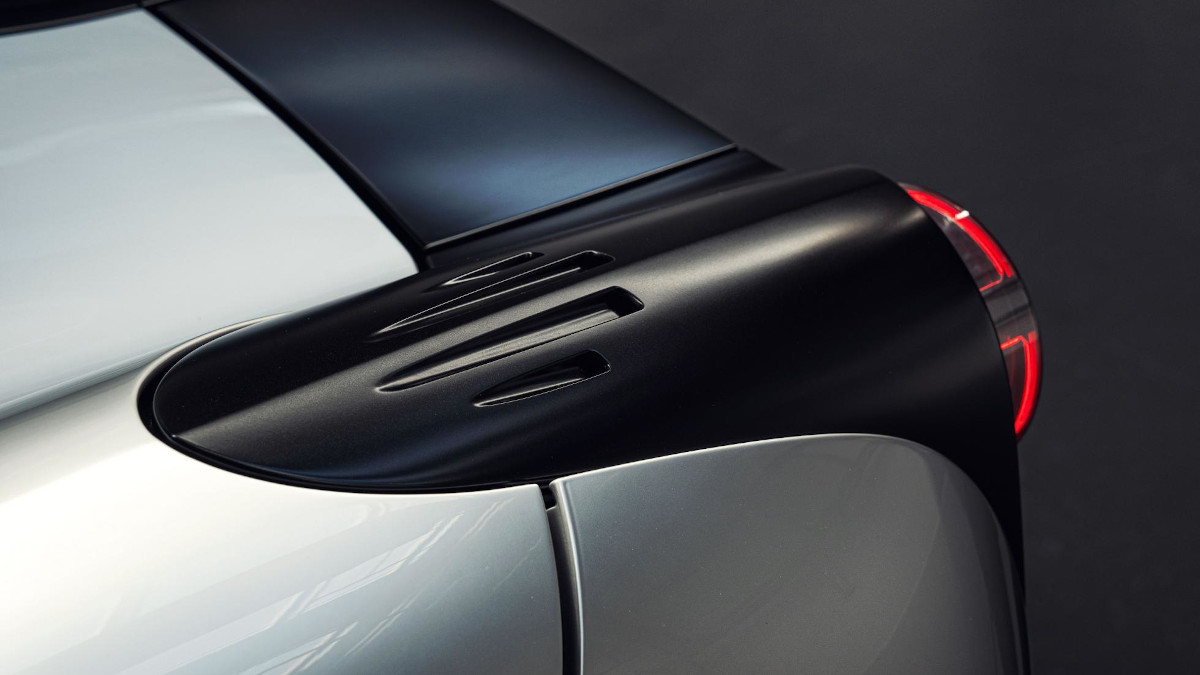 ADVERTISEMENT - CONTINUE READING BELOW ↓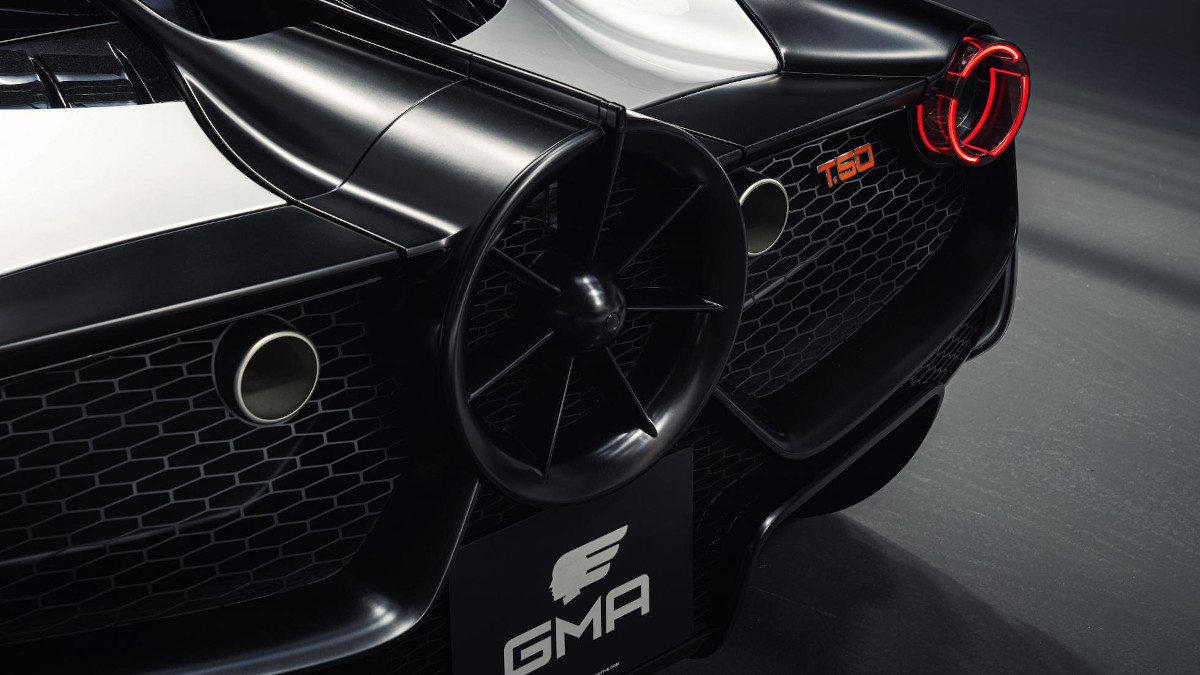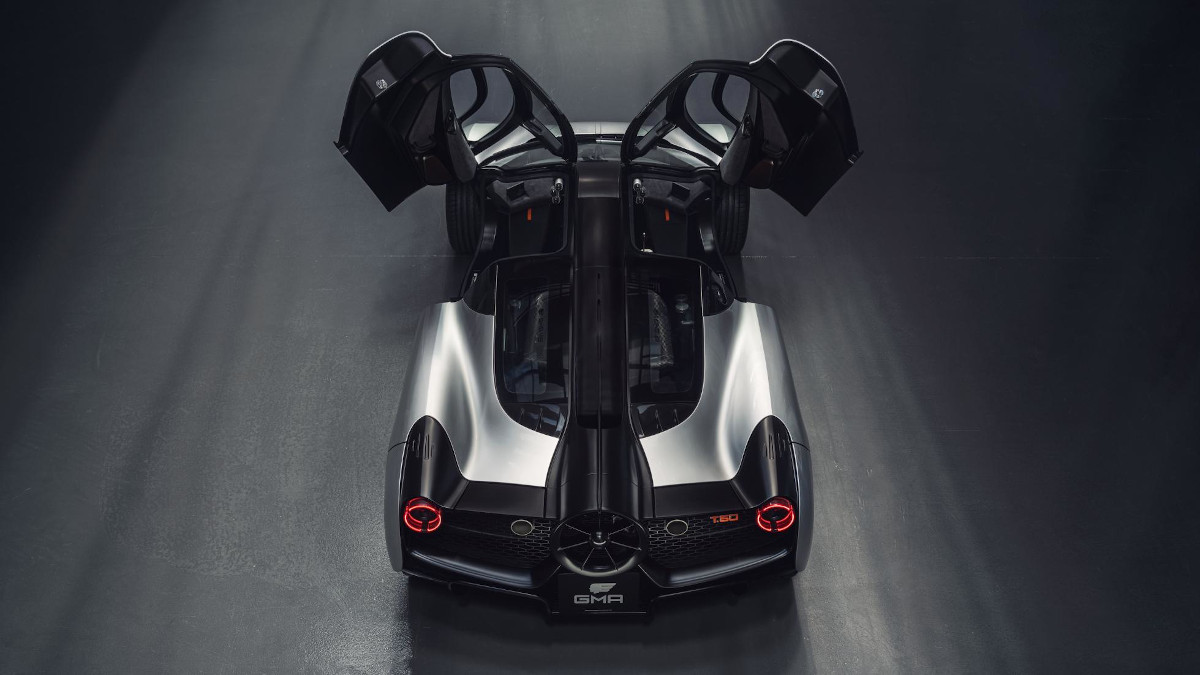 ADVERTISEMENT - CONTINUE READING BELOW ↓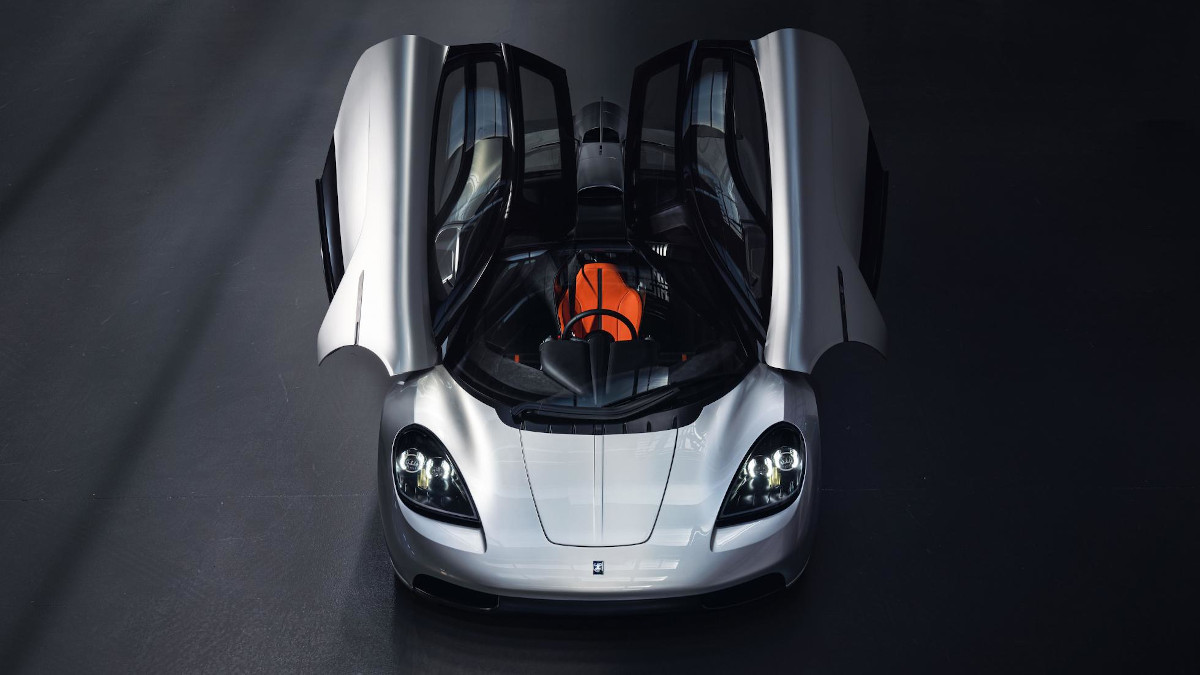 ADVERTISEMENT - CONTINUE READING BELOW ↓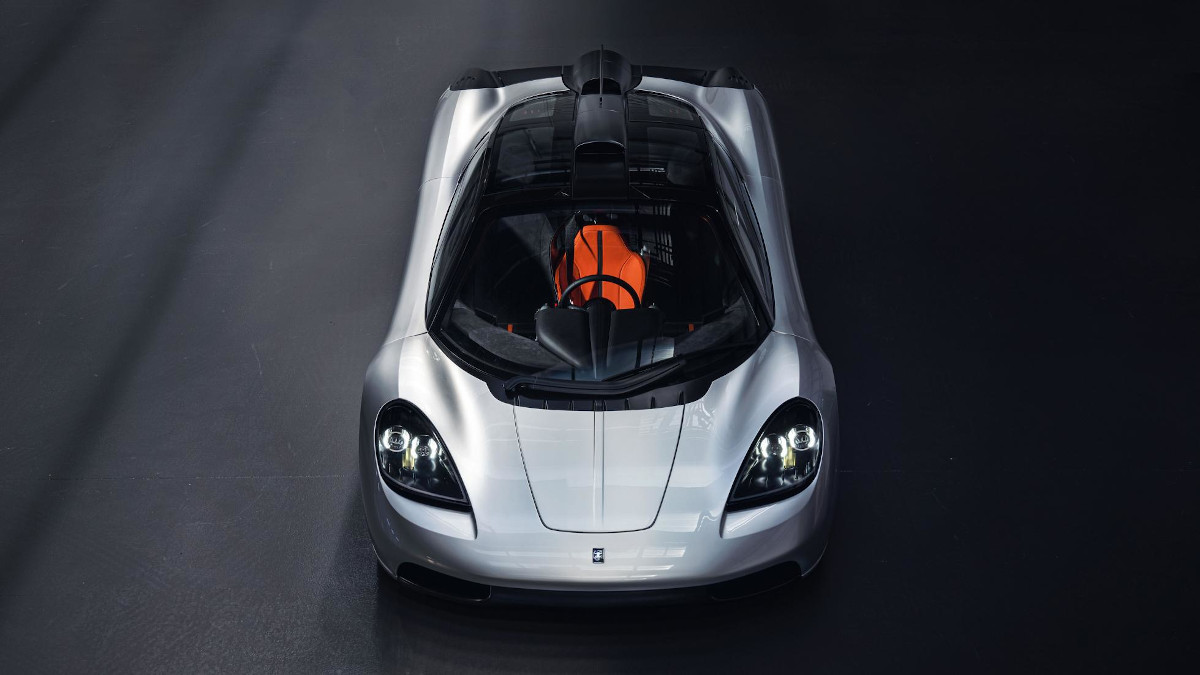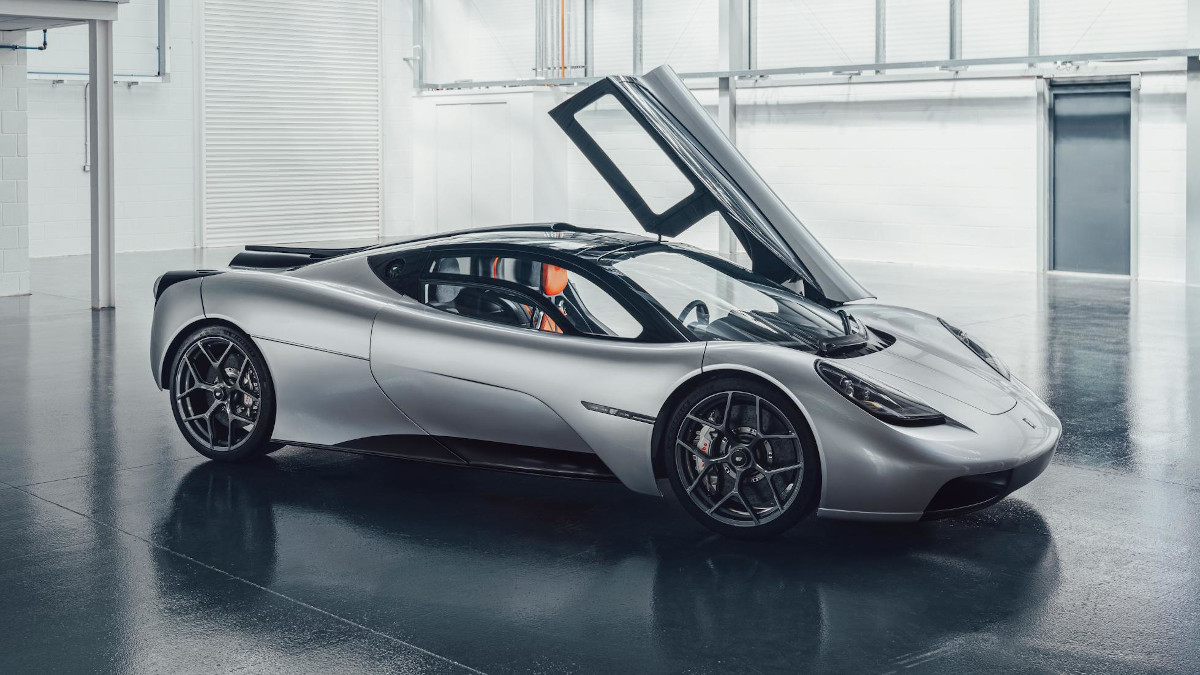 ADVERTISEMENT - CONTINUE READING BELOW ↓
NOTE: This article first appeared on TopGear.com. Minor edits have been made.