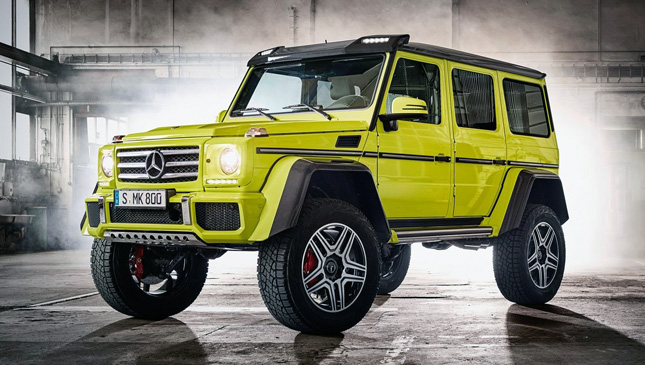 Mercedes-Benz has confirmed that the G500 4x4² show car will go into production, with the model serving as "the new highlight" in the G-Class model range.
Using the body and the ladder-type frame of the production-model G-Class, the G500 4x4² will be equipped with the permanent all-wheel-drive powertrain and portal axles of the AMG G63 6x6.
The German carmaker claims that with the wider track of the portal axles, the 325/55 R22 tires, and the adjustable damping in Sport mode, driving the G500 4x4² through corners feels more like a sports car than an SUV. In addition, since the portal axles let the wheels ride higher than conventional rigid axles thanks to the portal transmission, the G500 4x4² has a ground clearance of 450mm and a fording depth of as much as 1,000mm. In comparison, a conventional G-Class has a ground clearance of 210mm and a fording depth of 600mm.
A 4.0-liter V8 twin-turbo engine, with 422hp and 610Nm, and meeting Euro 6 emission standards, propels the G500 4x4².
Delivery of units will begin in December 2015.
Continue reading below ↓
Recommended Videos