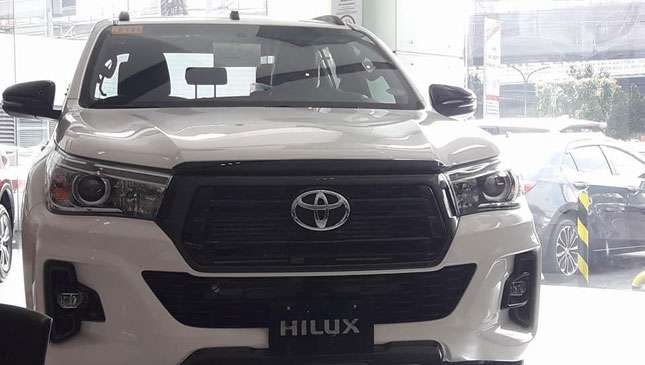 In late 2017, we reported that the refreshed Toyota Hilux was launched in neighboring Thailand. At the time, there was no indication when it would land here in our country, if at all. But now photos have surfaced suggesting the updated pickup truck is already hitting local showrooms.
New hexagonal front grille, new set of wheels, different fog light housing…this is the refresh alright. The images you're looking at were posted on the Toyota Hilux Revo/Vigo Philippines Facebook Group, and some comments say they were taken at a North EDSA showroom--you can even see what appears to be Line 3 of the MRT in one of the photos.
Anyway, you can check it out here in white and blue. Judging by the look of the latter's front grille, it appears to be the model's 'Revo' variant in the Thai market. It's also worth noting that Toyota recently released an updated 2018 price list showing lower prices for most of its Hilux lineup. The question is: Will these rates apply to the refresh when it comes out?
ADVERTISEMENT - CONTINUE READING BELOW ↓
Is Toyota Motor Philippines planning a launch anytime soon? No word from the company just yet, but there is a media thanksgiving event coming up. It looks like there's more to that event than music and food. Stay tuned.
ADVERTISEMENT - CONTINUE READING BELOW ↓
Recommended Videos
ADVERTISEMENT - CONTINUE READING BELOW ↓
ADVERTISEMENT - CONTINUE READING BELOW ↓