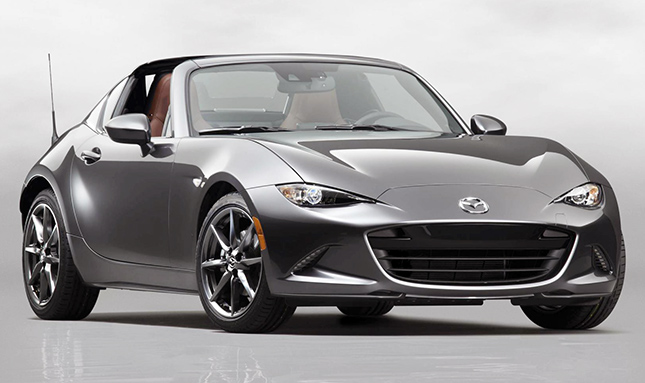 The Mazda MX-5 is a great car, no doubt about it. It has swept almost all the major automotive awards in the world, including Top Gear Philippines' Car of the Year trophy last year. It is so great, in fact, that it beat the Toyota 86 in their one-on-one face-off for our current March 2016 issue--at least according to our writer JV Colayco.
Now, the 86 is a very formidable opponent, having won our maiden COTY award in 2012. And that's why if the decision were entirely up to me--if indeed it were a very personal and subjective one--I'd give the 86 the nod. That's because of one major gripe I have with the MX-5: I hate soft-tops. The car may look truly sexy with the top down--which you can only enjoy in select locations in the Philippines, by the way--but I don't like its appearance when the fabric top is up. I'm sure the loyal MX-5 fans and owners out there will disagree with me, but that's my preference. It is what it is.
And let's not even talk about the risk of the fabric top getting slashed by both hardened criminals and casual vandals. The choice of material is simply asking for it in a country where even a police car is fair game.
Continue reading below ↓
Recommended Videos
I always tell friends: "If only the new MX-5 had a hardtop version, it would be perfect."
Well, Mazda has just granted my wish.
At the ongoing New York International Auto Show, the carmaker has unveiled the new MX-5 RF, which stands for "Retractable Fastback." Yep, everyone's favorite roadster now has a folding hardtop.
Mazda explains in its press statement: "The MX-5 RF features fastback styling with a smooth roofline that slopes down to the rear end, and its unique rear roof and retractable back window offer a new open-air feeling. The power roof can be opened or closed at speeds of up to 10kph with the press of a button, and the roof is stowed compactly and efficiently in a limited space. Despite its fastback styling and hardtop roof, the MX-5 RF offers the same amount of trunk space as the soft-top model."
The RF has the same dimensions as the soft-top, save for a 5mm increase in the roof height. Speaking of the hard roof, Mazda says its sides are body-color, while the top is either piano-black or body-color.
Sorry, 86, the MX-5 has now won me over.