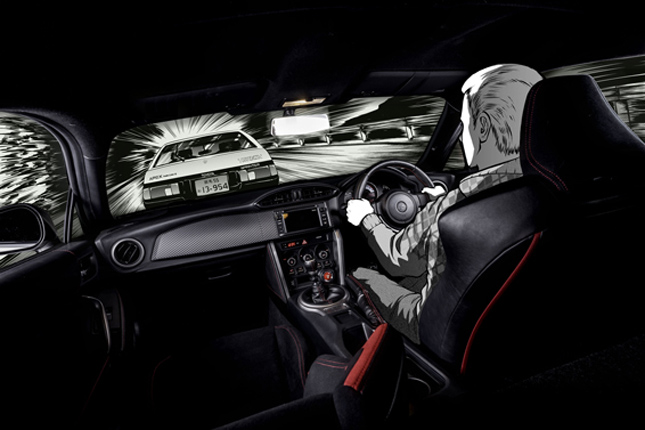 Your eyes do not deceive you. What you're seeing is a Toyota 86 created in the image of Takumi Fujiwara's legendary AE86 from Initial D. Got your hopes up? To be honest, so did we.
At first glance, we actually thought that the Japanese manga series was returning for another lap. Unfortunately, that isn't the case. This is actually just a one-off 86 Initial D concept illustrated by UK-based manga artist Sonia Leong. It still has us overflowing with nostalgia though.
The concept car itself was created by Toyota UK's special projects department. Frankly, it would fit right in if Initial D writer Shuichi Shigeno ever decided to reboot the comics. The special 86 features the comic car's panda-style monochrome livery, as well as modern versions of components found in the manga. Awesome.
The concept boasts custom RS Watanabe alloy wheels, TRD suspension, Fujitsubo exhaust, Cusco strut brace and carbon-fiber hood. As a nod to the AE86, designers added yellow-tinted fog lights and a silver engine cover. Carbon-fiber door handle protectors and mirror covers were also installed to mimic the AE86's black plastic materials.
The cherry on top? Designers plastered "Fujiwara Tofu Ten" on the side of the right door.
Special projects team member Joe Clifford says they pursued the project because it was a pretty cool idea. "With this Initial D concept, we not only acknowledge how important the AE86 was in influencing Toyota's modern approach to sports cars, but also demonstrate how the 86 can be aesthetically and dynamically improved with relatively simple aftermarket accessories."
ADVERTISEMENT - CONTINUE READING BELOW ↓
It was really only a matter of time before something like this popped up. After all, the 86 is considered the rightful successor to the AE86. Now, if you'll excuse us, we'll go watch Initial D clips on YouTube. Nostalgia is really something.