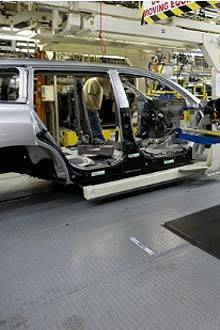 Leading carmakers have reported a drastic drop in production after the March 11 earthquake and tsunami that hit Japan.
Reports said Toyota's output plunged 62.7 percent year-on-year in March, while production of its subsidiaries, Daihatsu and Hino were also down.
An analysis posted via Gerson Lehrman Group said the drop in Toyota's March production could cost the carmaker its lead in global automotive sales.
"With Toyota Motor Corp. unlikely to resume normal production levels until the very end of 2011, the company seems all but certain to lose its position as industry sales leader and could fall behind No. 3, Volkswagen AG. General Motors Co. is expected to regain its No. 1 spot," analyst Jack Sayer said.
Toyota is not alone in its plight of plunging output. Honda Motor's production is down 62.9 percent while Nissan's dropped 52.4 percent.
The March 11 disaster is also affecting car production elsewhere in the world as many parts manufacturers are based in Japan.
Ford Motor Co., for instance, is reportedly idling plants in China and Taiwan due to the lack of parts needed to produce certain Ford and Mazda vehicles.
In the Philippines, Isuzu has announced a work stoppage for two weeks starting April 18 also due to the lack of automotive parts.
Photo from Toyota