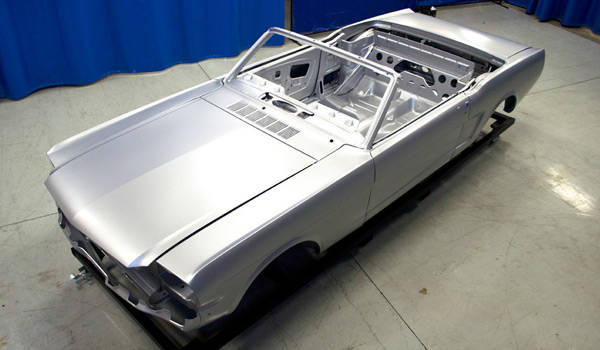 Thanks to the arrival of the new Ford Mustang in our market, there's a renewed interest in the iconic American pony car. But while the modern version will definitely get a lot of attention, hardcore Mustang enthusiasts will always find themselves reminiscing about the classic edition of the famed automobile. To these men, old-school rules. And some of them will (and can) give anything just to relive the good old days by having the chance to once again own and drive a classic Mustang.
Problem is, how do you own and drive a classic Mustang these days?
Well, Ford Motor Company is making it easier--albeit bank-breaking, we presume--to do so. The auto firm recently launched in the US a division called Ford Restoration Parts, which supports the original Mustang "with thousands of high-quality, officially licensed reproduction parts." These classic-Mustang parts are now available on www.fordrestorationparts.com.
"We offer everything from a door handle to a complete Mustang body," says Ford Restoration Parts licensing manager Dennis Mondrach. "We just recently launched a 1965 Mustang convertible body--the complete assembly, all the sheet metal from the hood to the trunk. It is designed to enable fans of the original Mustang to build the classic of their dreams using a body that is stronger than the original."
Continue reading below ↓
Recommended Videos
Ford Restoration Parts claims that "reproduction Mustang bodies are available in every classic model year from 1965 to 1970 along with the ever-popular 1965 and 1967 convertibles. All cars feature modern welding and assembly techniques, and are made from high-strength, modern automotive-grade steel. Officially licensed fenders, bumpers, door skins and other body parts for project cars that have restorable bodies are available to replace parts susceptible to rust or damaged in accidents."
About 95 percent of all the parts a restorer would need to build a 'new' classic '64 to '66 Mustang are available, the restoration division reckons.
Seeing that such a product will be costly (more so if you have to have everything shipped from the US to the Philippines), Ford has provided practical tips for the potential classic-Mustang restorer:
* Start a restoration with a Mustang whose body is sound and not in need of major rust, welding or accident repairs;
* Decide how you will use the car when it is done. This will influence the cost of the restoration. Building a 100-point show car is far more expensive and time-consuming than building a very clean weekend cruiser;
* Keep track of all the money you spend on parts, service and supplies. You will need to document your costs to prove to the insurance company what you have invested, and receipts will be required when registering a custom-built "assembled vehicle" for title; and
* Join a Mustang club or online community, a good source for used parts and knowledgeable experts.
Time to call your grandfather. This is the perfect news to tell him on Sunday, September 9, which, by the way, is Grandparent's Day.