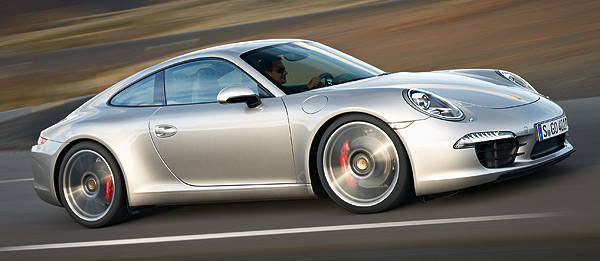 Porsche has finally unveiled the all-new 911, which will make its official public debut at the Frankfurt Motor Show this September.
Though it still bears the classic 911 look, the all-new 911 Carrera has been completely redesigned, starting with the flat, stretched silhouette. Combined with its 20-inch wheels, the 100mm longer wheelbase and reduced ride height give the 911 Carrera an unmistakably athletic appearance. At the same time, it retains its compact exterior dimensions. The new 911 also keeps the familiar wide-arched wings, which emphasize the wider front track while the remodeled side mirrors now sit on the upper edge of the door to not only accentuate the new design line but to also give the visual impression of width.
The all-new aluminum body is lighter by up to 45 kilograms in comparison to the previous-generation 911. Aerodynamic optimization--including a wider, variably extending rear spoiler--reduced the lift effect on the new 911 Carrera while simultaneously retaining its excellent drag coefficient value.
ADVERTISEMENT - CONTINUE READING BELOW ↓
Inside, the driver is even more closely integrated with the cockpit thanks to the center console that rises and is topped by the high-mounted shift lever or gear selector that's located especially close to the steering wheel in typical motorsport fashion. Also present are classic Porsche elements like the instrument cluster with five round instruments gauges dominated by the central rev counter.
Powering the 911 Carrera is a new 3.4-liter, 350hp boxer engine that, with the optional Porsche-Doppelkupplungsgetriebe (PDK) transmission, lets it run the zero-to-100kph sprint in only 4.6 seconds. The 911 Carrera S, meanwhile, gets a 3.8-liter, 400hp boxer engine that can go from zero to 100kph in 4.3 seconds with the optional PDK transmission. Yet despite these performance figures, the 911 Carrera only consumes 12.195km/L of fuel while the 911 Carrera S drinks 11.494km/L.
According to Porsche, the fuel consumption and emission of the all-new 911 is up to 16 per cent lower compared to its predecessor. Among other things, this is achieved by systems and functions such as auto start/stop, thermal management, electrical system recuperation, and the world's first seven-speed manual transmission.
ADVERTISEMENT - CONTINUE READING BELOW ↓
Recommended Videos
Although the launch of the new 911 models is slated for December 3, 2011, customers can start placing their orders on September 1.
Click here for more updates on the 2011 Frankfurt Motor Show
[gallery]1013[gallery]