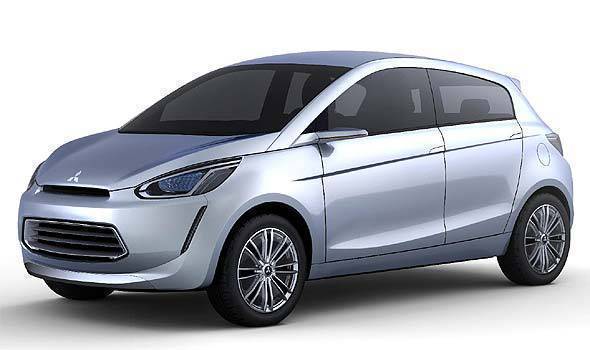 After being tagged simply as Mitsubishi's Global Small Vehicle for the longest time, the newest concept car from the Japanese carmaker is now known as the e-compact.
Unveiled at the 81st Geneva International Motor Show, the e-compact is Mitsubishi's answer to the changing preference of the global market, which is now seeking more fuel-efficient vehicles.
The Mitsubishi e-compact is powered by a three-cylinder 1.0-liter engine.
A production version of the vehicle is scheduled to be released before the end of the year. It will be built in Mitsubishi's currently-under-construction plant in Thailand.
While we wait for that, here are more Mitsubishi "e-facts" you might want to know about e-compact:
1. "e" for efficiency. Highly efficient in its overall packaging, Mitsubishi Motors' e-compact combines the virtues of a small vehicle (manoeuvrability) and excellent visibility whilst sitting five adults in comfort and accommodating sufficient luggage space within a retrained footprint (3,74 m length x 1,68 m width): one of the most space efficient in the B-Segment.
2. "e" for engineering. The architecture this e-compact is based upon has been designed to accommodate upfront foreseeable customer and regulatory requirements in ALL world markets whether Japan, North America, emerging countries or Europe, instead of costly later adaptations: a first in the small car class.
Continue reading below ↓
Recommended Videos
3. "e" for environment. Through weight saving measures, all-new petrol 1.0- and 1.2-liter MIVEC power trains, the application of MMC's green technology solutions (Auto Stop and Go, Brake energy regenerative system,, etc,…) and fine-tuned aerodynamics as exemplified in the sloping roof line, Mitsubishi's e-compact can boast sensible level of fuel consumption and therefore emissions well in line with market trends.
4. "e" for electric vehicle. As a further environmentally friendly measure--and a direct effect of its fully integrated Global Small architecture--e-compact is engineered to accommodate a further variant, fitted with a 100 percent electric power train.
5. "e" for economies. Robust and reliable by design as customary for Japanese products, "Global Small" should also guarantee low running costs.
6. "e" for effective design. As a daily reliable runabout equally at ease crossing the bush, tackling mega pole traffic or blasting highways (within speed limits), the Mitsubishi e-compact was styled with no-nonsense efficiency-first in mind. Robust looking yet enjoying sophisticated aero-dynamics, it should grace traffic none-the-less with a friendly face.
7. "e" for export. The first of its kind, "Global Small" will be built at MMC's dedicated hub of Laem Chabang Industrial Estate in the Chonburi province of Thailand. The forecasted annual volume of 150,000 units (with a possible increase to 200,000 units) will be exported to the ASEAN countries , Japan, North Asia, Australasia, Europe, North America and many other markets around the world.
Will you buy this car?
More from the Geneva motor sho:w
Mazda Minagi Concept
Toyota FT-86 II Concept
Kia Rio
Lamborghini Aventador LP 700-4