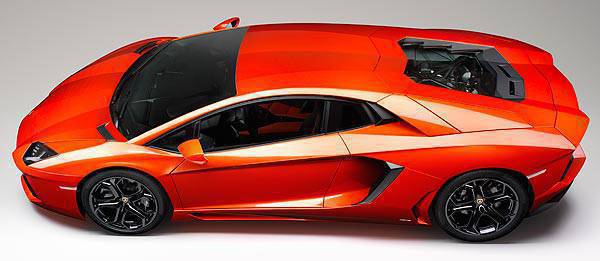 It's official: Lamborghini's all-new V12-powered flagship supercar isn't the "Jota," as previously assumed by many motoring enthusiasts, but the Aventador LP 700-4.
"With the Aventador LP 700-4, the future of the super sports car is now part of the present," said Stephan Winkelmann, president and chief executive of Automobili Lamborghini. "Its exceptional package of innovative technologies is unique, its performance simply overwhelming."
The Aventador's innovative monocoque is made from carbon fiber that combines exceptional lightweight engineering with the highest levels of stiffness and safety. The 12-cylinder, 700hp engine and the car's dry weight of 1,575 kilograms give the Aventador a power-to-weight ratio of just 2.25 kilograms per horsepower--enough to run the new flagship supercar from zero to 100kph in 2.9 seconds before reaching a top speed of 350kph. Despite these impressive performance figures that translates to an eight-percent power improvement, the Aventador's fuel consumption and carbon dioxide emissions are 20 percent better compared to that of its predecessor's, the Murcielago.
The Aventador's Independent Shifting Rods transmission is also unique among road-going vehicles as Lamborghini guarantees it has the fastest shifting time at only 50 milliseconds. The lightweight chassis and its pushrod suspension deliver absolute handling precision and competition-level performance.
Lamborghini's newest flagship supercar also takes a page off of its predecessor as it also has electronically managed air intakes that open depending on the outdoor temperature and the need for cooling air, ensuring the car's maximum aerodynamic efficiency. For those who wish to flaunt the heart of their Lamborghini, the optional transparent engine bonnet exhibits the 12-cylinder engine like a technical work of art in a display case.
Continue reading below ↓
Recommended Videos
The Aventador also follows Lamborghini's long-held tradition as it bears the name of a famous bull where its namesake earned the "Trofeo de la Peña La Madroñera" for its outstanding courage at the Saragossa Arena in October 1993.
"The Aventador is a jump of two generations in terms of design and technology, it's the result of an entirely new project, but at the same time it's a direct and consistent continuation of Lamborghini's brand values," added Winkelmann. "It is extreme in its design and its performance, uncompromising in its standards and technology, and unmistakably Italian in its style and perfection. Overall, the dynamics and technical excellence of the Aventador LP 700-4 makes it unrivalled in the worldwide super sports car arena."
The Aventador's first customers will take delivery of their units later this year. Are you going to be one of them?
More from the Geneva motor show:
Mazda Minagi Concept
Toyota FT-86 II Concept
Kia Rio
Mitsubishi e-compact