Customers of Honda and Mitsubishi come out of the brands' respective authorized after-sales service areas with a higher degree of satisfaction, a J.D. Power Asia Pacific study showed.
Honda and Mitsubishi got a score of 814 points out of a 1,000-point scale measuring a dealer's service quality, vehicle pickup, service initiation, service advisor and service facility.
The J. D. Power Asia Pacific 2009 Philippines Customer Service Index Study said Honda performs well in vehicle pickup, service initiation, service advisor and service facility factors; while Mitsubishi ranks high in service quality, which has the highest impact (40 percent) in the overall satisfaction index.
Honda and Mitsubishi are followed closely by Nissan, Kia and Mazda in the top five list.
"The study finds that consistent implementation of standard operating procedures have a direct impact on overall satisfaction. These procedures can range from the comfort level of the service facility, convenience of operating hours, and after-sales service, to the sales advisor's overall competency in dealing with customers," the J. D. Power Asia report said.
ADVERTISEMENT - CONTINUE READING BELOW ↓
It added that customers are most satisfied with dealers who perform at least 19 of the 22 standard service procedures. Brands which ranked low in the chart performed only 14 or less. J. D. Power said only 30 percent of the customers reported their dealer performed at least 21 of the service standards in their past visit.
"The low percentage of customers receiving at least 21 standards is clear evidence that dealers have much room for improvement. Maintaining a high rate of implementation for these standards is key to delighting customers," said Taku Kimoto, J. D. Power Asia Pacific general manager for the Philippines.
J. D. Power based its latest customer satisfaction index on responses from 1,604 vehicle owners who bought their vehicles between January 2007 and March 2008 and brought their vehicle for service to an authorized dealer or service center between July 2008 and March 2009.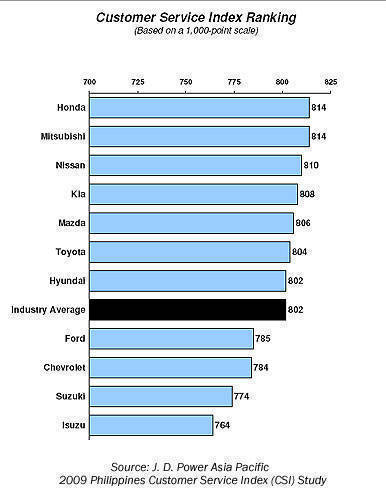 ADVERTISEMENT - CONTINUE READING BELOW ↓
Recommended Videos