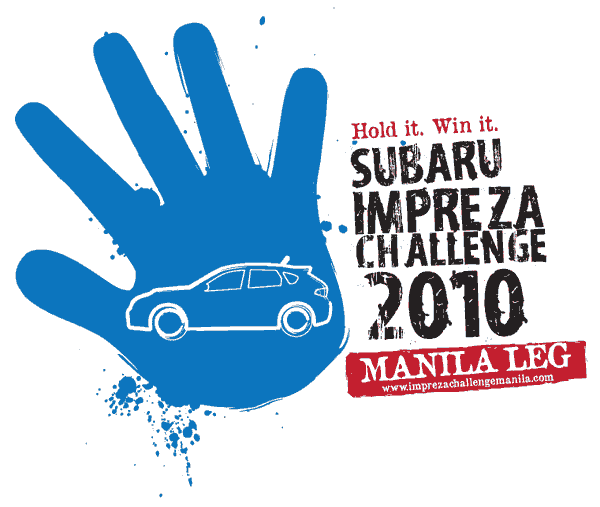 Click here to view the list of participants.
The search is on for the ten Filipino survivor-wannabes who will represent the country in the next Subaru Impreza Challenge for a chance to win a brand-new Subaru Impreza WRX 2.5 Turbo.
Motor Image Pilipinas, the exclusive distributor of Subaru, has opened the registration for participants who want to join the Manila Leg qualifier of the event. Candidates must be a Philippine passport holder, 21 years old as of January 1, 2010, and in good health condition.
More than 100 participants are expected to converge at the Eastwood City Central Plaza from September 18 to 19 for the qualifying round.
"The conditions are expected to be tough this year with the adoption of the same ruels and regulations used in the Regional Face-Off event," Motor Image Pilipinas said in a statement. "With only their right palms on their respective assigned positions in the car, contestants are eliminated through violation of competition rules and requirements."
ADVERTISEMENT - CONTINUE READING BELOW ↓
Contestants will be given a five-minute meal-and-toilet break every six hours during the competition.
The last ten men and women standing during the Manila Leg will be sent to Singapore to compete with finalists from other Southeast Asian countries.
The top three Philippine winners will receive a cash prize of P10,000, P6,000 and P4,000, respectively. The winner in Singapore will bring home a brand-new Subaru Impreza WRX 2.5 Turbo.
Last year, Apple Joy Balibado stood as the last Filipino challenger in the regional finals with a 53-hour record of keeping her right palm on the Subaru Impreza. The new Subaru Impreza, however, went to Mohamed Anuar, who outlasted everyone in the competition with a record of 77 hours and 43 minutes.
Want to know more about the Subaru Impreza Challenge before you sign up for the 2010 competition? Click on the following links:
Singapore keeps Subaru Impreza Challenge title
Apple is last Filipino standing in Subaru Impreza Challenge
3 Pinoys remain standing in Subaru Impreza Challenge - Singapore
Pres. Cory's honor guards to join Subaru Impreza Challenge
ADVERTISEMENT - CONTINUE READING BELOW ↓
Recommended Videos
Click here for photos:
Number of participants at the Subaru Impreza Challenge starts dwindling
Ready for the challenge? Visit the Subaru Greenhills Showroom in Edsa or call Motor Image Pilipinas at (02)727-8333 or (02)727-3687.