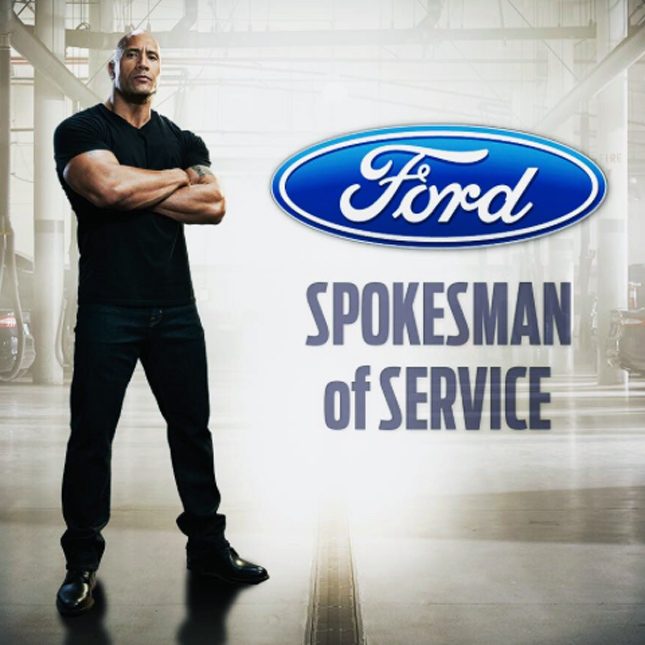 As someone who has been covering the auto industry for many years, I am pretty familiar with the weaknesses of each car brand in our market--areas that could use some improvement (or at least some image-polishing). In the case of Ford Philippines, I would say it's in the after-sales service department that the American automaker should really focus on. The products are great. The marketing is superb. They just need to roll up their sleeves and work where it matters most: the service bay area.
I don't know if this is also the case in the United States--Ford's home market, of course--but it looks like the Dearborn-based company now wants to start highlighting the quality of its service. And I know this because Ford has just announced that celebrity Dwayne "The Rock" Johnson will now be the brand ambassador of its after-sales service. As such, Johnson will figure prominently in Ford's new advertising campaign, called "The Specialists at Ford." His new job designation is "Spokesman of Service."
ADVERTISEMENT - CONTINUE READING BELOW ↓
According to a press statement: "The Specialists at Ford are an elite crew of Ford technicians led by Johnson. This dedicated team has all of the training, diagnostic tools and Motorcraft parts that make servicing your vehicle at your local Ford dealership the right decision." Motorcraft is the car-parts brand of Ford.
ADVERTISEMENT - CONTINUE READING BELOW ↓
Recommended Videos
Johnson confirmed the news by posting the following on Instagram (in italics):
BIG NEWS: Excited to be in partnership with @FORD as their official #SpokesmanOfService. I currently own three FORD trucks, but my relationship with them began when I was 15yrs old and bought a classic blue '77 Thunderbird as my first car for $40 bucks (true story). I didn't even have money to put gas in it, but it was all mine and I've been a FORD man ever since. Representing their Service Department and the hardworking FORD individuals committed to taking care of their customers echoes one of my core enterprise beliefs, "Always take care of the audience" and whether it's in a movie theater or behind the wheel, taking care of the people is what matters most.
ADVERTISEMENT - CONTINUE READING BELOW ↓
Spoken like a true, um, spokesman.
So, who wants the oil of his Everest changed by The Rock?