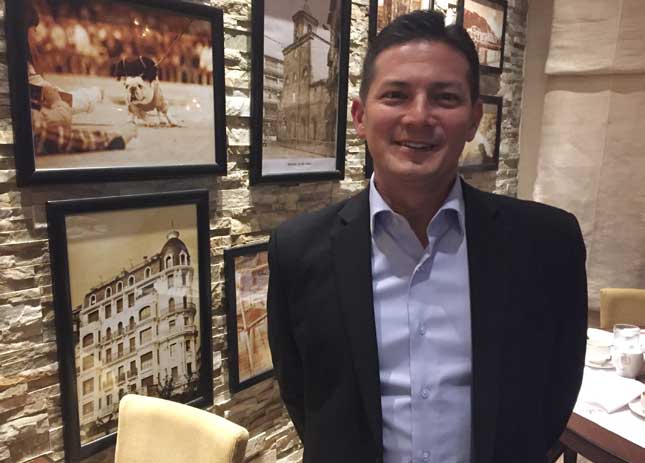 Ford Philippines is on a roll, for sure. In 2015, the American carmaker officially leapfrogged Hyundai for third place in our market in terms of sales, moving a total of 25,372 units--this after having been fifth overall just behind Honda in 2013. Next to Toyota, Ford now has the most complete and most attractive product lineup in this traffic-jammed corner of the world.
This continues to be validated by the brand's soaring sales. In April this year, Ford registered a record monthly tally of 3,152 sold units. Last month, the company's sales "only" totaled 2,933 units, but that represented a 78% improvement from a year ago.
Ford's year-to-date total (January to May) for 2016 now stands at 13,961 units, up a whopping 63% from the same period in 2015 (8,557 units).
You'd think Ford Philippines' new managing director, a baby-faced executive named Lance Mosley, would sit back and take it easy while nonchalantly monitoring his company's spreadsheet files. Not so.
You see, Mosley is a sales guy himself, having sold Ford cars while still in college. As such, he knows how to interact with customers. He knows what they want and he knows what they expect. He has a pretty solid grasp of customer satisfaction. But he is also aware that Ford in the Philippines is suffering from an unflattering reputation when it comes to after-sales service.
Now, we're not sure if he knows the last part because he gets forthrightly briefed by his Filipino officers, or because he pays attention to what people have been saying on social media. Our guess is that it's a mix of both.
ADVERTISEMENT - CONTINUE READING BELOW ↓
Anyway, Mosley is hell-bent on improving his company's poor after-sales image. During two dinner meetings with TopGear.com.ph, the executive humbly admitted the need to shake things up at the dealership level. And he vowed to turn things around.
"I want to keep our customers for life," he told us. "I don't want our relationship to be a single-transaction thing. I want to make them happy and loyal to our brand."
On the surface, one might suspect that it was merely some hollow PR talk from a corporate boss. But he seems to really know how to do it.
"Caring is half the battle," he insisted.
In saying that, he wanted us to know that he would be a sympathetic expatriate head honcho, not an indifferent kingpin out to enjoy the perks of his position. He wanted us to know that he was well aware of the importance of having his dealers on the same page in the area of customer service.
When he showed up for our second meeting, he had just finished delivering Krispy Kremes to top-performing sales personnel--a simple token of appreciation for another big-selling month. Which car-company boss would do that? It may have been a small gesture, but it will go a long way in lifting the spirits of showroom-bound team members, the very individuals tasked to personally attend to customers. Surely, a happy salesperson equals happy clients. Oldest trick in the book.
During our dinner meetings, he repeatedly requested that we directly send to him complaints from disgruntled Ford customers. He gave us his e-mail address and practically begged us to forward Ford-related issues to him. And this wasn't some perfunctory spiel designed to impress motoring journalists: The guy would actually text us at midnight following up on those customer complaints!
His reply to the first batch of such messages: "Thanks for sending these. So far, the dealers have reacted very well and are eager to correct these issues. Please keep these coming."
He also demanded to know which competitors did well in after-sales service, and what lessons could be learned from them. His predecessors before him had never done this.
This dude is serious, we thought. And Ford Philippines is in seriously good hands because of it.
Make no mistake: Lance Mosley is not a naive man. We don't think he believes that all their service problems will go away just with a flash of his boy-next-door smile. He understands what needs to be done. He sees the enormity of the mission. He accepts that his brand's excellent sales performance could come to an abrupt end if its service-related snags weren't ironed out with the urgency of a Mustang GT's V8 engine. And he's up for it.
He intends to rectify even something as seemingly petty as the way dealers take phone inquiries from customers. He wants each dealer to have a dedicated staff to work those landlines, because he knows even a casual, impersonal chat can significantly enhance the car-shopping experience. He's got it all figured out, apparently.
"We'll fix our after-sales service issues, I promise you that," he declared before taking a hearty swig of his cold beer.
If you're an owner of an EcoSport or a Fiesta or a Ranger or an Everest or even an Explorer, this has got to be a truly reassuring pledge. Lance Mosley will not stop until you're satisfied with your Ford ownership experience.
ADVERTISEMENT - CONTINUE READING BELOW ↓
And maybe you'll get to also share some brew with him. Who knows?
Photo by Vernon B. Sarne