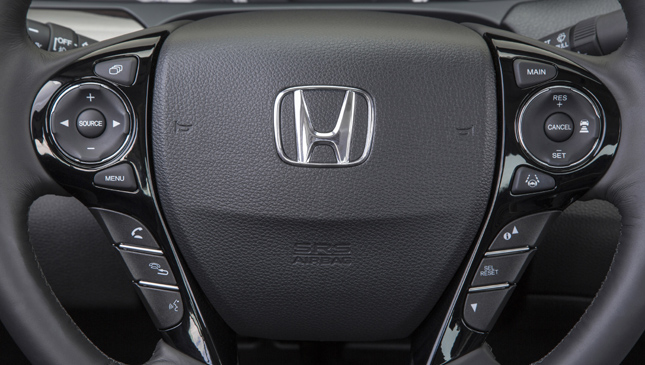 Airbags--they're all that's keeping your face from being planted into your steering wheel or dashboard in the event of a collision. That said, last year's slew of airbag-related malfunctions and recalls shook the entire auto industry. And if you thought the Honda airbag debacle had ended with former Honda CEO Takanobu Ito's resignation last February, you might have thought wrong.
A possible defect with the inflators of driver-side airbags in older-generation Honda vehicles has prompted the Japanese car manufacturer to recall several models for inspection and airbag inflator replacement as part of a safety improvement campaign.
The vehicles affected by the recall are 2003-2006 Accords, 2004-2005 Civics and 2006-2007 Pilots. A total of 1,514 of the said vehicles (1,450 of them Accords) could require the inflator replacement. Owners of affected vehicles may contact any authorized Honda car dealership or service center to set an appointment. The airbag inflator replacement should take about an hour, and all parts and labor costs will be free of charge.
According to Honda Cars Philippines, the campaign is more of a preventive measure, as the situation with the airbag inflators is still currently under investigation. There have yet to be any reports of accidents or injuries related to the inflators. Still, HCPI is encouraging owners of the affected vehicles to bring their cars in to ensure the safety of their customers.
Continue reading below ↓
Recommended Videos
See if your Honda vehicle is affected.
Model
Year
Frame
Affected units
Total
From
To
Accord
2003
MRHCM46203P010001
MRHCM46203P010224
224
1,450
MRHCM46203P010226
MRHCM46203P010239
14
MRHCM46203P020001
MRHCM46203P020110
110
MRHCM46203P020112
MRHCM46203P020177
66
MRHCM46203P020179
MRHCM46203P020353
171
MRHCM46203P020355
MRHCM46203P020420
66
MRHCM46203P020423
MRHCM46203P020451
29
MRHCM46203P020454
MRHCM46203P020595
138
MRHCM46203P020597
MRHCM46203P020619
22
MRHCM46203P020621
MRHCM46203P020658
34
2004
MRHCM56204P010001
MRHCM56204P010112
112
MRHCM56204P010114
MRHCM56204P010150
37
MRHCM56204P040001
MRHCM56204P040020
20
MRHCM56204P040022
MRHCM56204P040035
14
MRHCM56204P040037
MRHCM56204P040101
64
MRHCM56204P040108
MRHCM56204P040128
21
MRHCM56204P040131
MRHCM56204P040160
30
MRHCM56204P040167
MRHCM56204P040229
51
MRHCM56204P040231
MRHCM56204P040240
10
MRHCM56204P040244
MRHCM56204P040253
10
MRHCM56204P040271
MRHCM56204P040330
30
2005
MRHCM56205P040001
MRHCM56205P040012
12
MRHCM56205P040014
MRHCM56205P040090
76
2006
MRHCM56206P040002
MRHCM56206P040026
25
MRHCM56206P040028
MRHCM56206P040091
64
Model
Year
Frame
Affected units
Total
From
To
Civic
2004
JHMES95604S022820
--
1
2
2005
JHMES96605S800162
--
1
Pilot
2006
5FNYF18506B801058
--
1
62
2007
5FNYF18507B800039
--
1
5FNYF18507B800042
--
1
5FNYF18507B800820
--
1
5FNYF18507B801403
--
1
5FNYF18507B801837
--
1
5FNYF18507B801840
--
1
5FNYF18517B800616
--
1
5FNYF18517B801863
--
1
5FNYF18517B801913
--
1
5FNYF18527B800432
--
1
5FNYF18527B801838
--
1
5FNYF18527B801922
--
1
5FNYF18537B800245
--
1
5FNYF18537B800617
--
1
5FNYF18537B800620
--
1
5FNYF18537B800634
--
1
5FNYF18537B801864
--
1
5FNYF18537B801914
--
1
5FNYF18537B802299
--
1
5FNYF18537B802366
--
1
5FNYF18547B800125
--
1
5FNYF18547B800819
--
1
5FNYF18547B802361
--
1
5FNYF18547B802408
--
1
5FNYF18557B800036
--
1
5FNYF18557B800618
--
1
5FNYF18557B800621
--
1
5FNYF18557B800635
--
1
5FNYF18557B800750
--
1
5FNYF18557B801929
--
1
5FNYF18557B801932
--
1
5FNYF18567B800143
--
1
5FNYF18567B800627
--
1
5FNYF18567B800630
--
1
5FNYF18567B800742
--
1
5FNYF18567B801843
--
1
5FNYF18567B801860
--
1
Model
Year
Frame
Affected units
Total
From
To
Pilot
5FNYF18567B802409
--
1
5FNYF18567B802412
--
1
5FNYF18577B800040
--
1
5FNYF18577B800104
--
1
5FNYF18577B800748
--
1
5FNYF18577B800815
--
1
5FNYF18577B801849
--
1
5FNYF18577B801916
--
1
5FNYF18577B802029
--
1
5FNYF18587B800029
--
1
5FNYF18587B800127
--
1
5FNYF18587B801598
--
1
5FNYF18587B801911
--
1
5FNYF18587B802296
--
1
5FNYF18587B802363
--
1
5FNYF18597B800153
--
1
5FNYF18597B801917
--
1
5FNYF185X7B800615
--
1
5FNYF185X7B800632
--
1
5FNYF185X7B800761
--
1
5FNYF185X7B801845
--
1
5FNYF185X7B801859
--
1
5FNYF185X7B801926
--
1
5FNYF185X7B802297
--
1
Grand total


1,514