"Roads build people, and people build cars." That's the motto of Toyota Motor Corporation's (TMC) 5 Continents Drive, wherein a team of experts drive various Toyota vehicles through areas with tricky terrain and diverse environments to simulate and understand the daily experiences of customers from around the world.
This project under Toyota Gazoo Racing began in Australia back in 2014. For this year, the team began its Asia Drive in February in the Middle East, en route to the 2020 Olympic and Paralympic Games in Tokyo, Japan. The Philippines was included as one of the drive destinations.
Toyota Motor Philippines (TMP) hosted the send-off ceremonies at the TMP plant in Santa Rosa, Laguna on November 19, 2019. The team that made its way across Luzon was composed of 27 Toyota engineers and technical experts from TMC, Toyota Daihatsu Engineering and Manufacturing (TDEM), and Toyota Motor Asia Pacific (TMAP). There were also two representatives from TMP who participated in the Philippine leg of the drive.
"Toyota Motor Philippines is honored to be a part of the historic 5 Continents Drive, with our very own Team Members guiding the group as local experts. They will help the 5 Continents Drive team understand not only the local road conditions but also the country's transportation situation and culture," said TMP president Satoru Suzuki during the send-off ceremony. "This immersion project serves as an opportunity for the world to witness the Filipinos' unique way of life and how cars are helping them go through their daily lives."
Continue reading below ↓
Recommended Videos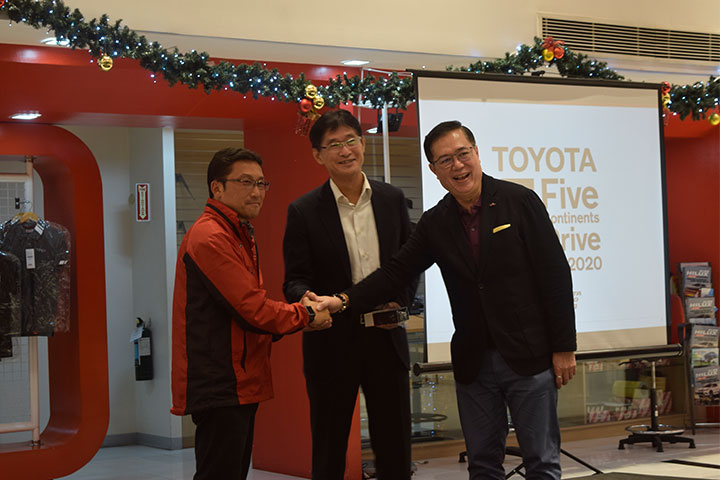 The participating Toyota vehicles during the drive were the locally assembled Vios and Innova, as well as the Corolla Altis Hybrid, the Fortuner, the Hilux, the RAV4, and the Rush. The convoy made its way from Metro Manila to the lands of the north, driving through Bulacan, Tarlac, La Union, Baguio, Pangasinan, Nueva Ecija, Pampanga, and Zambales before going all the way back to the nation's capital.
This leg of the 5C Drive was recently concluded at the Philippine Goal Event held at the Toyota Manila Bay Corporation on November 22, 2019, or three days after the team officially hit the road. Ultimately, the results and information gathered from this drive will also contribute to TMP's goal of building 'ever-better cars.'