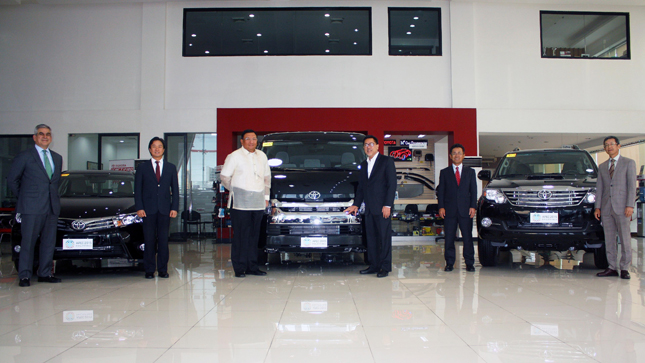 It seems as if Toyota will drive the Philippine economy, literally, in 2015. The Japanese carmaker recently signed an agreement with the Philippine government to provide vehicles and drivers to support the 2015 Asia-Pacific Economic Cooperation, a year-long forum among countries in the Asia-Pacific region.
Toyota Motor Philippines will provide APEC delegates with a total of 483 Altis, Fortuner and Hiace vehicles, with accompanying drivers. The Toyotas will be used for senior officials' meetings, private-sector related meetings, and the CEO summit.
According to APEC CEO Summit COO Guillermo Luz: "The spirit of cooperation and collaboration exemplifies partnerships that we are promoting across APEC, and with special friends in the Philippines such as Toyota."
Toyota Motor Philippines president Michinobu Sugata, fresh off celebrating his company's 13th straight Triple Crown, expressed high hopes for this year's forum: "We are optimistic that the 2015 APEC will bring positive results and generate a significant impact on local industries here, as well as benefit businesses throughout the region."
The massive support from Toyota could be an indication that the automotive industry will be an important topic in this year's APEC summit. We don't normally publish all the names in photo ops, but the business heavy hitters in the above picture deserve mentioning. From left: APEC Private Sector chairman Jaime Augusto Zobel de Ayala, TMP vice chairman Alfred Ty, cabinet secretary Jose Rene Almendras, 2015 APEC CEO Summit COO Guillermo Luz, TMP president Michinobu Sugata, and TMP executive vice president for marketing Yohei Murase.
Continue reading below ↓
Recommended Videos
Believe us when we say that these captains of industry only attend events they truly believe in. We hope the outcome of the 2015 APEC will grow our surging automotive industry even further.
Bottom photo from Maria Genevic De Los Santos