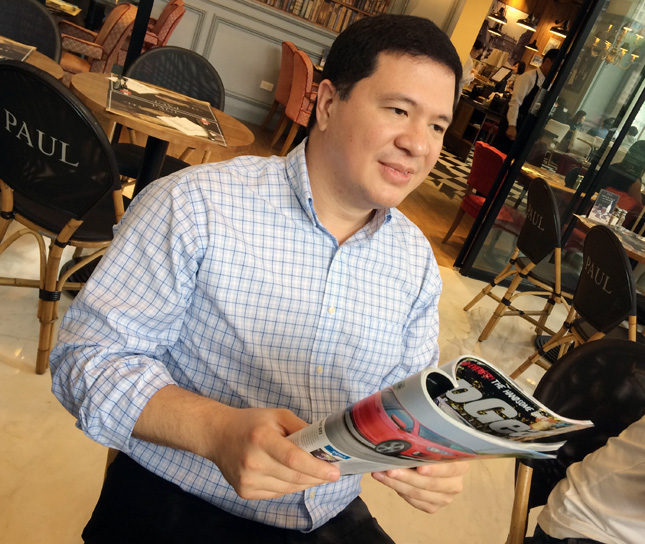 As you can imagine, we've met quite a number of car industry executives in our profession. Most of them are career industry players--those who joined a car company straight out of college and either stayed with the same firm or jumped from one automotive brand to another.
We have to say that while there are many of them who are genuinely deserving of their position by virtue of their competence and passion, some are what you might call career butterflies--those who are merely in it for the compensation and jump ship at the first tempting offer sheet their headhunter clandestinely sends to their personal e-mail address.
And then there are those few executives who enter the trade from another, totally unrelated industry. Yes, some of these guys are career butterflies themselves, but there are the rare ones who will see to it they are worth every peso in their package. We think we recently met such a boss in new Volkswagen Philippines marketing director Franz Decloedt.
If the name sounds fancy, that's because Decloedt is half-Belgian. But he's 100% Filipino in spirit. He joins the auto industry after managerial stints in companies selling fast-moving consumer goods: Universal Robina Corporation, Unilever and Coca-Cola. We'd be lying if we said we didn't wonder whether he was up to the task when he met our editorial staff for lunch a couple of weeks back.
Continue reading below ↓
Recommended Videos
Decloedt struck us as an affable fellow right off the bat, almost swooning over the fact he had finally come face to face with the people behind Top Gear Philippines. Although we were not entirely sure how much of that swooning was down to PR, we honestly found the man to be sincere. Which is always a good thing (for us, at least).
For a new car company in our market, Volkswagen Philippines certainly needs all the marketing expertise it can get. Why, then, did the Ayala-owned distributor hire an industry outsider to helm its marketing department?
Our brief lunch meeting with Franz Decloedt gave us an idea why: An outsider is devoid of all the clichés, the tired ideas, the conformist mindset. For a car brand with such a rich heritage, Volkswagen faces unique challenges in our market. Challenges that, hopefully, an outsider is better suited to address.
Best of all, an outsider--at least in Decloedt's case--will work overtime and doubly hard to master the automotive business. Even before officially starting at work, he had done some research on VW, proudly telling us about one study in the US in which it was found that "Volkswagen had more vehicles on the road with over 100,000 miles than any other brand." Which was a subtle way of informing us that his brand boasts the most durability in the industry.
And then he dropped this declaration: "Volkswagen is a sleeping giant in the Philippine market."
Which we took to mean that the new VW marketing boss believes the German carmaker is too good and too big not to be successful on our shores. He took note of the fact that Volkswagen had once been extremely popular in the country, with the classic Beetle one of the most-loved cars to ever roll on our local roads. "Our current product line is obviously vastly different now; we just need to remind people of who we really are as a carmaker," he shared.
Decloedt had been issued a Tiguan by his new company, but spoke of a desire to restore a Karmann Ghia. His world was fast changing around him. From juice and hydration, he had crossed over to motoring. From fast-moving consumer goods, he had moved to big-ticket products.
Last weekend--on a Sunday--we chanced upon him hanging out at a Volkswagen mall display in Robinsons Galleria (see photo below). We watched him from an upper floor (he didn't see us) and observed how he was involved in an animated discussion with a sales agent while excitedly checking out the Polo Hatchback wrapped in WRC livery. Not too many industry executives will do that.
Franz Decloedt, an outsider, has a perceptible thirst for learning the ropes and an apparent motivation to overcompensate. We don't think the competition should be celebrating.
Photos by Raynand Olarte and Vernon B. Sarne