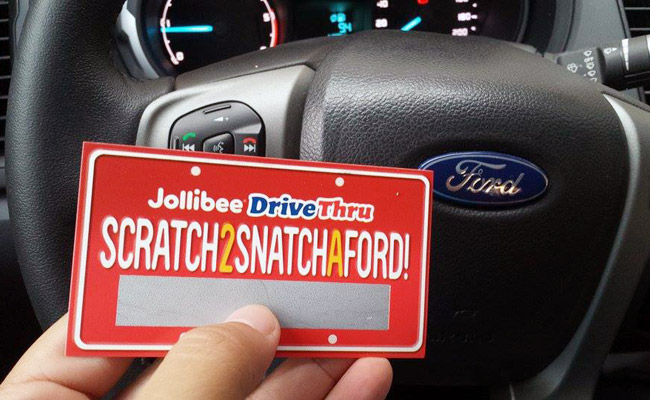 So, while McDonald's is having some cute little fun with its car-driving customers by giving away daily free stuff based on car colors, Jollibee wants motorists to win five (5) Ford EcoSports in its "Scratch 2 Snatch a Ford" drive-thru promo. In very simple terms, this is how it works (at least how we understand it in the video below): You drive through Jollibee, buy food items (with a minimum amount, we suppose) and then receive a scratch card.
It doesn't say in the video, but we imagine that the higher your bill, the more scratch cards you get. Again, that's just an assumption on our part as we can't find the mechanics online.
If, by some miraculous stroke, your scratch card reveals the word "Congratulations," you'll drive home one of five EcoSport units that are up for grabs in this promo.
The promo runs from October 15, 2014, until January 31, 2015.
Now we wonder which one is the better drive-thru promo: the one of McDonald's ("Lucky Drive"), which gives food items to hundreds of car owners in Metro Manila for four days, or this one of Jollibee, which will reward just five customers but with a brand-new subcompact crossover each. So it's instant gratification versus long-shot odds.
Continue reading below ↓
Recommended Videos
Which do you prefer?
Photo from Ronald Tacumba
If you're viewing this on a mobile device and can't see the video, please click here.