We need more bicycle-friendly roads—that's been the case for quite some time now already. But this fact is being highlighted yet again by the Metropolitan Manila Development Authority's (MMDA) Metro Manila Accident Reporting and Analysis System (MMARAS) report for 2020.
Last year, the MMDA recorded 3,026 incidents (36 of which were fatal) involving bicycles, e-bikes, and pedicabs. That accounts for 2.4% of the total number of incidents for the entire 2020. That's up significantly from just 1,783 bicycle- and pedicab-related incidents (20 fatal) from 2019.
To give you an idea of just how big that is, there were 2,562 incidents (2.04% of the total) involving PUJs, 3,038 (2.43%) involving taxis and FXs, 3,233 (2.58%) involving buses, and 1,942 (1.55%) involving tricycles last year.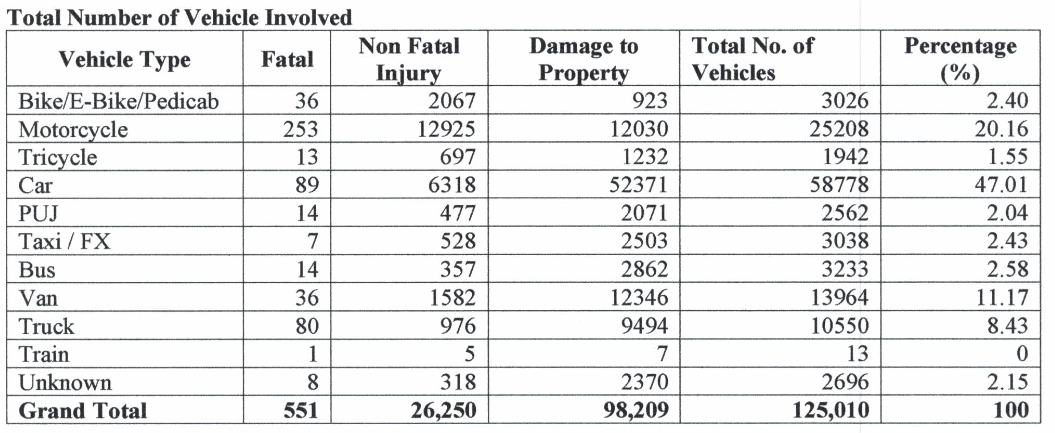 Continue reading below ↓
Recommended Videos
We see two possible reasons behind the surge in the number accidents. One is that the MMARAS now records the number of accidents involving e-bikes and lumps it in with the tally for bicycles and pedicabs. Another is that throughout this pandemic, more people have resorted to using alternative-transport solutions such as bicycles, especially during the first few months of quarantine when the availability of public transport was even more limited than it is now. We suspect the latter plays a bigger role in this, though.
It's easy to point out that as more cyclists hit the road, the number of bike-related accidents is bound to increase as well. That said, it's also unacceptable. Yes, some cyclists, pedestrians, and users of other alternative-mobility devices would do well to brush up on traffic rules and regulations. But if we're going to talk about sharing the road properly, it follows that all types of road users must be provided, where possible, dedicated spaces within which they can travel safely—and where the spaces overlap, that everyone respects right of way and practices general road courtesy.
The metro is downright unwalkable and unbikeable in its current state, and the MMARAS numbers from last year are proof. If we all want to make the city safer, we all need to do our part—drivers, riders, cyclists, pedestrians, and the government.
For the full MMARAS 2020 report, click here.