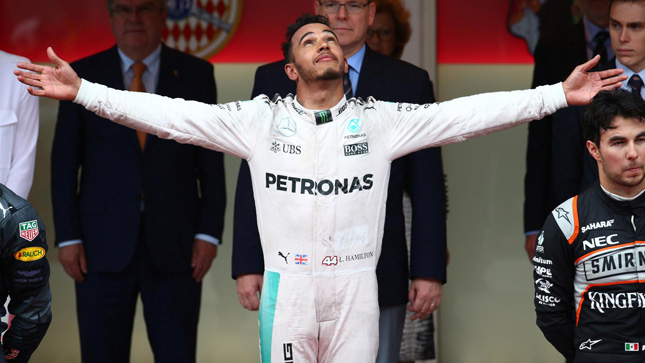 As what happens in Monaco when it rains, cars slide and team strategies are tested. The most prestigious race on the calendar certainly didn't disappoint this year. Here are the highlights.
1. Red Bull's mistake gifted Lewis Hamilton the victory. Hamilton recovered from the mechanical issues that had hindered him in qualifying, to win a rain-hit Monaco Grand Prix from third on the grid, cutting the gap to teammate Nico Rosberg at the top of the championship by 19 points in the process. Daniel Ricciardo looked to be in control having held onto his lead after the race had started under the safety car, but a disastrous pit stop by Red Bull saw him slip behind his Mercedes rival after the latter had opted for a different strategy. With the track drying, Hamilton stayed out on wet tires while Ricciardo pitted for intermediates. Even when the time came for both drivers to switch onto dry rubber, it looked like the Australian would emerge in front, but a communication error meant that Red Bull didn't have fresh tires ready when the call to pit was made. The wait cost Ricciardo more than 10 seconds, allowing Hamilton to take a lead he wouldn't relinquish en route to the checkered flag.
2. Nico Rosberg was told to let Hamilon through. Hamilton's victory was made possible by his teammate, who could only finish seventh on a circuit where he was searching for his fourth consecutive win. Mercedes reported that the German was managing a problem with his brake temperatures, although it's not clear if that alone was enough to account for him being nearly a lap down on his teammate by the end of the race. Recognizing that Hamilton was quicker early on, the team ordered Rosberg to move aside--a call that Rosberg later admitted was "pretty simple" from their point of view. After winning the first four races of the year, Rosberg has taken just six points from the previous two grands prix, and now second-placed Hamilton is only 24 points behind him. Perhaps that talk of the title race being over was a tad premature.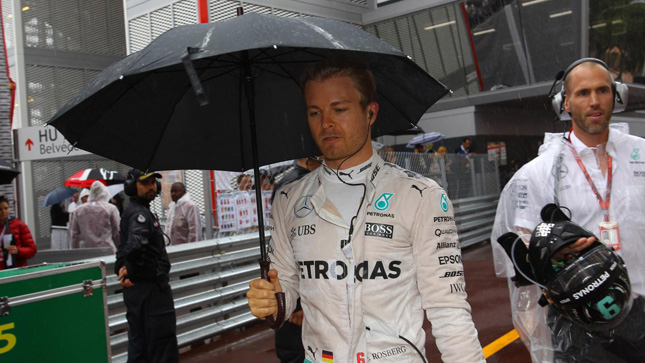 3. Red Bull has cost Daniel Ricciardo two wins in a row. Red Bull will be relieved to be challenging at the front again for the first time in the hybrid era (its three victories in 2014 came after problems for Mercedes), but that will be of no comfort to Ricciardo right now. He had been in a position to win the Spanish Grand Prix a fortnight ago, only for the team to move him onto a less competitive strategy that saw him finish fourth. Worse still for Ricciardo was that teammate Max Verstappen took the checkered flag having remained on the optimum strategy. This weekend, Ricciardo was leading again, but when he pitted for the final time, there were no tires waiting for him as the mechanics removed his intermediates. With overtaking opportunities almost nonexistent in Monaco, the mistake undoubtedly robbed him of victory. "Two weeks in a row, I have been screwed," said a dejected Ricciardo afterward. "It sucks. I didn't make the call. I got called so they should have been ready. It hurts."
4. But he did at least secure his first-ever pole. Prior to the race, Ricciardo claimed the first pole position of his F1 career in his 94th grand prix. The Aussie set a blistering time of 1:32.622, 0.169 second faster than Rosberg and more than three-tenths quicker than Hamilton. Ricciardo benefited from an engine upgrade going into the race, giving him a boost of 30hp and roughly 0.2 second of pace per lap around the twisty streets of Monte Carlo. Pulling into parc ferme after his pole lap in Q3, the 26-year-old made his delight very clear over the team radio: "It's my time! It's my ******* time!" Not quite, Daniel. Not quite.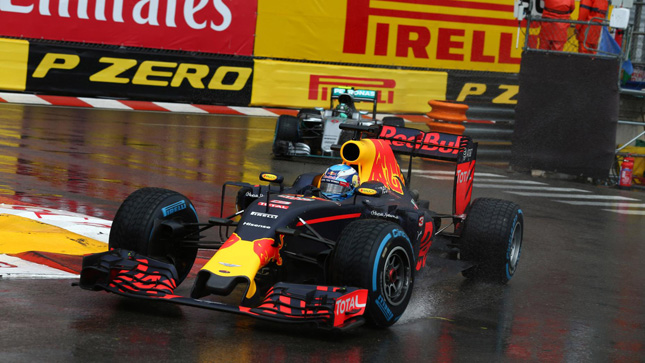 5. Force India had a great weekend. Nico Hulkenberg and Sergio Perez had endured a disappointing start to the year, with their car unable to deliver the level of performance they'd been hoping for following preseason testing. However, the VJM09s surprised everyone with their pace this past weekend, enabling Perez to emerge from a chaotic midfield to claim only the fourth podium in the team's history. The Mexican drove superbly to work his way up to third ahead of Ferrari's Sebastian Vettel before the halfway point, and the 26-year-old successfully defended the position for an hour to secure the sixth podium finish of his F1 career. Meanwhile, Hulkenberg was able to attack Rosberg in the latter stages, stealing sixth place away from his countryman in the last few meters of the race. Sneaky!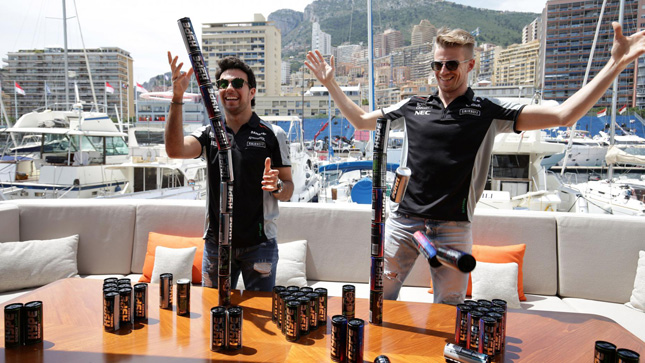 6. Max Verstappen is a mere mortal after all. The young Dutchman might be the hottest property in F1 right now, but there's no escaping the fact that he still lacks racing experience. Verstappen tagged one of the barriers in the practice session before qualifying, and then suffered a more substantial crash in Q1 that left him at the back of the grid for the race. Starting from the pit lane, the 18-year-old made great strides toward the top 10, but his race ended an hour into the grand prix as he lost control of his car coming over the hill into Massenet. Following last year's race-ending collision involving Romain Grosjean, Verstappen has now racked up four notable crashes in his two visits to Monaco as a Formula 1 driver. Room for improvement, right there.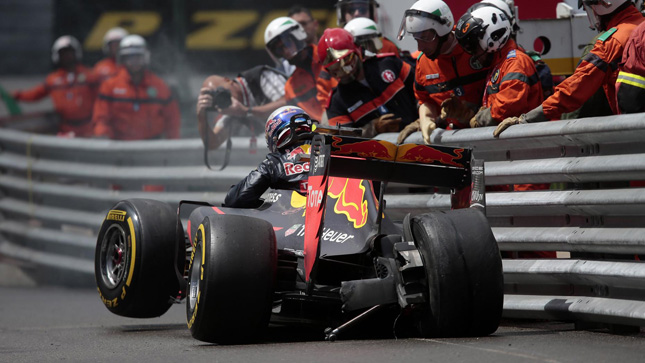 7. Fernando Alonso has still got it. Another unexpected result came from McLaren, who had been disappointing in qualifying having promised to be much more competitive at F1's most glamorous event. However, Alonso proved that he is still one of the most consistent drivers anywhere in the world by finishing in fifth place, the team's joint-best result since joining forces again with engine-maker Honda. The team has now leapfrogged Haas F1 in the constructors standings, and the result will give it something to celebrate on the 50th anniversary of its first F1 race. Jenson Button also finished in the top 10--a steady ninth place ahead of Williams's Felipe Massa--to give the team its second double-points finish of 2016. That's twice as many as last year already.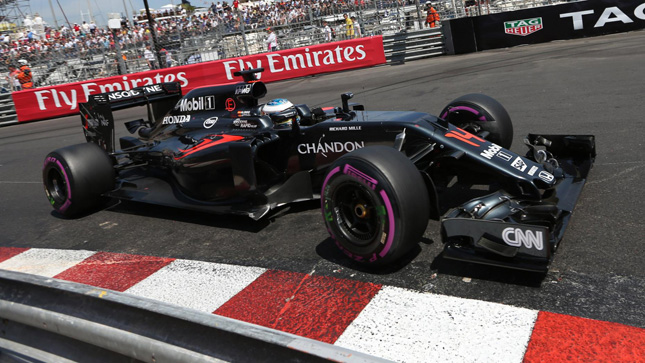 8. The Sauber garage isn't a happy place. Sauber isn't having a great time at the moment, as its joint-last place in the constructors championship alongside Manor demonstrates. However, there's tension between the drivers as well that isn't helping team morale. Two-thirds of the way through the grand prix, Felipe Nasr was instructed to let teammate Marcus Ericsson though into 15th place. The Brazilian refused, and Ericsson decided to take matters into his own hands with an attempted overtake in Rascasse. The two cars collided, and five minutes later both drivers had retired from the race. With the Swiss outfit's financial future in doubt beyond this season, it certainly won't attract much-needed funds with stunts like this one.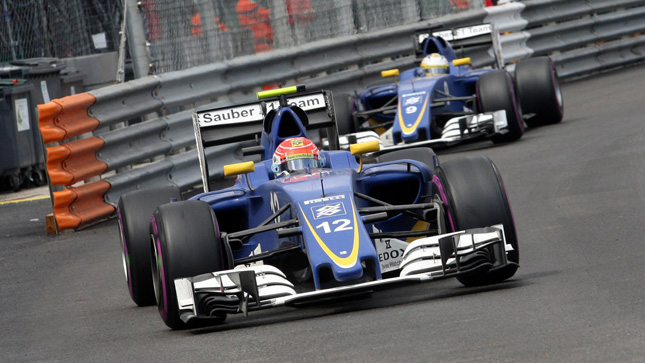 9. Monaco + rain = crashes. As well as the two Saubers coming together, several other cars were caught out by the impossibly small margins for error around the streets of Monte Carlo. Jolyon Palmer was the first to retire after the Renault driver was caught out by the lack of grip on the zebra crossing near Turn 1, while a collision between Romain Grosjean and Kimi Raikkonen put the Finn out of the race with irreparable damage. Kevin Magnussen was also involved in a collision as Daniil Kvyat tried an ambitious move in the third sector: The Toro Rosso driver was forced to retire, although Magnussen was able to continue for a while until calling it a day a short time later. The spirit of Pastor Maldonado lives on in F1.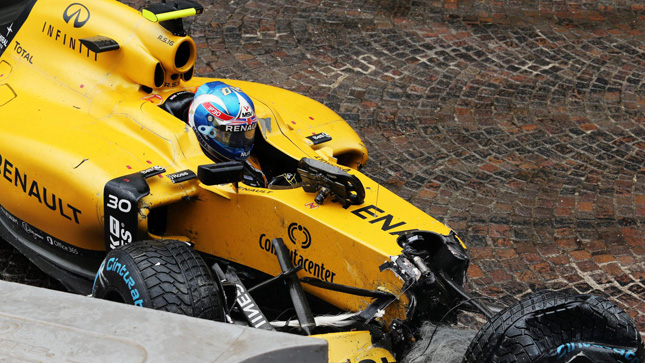 10. Pirelli revealed its tires for 2017. Before the weekend had properly gotten underway, Pirelli unveiled the new, wider tires that it will introduce to the sport from next season. Although the compounds are still being developed, the dimensions have been set: 2017's rears will be 405mm wide, up from the current 325mm, and the fronts will increase to 305mm, also up from the 245mm measurement in use today. The regulations are being changed to give cars more mechanical grip, which bosses hope will improve racing by allowing drivers to follow each other more closely. Meanwhile, some other big news went relatively unnoticed. Remember that public bust-up between Renault and Red Bull that went on for ages last year? The two parties have just agreed a new engine partnership for 2017 and 2018, with Toro Rosso also reverting back from the Ferrari power units they're running this season. All that arguing looks a bit pointless now, doesn't it?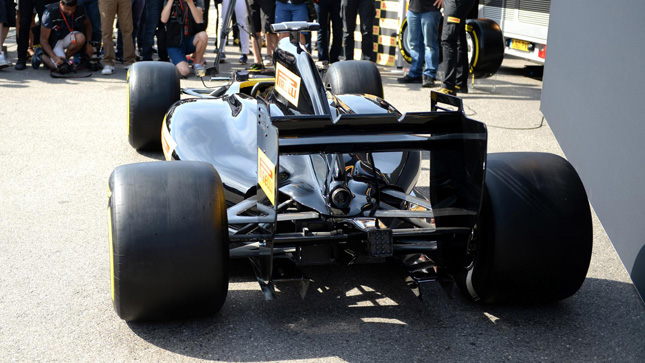 NOTE: This article first appeared on TopGear.com. Minor edits have been made.