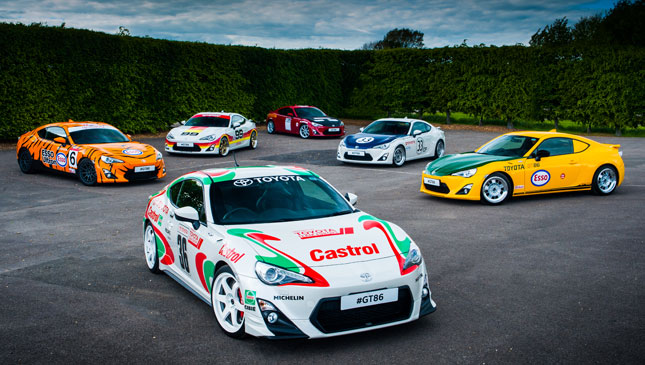 The Toyota 86 is arguably one of the most sought-after sports cars of our time. For roughly P1.6 million, you get a car that is fun to drive, offers balanced handling, and looks really good. And in typical Toyota tradition, it's reliable and can be used every day. What more can you ask for?
For a lot of car fanatics, the answer to this question would probably be a bit of personalization. While dressing up your 86 the way you want it is entirely up to you, Toyota has a few ideas--six of them, to be exact--on how to give its sports car a bit more oomph. The six specially designed 86 units will be presented at this year's Goodwood Festival of Speed's Moving Motor Show, and will likewise be on display in support of the "86 Drift Experience."
Each one of the six 86 cars has its own look and inspiration, but all of them take a cue from Toyota racing and performance cars of the past: the 2000GT, Ove Andersson's Celica 1600GT from the '70s, the '80s IMSA GTU Celica, the World Rally Championship Celica GT-Four, and the Esso Ultron Tiger Supra from the All-Japan Grand Touring Car Championship. If you're wondering why the list of classic Toyota race/performance cars includes only five models, that's because two of the six liveries are dedicated to the 2000GT.
Continue reading below ↓
Recommended Videos
Thanks to vehicle vinyl specialist Motor Mode, each 86 has been dressed to pay tribute to a specific car from a specific era. These are complemented by a lower (by 40mm) ride height, specially designed Rota wheels, and a Miltek stainless-steel sport exhaust for that racy look and sound.
But if you take a good look, you'll see that each 86 has its own appeal. The Yatabe Speed Trial 2000GT in yellow with a green hood, for instance, is inspired by the 2000GT that set speed and endurance records during a 72-hour run in 1966, at Japan's Yatabe High Speed Testing course. Then there's the red-with-black-hood Celica 1600GT of Ove Andersson of world rallying fame. This car is said to have paved the way for Toyota's entry into motorsports. The white-with-blue-hood Shelby 2000GT, meanwhile, takes inspiration from racing legend Carroll Shelby, who proved that this Japanese sports car can duke it out with the best from Europe and the US.
Then there's the 86 that took inspiration from the red-and-yellow IMSA GTU Celica that traces its roots to the first Celica that raced in the North American IMSA GT series from 1983 to 1985. The red-and-green WRC Castrol Celica debuted in 1994 and went on to bag seven podium finishes in the 1995 season. Finally, the Esso Ultron Tiger Supra was a staunch competitor in the All-Japan Grand Touring Car Championship from 1995 to 2006. As if this wasn't enough, its tiger-skin look made it a favorite not only on the track but also in the virtual world of racing via such games as Gran Turismo.
Which one is your favorite?