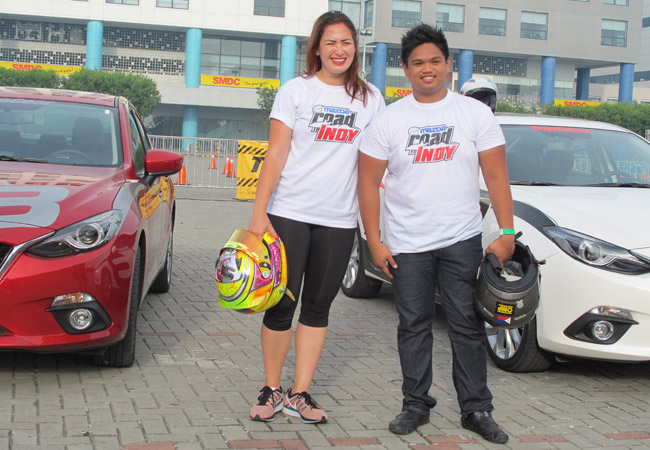 What started as mere curiosity on our part became an exciting reality last Saturday: Can a good male driver beat a female racing driver in a simple driving contest? That was the basic premise of "Head To Head: Can You Beat Michele Bumgarner in an All-New Mazda 3 Skyactiv?"
The event was a joint project of Mazda distributor Berjaya Auto Philippines and Top Gear Philippines. We simply wanted to find out if anyone out there with no prior racing experience had the skills to beat Mazda pro driver and TopGear.com.ph blogger Michele Bumgarner. Mazda Philippines president and CEO Steven Tan wagered a prize: an all-expenses-paid trip to the US to watch Michele compete in a Road To Indy race in Sonoma, California.
We held a virtual racing competition at the Mazda dealerships in Alabang, Greenhills and Pasig to accept 30 official participants. On the day of the event, only 21 drivers made the cut after a final screening had been conducted to ensure that every single participant was well qualified to take part in the contest.
When the smoke had cleared, 21-year-old Jason Chuang was the lone driver standing after a series of head-to-head driving matches with a knockout format (like in the Race of Champions). Chuang is a crew member of the Tuason Racing School. He is in charge of the timing system for TRS races and will be an instructor in training this year, according to TRS boss JP Tuason.
Continue reading below ↓
Recommended Videos
Chuang had qualified sixth in the PlayStation elimination leg. In the real competition using Mazda 3 cars, however, there was no one better than him. He beat Jesus Saavedra Jr. in the final round to earn the right to face Michele in a best-of-five head-to-head duel.
Michele, for her part, had been giving shotgun rides to lucky passengers who had won the slots in the minor category of the PlayStation qualifiers. It was now time to face her promising challenger.
Again, the question: Can a good male driver beat a female racing driver in a simple driving contest?
Not a chance, apparently. In three straight fights, Chuang was disqualified after toppling a cone each and every time (an automatic disqualification). Bumgarner, on the other hand, was so smooth and precise her tires hardly made a squealing noise. Oh, and she always pulled away from her rival, so Chuang wouldn't have won anyway even if he hadn't knocked those cones off.
Here's the awesome part: Mazda Philippines boss Steven Tan later announced that they were awarding the top prize to Jason even if he failed to beat Michele. That should take care of one person who asked us via our Facebook page: "Why would I want to watch Michele race in the US if I had just beaten her?" The answer, of course, is that we mere mortals couldn't do it.
Anyway, thanks to all those who joined and came to the event. It was a success because of your presence. Watch for our video to be uploaded on this website soon. In the meantime, enjoy the dozens of photos taken during the event.
Photos by Elaine Lara and Carlo Chungunco