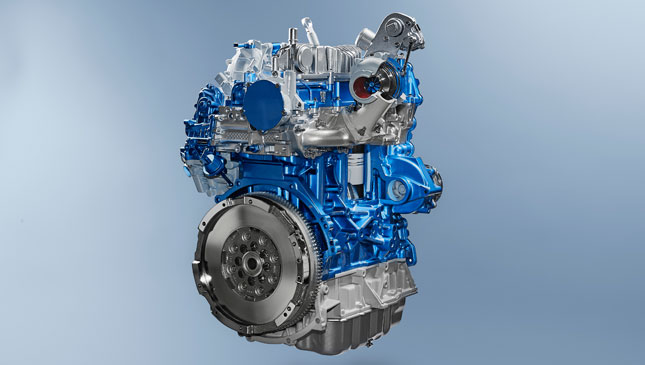 Diesel engines have been in the news lately, as the German government continues to investigate other carmakers following the events of Volkswagen's "Dieselgate." Despite the bad press oil-burners have been getting in Europe, it hasn't discouraged Ford from investing in its new generation of diesel engines. By adopting what it has learned from its successful EcoBoost family, the blue oval company wants to spread its Eco magic to its diesel mills.
Ford has just revealed the first member of its clean and efficient EcoBlue line. Displacing 2.0L, the new four-cylinder mill will make its debut in Ford's new Transit and Transit Custom commercial vans.
This powerplant has several innovative features that make it--in Ford's words--a game-changer. To reduce friction, it uses an offset crank design, a single-piece camshaft module, and a belt-in-oil design for drive belts. Its combustion chamber also features a mirror-image inlet design that burns fuel more efficiently. At the back end, a sophisticated after-treatment process for exhaust gases help reduce the motor's nitrogen-oxide emissions. This enables it to comply with stricter Euro 6 standards.
For better response, EcoBlue uses an advanced compact turbocharger that features a smaller-diameter turbine wheel made from Inconel alloy, and a smaller-diameter compressor wheel milled from aerospace-grade aluminum to reduce inertia for quicker boost. This allows the new engine to produce up to 340Nm of torque at only 1,250 rpm--20% better than the outgoing 2.2-liter TDCi engine. Its extra low-end grunt improves vehicle performance in everyday scenarios like overtaking slower vehicles and crawling in traffic--perfect for Metro Manila roads.
To make sure EcoBlue meets Ford's global durability standards, it went through the equivalent of 5,500,000km of durability testing, and 400,000km of real-world testing in customer hands. According to Paul Turner, Ford of Europe's base engine technical leader, it was developed using customer feedback from around the globe.
The 2.0-liter EcoBlue will initially be offered in three power levels for commercial-vehicle applications: 104hp, 128hp and 168hp. It was designed to be capable of producing up to over 197hp, and will later appear in Ford's passenger vehicles. The EcoBlue range will also include a smaller-displacement 1.5-liter unit.
While no time frame has been given regarding EcoBlue's global rollout, we may yet see a version of this motor in future versions of the Ranger pickup and the Everest SUV. And that sounds like a game-changer to us.