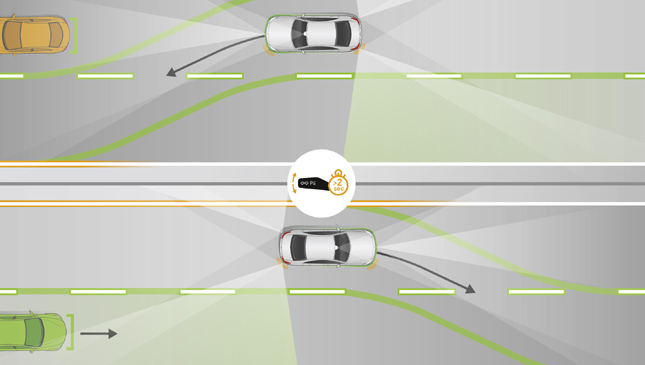 The era of vehicle autonomy is upon us. Mercedes-Benz, long known in the industry for pioneering various technologies such as antilock brakes and the like, is taking the whole idea of self-driving cars nearer to fruition. No, their new model won't be doing the driving for you--at least not just yet. It will, however, keep you safe (and maybe even save you if needed).
The new feature that allows it to do so is called Active Lane Change Assist. As the name suggests, it will help drivers make a safer lane change. How? By monitoring the road around them and warning them if there are obstacles in their path. It will even intervene if need be, all in the name of keeping you out of an accident.
To be specific, the feature takes its cue from blind spot assist, which was first seen in 2007. The car is fitted with radar and stereo cameras in various locations. These continuously watch out for any vehicles or obstacles that might be in the way of your car. Whether one is making a left or right lane change, the system can detect anything blocking the way. If the road is free, the system will even steer the car to perform a safe lane-change maneuver. Simple, right?
ADVERTISEMENT - CONTINUE READING BELOW ↓
Of course, the Active Lane Change Assist feature will only work if:
* The turn signal has been in operation for more than two seconds;
* Steering Pilot is turned on;
* The car is traveling on a multi-lane highway or the like; and
* The vehicle is traveling between 80kph and 180kph.
The system isn't out to replace good old-fashioned motoring where you use your senses--including common sense. You still have to practice safe driving on your own. These assistance systems are only here to relieve the stress of such seemingly simple tasks as moving into the left lane and overtaking. Studies have shown that around 15% of road mishaps on German roads are between two vehicles traveling in the same direction. The report further says that 20% of these accidents happen when changing lanes.
The Active Lane Change assist will make its world premiere together with the all-new 2016 Mercedes-Benz E-Class. Set to come out early next year, the sedan seems to be making a lot of waves with its advanced tech and cutting-edge styling cues. With such a package, we're actually really excited to see the thing up close.
ADVERTISEMENT - CONTINUE READING BELOW ↓
Recommended Videos