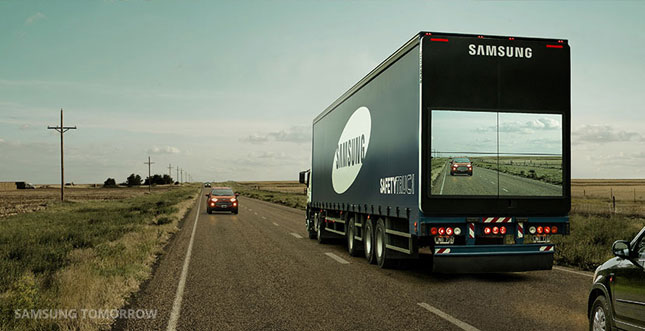 Most of us know this scenario: It's a two-lane highway, there's a big truck in front of you, and you're wary about overtaking. You keep inching your car to the left, cautiously glancing to see if there's an oncoming vehicle in the opposite lane. Times like these, it sure pays to have X-ray vision.
Apparently, Samsung has the next best thing.
In Argentina, the Korean electronics giant equipped prototype trucks with a wireless camera in front, and four exterior monitors at the back. The camera sends a video feed of the truck's frontal view to the screens, so the driver behind the Samsung Safety Truck can see if there's an overtaking opportunity or not. Even at night, the camera is surprisingly effective.
It's a simple and elegant solution that draws on the strength of Samsung's electronics expertise. Since this isn't a commercial rollout and just a test, the next step would be to comply with existing national protocols, permits and approvals in Argentina. And after that, hopefully Samsung can consider offering it to foreign markets like us. We just hope our local agencies won't make obtaining permits and such difficult.
Here's a video showing how the Samsung Safety Truck works.
Continue reading below ↓
Recommended Videos
If you're viewing this on a mobile device and can't see the video, please click here.