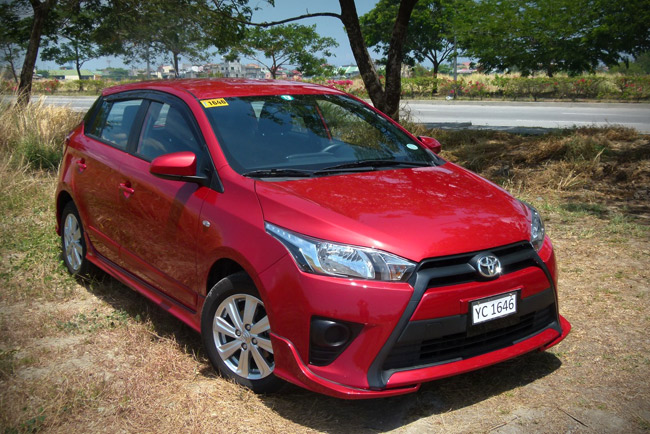 Strange as it may seem, but the Toyota Yaris really feels like a subtly different animal compared to its four-door sibling, the Vios. The two share the same platform, the same drivetrain, and pretty much the same interior bits and pieces, but the subliminal driving experience feels European more than Japanese--more upscale rather than mainstream.
Or maybe I'm just more predisposed to hatchbacks in the first place. Hatchbacks are practical-cool. They have a smidge more cargo space than a comparably sized sedan. They're relatively rare in the Philippines (with some exceptions), but they're all over European city streets. This probably explains why the Yaris I had over one weekend elicited positive comments from friends much more than the Vios last year.
You know the saying, "Familiarity breeds contempt"? With thousands of Vios (Vioses? Viosii??) plying the roads, it's good business for Toyota but bad news for anyone wishing for a more distinctive ride. The Yaris solves that problem: all the familiar virtues of Toyota's best-selling subcompact, packaged in a nicer-looking body with shades of Euro style.
So the same, 1.3- and 1.5-liter VVTi engines are there, mated to the same four-speed autobox. The same front strut/rear torsion beam suspension is used, too, along with practically every other mechanical item from the Vios. Except, of course, for the fact that the roofline now gently tapers downward from the B-pillar to end in a hatch, and it opens up to a reasonably spacious luggage area.
Much thought went into the design of the Yaris. It's evident in the blackout D-pillar to make the roof look like it's a ledge over the cabin. In keeping with current fashion trends, it has those oversized headlights and taillamps with their amorphous shape, reminding me of a giant amoeba like on the Ford Focus and Fiesta. The eight-spoke alloy wheels with their 60-series rubber look sufficiently natty that you probably won't feel the need to upgrade to better shoes right away.
ADVERTISEMENT - CONTINUE READING BELOW ↓
And again, in keeping with current fashion sense, the half-radius fenders give it a crisp look to avoid the slab-sided blahs. Depending on the angle, the front fascia looks charmingly Confucian, what with that Pai Mei, whisker-type grille, or just a bit aquatic like an angry catfish. I loved Kill Bill, so that means I like the look of the Yaris.
Finally, the back view has a bit of the Suzuki SX4 with the oversized window and diagonal character lines. Fortunately for prospective buyers, that car hardly sold on our streets so the chances of your Yaris being mistaken for a Suzuki are virtually nil. The test unit I had wore a TRD bodykit consisting of front and rear air dams and skirts, but the former looks too obviously tacked on to look cohesive. Plus, the fact that it makes the car look like it has 200+hp when it just coughs out 84hp might evoke smirks from your neighbors. The car looks fine without the kit, and you'll save a bit of money, too.
Driving the Yaris is as unremarkable as you'd expect a subcompact to be: It has decent acceleration if you're lightly loaded; the steering is low-effort but has good feel and tracks straight and true on the highway; and cornering is on the soft-but-predictable side. Stopping power from the disc-drum setup is more than adequate for the kind of daily driving a car like this will be subjected to, and ABS is standard. Modulating them is a breeze. As small engines go, the 1.3 is a pleasant enough mill. It revs silently and smoothly and makes 10-11km/L in the city. Just don't ask it to charge up steep gradients with gusto. The steering wheel has a fat rim that's nice to grip, and the semi-flat bottom section adds a bit of sportiness. Bottom line: It may not raise your pulse, but it's easy to drive the car smoothly.
There are no surprises--pleasant or otherwise--in the Yaris, which shouldn't be a revelation anyway because it is, after all, a Toyota. What people will appreciate, however, is the charming manner in which it goes about trying to make you feel good about what is otherwise a rather ordinary car.
For example, the plastic dashboard has faux leather stitching. It's the same as in the Vios, but the Yaris's amber instrumentation (blue in the Vios) and sporty black seats (with red stitching, too) make the car look less cheeky and more cosmopolitan. You know how some women wear shoes with some funky straps or stitching? It's like that in the Yaris. The seats themselves are the best that Toyota has ever put in their small cars. They're wide and long enough for most passengers such that you never feel like you need more thigh support, and the cushioning is just right.
The dashboard is an attractive sight, fooling you into thinking that it's hiding some high-tech feature like auto-climate control or Bluetooth. Actually, neither is present. The stereo is a rather basic head unit, but it plays MP3s, accepts USBs and has decent sound for a four-speaker set. It occupies a panel that's just a few inches from the steering wheel and well within your peripheral vision, such that you won't miss the steering-wheel audio controls that are standard on the 1.5G variant. Under harsh sunlight, however, the stereo display washes out.
The rear seat has enough leg- and headroom to approach that of a compact car's (at least for two passengers), and the seatback split-folds 60:40 to expand the luggage area. Even with the seat back up, the cargo area is roomy enough for a large cooler and several small, soft bags.
ADVERTISEMENT - CONTINUE READING BELOW ↓
Finally, as much as I'd like to have a more innovative transmission instead of the basic four-speed with its dated PRND32L setup, a car like this will most probably never be driven hard enough to actually need something more gee-whiz (and expensive) like a CVT or paddle shifters.
Toyota is wisely holding the line on price, such that a 1.3E with a more than decent level of kit wears a reasonable tag of P755,000. The 1.5G costs P845,000 and only adds a little bit more features that you probably won't miss if you're gunning for the best value. You already get dual airbags, keyless entry, and ABS on the 1.3E. The 1.5G only adds fog lamps, a leather-wrapped steering wheel with stereo controls, projector-type headlamps, and integrated turn signal lamps in power-retractable mirrors to go with the bigger engine.
In essence, Toyota has further refined the original concept of the Yaris. What began as rather basic, fun transportation has matured into a more urbane machine. It gives up none of its endearing practicality and simplicity while adding a needed dose of style and pseudo-European personality.
Photos by Andy Leuterio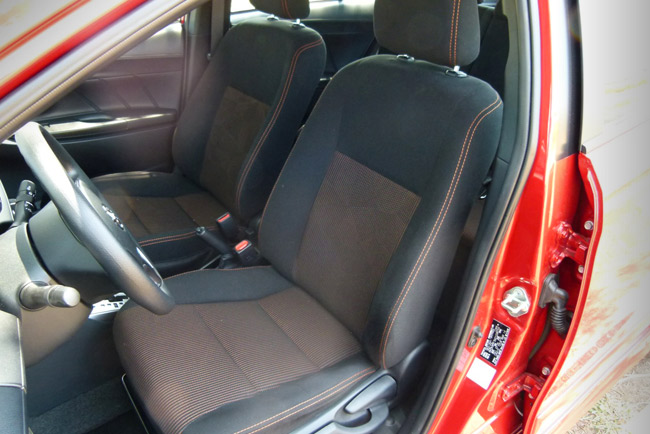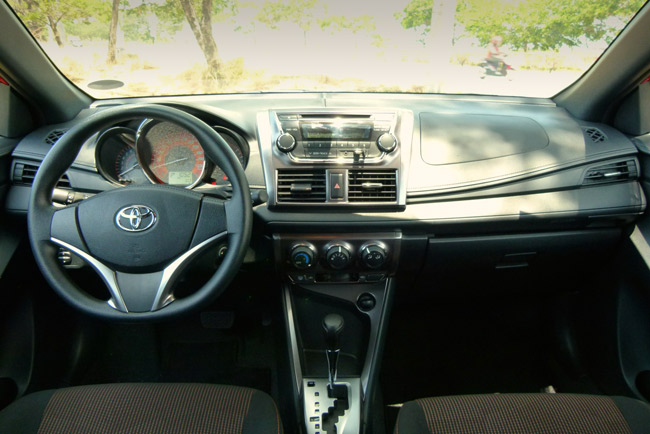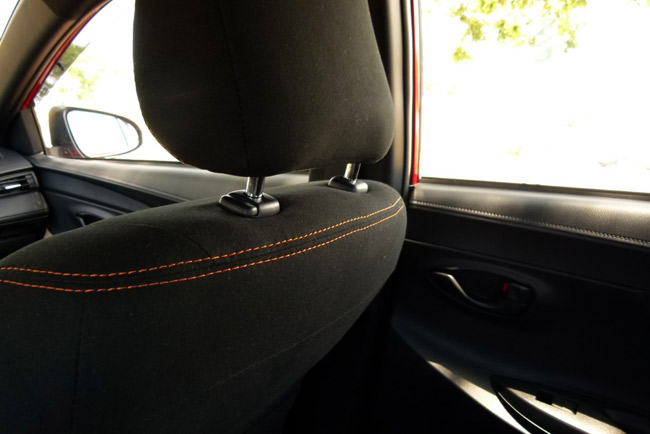 ADVERTISEMENT - CONTINUE READING BELOW ↓