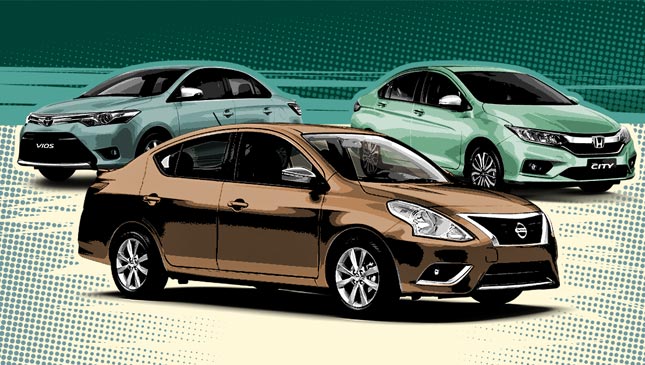 Good day, Top Gear Philippines!
Can you suggest the best car among the Toyota Vios, Honda City and Nissan Almera? I am a teacher, and I will use the car as our service with my wife. I am looking for a car with great performance and ride comfort. Thanks and more power!
Aaron C.F.
Hello, sir. Thank you for dropping us a line. We're more than glad to help.
From experience, the Toyota Vios 1.5-liter automatic variant, with its modest engine and slightly heavy body, isn't the most efficient in city driving.
Stripped of all its sound deadening and creature comforts, it makes for an amazing race car--as we've seen in the Toyota Vios Cup--but I doubt you have that intention in mind. While the Vios is more than capable and competent, I find that for what it offers in terms of the latest in engine and transmission technology, it is a bit overpriced. You can get a better deal or better performance from other cars.
Continue reading below ↓
Recommended Videos
The Nissan Almera is a good and honest car. It's big and roomy--the biggest in its class if I remember correctly. It's also priced well. But it feels quite bare compared to the Toyota Vios or Honda City. And the 1.4-liter engine tries to be both efficient yet more than adequate. In truth, I'd say performance wasn't far off from the Vios in terms of fuel efficiency and power/torque.
The Honda City, in 1.5-liter automatic trim, is the best car in this group. It's roomy, has great space even at the back, and has a very versatile interior thanks to the ULT+R seating arrangement (universal long, tall and refresh mode where seats can drop and fold to make space for bulky objects). It also packs the most powerful (and surprisingly efficient) engine because of its improved power-to-weight ratio, and it also offers the best driving feel in terms of steering, brakes, acceleration and handling.
Hands-down, I would recommend the Honda City to you. If you want even more versatility and a bit more spunk and attitude, its hatchback twin, the Honda Jazz, is even better.
I hope this helps. Good luck, and test-drive every single car you have in mind. Regardless of what I, or anyone else will recommend though, in the end it's you who will fork out money and be driving the car. Be sure you're happy with your purchase!