Overview
What is it?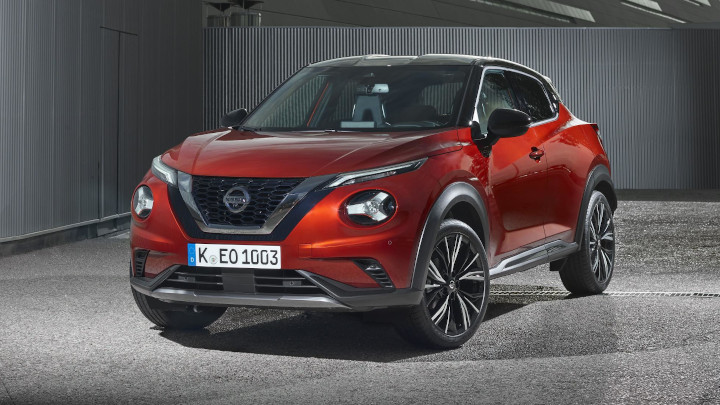 The Nissan Juke was a pioneer when it launched nine years ago. It packed the attitude and altitude of a crossover, and out-there styling, all shrunk into a supermini's length span. It sold like crazy from the start to the end of its life. Here's the new one. Different in very many ways, but the spirit is supposed to remain.
OK, what was the first Juke's spirit? It was about style, and it was impractical without being sporty. A latter-day Ford Capri 1300.
In the years after its arrival, most manufacturers launched small crossovers and we lazily called them 'Juke rivals' because the Juke had been about the first. But they weren't rivals because they weren't as useless. You could swing a cat in them. Not like the first Juke. Its driving position was hunched, its back seat cramped and dark, and its boot little more than a rear-mounted glovebox.
ADVERTISEMENT - CONTINUE READING BELOW ↓
The new one is much bigger inside. Grown-ups can fit in the back. The boot is bigger, and you get to it via a decent-size hatch aperture.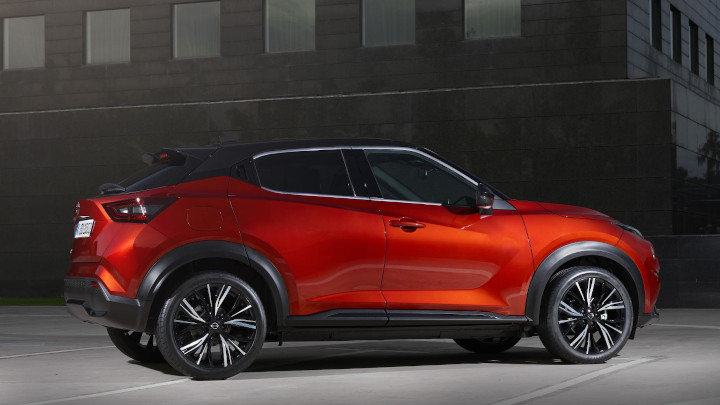 Nissan could have chosen to achieve this the lazy way: make the Juke much bigger and boxier. Like its so-called rivals. Trouble is that would have made it heavier and less city-friendly. Admirably, Nissan didn't; the increase in length is actually rather smaller than the 100mm growth in wheelbase. So it's still short enough to be easily parked. And it's lighter.
The new dimensions shove the wheels further to the corners, an effect boosted by their hugeness. The upper specs have 19s as standard. The designers love that, but from a dynamic point of view, it's bogus. Have a look through the spokes. If you only need that little brake, you don't need this much tire.
ADVERTISEMENT - CONTINUE READING BELOW ↓
Recommended Videos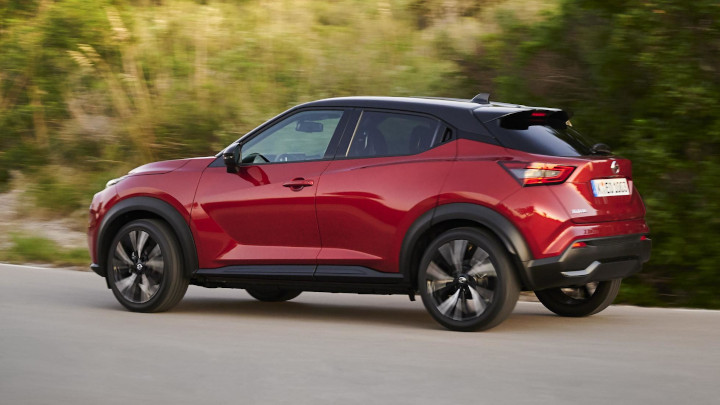 The design is modernized and takes advantage of the stronger stance, yet has lost none of the sheer chutzpah of the old one. The front still has those big round eyes, but their lighting function is no longer circular, rather a trefoil LED. A giant arrowhead is imprinted into the front doorskin. The roof, contrast-toned if you choose, has a channel stamped down the center. Rear door-handles are tucked behind the windows. The back numberplate and badge live in a huge hexagonal plinth. Yet this craziness does somehow cohere.
Under it all the Juke shares much with the Micra and Renault Clio, but is built in Sunderland. The only engine is a three-cylinder petrol, the only driven wheels the fronts. It's an essentially flippant car, so it doesn't bother with diesel or 4WD. There's no longer this gooey CVT, the auto option being a DCT.
ADVERTISEMENT - CONTINUE READING BELOW ↓
Nissan talks of better refinement, cabin quality and tech too. Let's see.
Driving
What is it like on the road?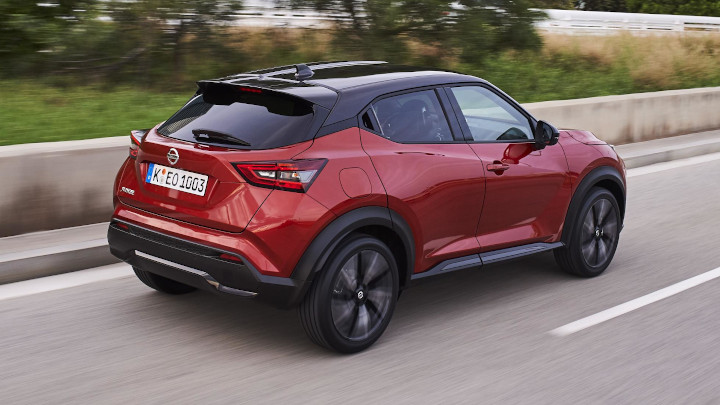 The little 117hp engine is game enough, backed up by 201Nm. Okay, to be pedantic that's an overboost figure, available for 25sec. But it's not such a slow car you'll be at full
throttle for 25sec without a lift or a gearshift. The mid-rev range doesn't show much lag. You can rev to 6,500 but won't as the puff is spent by then.
It sounds like a triple when you work it but oddly like a four-cylinder when you don't. The acceleration stats are adequate. Zero to 100 is 10.4 seconds for the manual and 11.1 for the auto. But the auto seems just as quick (or just as not-quick), thanks to its shifts being smooth and smartly timed. The manual's shift lever is a little baggy.
The suspension is moderate to firm, in springing and anti-roll. That and high-geared lightweight steering are the classic recipe for making a crossover feel, on superficial acquaintance, like it's going to be fun in corners.
Luckily the Juke does back that up with a measure of actual fluency and even a little feel through the steering. The tires grip hard but not absurdly so, as they're only 225 section even on the 19-inch wheels. And it feels nicely planted on the road, with a sense the shell and fittings are all firmly bound together.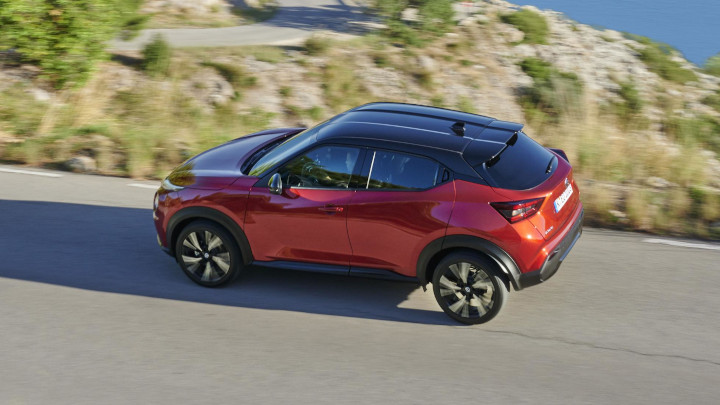 The inevitable price for the agility is a busy ride and lots of lateral rocking on lumpy straight-line sections. But it manages to take the sharp edges off ridges, bumps and small potholes and you don't get too much noise rumbling up from suspension or tires. The old Juke's chassis was basically a drumkit.
ADVERTISEMENT - CONTINUE READING BELOW ↓
High-end Juke versions come with a good suite of driver aids including adaptive cruise and blind-spot intervention for motorways, and surround-view cameras for the city. If the autobox is fitted, you've got what Nissan calls ProPilot, a follow-to-stop cruise control with lane steering. The steering assist works smoothly when it works, but it keeps giving up when it isn't sure of the road lines, even on a clear day. So why have it at all?
On the inside
Layout, finish and space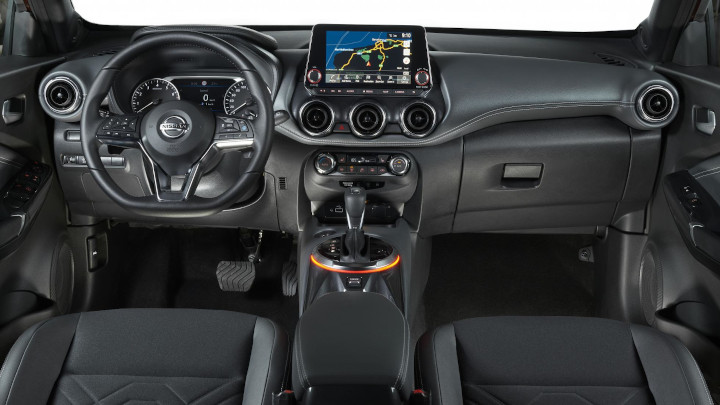 The Juke still remembers the motorbike references of the original, wrapping the center-tunnel top in a sort of fuel-tank shaped glossy finish, and putting a cowl above the dials. The cabin is mostly clad in padded materials, and some of the knobs are metallic knurled affairs, so it feels like it's made with affection. Seats, dash and door panels can be had in some bright color schemes if you're bored with black-on-black.
A center screen takes care of connected nav for nearly all the trim levels. Nothing special there, but the extent of connectedness to remote services is impressive for the class—journey fuel analysis, door locking/unlocking, lights flashing, status check, sending destinations to your phone, and the use of Google's voice assistant integrated into the car rather than the phone-based Android Auto assistant and Siri. The advantages over phone mirroring (also present) are slightly arcane.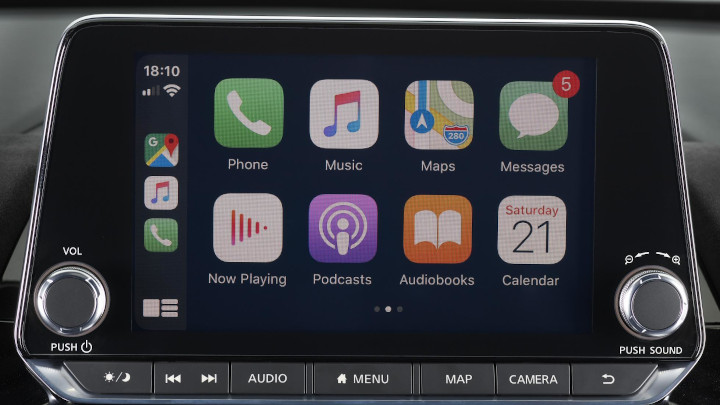 More worthwhile is the stereo, a Bose system that puts little supplementary directional speakers in the front head restraints for a captivatingly spacious sound.
The front seats are pretty supportive. In the back, it'll take two adults comfortably enough. But not really three, as the roof is narrow and pushes your head towards the center of the car, and your body follows. The boot is 422 liters.
ADVERTISEMENT - CONTINUE READING BELOW ↓
Owning
Running costs and reliability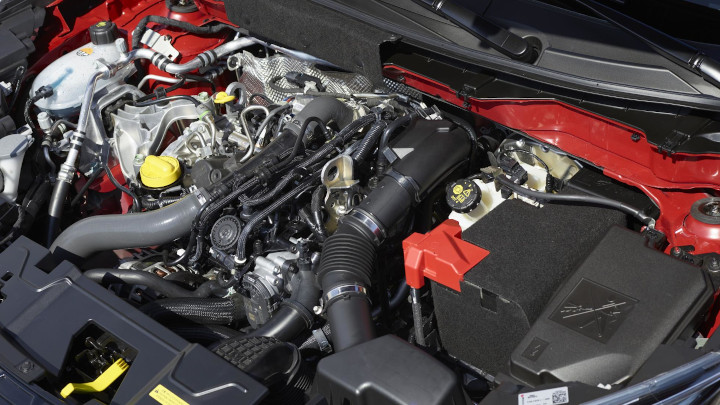 Prices start at £17,395 (above P1.1 million), which is reasonable for a car that's stylish, roomy and solid-feeling. But that base model's 16-inch castors, small touch screen and lack of phone mirroring mean a salesman isn't going to have much trouble nudging you into the second-up Acenta trim. That's the first to get navigation and connected services.
The top one is Tekna +, which gets the option to do all the custom paint and interior jobs. It's £23,895 (more than P1.55 million) for a manual, or £367 (around P24,000) a month with just £2k (at least P130,000) down and £11,175 (around P730,000) at the end of a three-year PCP.
Depending on wheel size and transmission, economy for all versions is either side of 19km/L on the WLTP with CO2 (2019 method) at 110 to 118g/km.
Warranty is three years/96,500 kilometers. The old Juke and current Qashqai, both out of Sunderland, generally don't break down.
Verdict
Final thoughts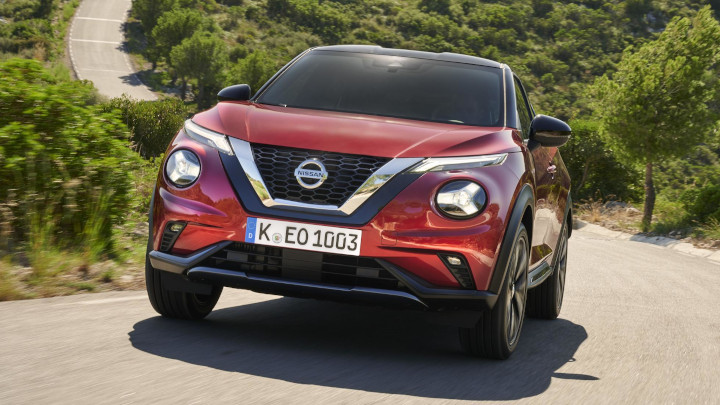 The new Juke's main pitch, as before, is its style. But it's no longer hobbled by it.
It's at least averagely practical, though if space and versatility is what you need, matchstick your eyes open and get one of the little VW Group entries.
The Juke's dash is fetching and ergonomic, unlike the borderline-perverse instruments and controls in the similarly style-led DS 3 Crossback.
It's perfectly OK to drive, eager to the steering and refined to the throttle. Mind you, the ride's a bit bumpy, a lot more so than the soft DS.
We have a fair bit of trouble recommending any of the small crossovers. They cost as much as medium hatches, and are generally worse to drive and less refined.
ADVERTISEMENT - CONTINUE READING BELOW ↓
Even so, a couple of them are oddly likable. The Juke is. The looks might be polarizing but it's not actually ugly and certainly not—bigger crime—bland.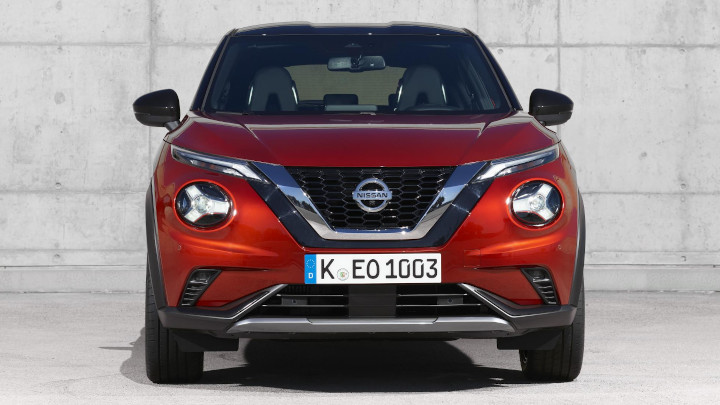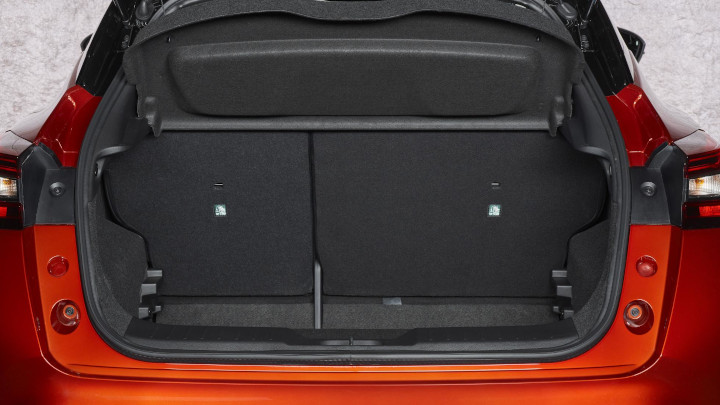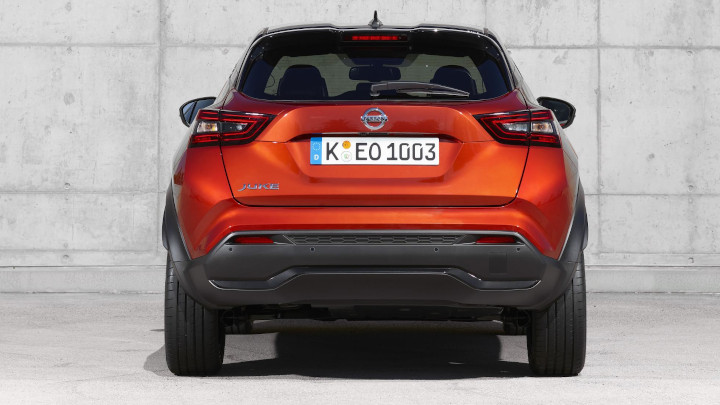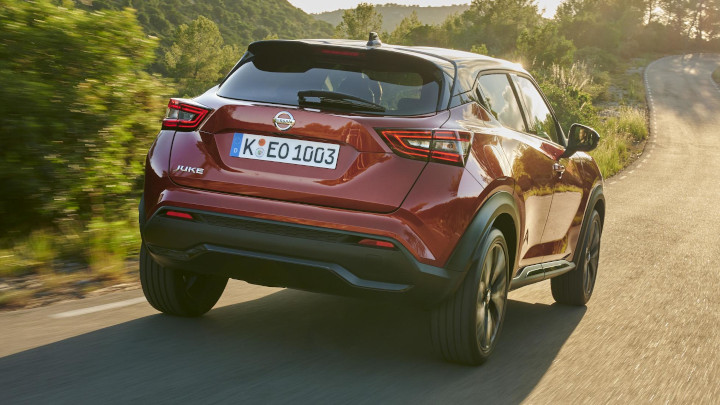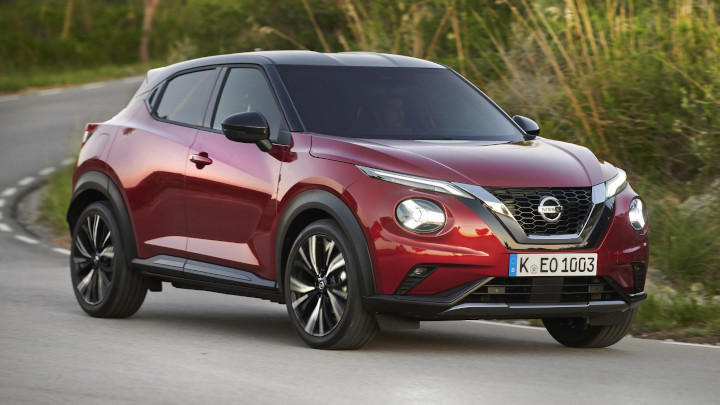 ADVERTISEMENT - CONTINUE READING BELOW ↓
NOTE: This article first appeared on TopGear.com. Mnor edits have been made.