Is it a super sedan? Is it a luxury car? No, it's a...well, it's slightly unique, the Porsche Panamera. Let's call it a super-lux, a sports luxury car that's neither BMW M5 nor Mercedes S-Class, but somewhere in between. Its natural environment is the autobahn. The outside lane of the autobahn, where, unshackled from the 250kph speed limiter of most German companies, a Turbo S version could hammer along at 315kph. Even the new Hybrid can do 298kph.
New for 2020 is a hefty midlife facelift. The styling has been tweaked (most successfully at the neater, tidier rear end), the engines have been upgraded with more power and better emissions, and the chassis and cabins have been given a little more love. Driven an older Panamera and found it not only a bit fidgety and firm, but also large and unwieldy? That's where the new one gains. It's no smaller physically, but it feels smaller to drive, plus it rides better and handles more nimbly. It's a thorough sort-out.
ADVERTISEMENT - CONTINUE READING BELOW ↓
The base model is the £69,860 (P4.32 million) Panamera, rear-wheel-drive and powered by a 2.9-liter twin-turbo V6. For another £3,000 (P185,300), you can have it with 4WD. Want to take a further step up the ladder? You'll be paying over six figures. The plug-in 4S E-Hybrid has been significantly upgraded (bigger 17.9kwh battery, total power of 552hp from e-motor and V6, all-electric range of 55km), now starts at £101,690 (P6.28 million). The 'driver's choice' GTS is less powerful than the E-Hybrid (473hp plays 552hp), but for £107,180 (P6.62 million), it comes with all the sporty bits and a twin-turbo V8.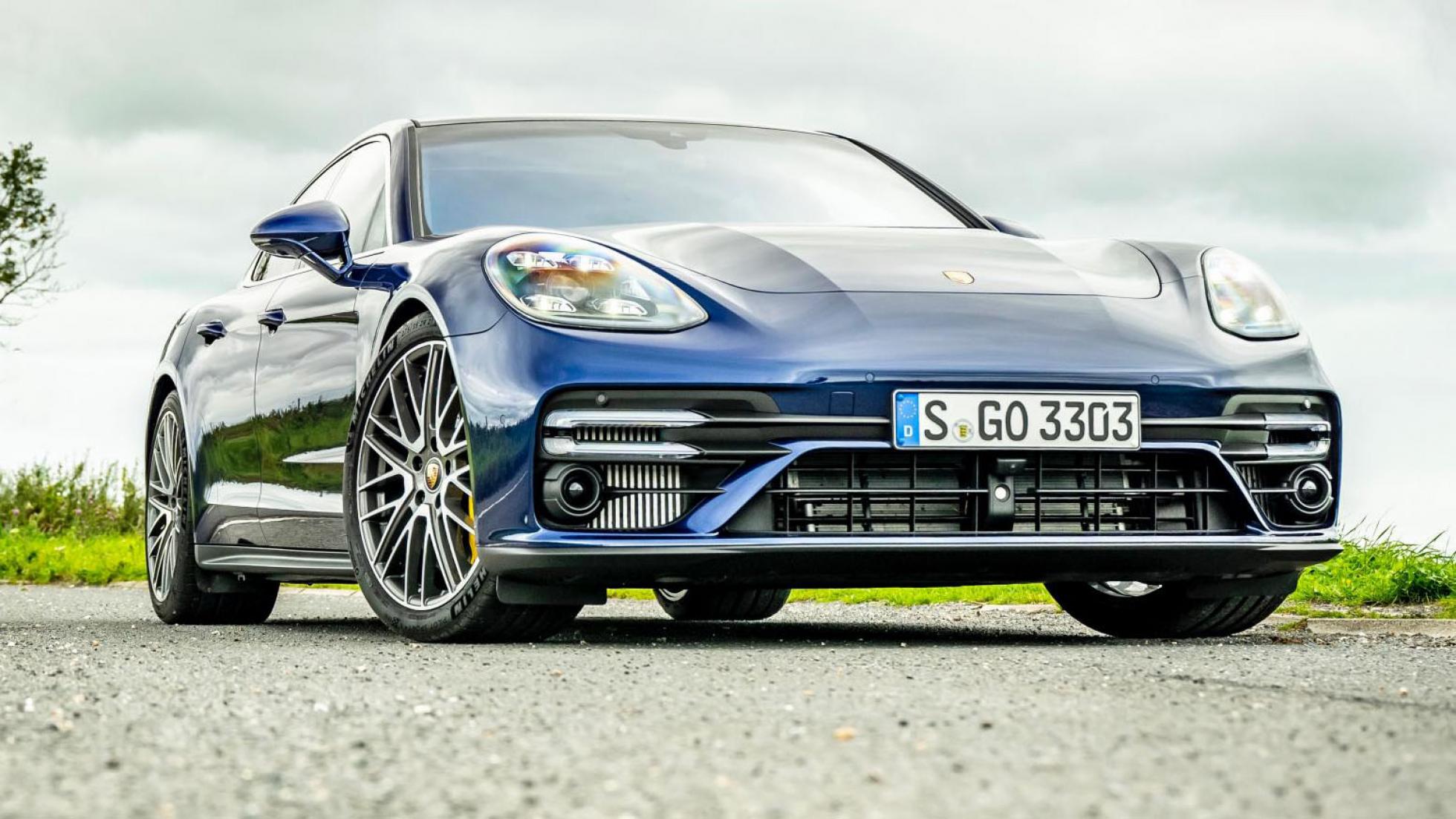 ADVERTISEMENT - CONTINUE READING BELOW ↓
Recommended Videos
Top of the pile is the £135,610 (P8.38 million) Turbo S. Although maybe not for that long, as rumors suggest Porsche will soon, as before, offer a Turbo S E-Hybrid with plug-in capability. Expect to pay somewhere upwards of £150,000 (P9.27 million)—and beyond that, the promise of a third hybrid Panamera. For the time being, buyers will have to make do with a mere 621hp from the 4.0-liter twin-turbo V8. That engine has come in for the most attention, featuring new, higher-flow injectors, new spark plugs, optimized turbos and crankshaft and a lower compression ratio.
The Panamera is also available as a Sport Turismo wagon for about £3,000 more. And yes, Porsche clearly believes the all-electric Taycan (smaller, lower, more sporting) will sit happily alongside the Panamera. This is a more spacious, versatile machine—one that, despite not offering a diesel variant anymore, will, even as a Turbo S, deliver an 805km range from its 90-liter fuel tank. But not at 315kph.
ADVERTISEMENT - CONTINUE READING BELOW ↓
On the road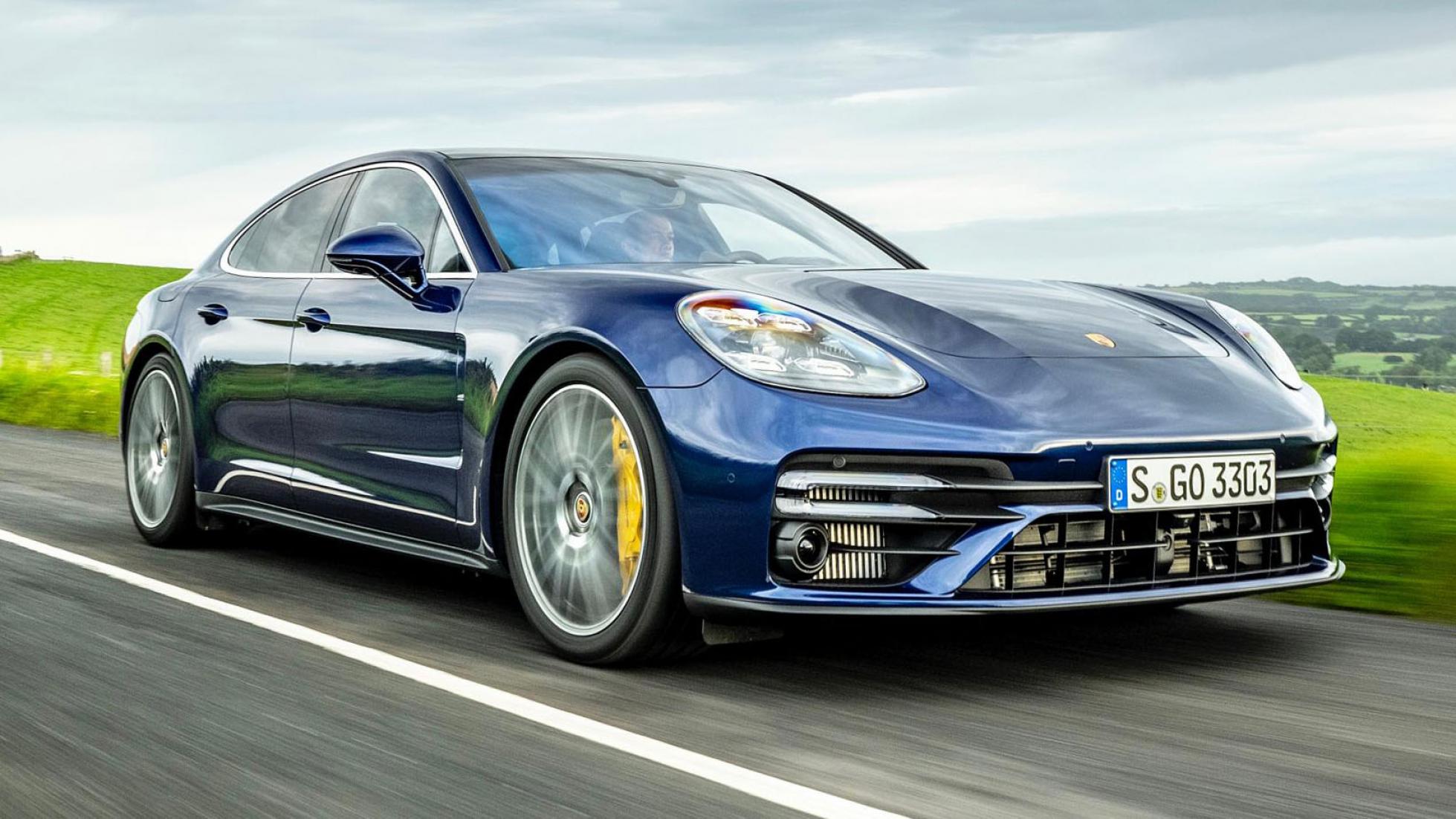 It's taken a while, but the Panamera is now the car it should always have been. When it arrived back in 2009, the concept was good, but the drive wasn't quite there, especially at the rear, which suffered from a lateral shimmy that robbed the car of real composure and comfort. It's gotten progressively better in the intervening years, but this latest version feels like a real step up.
ADVERTISEMENT - CONTINUE READING BELOW ↓
You get the impression that there are separate engineering teams at Porsche and they're all proud of their own product. The Taycan came out last year and was very well-received, but now the Panamera team is out to prove that its car is every bit as complete and accomplished. As we said earlier, the Panamera doesn't really have direct rivals...unless you look internally.
Anyway, unless you want to descend to the level of discussing engine mounts and axle bearings, there are very few major upheavals to the Panamera's underpinnings and hardware. The word 'optimization' crops up a lot in the literature: damping, steering, electronics. You often take this with a pinch of salt, but the new Panamera is notably more sophisticated than the car it replaces.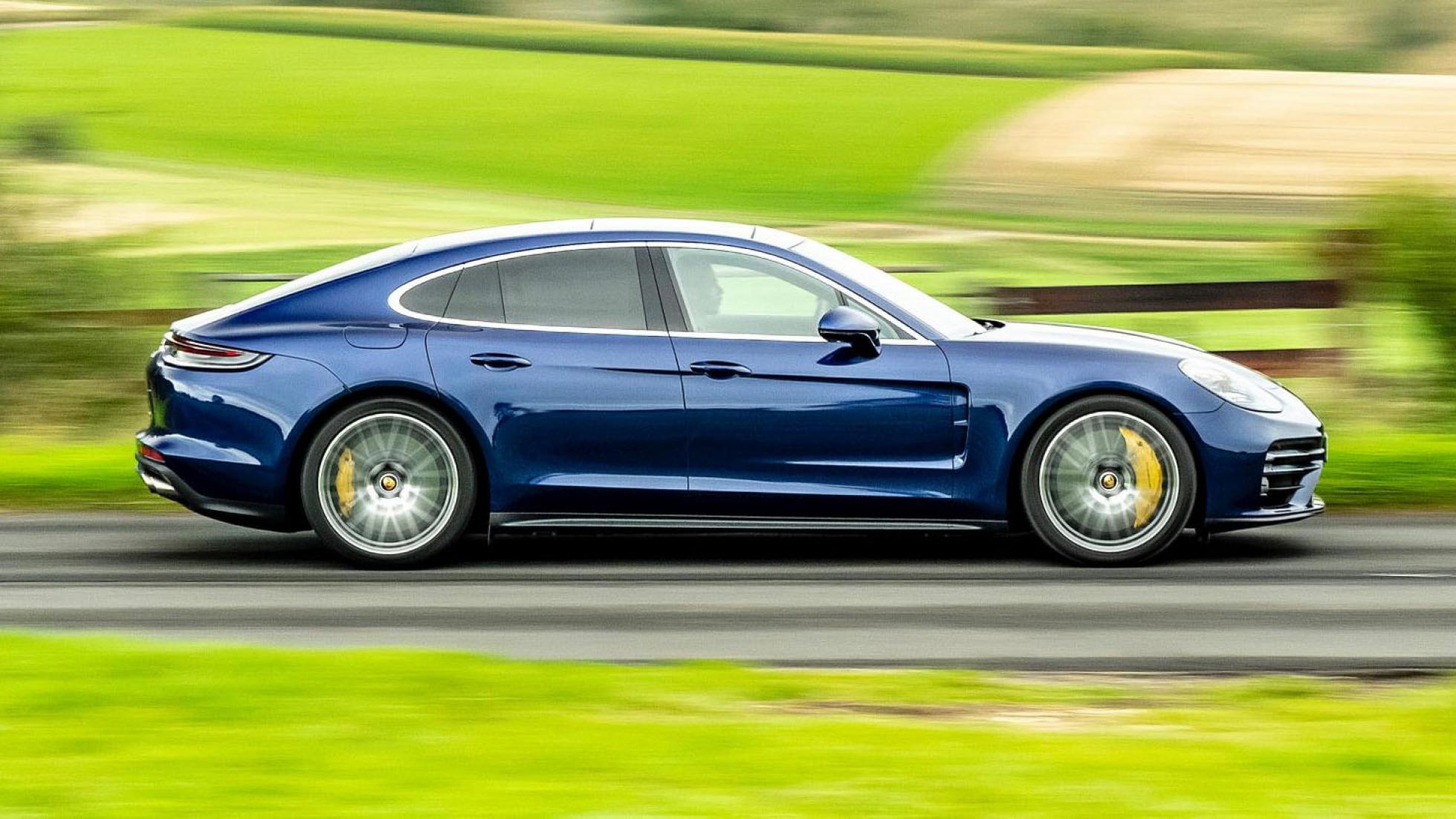 ADVERTISEMENT - CONTINUE READING BELOW ↓
The Turbo, with 621hp and 818Nm, is of course massively fast. Porsche claims 0-100kph in 3.1sec. We timed it at 2.9sec, making it every bit as fast as a BMW M5 even though it weighs 2,080kg. It never feels that heavy to drive. Apparently, the steering control system is now shared with the 911. Combine that with the upgraded damping and the electronics, and you have a car with a notably more precise and progressive front end. It's easier to place on the road, easier to thread through tight gaps, you have more confidence in it, it's more responsive and more engaging. Special mention for the steering, actually—it's lovely just off-center.
The front end feels like that of a proper sports sedan. And it's now backed up by a far better supported and connected rear axle. It feels so nimble that I thought (incorrectly, it turns out) four wheel-steering had been fitted. It hasn't, but the Turbo S at least—the only car we've properly driven from the range so far—is dynamically a real advance. Not only is it crisp and accurate, on its air suspension, it also rides with real panache.
ADVERTISEMENT - CONTINUE READING BELOW ↓
You can switch up through the modes to firm it up, but even in Sport Plus, there's a level of compliance to the ride that's not been there before. Good turning circle, too. And with 110kph requiring only 1,400rpm in the twin-clutch gearbox's super-leggy eighth gear, miles roll past. You'll need over 2,000rpm on the dial for the Turbo S to really wake up, though. There's some lag low down, but the ramp into ferocious acceleration is very progressive—not a sudden wallop, but a strong, progressive surge. It redlines at 6,800rpm, but you'll never go there. Just surf the 3,000-5,000rpm zone—that does everything you'll ever need.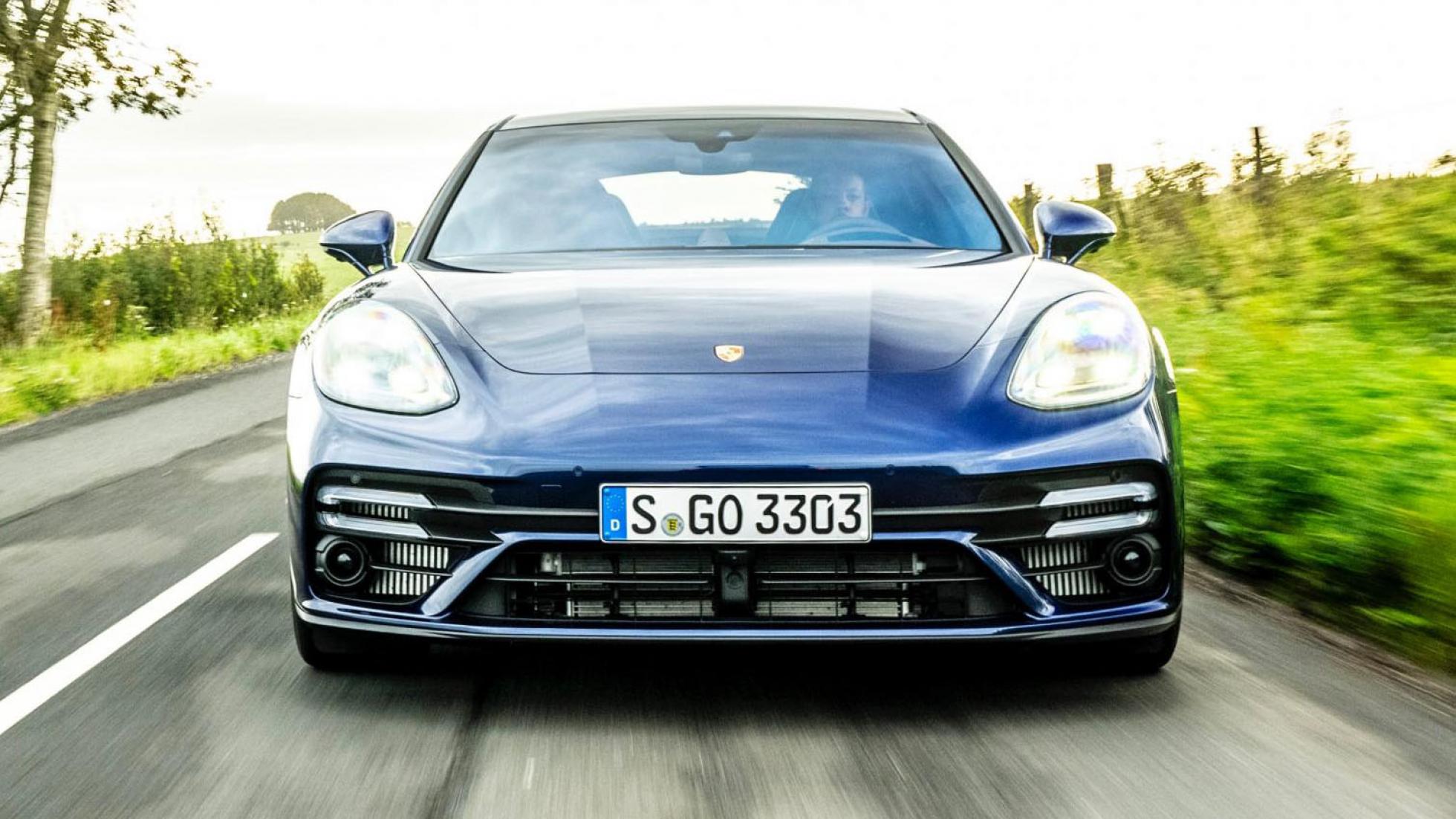 ADVERTISEMENT - CONTINUE READING BELOW ↓
Okay, you want more? Remember, the Turbo S posted a 'Ring lap time of less than 7min 30sec, leading Porsche to claim an 'executive car' lap record for it. Also, and perhaps more achievable (in fact, I'd urge you to try it out), the launch control is utterly exceptional, one of the smoothest yet most ferocious around. The flip side of this is the ability to kick back and chill out in a way that only the Audi RS6 (among super-execs) comes close to matching.
It's a very sophisticated car, the new Panamera. As sharp and rewarding in some ways as a super-sedan, but able to genuinely ape an S-Class on the autobahn. It's what Porsche has always claimed for the Panamera, but it's the first time it has genuinely rung true.
On the inside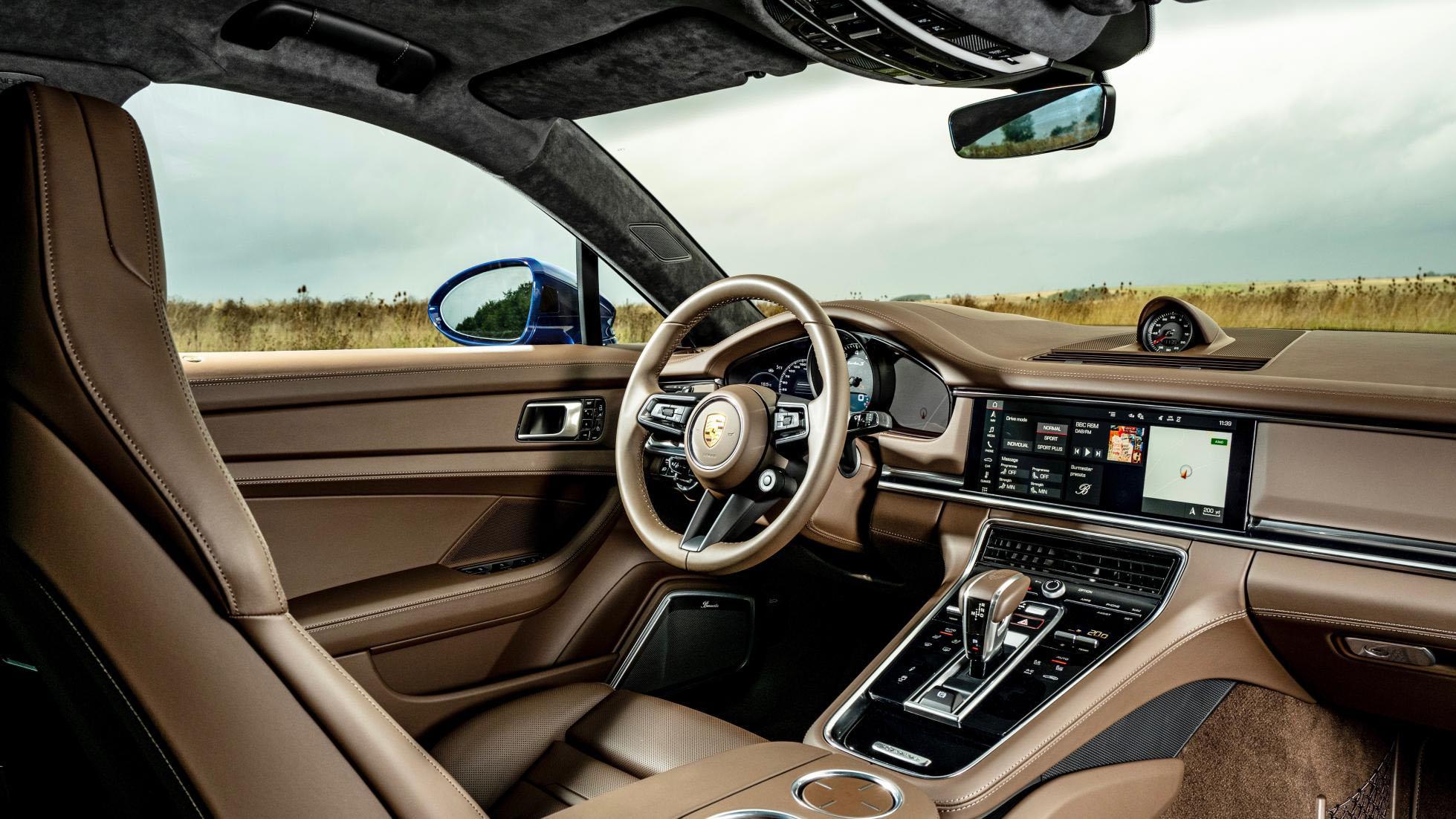 ADVERTISEMENT - CONTINUE READING BELOW ↓
Porsche has so far resisted the move toward removing every button in favor of touchscreens for everything...although many of the buttons on the console are actually haptic-feedback touchscreens. Anyway, the Panamera looks complicated initially, with a screen each side of the central rev counter and a widescreen display in the dash, but actually, it's all reasonably logical and there are helpful shortcut buttons in front of the gearstick. You'll find your way round. And make several technological discoveries every time you let a teenager take control.
The steering wheel is new, more like the 911's in design, but crucially, it feels small in your hands. That alone makes the Panamera more wieldy. The driving position is low-slung, visibility is mostly fine, material quality and workmanship are exemplary. It seems a more upmarket and special driving environment than that offered by other super-execs.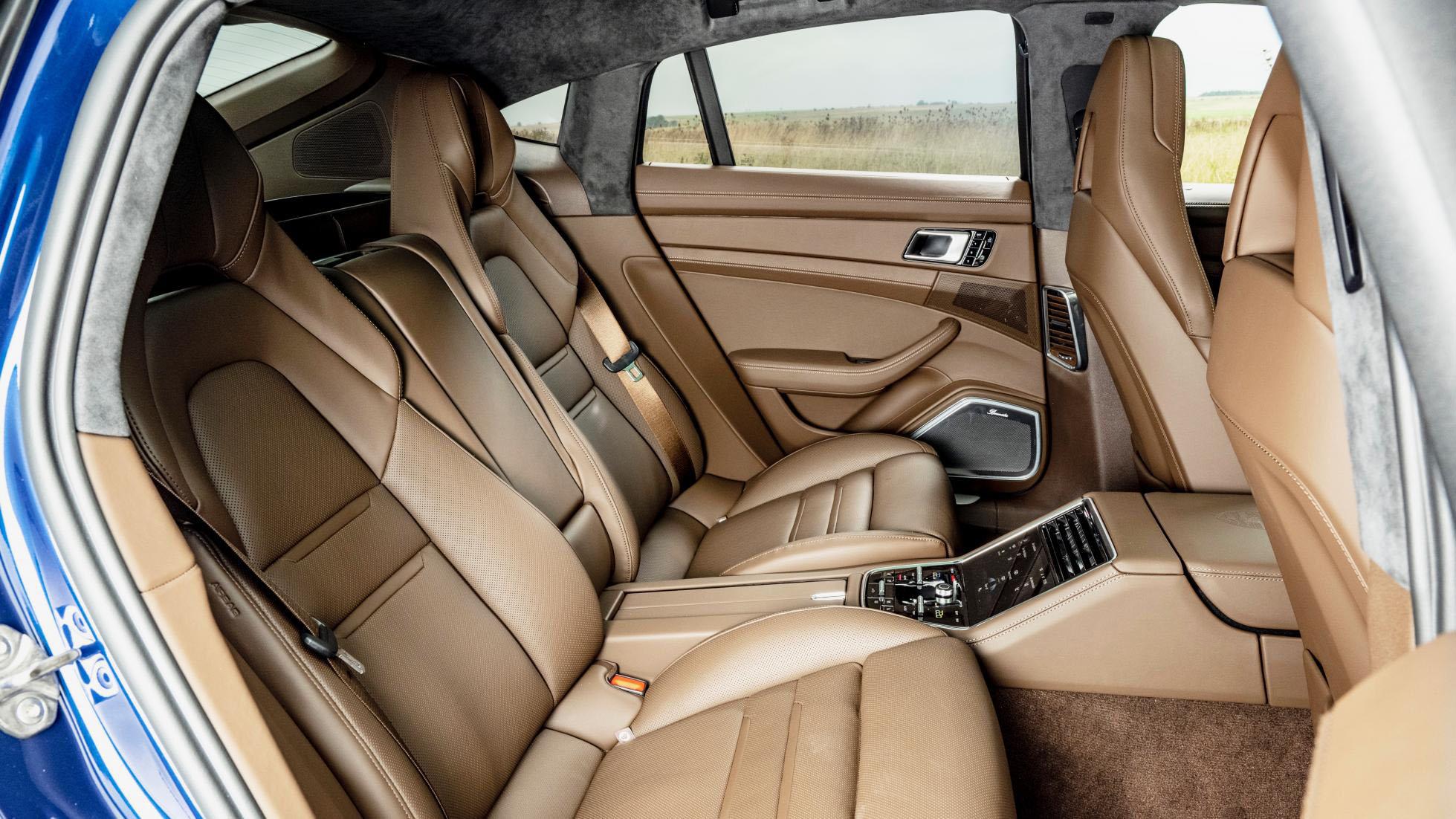 ADVERTISEMENT - CONTINUE READING BELOW ↓
Although there's not so much space for the family. The Panamera isn't really that sort of car, of course, even in Sport Turismo guise. The sensation is more business express—although any colleagues shoved in the back are, out of politeness, less likely to complain than your own offspring, even while they're wincing. Sporty seats, really only shaped for two.
The rear cargo area, at 467 liters, is decent, but the real advantage is the hatchback tailgate. Makes loading so much easier. Not hounds, though—very high rear load sill, shallow floor once they're in. Sport Turismo obviously does that better.
Final thoughts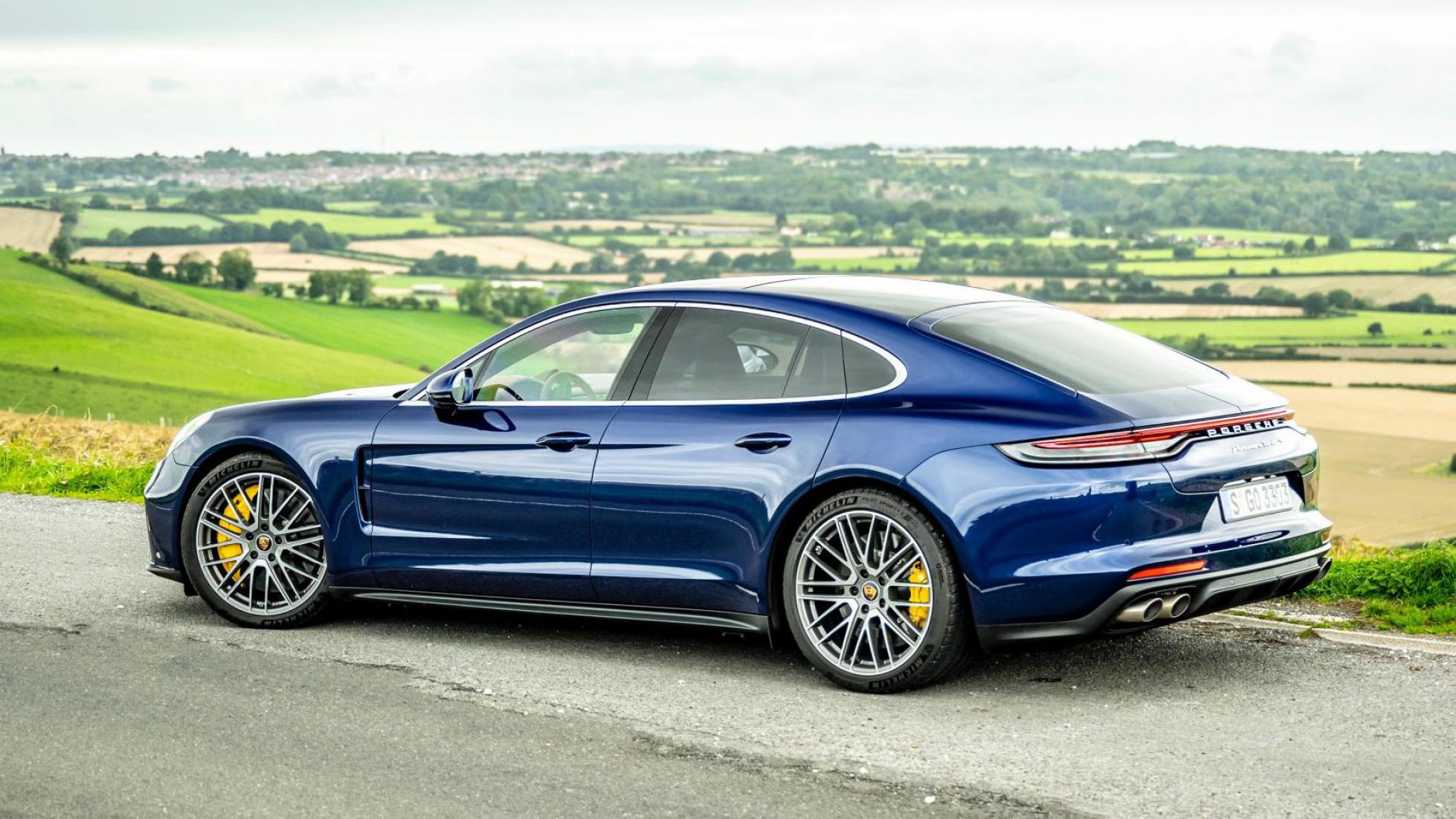 ADVERTISEMENT - CONTINUE READING BELOW ↓
It might only be a midlife facelift, but this is the most complete Porsche Panamera launched since it first appeared over a decade ago. It may not have much in the way of new hardware compared to the outgoing version, but it's the integration of all the systems, the carefully judged upgrades and adjustments, that have given the Panamera a more defined role than it's ever had before.
In the past, it's been a car looking for a job to do, and often coming up short, being neither comfortable nor rewarding enough to drive. Now, Porsche has managed to markedly improve both sides of its character. The ride quality and refinement levels are particularly well-judged, but so, too, is the handling. The steering and the front-end response make the car feel smaller, more nimble, and engaging to drive. There's genuine pleasure to be had from steering the Panamera now, not just sitting back and letting all that horsepower punt you up the road. The Turbo S is standout excellent, a real alternative to other super-sedans. The E-Hybrid, now more potent, looks compelling as well.
ADVERTISEMENT - CONTINUE READING BELOW ↓
And as a range, it's more handsome, less flabby in the flanks, more chiseled front and rear. It now legitimately does the job Porsche needs it to do, spanning a broad spectrum of rivals and able to tackle them on multiple levels.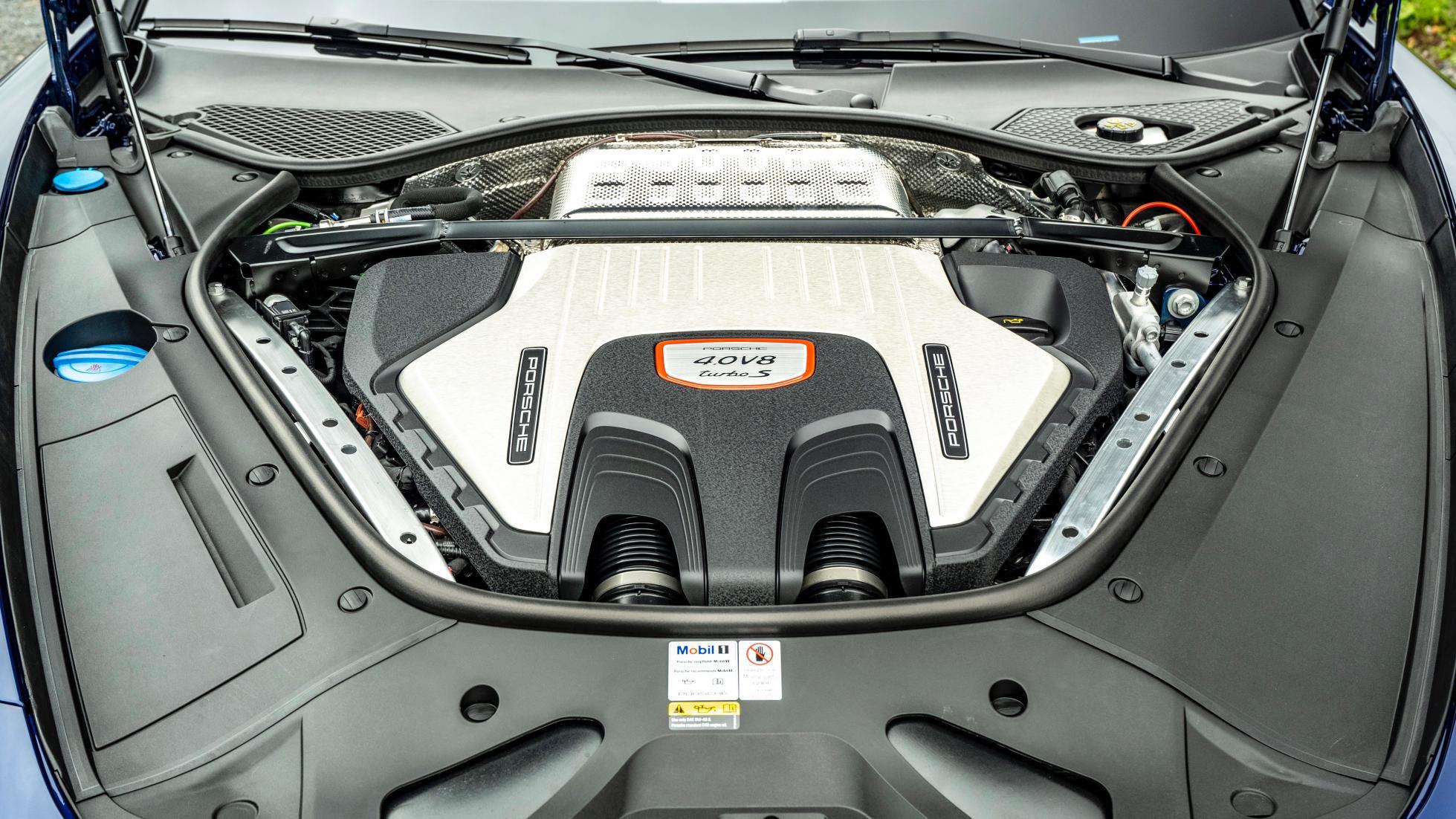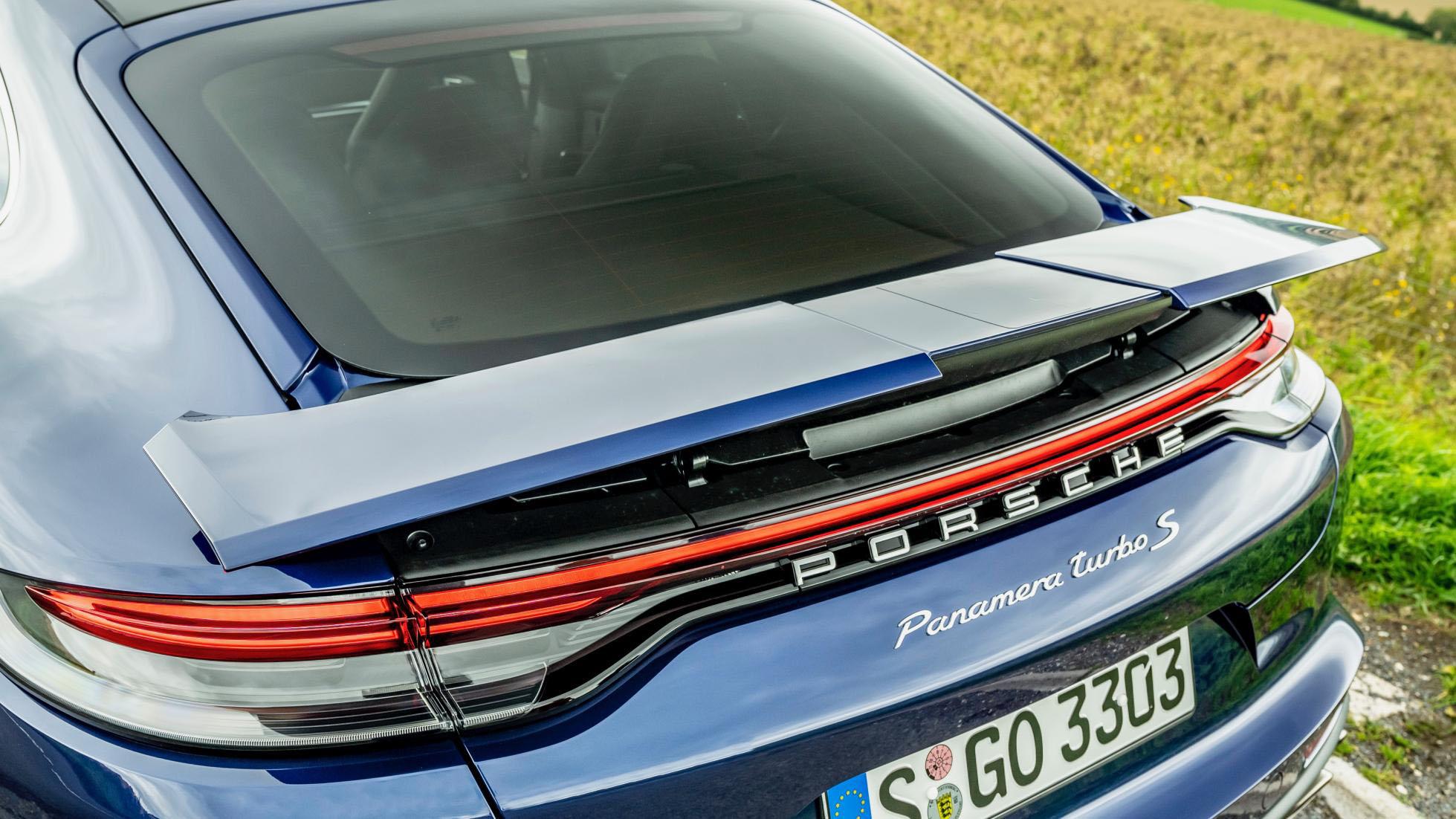 ADVERTISEMENT - CONTINUE READING BELOW ↓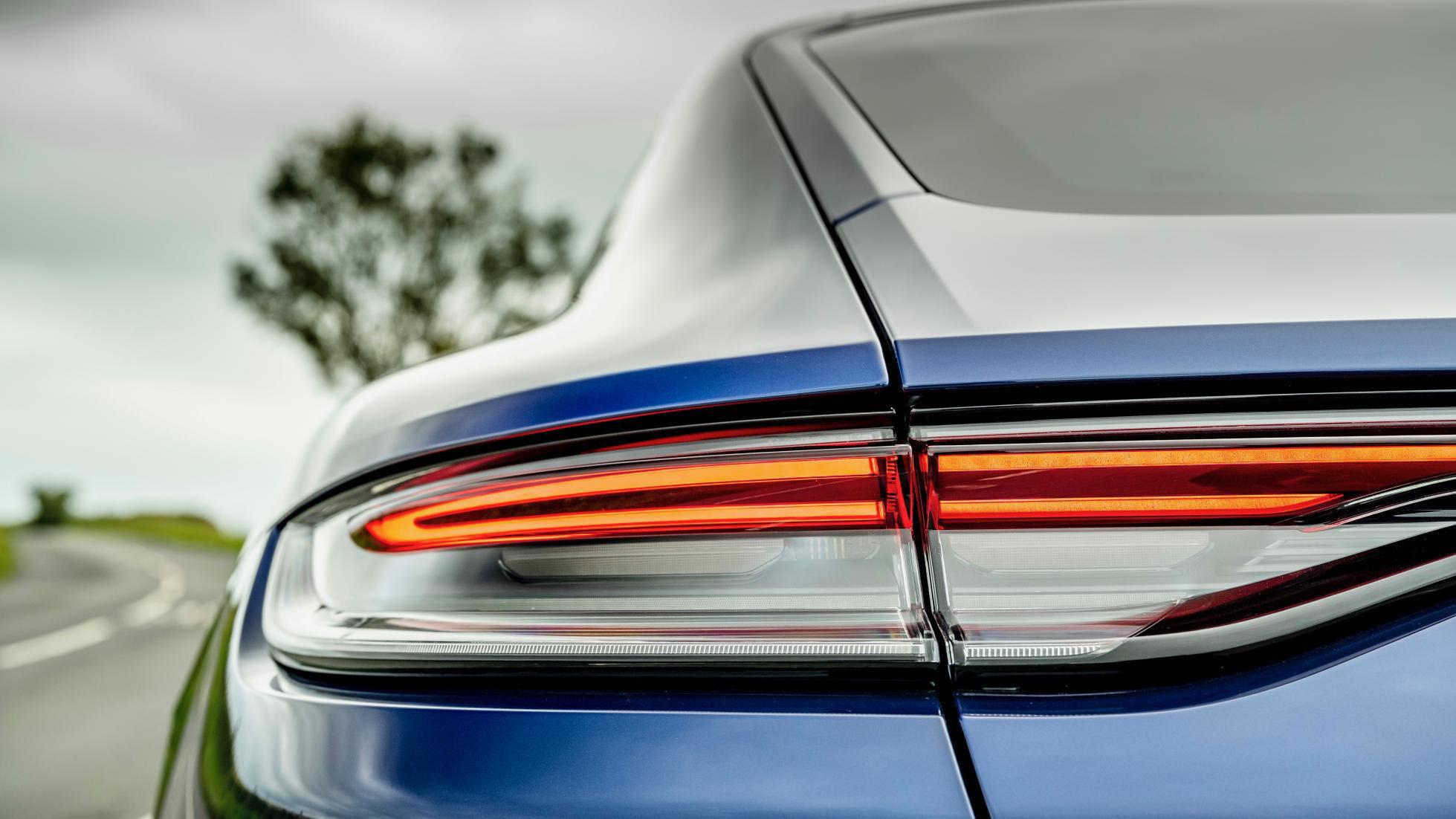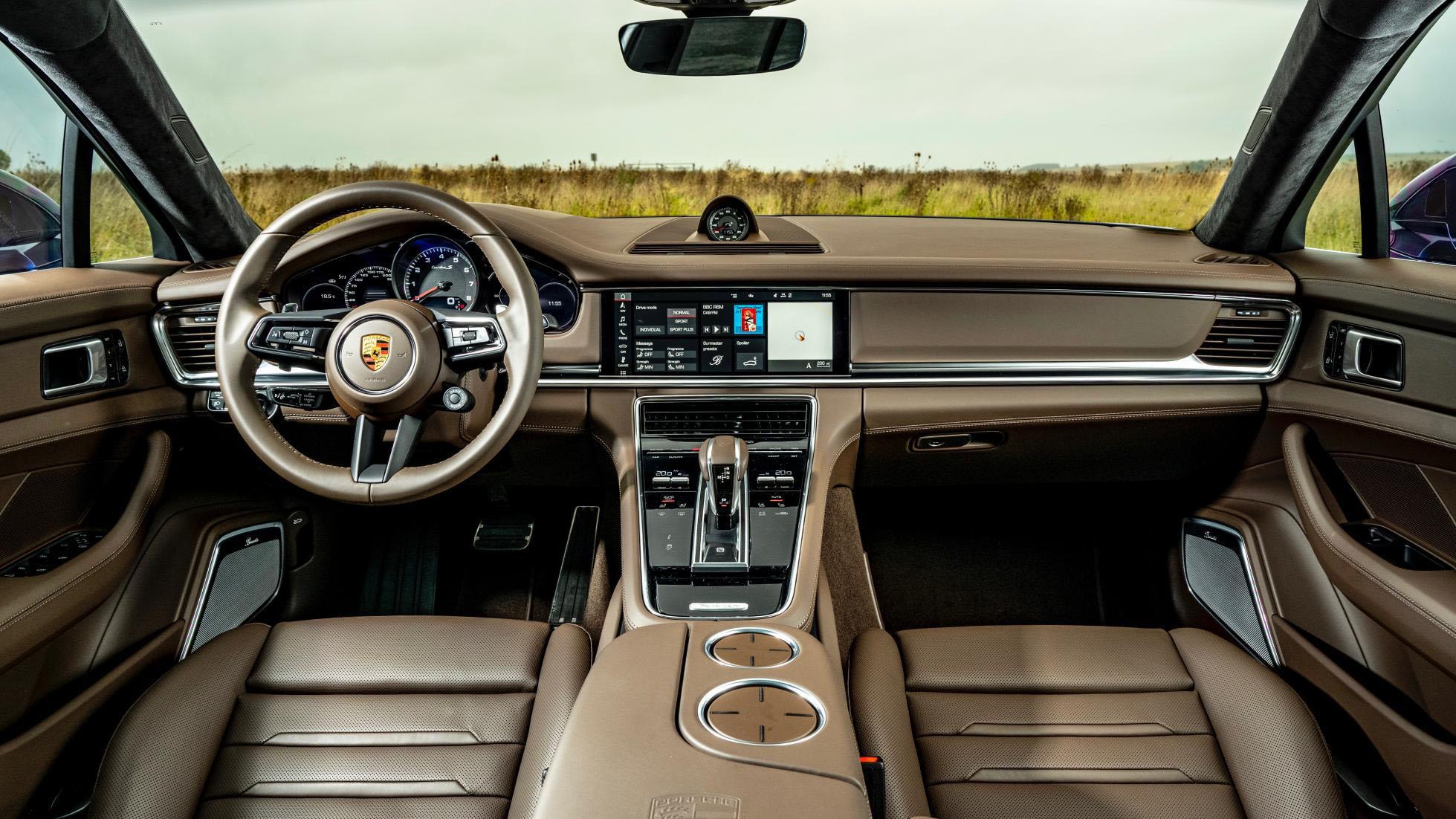 ADVERTISEMENT - CONTINUE READING BELOW ↓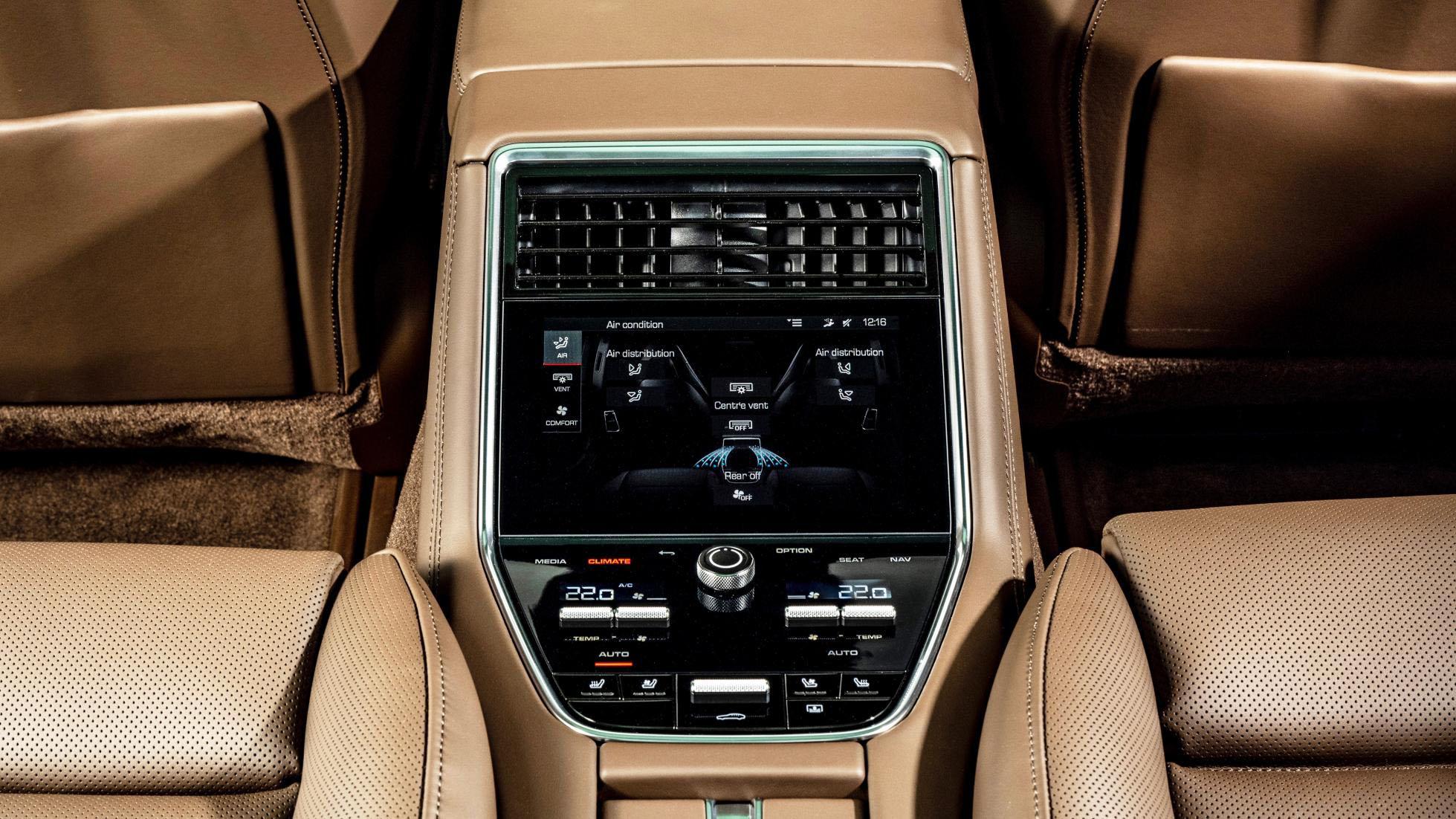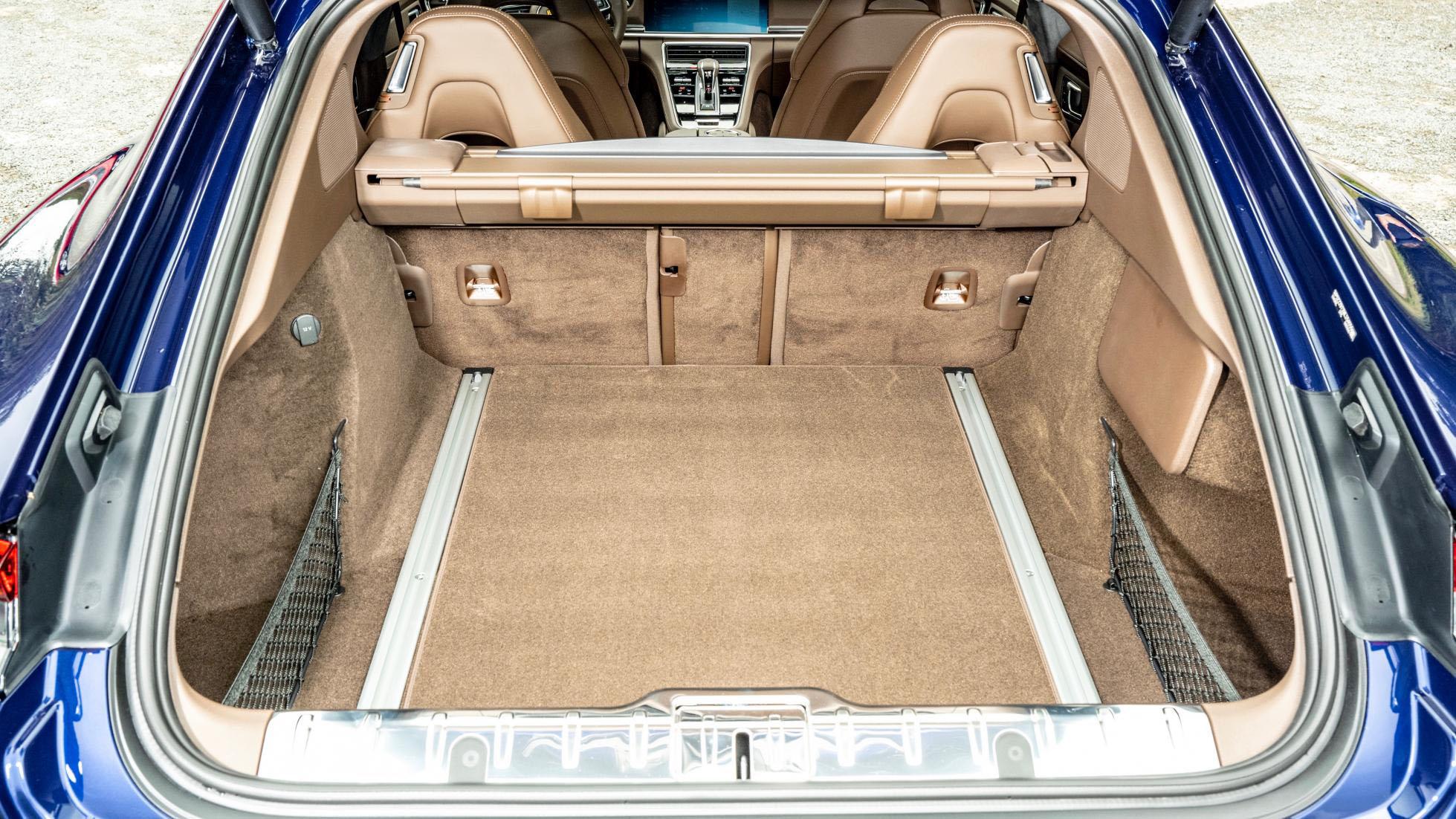 ADVERTISEMENT - CONTINUE READING BELOW ↓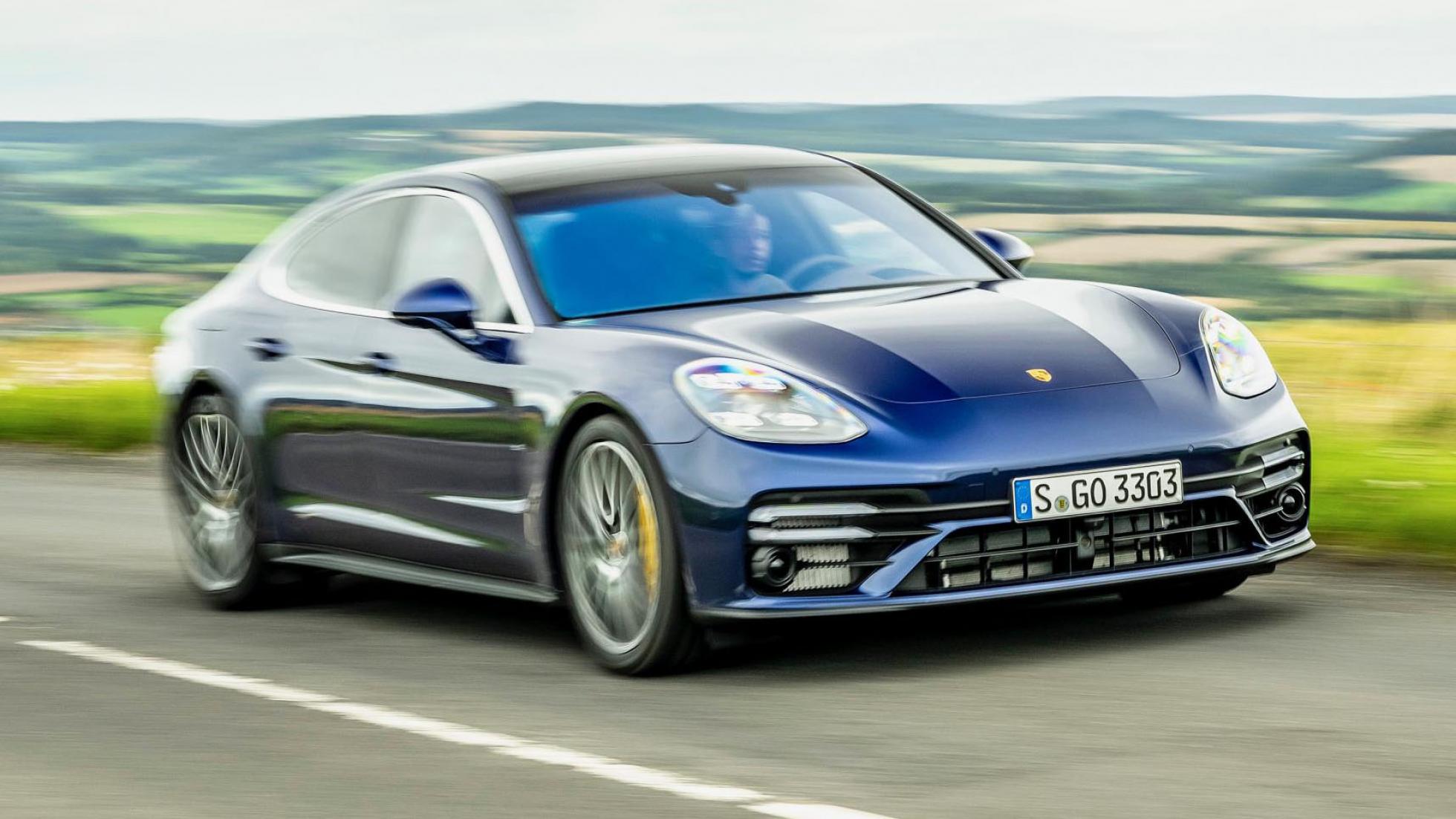 NOTE: This article first appeared on TopGear.com. Minor edits have been made.