After penning the award-winning Mercedes-motivated Musso in the '90s, SsangYong lead designer Ken Greenley seemingly went off the deep end. First came the aardvark-snouted second-gen Korando. Then the whale-like Stavic—née Rodius—widely considered one of the ugliest vehicles ever produced. Then the Actyon, which was too bizarre to even make the list. These weren't necessarily horrid vehicles, but they struggled to sell, despite continued use of Mercedes powertrains.
But after a brief buyout by Daewoo, then Shanghai Automotive, capped by a short bankruptcy, SsangYong is back. With backing from Indian giant Mahindra, the brand now boasts several new, attractive, and, most important, profitable models. But none, perhaps, more important than this one: the Musso Grand, which has been resurrected to take on the local industry's biggest profit-driver, the pickup-truck market.
Styling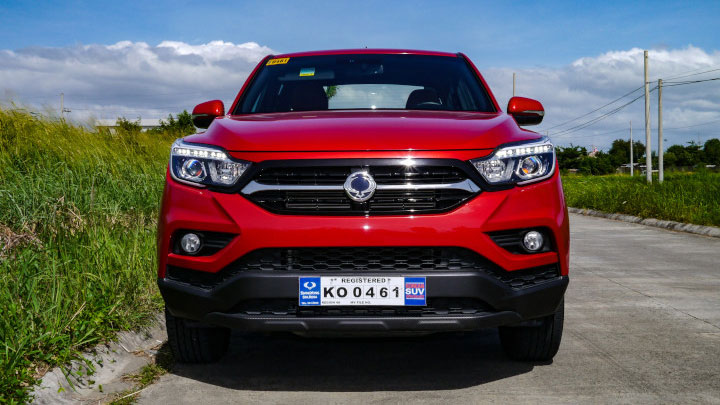 ADVERTISEMENT - CONTINUE READING BELOW ↓
While the Musso Grand doesn't push any design boundaries, it's immediately recognizable as a SsangYong. Which makes sense, since it's based on the Rexton SUV, as the old Musso Sport pickup was based on the Musso SUV.
The front end boasts a sporty multi-level fascia and a muscular shoulder-fender line. The extended bed, on the other hand, looks awkwardly tacked on. The rear shoulder line no longer lines up with the rear wheel, which sits 360 mm further back than in the Rexton. The straight-chopped roof and the body-colored roll bar don't help, either. The 17-inch alloy wheels look a size too small. The Musso's body and bed are mounted high on the frame, leaving a lot of bare bodywork between the wheels and the top of the bed.
Interior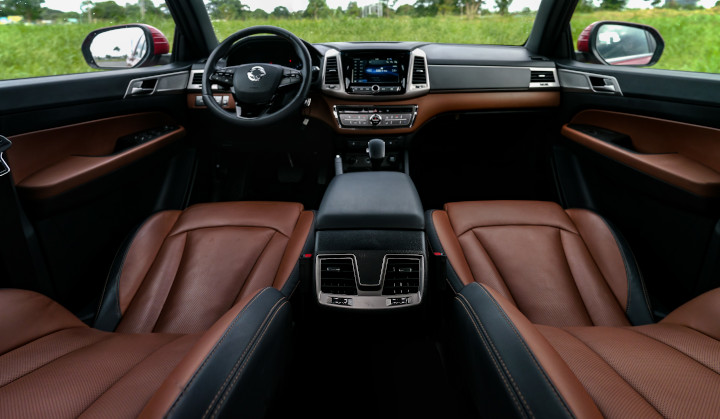 ADVERTISEMENT - CONTINUE READING BELOW ↓
Recommended Videos
While lacking the Rexton's woodgrain trim and quilted leather dash and seat inserts, the Musso's interior is still replete with soft-touch plastics and contrasting texture and color. It's simple yet well-executed, rendered in several shades of gray, brown, silver, brushed steel and, chrome, elevating it above the common Japanese pick-up interior. Even better, that relatively flat roof leaves in-ceiling clearance for a sliding sunroof, which livens up the interior quite a bit.
There's generous storage up front, including a lined dash shelf for cards and change, and a huge center bin. The tilt-adjustable contrast-stitched leather tiller doesn't adjust for reach, but the power-adjustable seat makes it easy to sidle up into a good driving position. Thanks to the aforementioned high floor, there's no transmission hump under the rear seats, which boast the best leg- and elbow room in the class. There's also quite a bit of storage space underneath for umbrellas, equipment, and slim bags.
ADVERTISEMENT - CONTINUE READING BELOW ↓
Engine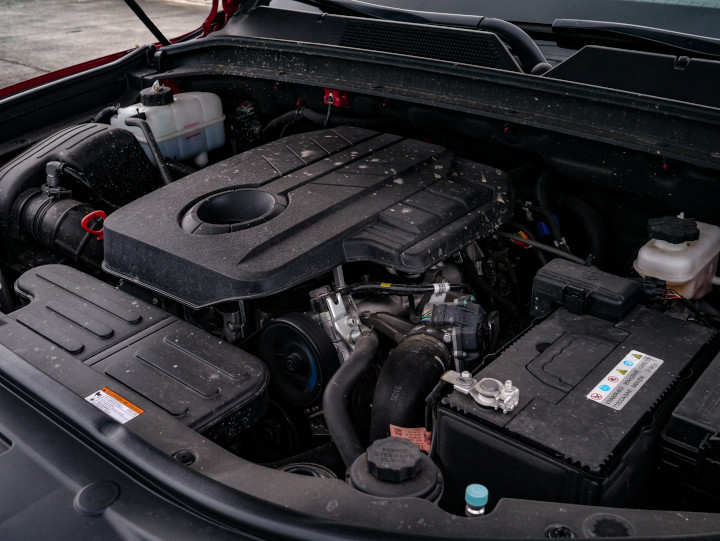 Unlike old Merc-powered Mussos, this one features an all-new 2.2-liter eXDI common-rail diesel engine mated to a six-speed Aisin automatic and part-time four-wheel drive. The engine is actually quiet and refined, and the six-speed auto generally gets the job done. The engine's 178hp and 420Nm are commendable, but 0-100kph comes up in a rather leisurely 11.8sec, thanks to the extra weight of the extended bed and the 4x4 system. Nevertheless, it never feels strained, and there's a manual shift system, activated by shifting the lever into the 'M' gate, then flicking through the gears using a tiny toggle on the side. But for emergency overtakes, it's often easier to simply leave it in 'D' and kick down harder on the accelerator.
ADVERTISEMENT - CONTINUE READING BELOW ↓
Fuel economy is what you'd expect in traffic, around 6-7km/L. We saw highs of 18-20km/L+ on the highway, but due to the massive traffic out south as a result of the Skyway construction, we didn't really get a chance to stretch the truck's legs.
Driving impressions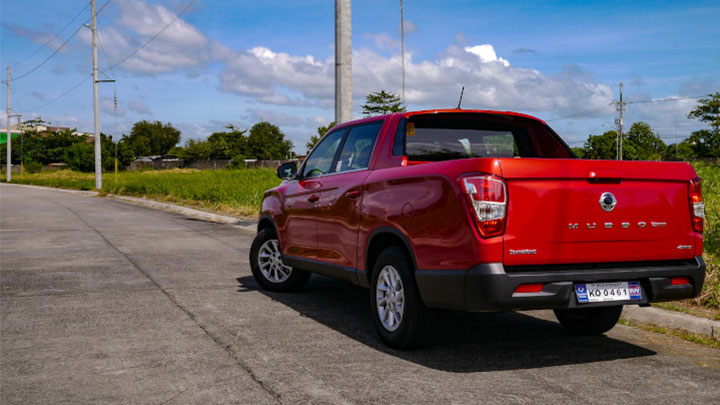 ADVERTISEMENT - CONTINUE READING BELOW ↓
On twistier roads, we found the Musso benign with few vices. The ride is understandably choppier than the Rexton's due to the rear leaf springs and the one-ton-plus payload capacity, but well-padded seats help quell any discomfort. There's some body roll when you tackle corners at speed, but this isn't that kind of truck, anyway. Not with the 2.2-ton curb weight and the rather tall 235/70 R17 Nexen Roadian HTX RH5 tires. On the plus side, those tires are quieter and more confident in the wet than the usual suspects on other trucks, even if they aren't especially suited for off-roading. As such, any evaluation of the 4x4 system will wait until next time.
Around town, the Musso Grand's size is telling. You'll feel every bit of its width and length over lesser pickups, and the steering is on the heavy side. Big side windows and a high-mounted tailgate camera help in parking, but there are no proximity sensors to tell you how close that wall you're parking against actually is.
ADVERTISEMENT - CONTINUE READING BELOW ↓
Extra features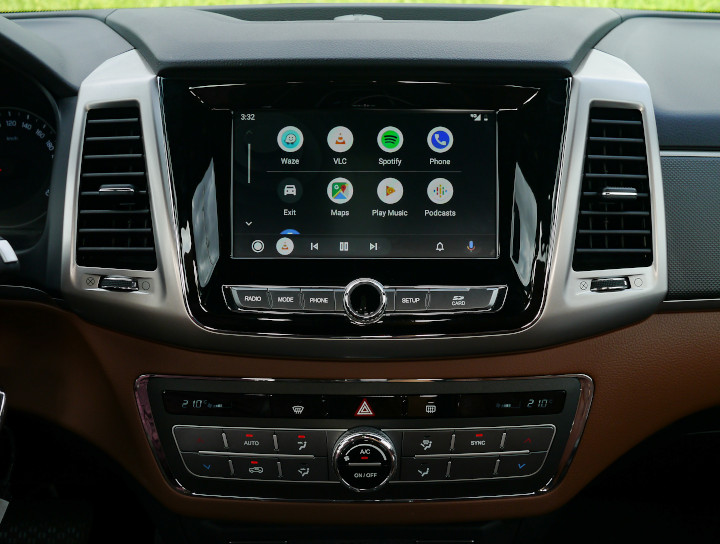 Aside from this odd lack, the Musso Grand certainly gives you a lot for your money. There's hill-descent control, stability control, heated side mirrors, a self-dimming rear mirror, and automatic lights and wipers for all-weather driving. There's an eight-inch touchscreen with tire-pressure monitoring and Android Auto/Apple CarPlay integration, with separate tiller-mounted buttons for calls and voice command—no cruise, but you get a heated steering wheel, at least. Sound is crisp with decent bass, and set-up is as easy as plugging in and booting up.
ADVERTISEMENT - CONTINUE READING BELOW ↓
There are twin 12v outlets and a USB socket up front, and a 12v socket under a waterproof flap in the bed by the tailgate. That bed comes with a built-in plastic liner with strap-down loops, and the usable floor area is huge compared to most pickups.
Rear passengers get individual A/C vents and seat-heater controls—lovingly dubbed the 'fry butt' buttons by my kids. Front occupants get power-lumbar adjustment as well as heating and cooling vents built into both cushions and backrests—arguably more useful in a tropical country like ours. Especially if you wear a suit and tie while driving to work.
Verdict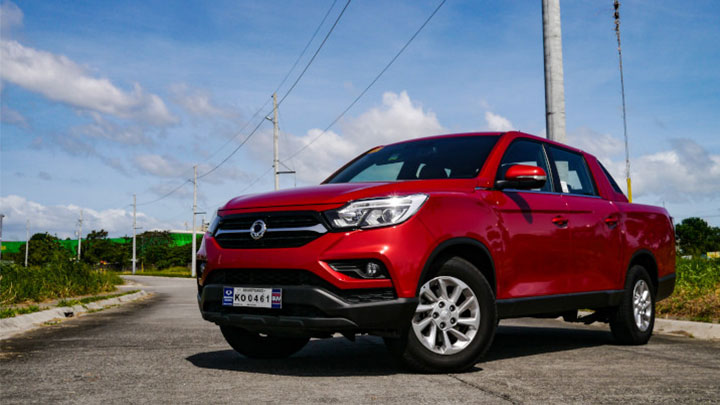 ADVERTISEMENT - CONTINUE READING BELOW ↓
And that's generally what it feels like you'll be doing with the Musso Grand. I've no doubt that it has the utility to do farm work or construction work, or whatever dirty duty you feel comfortable subjecting a shiny new pickup to, but its large, luxurious interior is more suited for driving to the boardroom than the barn. And on off-days, it's comfortable enough to lug the entire family to the beach, the barnyard, or the boondocks. Or anywhere else your fancy takes you, really.
SPECS: 2020 SsangYong Musso Grand 2.2 4x4 A/T
Price: P1,650,000
Engine: 2.2-liter turbodiesel I4
Power: 179hp @ 4,000rpm
Torque: 420Nm @ 1,400-2,800rpm
Transmission: 6-speed automatic
Drive layout: Part-time 4WD
Seating: 5
Score: 17/20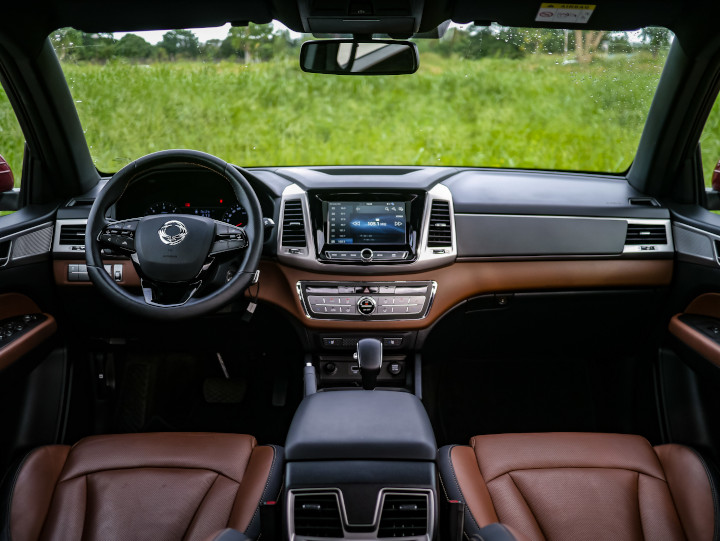 ADVERTISEMENT - CONTINUE READING BELOW ↓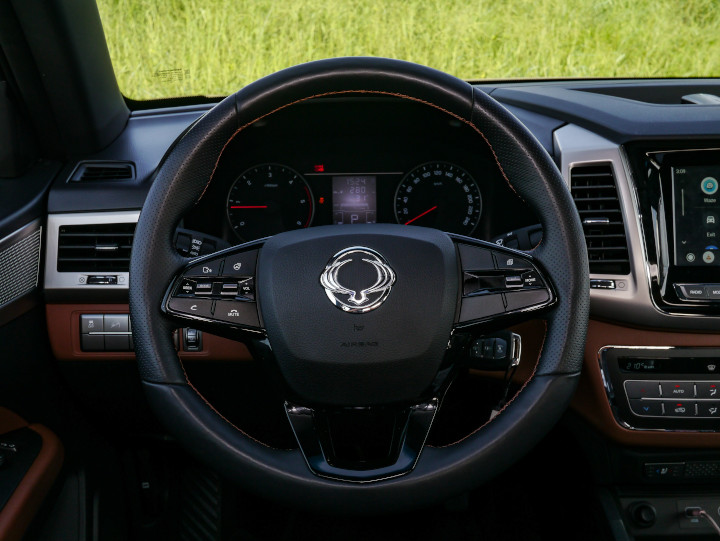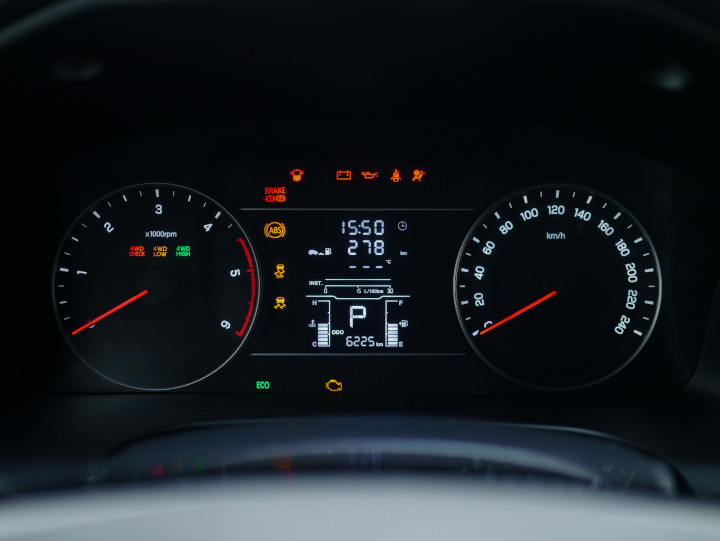 ADVERTISEMENT - CONTINUE READING BELOW ↓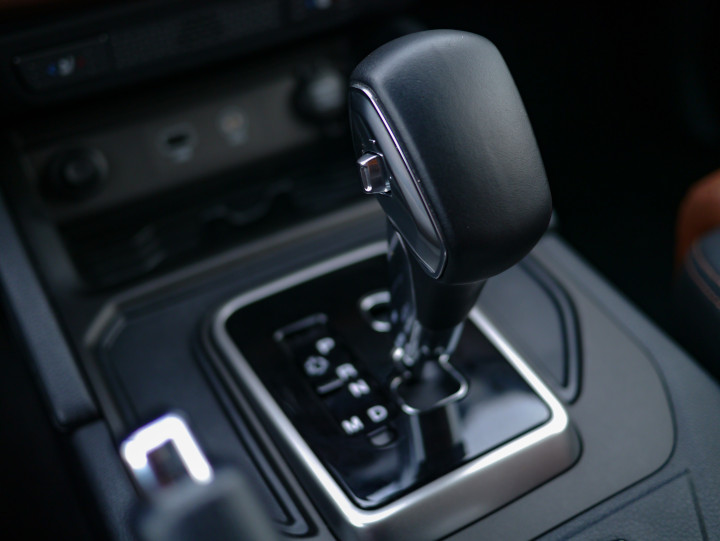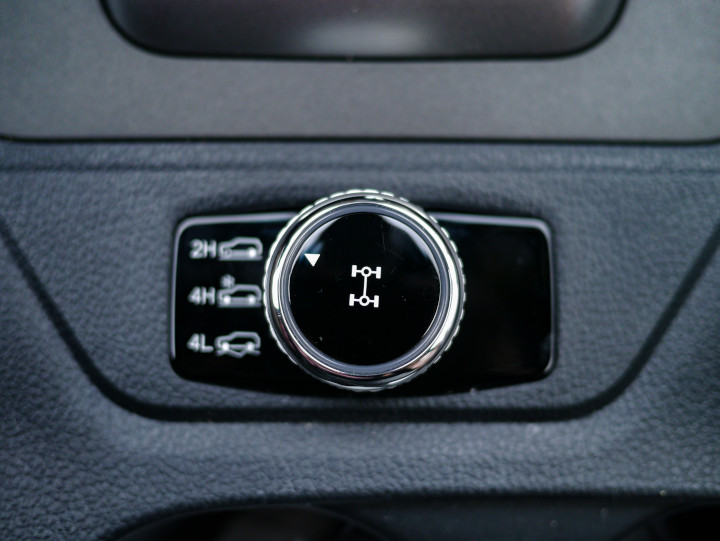 ADVERTISEMENT - CONTINUE READING BELOW ↓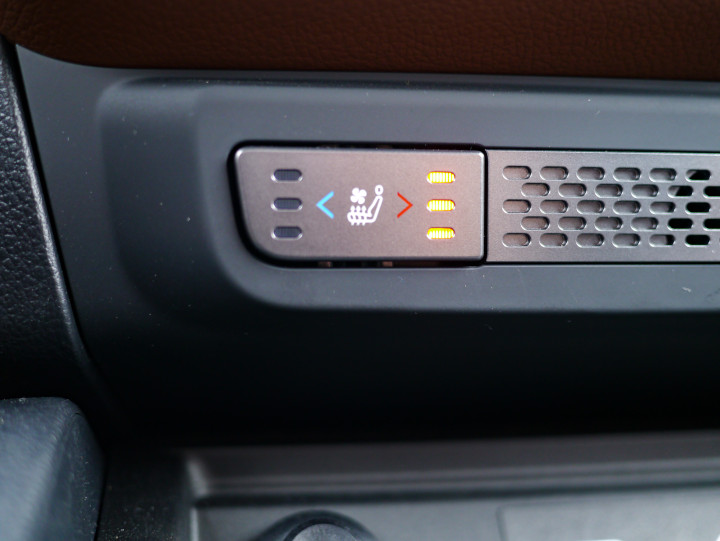 ADVERTISEMENT - CONTINUE READING BELOW ↓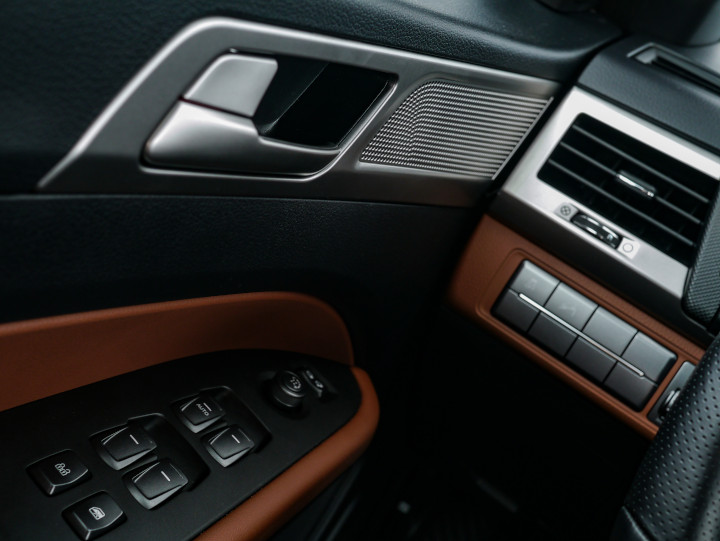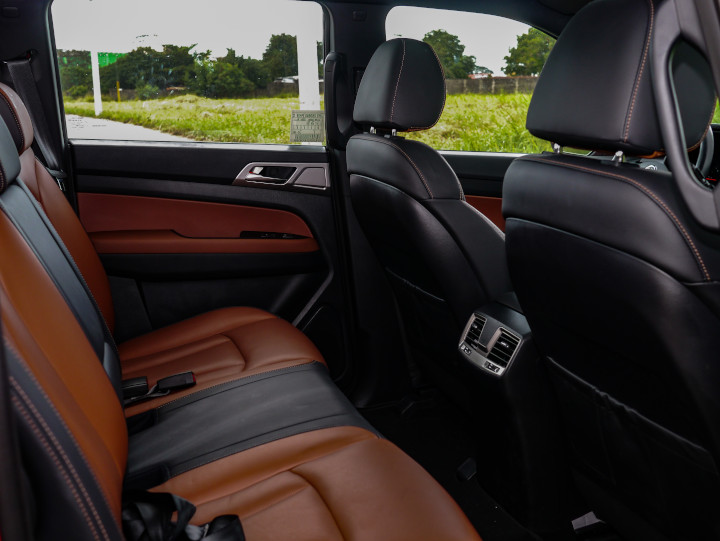 ADVERTISEMENT - CONTINUE READING BELOW ↓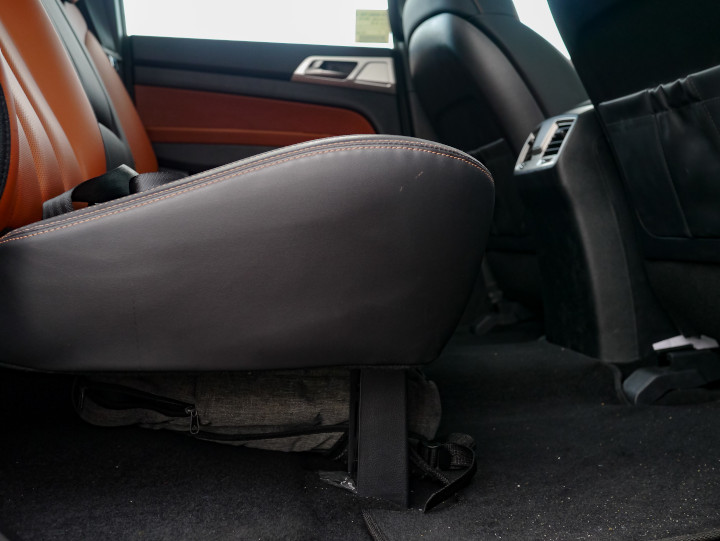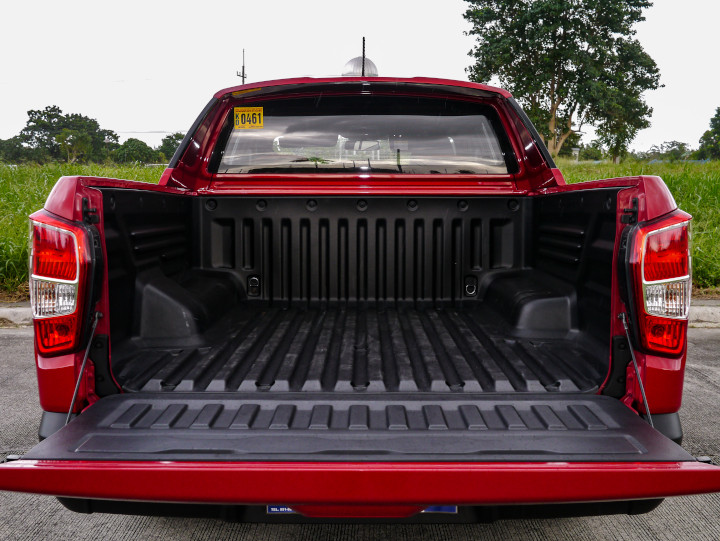 ADVERTISEMENT - CONTINUE READING BELOW ↓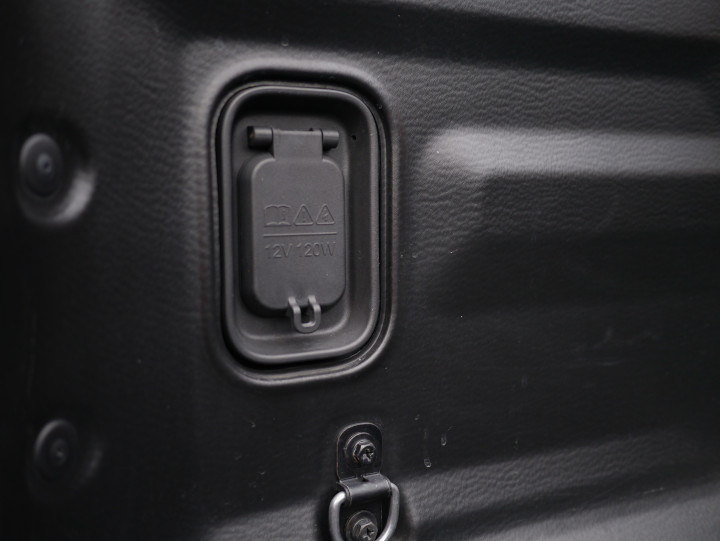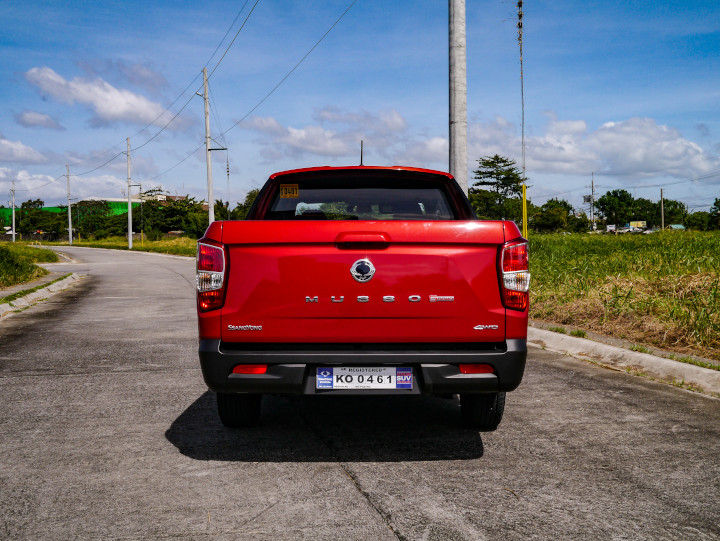 ADVERTISEMENT - CONTINUE READING BELOW ↓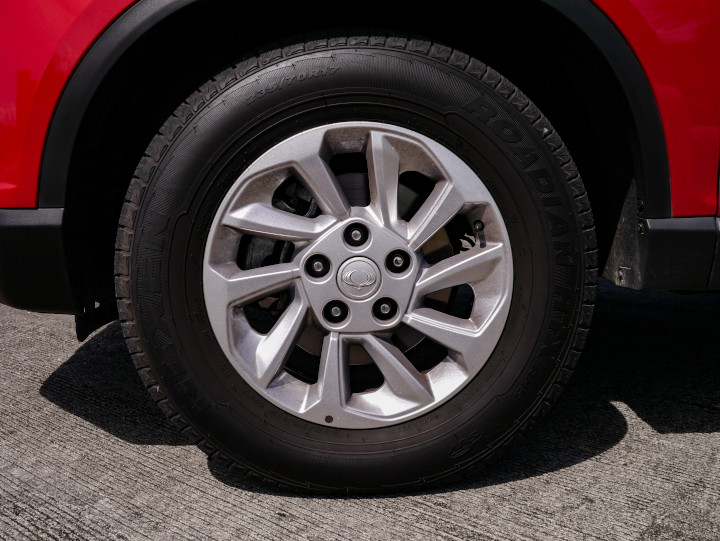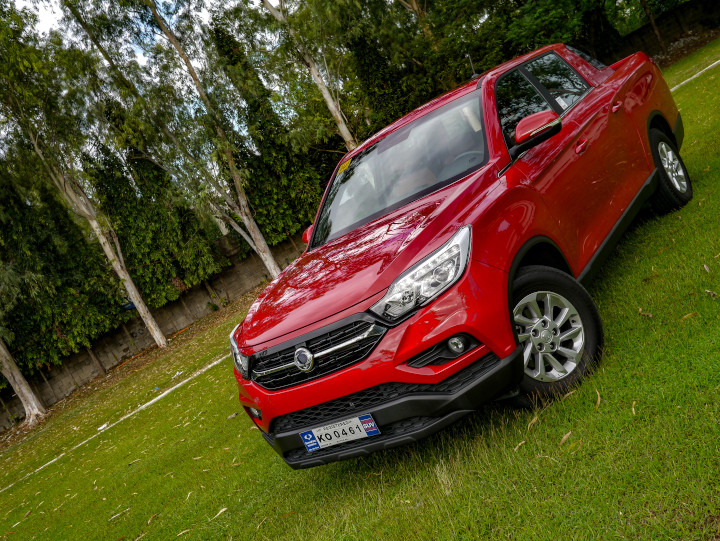 ADVERTISEMENT - CONTINUE READING BELOW ↓