Quite simply, this is the boldest, most outrageous thing to come from the maker of posh Toyotas since the company turned our knees to jelly with the LFA supercar in 2010. There are no screaming V10s here, and the experience is tailored more to rapid grand touring than hot laps, but the LC is still a force to be reckoned with.
Spawned from the 2012 LF-LC concept and based on a light, stiff 'GAL' rear-wheel-drive platform that has since underpinned the LS limo, the LC can be had in two distinct flavors—identical twins, if you like, but with polar-opposite approaches to the same task: hurling you down a road and making you look sexy while you're at it.
One, the LC500h, is a spectacularly complicated hybrid harnessing V6 gasoline and electrical power for devilish performance and virtuous fuel economy; the other, the LC500, is a tasty bit of old-school muscle with a naturally aspirated V8 intent on bullying the rear tires.
ADVERTISEMENT - CONTINUE READING BELOW ↓
I like the sound of that second one...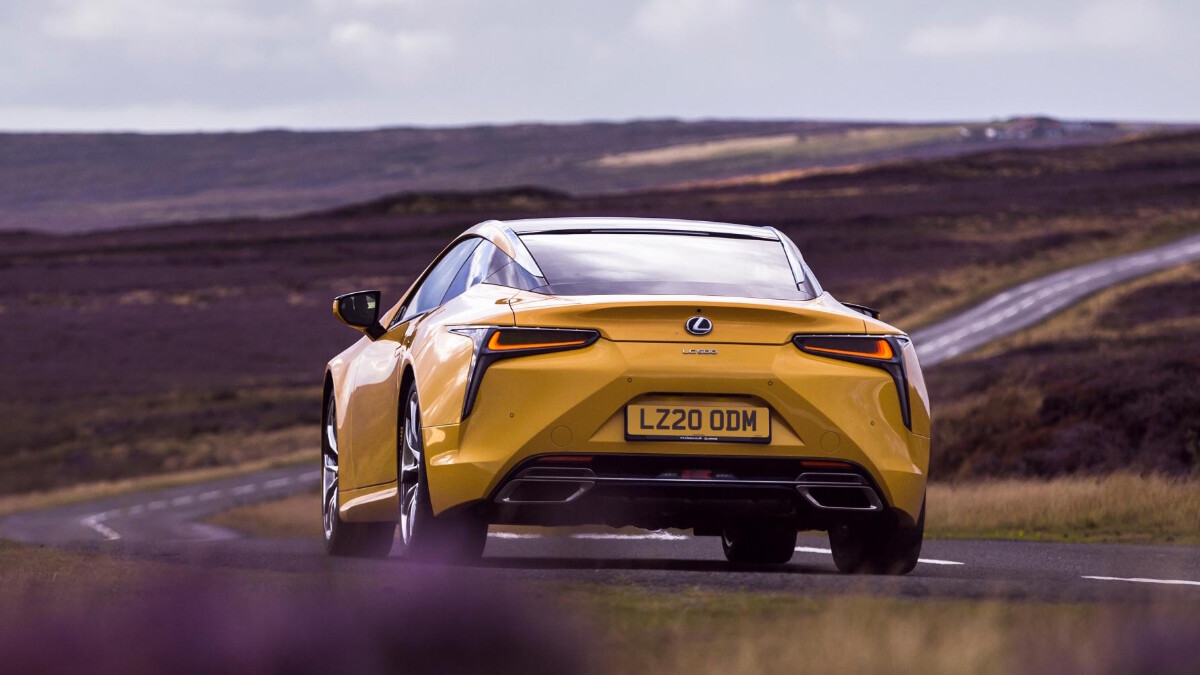 So do the vast majority of buyers. The LC coupe has been on sale since 2017, and three-quarters of the 20,000 or so people who've bought one globally have gone with the V8. When Lexus recently launched the LC Convertible, it neglected to offer hybrid power. Perhaps no surprise when they both cost the exact same £81,750 (P5.65 million) before options—why wouldn't you have the gnarlier sounding, more fun-to-drive version?
ADVERTISEMENT - CONTINUE READING BELOW ↓
Recommended Videos
We'll whisk the hybrid out of the way quickly, then. It combines a 295hp 3.5-liter V6 and a 177hp electric motor (fed by Lexus' first lithium-ion battery, found behind the rear seats) for a 354hp combined peak. That's sent to the rear wheels through a CVT, and propels you from 0-97kph (60kph) in 4.7sec and on to 250kph, accompanied by 14.8km/L fuel economy and 184g/km of CO2 emissions. So, not a plug-in hybrid, but you're basically getting scaled-down supercar looks with hot-hatch efficiency. At least on paper.
And the V8?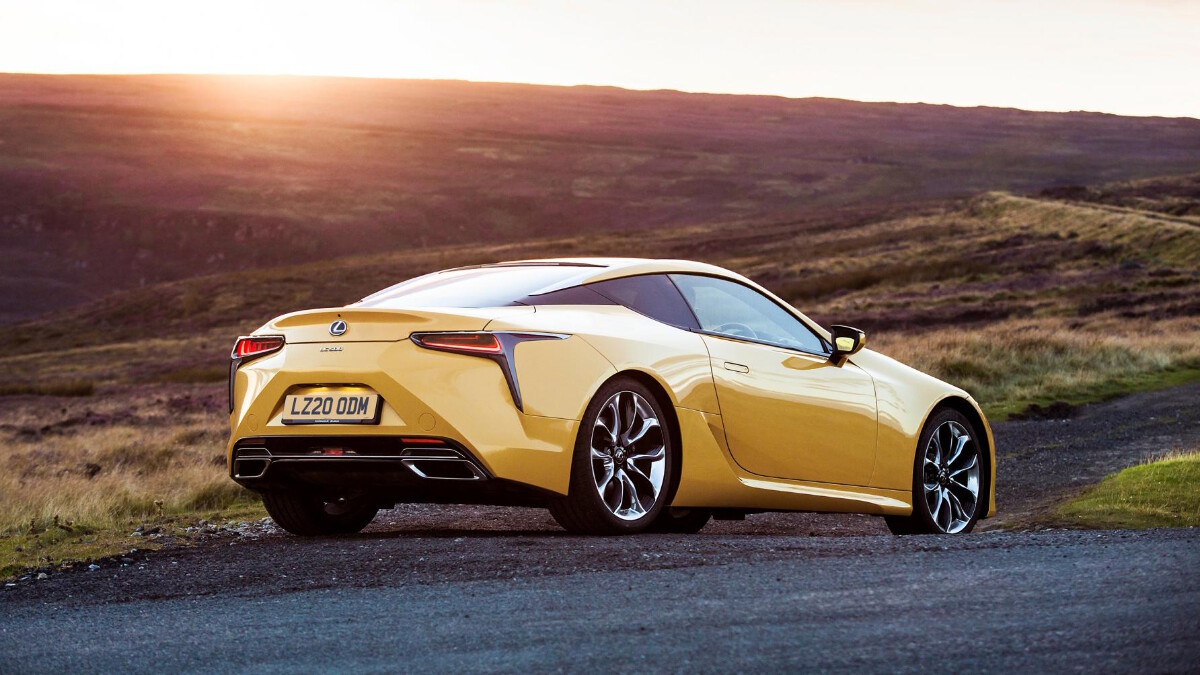 ADVERTISEMENT - CONTINUE READING BELOW ↓
It's Lexus's tried, tested, and really rather loved 5.0-liter V8 with not a turbo in sight. A rare breed nowadays, and there's delicious irony in Lexus—one of the pioneers of mainstream hybrid cars—being one of the final havens for the most old-school, polluting engine possible. Peak output is 457hp with power sent to the rear wheels via a 10-speed automatic (yep, 10) for the same 4.7sec sprint as the hybrid but a higher 270kph top speed. Naturally, fuel consumption and CO2 emissions swell, too, at 10.3km/L and 262g/km, respectively.
Both versions weigh a whisker under two tons—LCs made from 2020 onwards getting a few delightfully dorky weight-saving measures within their mechanical components—and depending on spec level, you can have various levels of tech to help mitigate the car's chub. There's a variety of rear differentials and torque-vectoring systems, but we'll save you the time and say just this: If you want a Lexus LC for more than just looking at, you need a V8 in Sport+ spec. The proper engine, with a four-wheel steering system to help bring the chassis' sharpness up to the same level as the powerplant's.
ADVERTISEMENT - CONTINUE READING BELOW ↓
On the road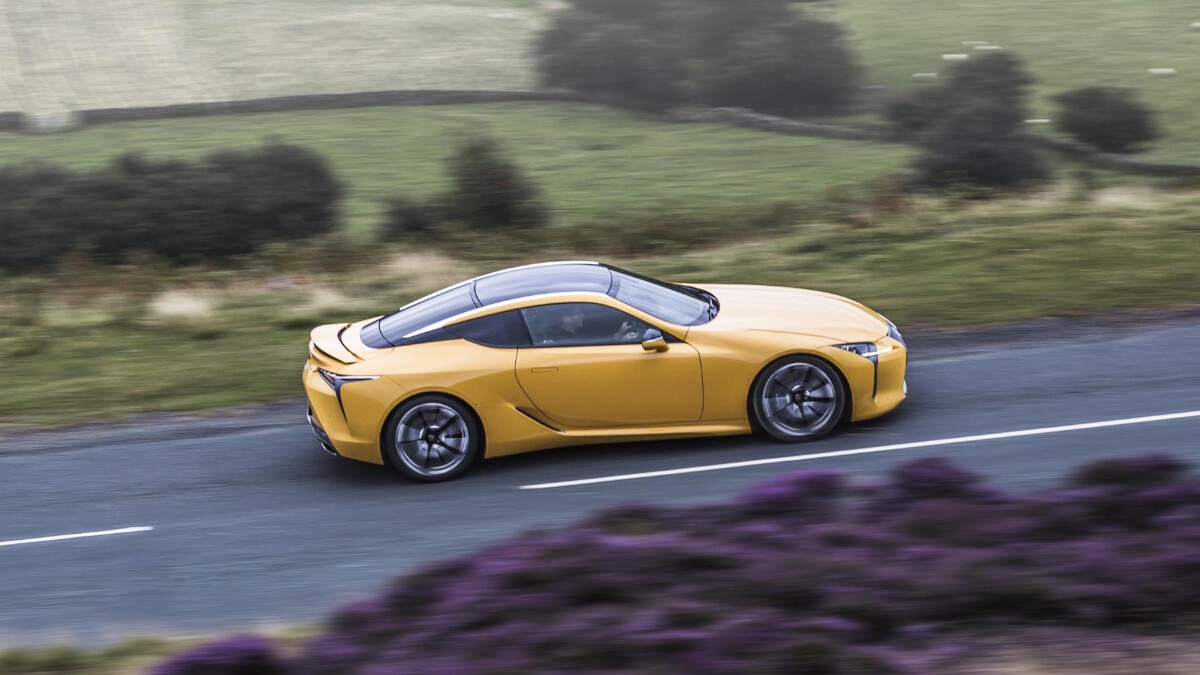 We know the LC500's V8 well from numerous F-badged performance Lexuses, but here it appears without such gnarly pretensions. Drive an LC without the full suite of driver aids and diffs, and it almost feels an incongruous fit—an engine that doesn't deliver peak power until 7,100rpm living inside a carefree GT car.
ADVERTISEMENT - CONTINUE READING BELOW ↓
Kick back in Comfort and Eco driving modes, and the powertrain shuffles around in the background like a Michelin-star maître d', but crank it up to Sport+ and it slams home full-bore upshifts instantly and with a slap on the back. We found ourselves shifting down when it wasn't required, just to hear a crack from the exhausts and flourish of revs. There's a woofly spike of revs on startup, and that'll have you reversing close to walls just for a bit of theater before each drive. Well, so long as your neighbors won't protest.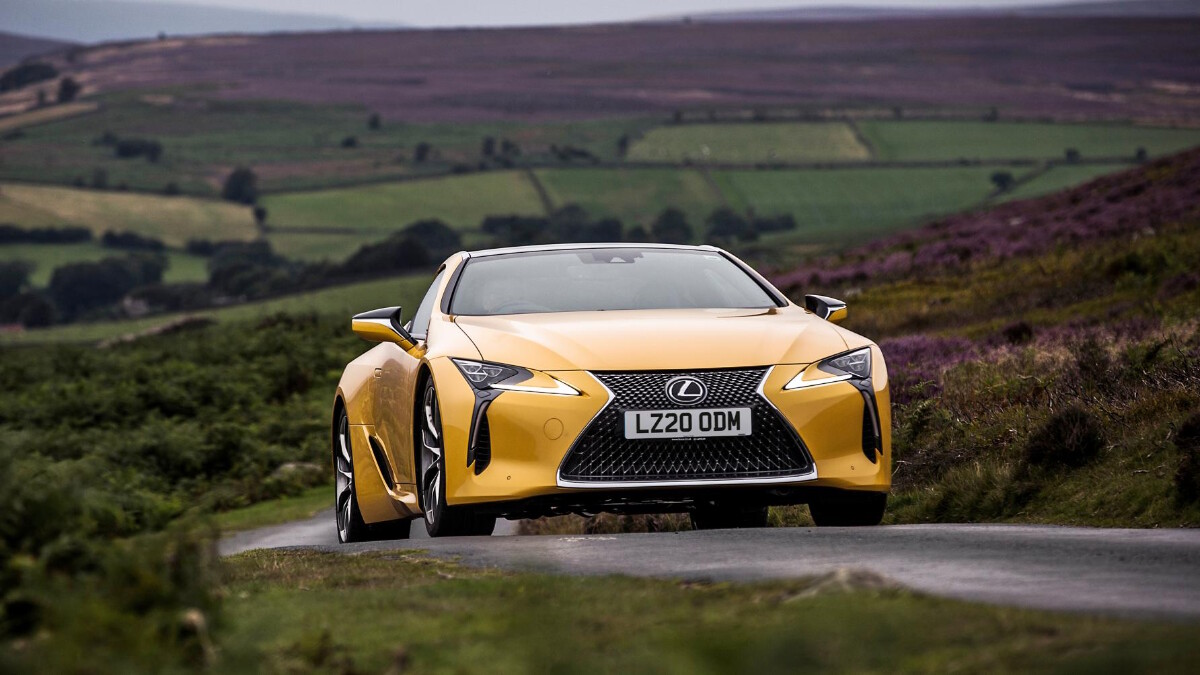 ADVERTISEMENT - CONTINUE READING BELOW ↓
Wind up the V8, feel it kick a bit harder past 4,000rpm, then hold your nerve as it charges with building intensity all the way to the 7,300rpm limiter. It doesn't bludgeon you with its performance, this engine; it has to be tweezered out with patience and well-timed shifts. Keep it in Sport+ mode, though—firmer suspension, sharper throttle response, sportier gearing for the steering—and there's a thug waiting to get out.
Turn in at speed and there's body roll—this is a 1,935kg coupe after all—but with the rear-wheel steering equipped, you can tuck neatly into corners like a quarter of that weight has been magically, momentarily shed. If physics do decide to step in and nudge the front end wide, you can always deploy the power to bring the diff into play and the back pivoting round—likely only if you've turned the fairly stringent stability control off. A proper muscle-car mentality is required—the power isn't just there to sling you down the straight, it's there to help steer.
ADVERTISEMENT - CONTINUE READING BELOW ↓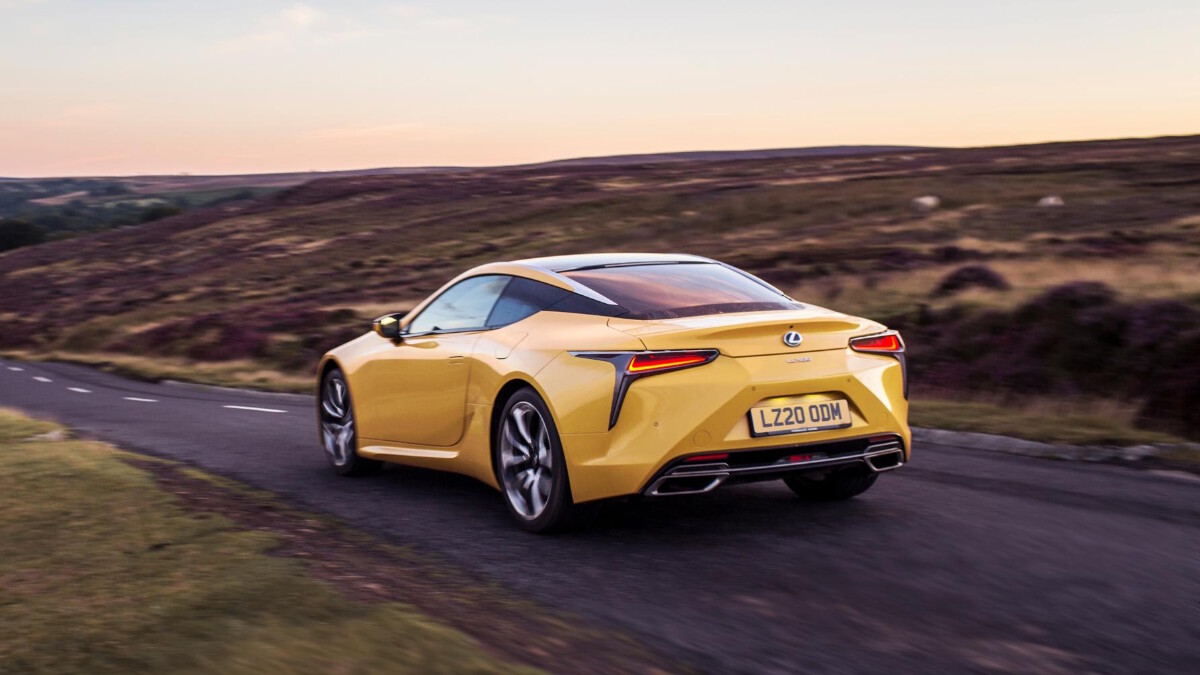 The steering wheel itself has that modern trait of lacking in feel, but makes up for it with a super-quick rack. The whole thing can feel pretty feisty if you put the effort in—take a more laid-back approach and the car follows suit, the engine quietening and that trademark Lexus refinement coming to the fore instead. This is when the gearbox is happiest—you'll need to pull the paddles for manual shifts to get the best of it in quick driving. And with 10 gears, that could mean a lot of downshifts should a tight corner unexpectedly present itself.
ADVERTISEMENT - CONTINUE READING BELOW ↓
Lexus has combined a CVT, like it fits to its hybrid SUVs, with a four-speed automatic gearbox, giving you 10 speeds to choose from in manual mode—just like the V8. Lexus claims it dispenses with the infuriating rubberband feeling, where revs don't match speed or throttle position, making the whole thing sound like a badly dubbed movie.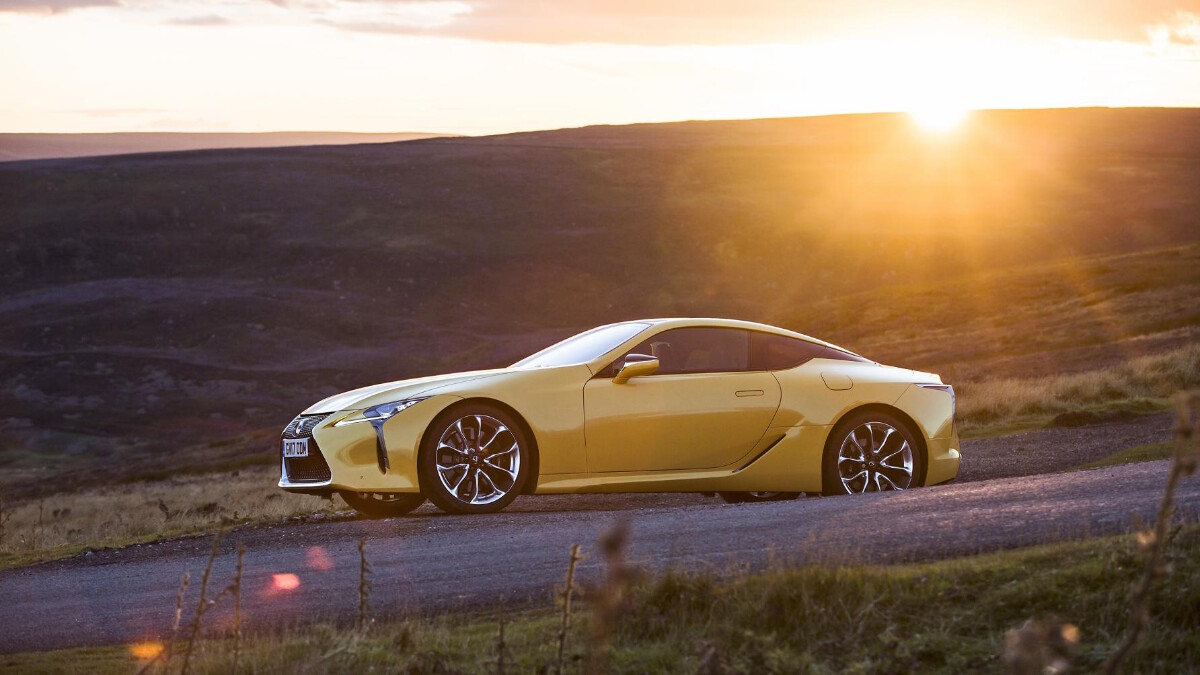 ADVERTISEMENT - CONTINUE READING BELOW ↓
Sadly, it doesn't. Well not entirely. Seize the paddles and the shifts themselves are laborious, and while the revs do rise and fall more closely with your right foot, it's still a far from linear relationship, with flairs and dips when the sound should be constant. Really gun it and even in manual mode, the V6 whines away at the top of its rev range, constantly searching for a minutely more efficient ratio.
Drive flat-out and the whole thing feels indirect and rather unsatisfying—it's quick, but there's little satisfaction in going fast. However, it's not all bad news. With the electric motor chiming in, acceleration from a standstill—and sub-65kph—is punchy. Useful if you spend your time in stop-and-go traffic around town. Leave the gearbox in auto and it does a better job at staying in the torque band than our ham fists could manage, perfect for a brisk cruise. And on the highway, it proves extremely good at being a Lexus—quiet as doctor's waiting room and with a sumptuous floaty ride quality that makes long journeys a joy.
ADVERTISEMENT - CONTINUE READING BELOW ↓
On the inside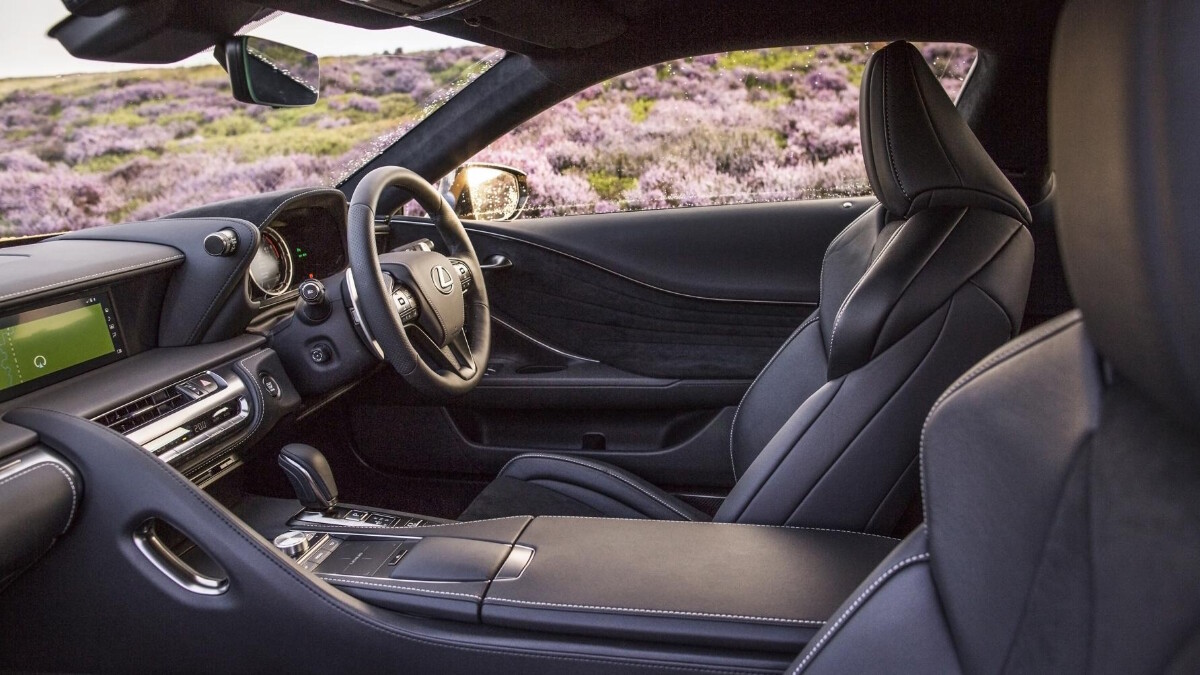 The interior is typical Lexus, all three-dimensional dash architecture and granite build quality. The seating position, especially with the grippier alcantara sports seats you get on Sport and Sport+ models, is low, legs out in front, perfect. There's even a nod to the LFA with the moving instrument binnacle on top of a digital display behind the wheel.
ADVERTISEMENT - CONTINUE READING BELOW ↓
Yes, there's a splurge of buttons and touchpads, screens and stalks sprouting from every surface that require a PhD to operate, but it's executed with flair and attention to detail. Its mishmash of layers and angles manages to make the inside an event, even if you go for a somber color scheme.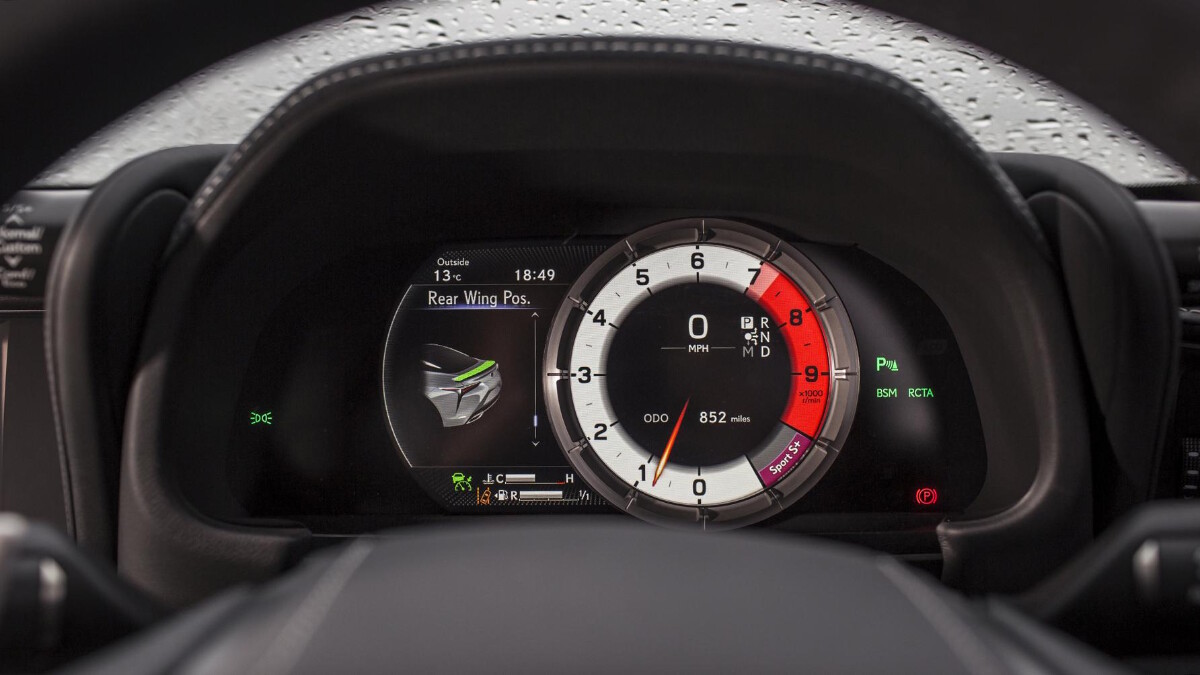 ADVERTISEMENT - CONTINUE READING BELOW ↓
This remains a truly special place to climb into, never mind sit, with the theater of pop-out door handles a smidge better-executed than on a Jaguar F-Type and a sliver of carbon trim on the sills. The seats look fabulous and truly envelop, with another pair behind that'll squeeze in short adults or neatly accommodate kids and shopping. Some of the plastic switchgear that's been promoted up from dowdier Lexuses doesn't quite match the bejeweled aesthetic surrounding it, but on balance, this is a cabin that has aged spectacularly well.
What's mildly shocking is that it took until 2020 for Lexus to offer Android Auto and Apple CarPlay as standard, things which are somehow integral to the LC's dashboard despite Lexus lobbing so much equipment at it that you're only really left with fancy colors and a thumping sound system as optional extras.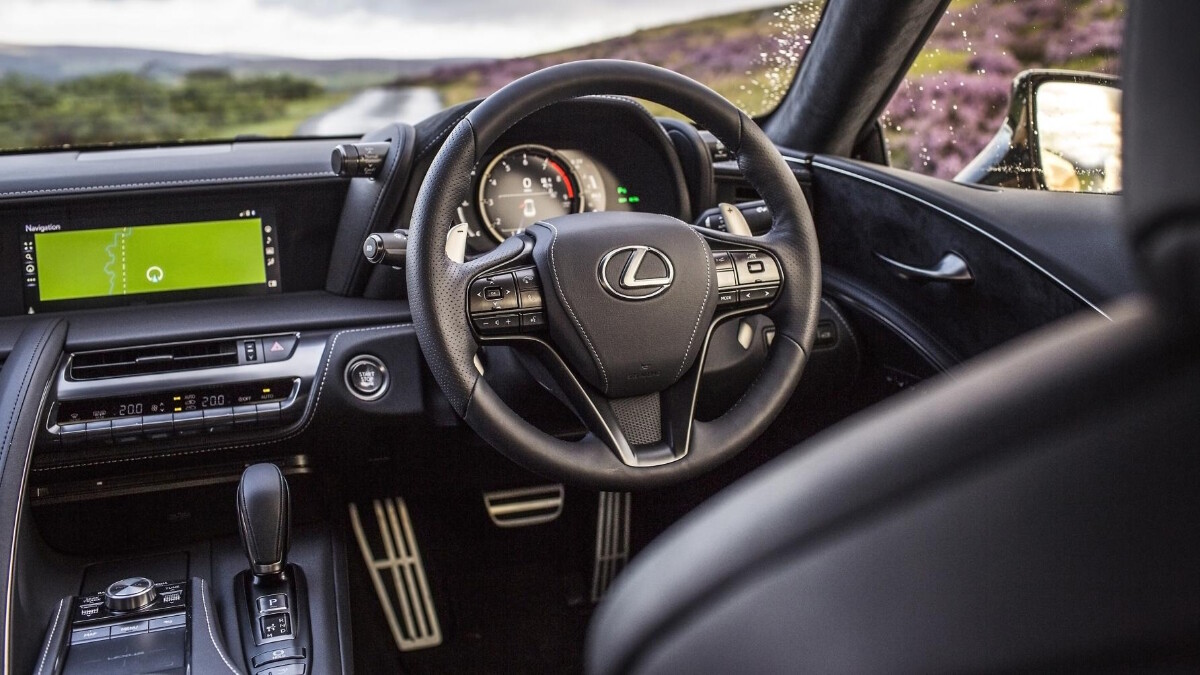 ADVERTISEMENT - CONTINUE READING BELOW ↓
You need to be younger and smarter than us to actually connect a phone, though. Sure, we could RTFM, but no other premium infotainment setup works in such escape-room-esque riddles for the simplest of functions. The whole system remains a cloying hurdle amid the otherwise superlative ambience.
Oh, and the cargo area offers 197 liters of space in the LC500—less than half what you get in a BMW 8-Series—and that shrinks to 172 liters in the LC500h thanks to the battery pack behind the seats.
Final thoughts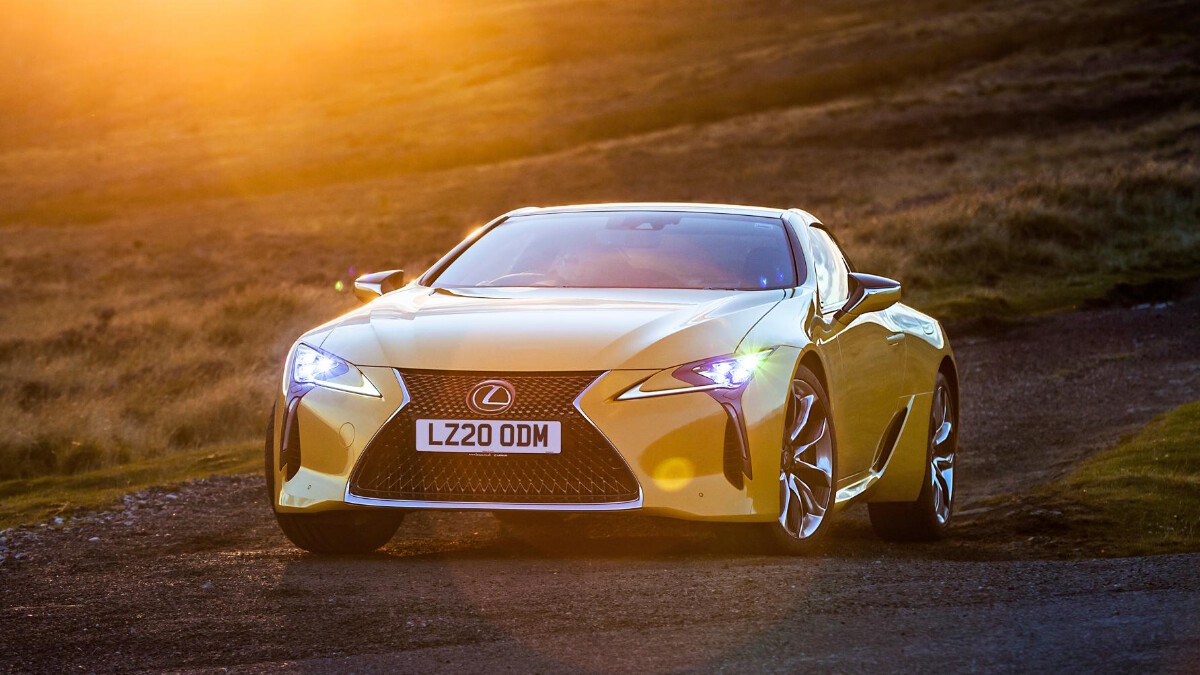 ADVERTISEMENT - CONTINUE READING BELOW ↓
The Lexus LC is as striking as anything under £100,000 gets. That sprawling spindle front grille is an acquired taste, especially with a number plate plastered across the middle of it, but thanks to an unfeasibly low hood, pinched waist, and brutally wide rear track, the overall stance is epic. Even better, dare we say, than the more exotic LFA it picks up the mad-Lexus mantle from.
Everything about the LC is bold—the design, the technology, the price point—and it backs it all up with a genuinely engaging driving experience. On one condition...that you ignore the hybrid and buy the V8, because the difference in powertrain response, overall performance, and general driving satisfaction is night and day.
Make no mistake: The LC500h is a clever piece of technology, but the LC500 is resounding proof that until the combustion engine is carried off on a stretcher for good, the old way can still be the way forward. The LFA proved there was a mad streak buried deep in the company; the LC proves it wasn't a flash in the pan.
ADVERTISEMENT - CONTINUE READING BELOW ↓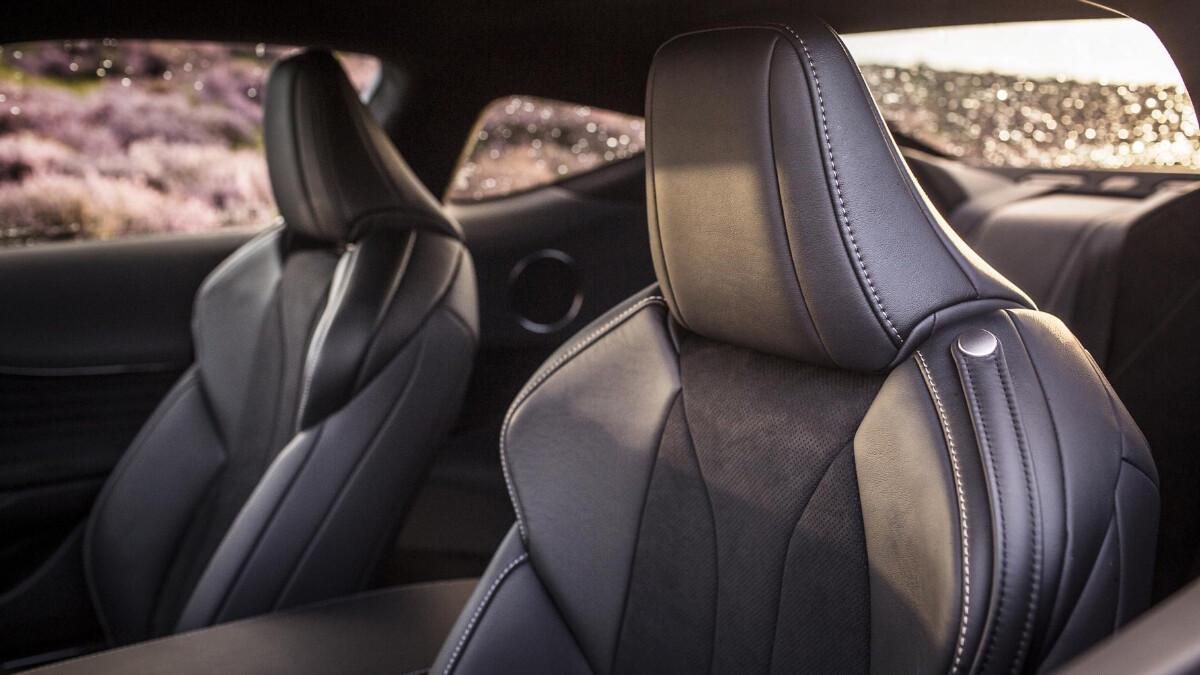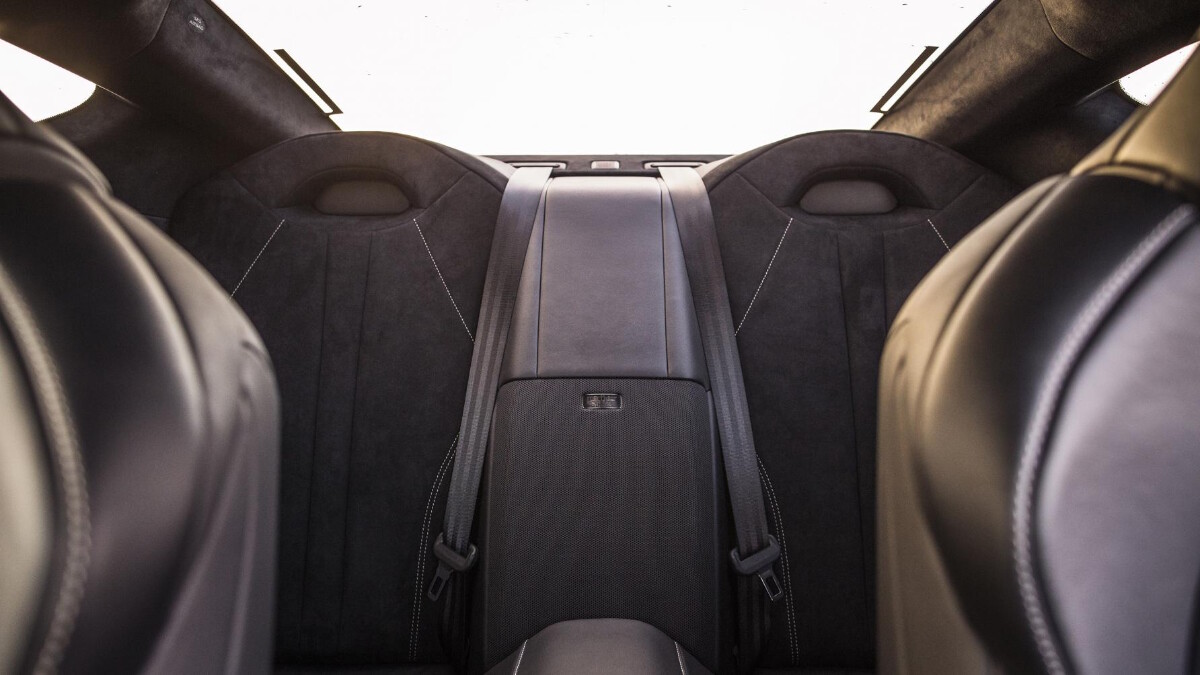 ADVERTISEMENT - CONTINUE READING BELOW ↓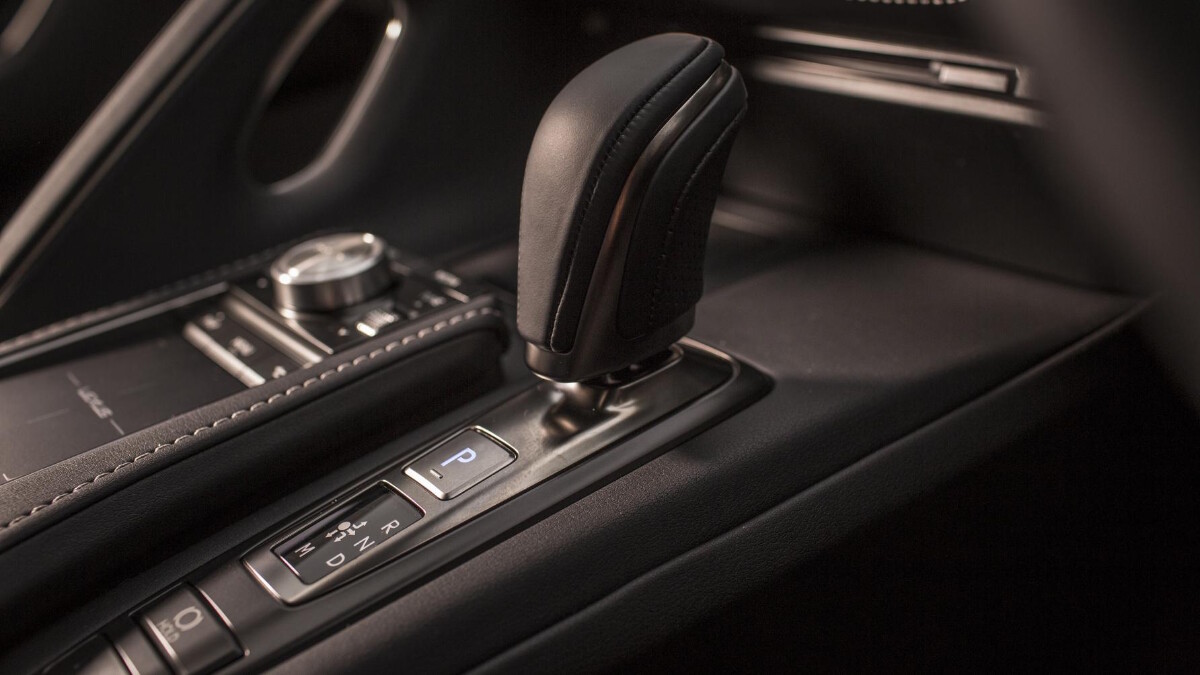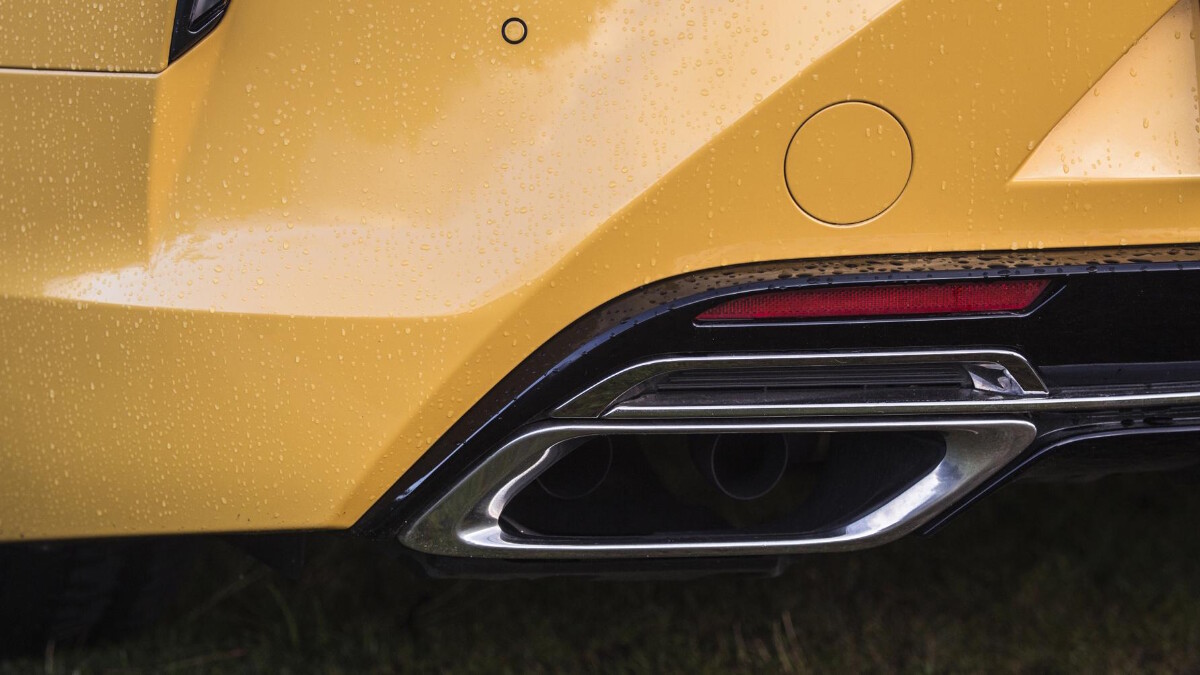 ADVERTISEMENT - CONTINUE READING BELOW ↓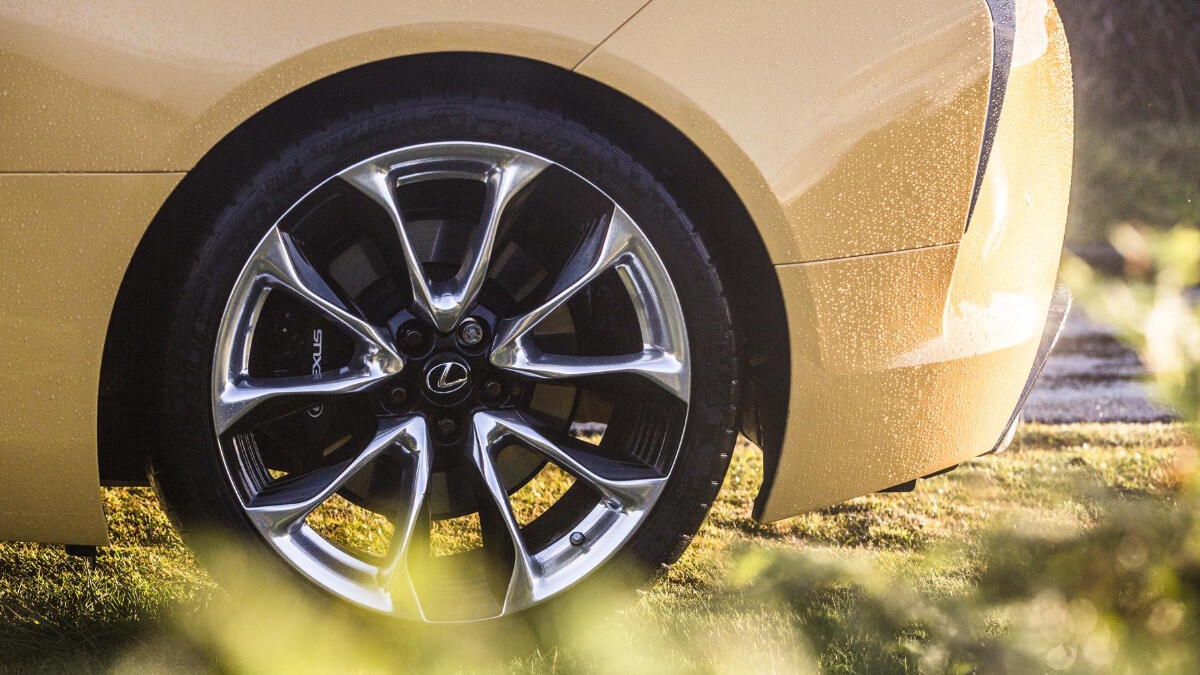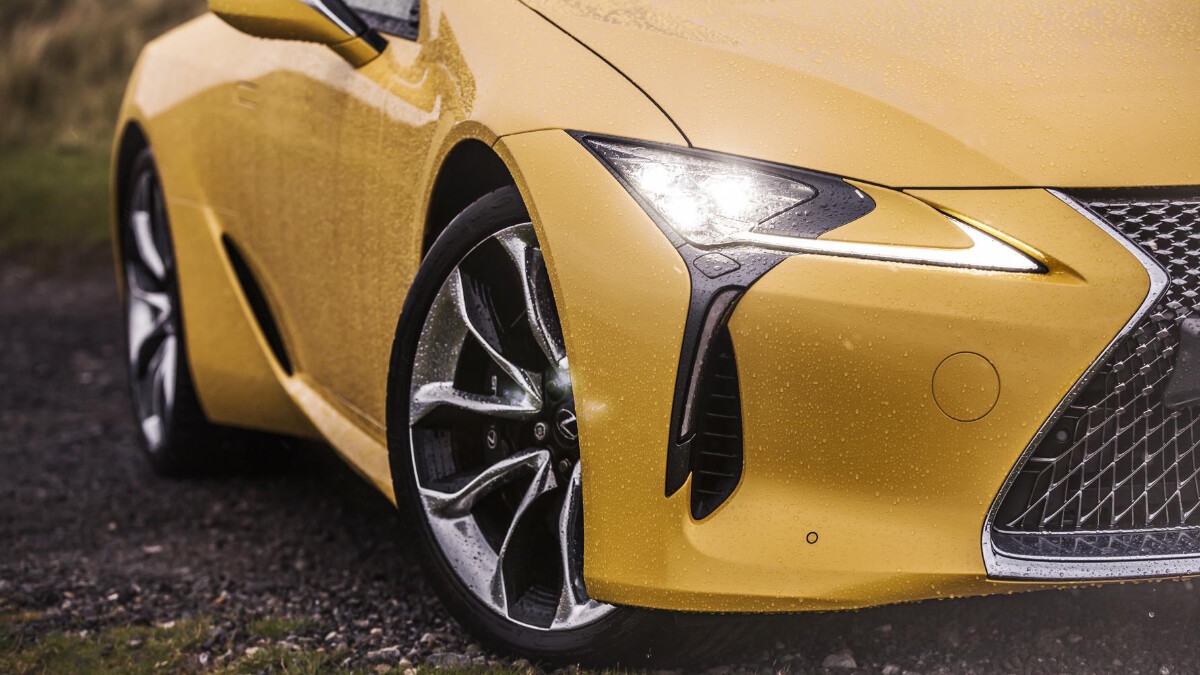 ADVERTISEMENT - CONTINUE READING BELOW ↓
NOTE: This article first appeared on TopGear.com. Minor edits have been made.