1) A plug-in hybrid is coming.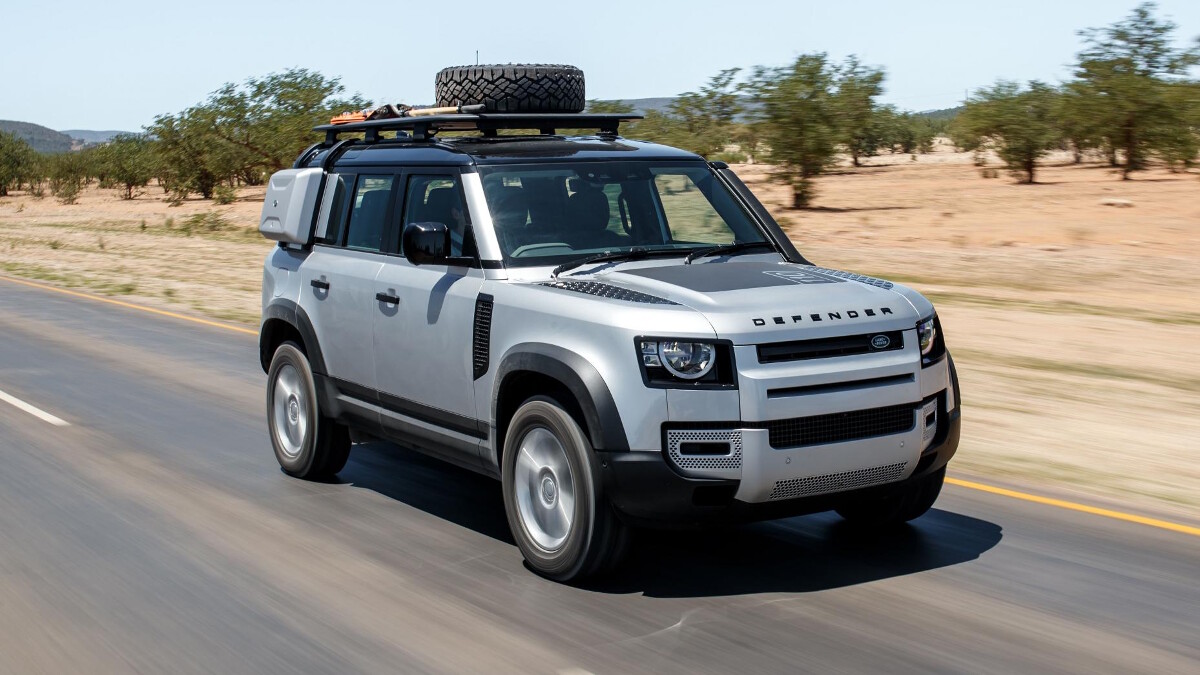 If you're the type who thinks anything other than a Defender with leaky doors and a faint aroma of sheep's bottom is sacrilege, look away now. The engine lineup from launch includes a pair of 2.0-liter four-cylinder turbodiesels (197hp or 237hp), a 296hp turbocharged four-cylinder gasoline, and a 394hp 3.0-liter turbocharged and supercharged gasoline in-line-six—but a plug-in hybrid is coming. No technical details yet, but a Defender capable of several kilometers of zero-emissions, battery-powered running will go on sale in 2021. Pitchforks at the ready.
2) It has clever door skins.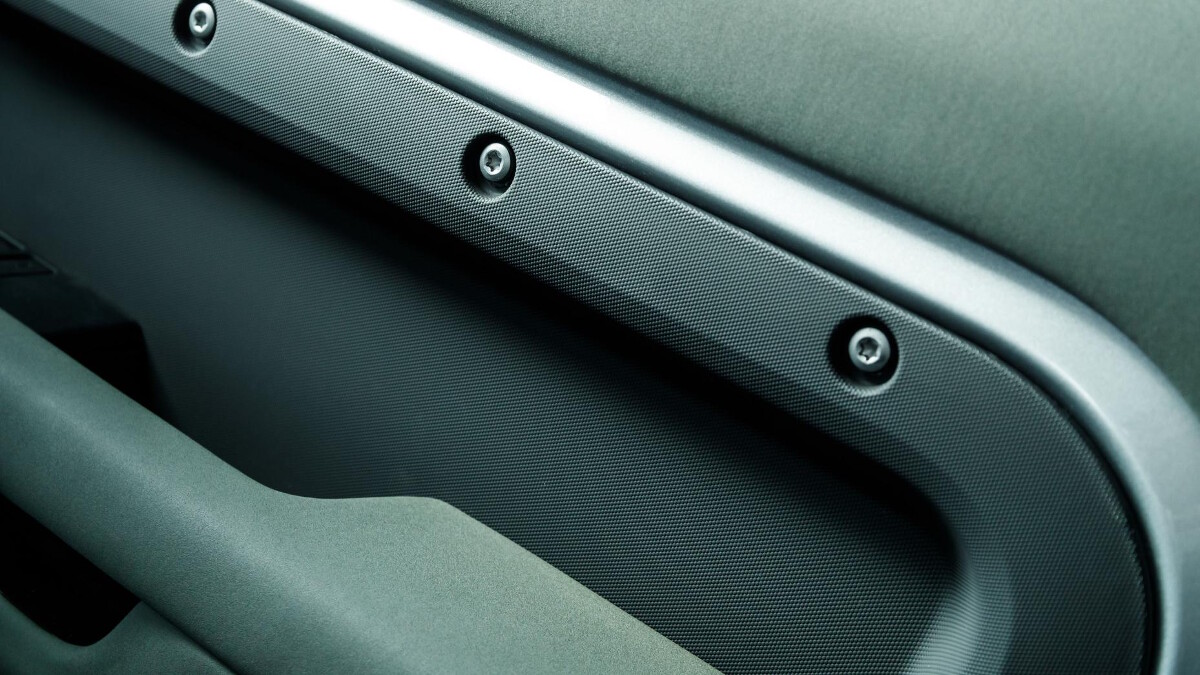 Continue reading below ↓
Recommended Videos
The Defender doors are about more than just those fancy exposed rivets for maximum macho. The interior door skins are in fact structural, acting as an anchor for the window motors and the door locks on their inner face. As a result, they lose a trim layer, so you get extra elbow room. The interior ergonomics is already a world away from the disaster that was the old Defender, where you drove with your nose pressed against the windscreen and your door-side arm crushed into a chicken wing, so this is a bonus, really.
3) The Terrain Response has many, many modes.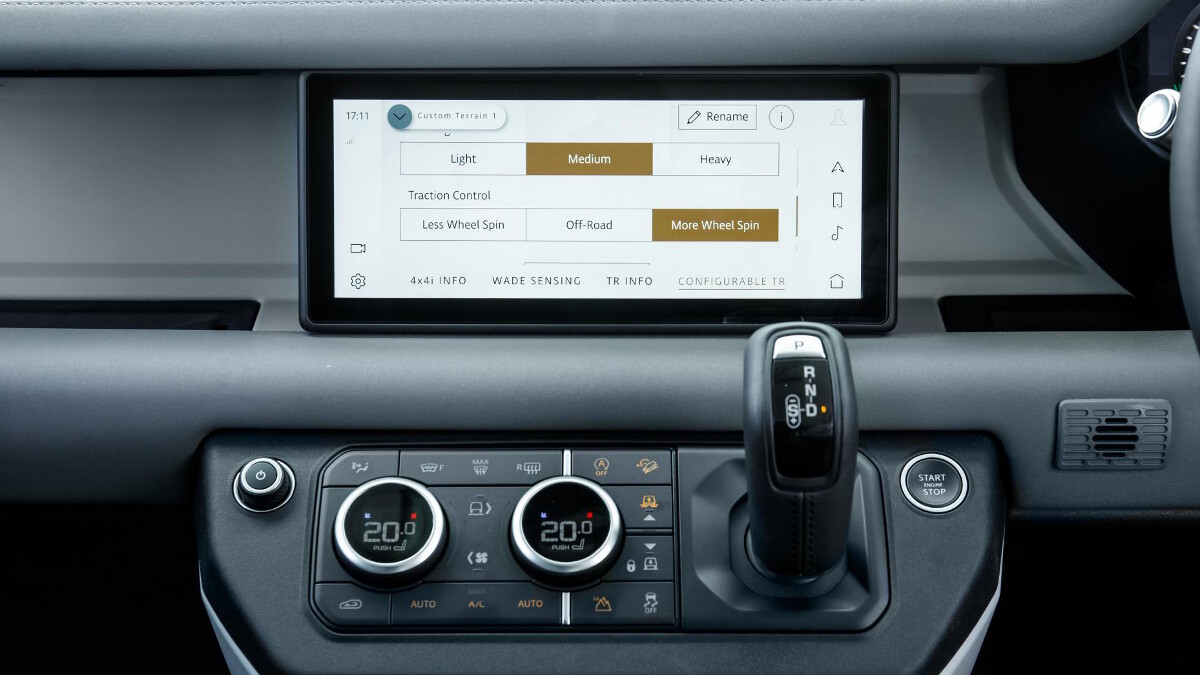 Six presets, to be precise—Normal, Wade, Rock Crawl, Mud and Ruts, Grass/Gravel/Snow, and Sand—each subtly altering the differentials, throttle response, and traction sensitivity to make mincemeat of whatever Mother Nature has cooked up for you. Alternatively, you can hang your head in shame, select 'Auto,' and let the car's sensors determine the surface you're on and tweak everything accordingly. Got your off-road gold badge? By all means, delve into the touchscreen, configure your settings manually, and save your preferences. Let's off-road!
4) It's brilliantly calibrated for urban driving.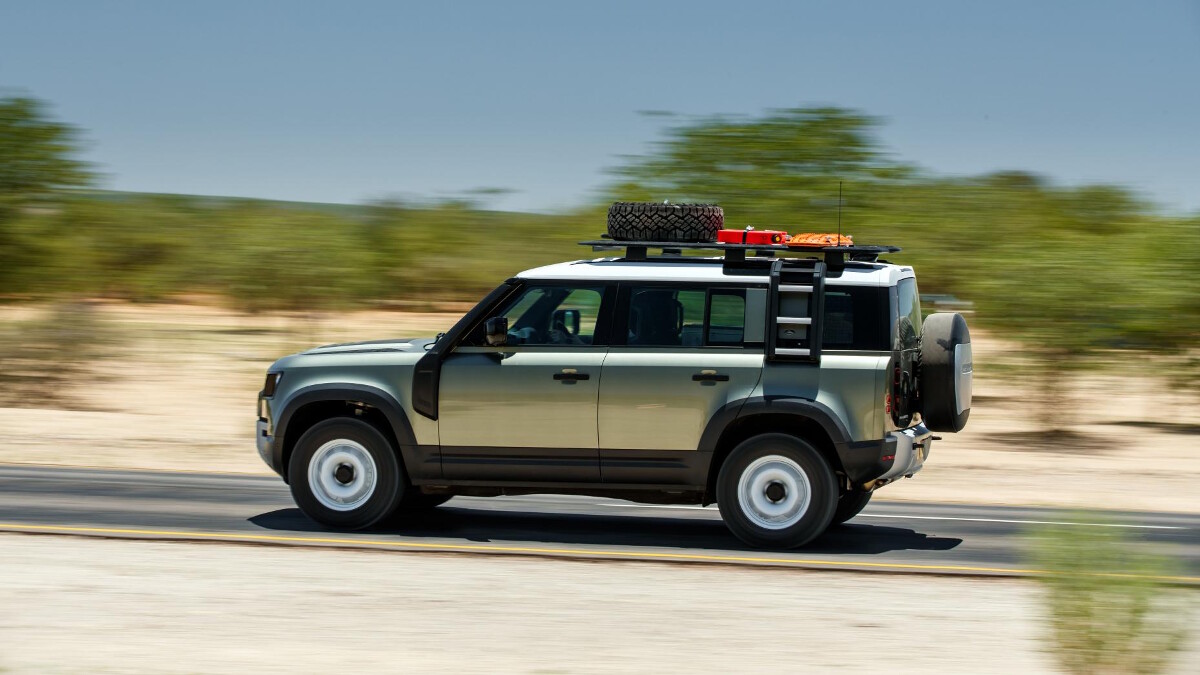 Urban driving, the grind and gnaw of teeth and traffic. It's an awful place to drive anything, let alone a car over two meters wide and five meters long. But no other SUV does it better. Seriously. You have good visibility and upright flanks, so you know where your edges and corners are, and the 360-degree camera system is a work of genius. The turning circle is surprising. You're taller than taxis (that's important), so you see stuff coming in your periphery and are more aware. All the controls are well-calibrated, too—steering weight, accelerator action, eight-speed auto gearbox. It's an easy car to drive.
5) This is how the 48V mild-hybrid system works.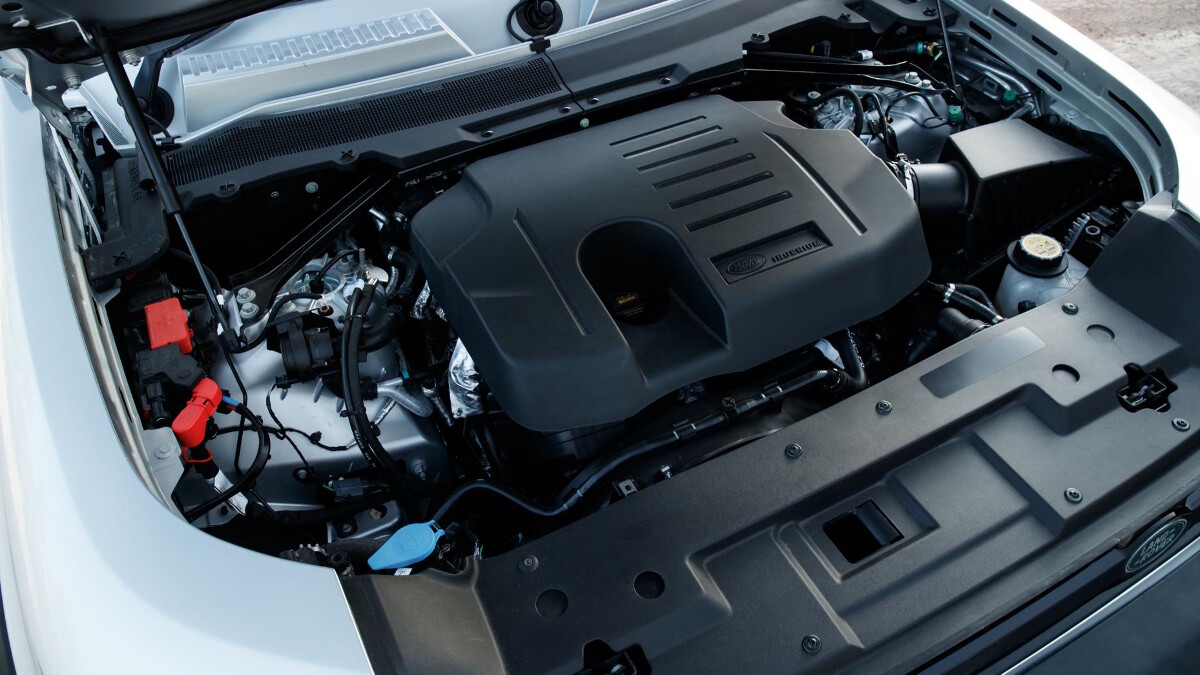 Only available on the 394hp, turbo- and supercharged straight-six P400 X 110 (or the three-door 90 version), the mild-hybrid system's aim here is efficiency, not performance enhancement. Bits in addition to the engine include a 48V 200Wh lithium-ion battery on the rear axle, an e-supercharger that runs off said battery (and helps to build boost in the turbo quickly to negate lag), and a belt-integrated starter generator that harvests energy when you lift off the throttle to charge the battery, and can feed up to 169Nm back to the crank to restart the engine and take some of the load of the engine under acceleration.
What you might notice is the engine cutting out below 3kph, before you've come to a stop, slight electrical assistance when you take off again, and, according to Land Rover, a 6g/km of CO2 saving. Hardly seems worth it, does it?
6) It can update over-the-air.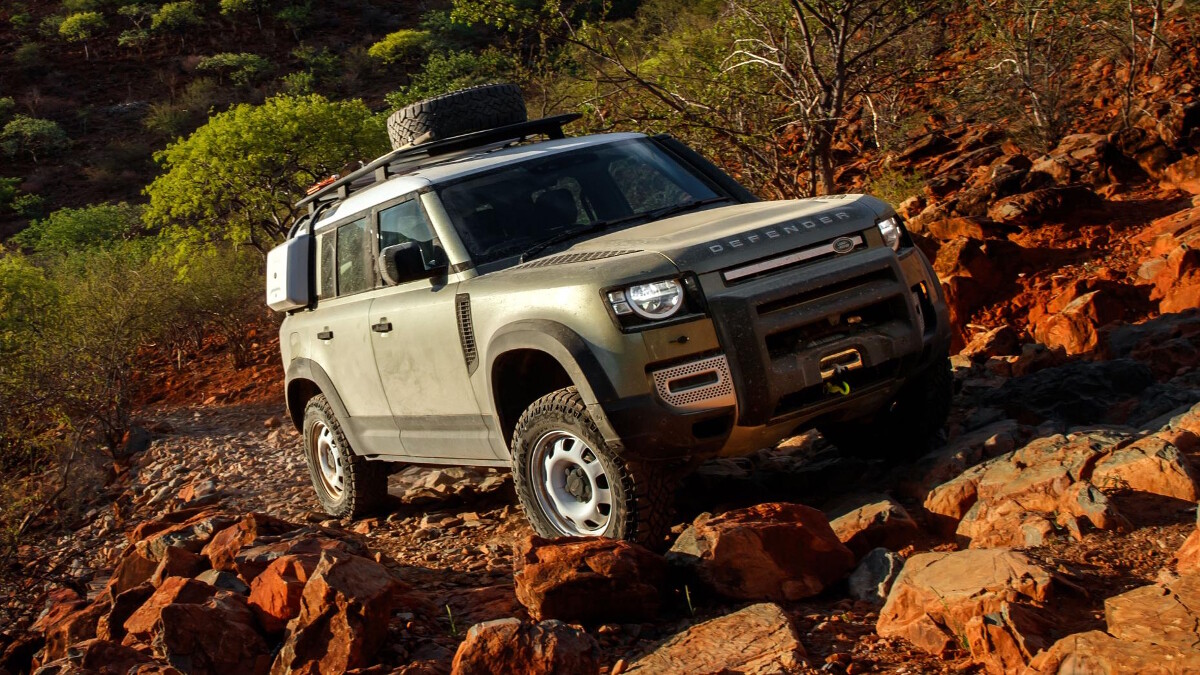 In a move nobody saw coming, the Defender takes a leaf out of Tesla's book. Never thought I'd write that. The Defender is now very much a connected car, and we're not just talking about its ability to hook up to a horse box. It has no fewer than 14 'modules' that can be updated over the air using its permanent 4G connection, including the brakes, suspension, and engine so Land Rover can continue to improve your car while it sits on your driveway. Updates take around 30 minutes, there's no need for dealer software updates anymore, and problems can be identified and sent automatically to your local workshop so parts can be ordered ahead of time.
7) It can twerk.
We've already established that the new Defender moves well for a big lad, but it's not afraid to shake its moneymaker, either. What on earth are we on about? Well, recruit somebody who knows what they're doing off-road to direct you, and balancing the car on two wheels on a rocky outcrop is easy. From there, simply bounce around on the mid-air wheel like a lunatic, or rock it from side-to-side with your hands, to see the Defender twerk. Clearly, this is of no use to anyone, and entirely possible with any other off-road vehicle, too.
8) It can drift.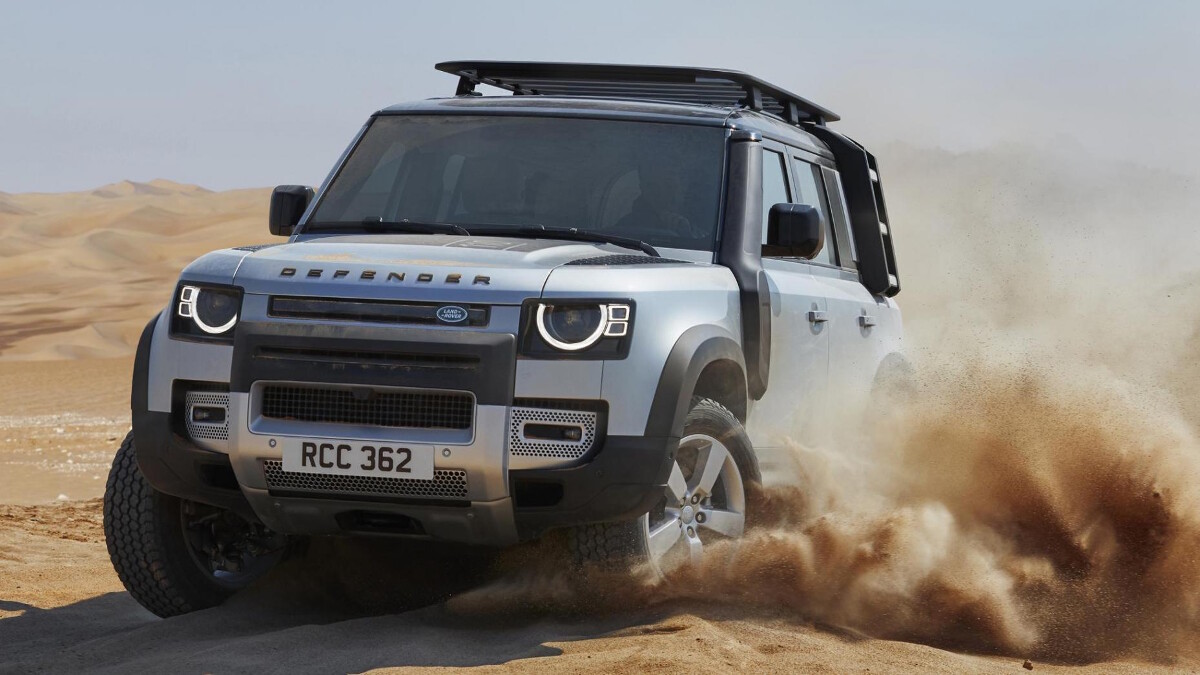 Powersliding a Defender? Yep, it's possible, albeit in an endless, sandy African wilderness. It's probably not advisable on a moist roundabout. Then again, powersliding a mobility scooter is technically possible. The point is this: There's an inherent balance to driving this car you wouldn't expect. Despite our loaded roof rack in Namibia, it never felt overly top-heavy, tipping was never on the cards, it's rock-solid even when you're cocking about on a dried-up river bed. It benefits from a broad stance, definitely less tilt and topple than a Disco 5, and despite its brick-like profile, you'll barely notice side winds on the highway.
9) It can seat three in the front.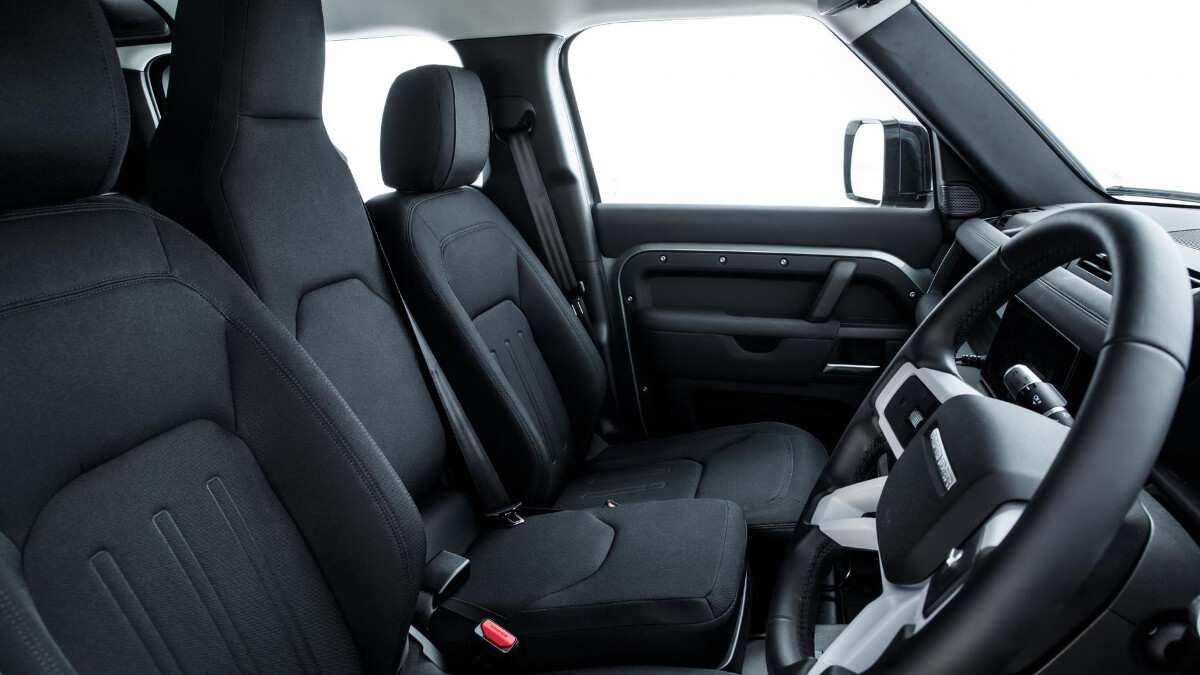 Happy days! It's the return of the optional dicky seat we were all hoping for. A normal and extremely broad center console is fitted as standard, but should you occasionally need space for an extra bum, you can swap that out for a third seat in the front. Tick that box on the short-wheelbase 90 version and that means you've got yourself a three-door, six-seat SUV—that's worth it for the novelty value alone, surely? Folded down, the back of the seat masquerades as a center console with a couple of drink holders, a tray for your phone and others bits, and a bank of 12V and USB power outlets. Pull a strap, unfurl it, and you've got space for three.
10) A Range Rover Sport acted as a first test.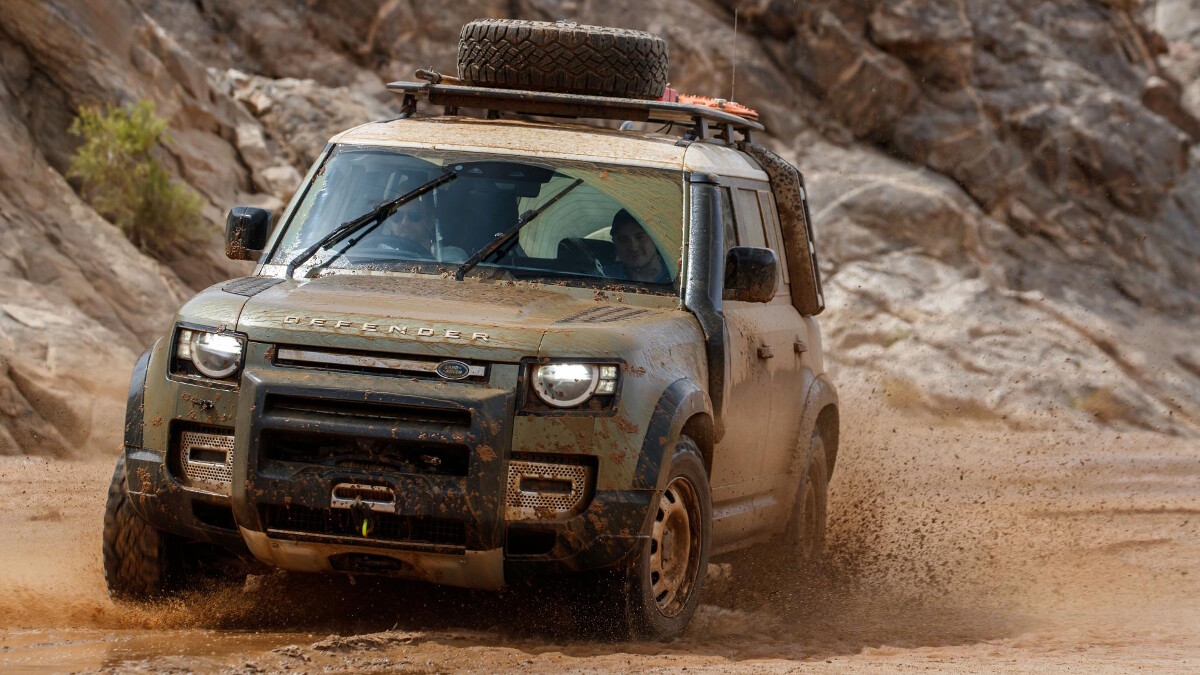 Said Nick Rogers, chief engineer on the new Defender's conception: "We had a few sessions round at my house, a few curries, a few beers—always the best way to motivate engineers. The first thing we did was package studies and calculations about what the suspension need to be, what would the approach angle need to be, all that really technical stuff. At the end of one evening, perhaps I was slightly too passionate, but we agreed we'd make one in a month.
"So, we took a Range Rover Sport and attacked it quite heavily underneath and created the first simulator. We drove it around the Gaydon circuit, and my god, nobody could believe how good it was—so agile and such a hoot.
"Mike Cross took Ralf [Speth, CEO JLR] for a very exciting ride. He also took Mr. Tata. Mike has a fantastic way of helping them see round Gaydon, looking out the back window. And we also, just to clinch it, sent her over to Big Red in Dubai, to make sure it really was the best in the sand. After that, there was no doubt that it was going to be absolutely incredible."
11) It takes pointers from the 1948 original.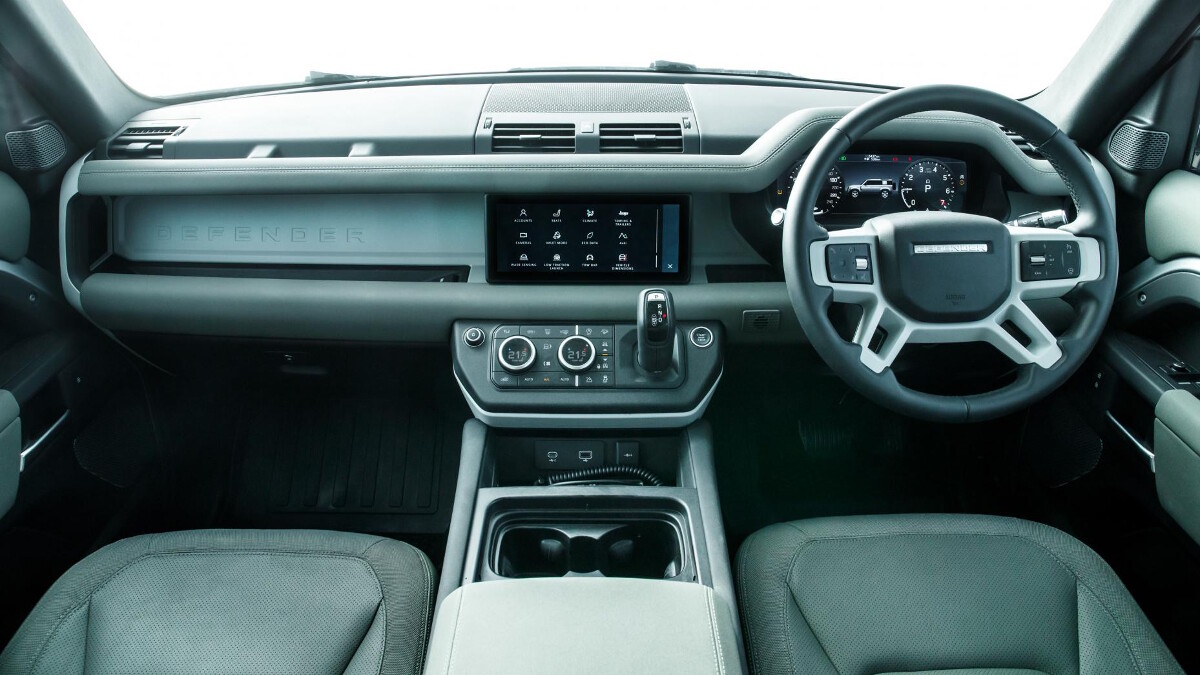 See the way the 10-inch touchscreen and shelf (formed by the magnesium-alloy beam running the full width of the dash) makes a trio of rectangular shapes? That's a cue lifted directly from the original Land Rover. And that's not all. Rogers told us he set his interns a little exercise: to find one component on the 1948 Land Rover that wasn't functional. One thing, anything, that puts design before function. They couldn't. And it's that philosophy he tried to replicate from the outset.
12) Its numbers are impressive.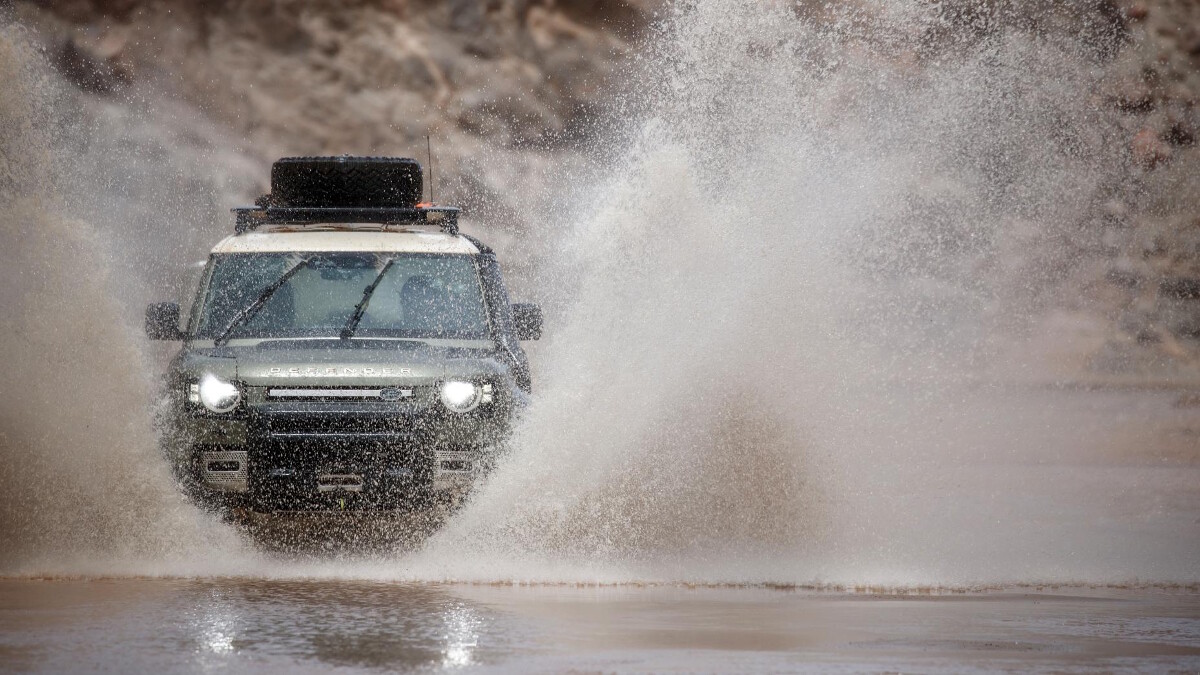 With the air suspension in its maximum off-road height, ground clearance is 291mm (around 50mm more than both the Mercedes G-Class and the Jeep Wrangler), which just so happens to be the same height as a wine bottle standing on its end. In theory, then, it should drive straight over it. It can't, we tried—snuck under the front bumper, all right, but fell over somewhere around the front axle. Oh, well.
It has a wading depth of 900mm and a fancy wading mode that, among other things, drags the brakes to dry them off so you've got full stopping power when you return to dry land, and has approach, breakover and departure angles of 380, 280, and 400, respectively, or 380, 310, and 400 on the 90—not best in class in every department, but still a world-class set of stats for an off-roader. Towing capacity of 3,500kg matches the Merc as best-in-class, too.
NOTE: This article first appeared on TopGear.com. Minor edits have been made.